Drug war: Village chief, ex-tanod killed
Ghio Ong
(The Philippine Star) - September 4, 2016 - 12:00am
MANILA, Philippines - An acting barangay chairman in Caloocan City and a former barangay watchman in Manila were shot dead by police officers in anti-drug operations yesterday.
Members of the Caloocan police's Special Weapons and Tactics and Criminal Investigation and Detection (CID) units raided the house of Barangay 139 acting chairman Nelson Nazareno at around 4 a.m. yesterday.
Police officers said they carried a warrant to search Nazareno's house for illegal drugs.
They initially reported that they saw Nazareno holding a gun so they had to shoot him.
According to information gathered by the CID, Nazareno has reportedly been involved in highway robbery, gunrunning and drug pushing.
Nazareno's widow, Priscilla, belied the allegations against her husband. She said he did not fight the police officers, who shot him in the head right away.
In March last year, Nazareno was suspended for six months by the Caloocan City council for abuse of authority after former barangay treasurer Rodyric Pioquinto complained that he did not receive his honoraria for three months despite his repeated demands.
The next month, two men arrested for hijacking in Quezon City identified Nazareno as the alleged leader of their gang.
Romero Bacod and Remegio Umali, wearing police uniforms, stopped Ernesto Oite's delivery truck and hijacked the vehicle.
The truck was recovered in Sampaloc, Manila and the two men were arrested.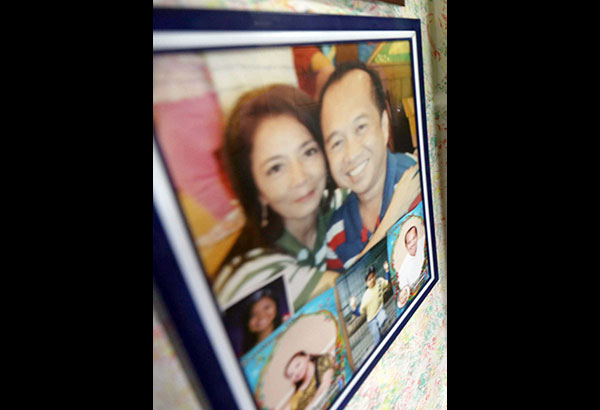 A photo of the slain official and his wife, Priscilla.
Fired, shot dead
Meanwhile, former tanod Tirso Halaba, 42, fired for allegedly pushing drugs, was killed by police officers who raided his house along Masangkay street in Manila yesterday afternoon.
Chief Inspector Leandro Gonzales, who heads the Manila Police District Station 11's anti-drug unit, said they received a tip that there was an ongoing pot session in Halaba's house.
Halaba allegedly resisted arrest and pointed his gun at the police officers, forcing them to shoot him, he added.
Recovered from Halaba were a .38 caliber revolver, a sachet said to contain shabu and drug paraphernalia.
Barangay 296, Zone 28 chairman Rico Echalas said Halaba worked as a barangay watchman until the council fired him for allegedly being a drug pusher.