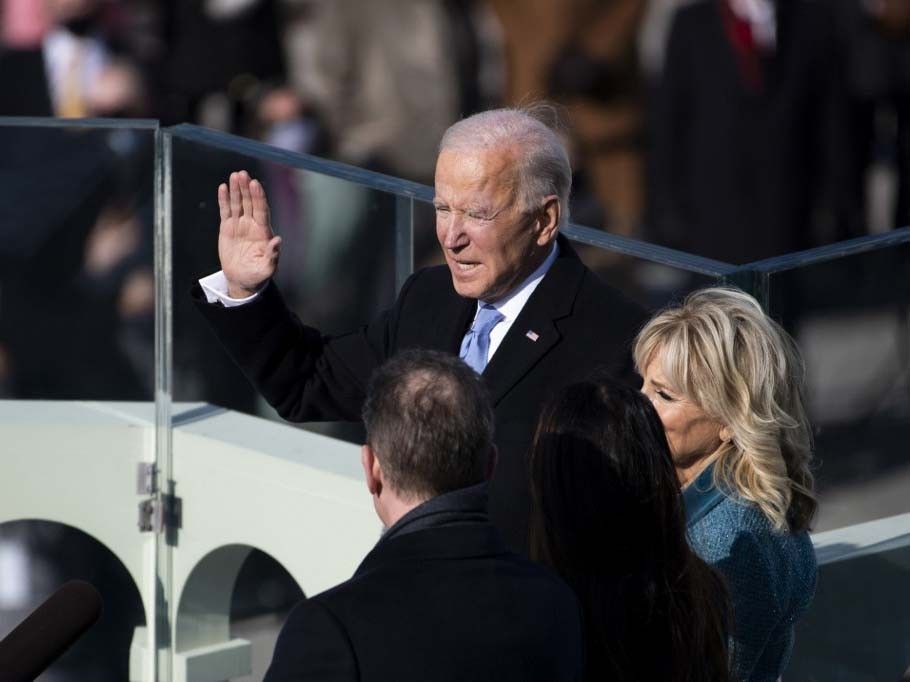 Policies and developments in the Biden presidency
LATEST UPDATE: February 26, 2021 - 11:15am
+ Follow Story
4 hours ago
US President Joe Biden urges Congress to "move quickly" to pass a $1.9 trillion coronavirus relief package after a Senate ruling that prevents a minimum wage hike from being included in the sweeping plan.
"President Biden is disappointed in this outcome, as he proposed having the $15 minimum wage as part of the American Rescue Plan," White House press secretary Jen Psaki says in a statement.
"He urges Congress to move quickly to pass the (bill), which includes $1400 rescue checks for most Americans" and other funding to help control and end the pandemic. — AFP
7 hours ago
President Joe Biden reaffirms the US commitment to Saudi Arabia's defense but stressed the importance of human rights Thursday in a long-delayed first call with Saudi King Salman, the White House said.
They discussed "the US commitment to help Saudi Arabia defend its territory as it faces attacks from Iranian-aligned groups," a statement says.
However, Biden also "affirmed the importance the United States places on universal human rights and the rule of law" in the call, which was overshadowed by a soon-to-be-released US intelligence report on the murder of Washington Post journalist Jamal Khashoggi in a Saudi consulate. — AFP
2 days ago
The US Senate easily confirms two more of Joe Biden's cabinet nominees as the president fills out his inner circle, although another pick was facing mounting opposition.
Linda Thomas-Greenfield, 68, a former career diplomat, earns confirmation to be US ambassador to the United Nations, on a 78-20 vote.
The Senate then comfortably greenlights Tom Vilsack, 70, to be secretary of agriculture, a post he held throughout Barack Obama's administration. — AFP
3 days ago
US President Joe Biden calls the milestone of more than 500,000 US deaths from Covid-19 "heartbreaking" on Monday and urges the country to unite against the pandemic.
"I know what it's like," an emotional Biden says in a national television address, referring to his own long history of family tragedies.
"I ask all Americans to remember, remember those we lost and those they left behind," Biden says. "I also ask us to act, to remain vigilant, to say socially distant, to mask up, to get vaccinated." — AFP
February 19, 2021
President Joe Biden will pledge $4 billion in US aid to the Covax global Covid-19 vaccination program during his virtual meeting with other G7 leaders on Friday, White House officials say.
An initial $2 billion will be released "by the end of this month," with the rest coming over the next two years, a senior White House official who asked not to be identified says Thursday. — AFP
February 16, 2021
Kamala Harris spoke with French President Emmanuel Macron on Monday to discuss topics including the pandemic and climate change, in a rare phone call between a US vice president and a foreign leader.
Harris's office released a statement saying she had expressed her commitment "to revitalizing the transatlantic alliance."
"Vice President Harris and President Macron agreed on the need for close bilateral and multilateral cooperation to address COVID-19, climate change, and support democracy at home and around the world," the statement said. — AFP
February 14, 2021
The White House said Saturday it has accepted the resignation of a staffer who allegedly threatened to "destroy" a reporter who was asking about his personal life.
White House Deputy Spokesman TJ Ducklo was originally suspended for one week without pay, but now the administration of President Joe Biden has accepted his resignation, White House Press Secretary Jen Psaki said in a statement.
According to Vanity Fair magazine, Ducklo called Politico reporter Tara Palmeri after she began asking questions about his months-old personal relationship with a reporter from Politico rival Axios, Alexi McCammond.
"I will destroy you," Ducklo allegedly said to Palmeri in a phone call shortly after Biden's January 20 presidential inauguration.
According to Vanity Fair, Ducklo "made derogatory and misogynistic comments" to Palmeri and called her "jealous." — AFP
February 13, 2021
President Joe Biden's administration announces that asylum seekers forced to remain in Mexico while their cases are being resolved in the United States will begin to be admitted into the US as of next week.
Biden instructed the Department of Homeland Security earlier this month to take action to end the controversial "Remain in Mexico" program put in place by his predecessor Donald Trump.
It saw tens of thousands of non-Mexican asylum seekers -- mostly from Central America -- sent back over the border pending the outcome of their asylum applications, creating a humanitarian crisis in the area, exacerbated by the COVID-19 pandemic. — AFP
February 11, 2021
Joe Biden challenged Chinese leader Xi Jinping on human rights, trade and regional muscle-flexing, in their first call since the new US president took office.
An increasingly assertive Beijing has tested US patience since Xi came to power, and under former president Donald Trump found itself on the receiving end of trade tariffs as relations frayed.
Biden is under pressure at home and abroad to maintain the stance that Trump adopted, as the West looks to hold China to account for human rights abuses against mainly Muslim Uighurs in Xinjiang and its crushing of opposition in Hong Kong, as well as saber-rattling over Taiwan.
His call on Wednesday was about setting the tone for the relationship, at a time when many in the US and the wider world blame China for failing to contain the coronavirus pandemic, which was first discovered in Wuhan. — AFP
February 11, 2021
Joe Biden voices concern to Chinese leader Xi Jinping about crackdown in Hong Kong, rights in Xinjiang, according to White House.
February 11, 2021
US President Joe Biden announces sanctions against Myanmar's military leaders and demanded they relinquish power, after tens of thousands of people took to the streets of the Southeast Asian nation's biggest city for a fifth consecutive day demanding a return to democracy.
The popular show of force in Yangon, which came in defiance of a protest ban in Myanmar's former capital, saw crowds swarm through the city and call for the release of Aung San Suu Kyi following her ouster in a coup last week.
Protesters faced down police a day after authorities dispersed crowds elsewhere with tear gas and rubber bullets, and ramped up their harassment of the deposed leader's party. — AFP
February 8, 2021
President Joe Biden anticipates the US rivalry with China will take the form of "extreme competition" rather than conflict between the two world powers.
Biden says in an excerpt of a CBS interview aired Sunday that he has not spoken with Chinese counterpart Xi Jinping since he became US president.
"He's very tough. He doesn't have — and I don't mean it as a criticism, just the reality — he doesn't have a democratic, small D, bone in his body," Biden says. — AFP
February 6, 2021
President Joe Biden seizes on feeble US employment data to argue the world's largest economy needs his $1.9 trillion pandemic relief package, which cleared a key Senate hurdle without support from the Republican opposition.
The closely-watched jobs data showed the unemployment rate dropped to 6.3 percent in January, but the economy added only 49,000 jobs, the Labor Department says.
The anemic report made plain the ongoing struggles in the United States as Americans cope with the largest COVID-19 outbreak in the world. — AFP
January 28, 2021
US President Joe Biden's administration on Wednesday signalled a fresh look at US policy in the Middle East, announcing reviews of massive arms packages for the United Arab Emirates and Saudi Arabia as well as envisioning a slow return to diplomacy with Iran.
On his first full day on the job, Secretary of State Antony Blinken said that his top priorities would include addressing the catastrophe for civilians in Yemen, where US ally Saudi Arabia has been bombarding Iranian-linked Huthi rebels.
"We've seen a campaign, led by Saudi Arabia, that has also contributed to what is by many estimates the worst humanitarian crisis in the world today, and that's saying something," Blinken told a news conference.
"It's vitally important even in the midst of this crisis that we do everything we can to get humanitarian assistance to the people of Yemen, who are in desperate need," he said of the country where 80 percent of the 29 million people rely on aid to survive. — AFP
January 27, 2021
US President Joe Biden ordered the end to the use of private prisons for federal inmates Tuesday, saying they incentivized throwing more people in prison without improving on government-run jails.
Biden ordered the Justice Department to phase out the use of private incarceration facilities, which house about 16 percent of federal prisoners.
"There is broad consensus that our current system of mass incarceration imposes significant costs and hardships on our society and communities and does not make us safer," Biden said in the order.
"To decrease incarceration levels, we must reduce profit-based incentives to incarcerate by phasing out the federal government's reliance on privately operated criminal detention facilities," he said. — AFP
January 26, 2021
The US Senate on Tuesday voted to confirm Janet Yellen as the first woman to lead the US Department of the Treasury.
Yellen, who was also the first woman to lead the Federal Reserve and the White House Council of Economic Advisers, will play a key role in crafting US President Joe Biden's economic policy as the United States confronts the ongoing Covid-19 pandemic. — AFP
January 25, 2021
US President Joe Biden will re-impose a COVID-19 travel ban on most non-US citizens who have been in Britain, Brazil, Ireland and much of Europe, a White House official said Sunday, as the new administration ramps up its pandemic response.
Biden will also on Monday extend the ban to travelers who have recently been to South Africa amid warnings that new, more transmissible coronavirus variants are already establishing themselves in the United States, the official said, confirming US media reports.
The new president last week tightened mask wearing rules and ordered quarantine for people flying into the United States, as he seeks to tackle the country's worsening coronavirus crisis.
Biden has said that the COVID-19 death toll would likely rise from 420,000 to half a million next month — and that drastic action was needed. — AFP
January 25, 2021
French President Emmanuel Macron and new US President Joe Biden are in agreement on climate change and how to fight coronavirus, the Elysee palace said on Sunday.
The two leaders spoke for the first time since Biden's inauguration in a telephone call Sunday and also discussed "their willingness to act together for peace in the Near and Middle East, in particular on the Iranian nuclear issue," the French presidency said.
The pair spoke for about an hour in English, according to members of Macron's team.
Earlier this week, Macron had lauded Biden's decision to return to the Paris climate accord. — AFP
January 24, 2021
Boris Johnson and Joe Biden on Saturday vowed to deepen ties and cooperate on tackling climate change in their first conversation since the US president's inauguration, the British prime minister's office said.
Johnson congratulated Biden on his inauguration and "the two leaders looked forward to deepening the close alliance between our nations", said the statement from Downing Street.
British newspapers reported that Johnson was the first European leader to receive a call from Biden, who earlier spoke to Canadian and Mexican counterparts. — AFP
January 23, 2021
Canadian leader Justin Trudeau and new US President Joe Biden speak on the phone on an extensive range of topics, and make plans to meet in person "next month," Ottawa said.
"The two leaders agreed to meet next month in order to advance the important work of renewing the deep and enduring friendship between Canada and the United States," Trudeau's office says in a statement. — AFP
January 22, 2021
Russia says it welcomed a proposal by US President Joe Biden to extend New START, a landmark nuclear arms reduction agreement due to expire next month.
"We can only welcome the political will to extend this document," Kremlin spokesman Dmitry Peskov tells reporters, noting that any decision to extend the pact will depend on "the details of this proposal". — AFP
January 22, 2021
In his first White House briefing as US President Joe Biden's top advisor on COVID-19, Anthony Fauci said it was "liberating" that he could focus on science without fear of repercussion now that Donald Trump had left office.
The top infectious disease scientist was briefing reporters Thursday on the state of the US outbreak that has claimed more than 408,000 lives.
Asked to compare his experience under the previous administration to the new one, the 80-year-old responded a little coyly at first, saying he wasn't sure he could "extrapolate" based on first impressions.
"But one of the things that was very clear as recently as about 15 minutes ago, when I was with the president, is that one of the things that we're going to do is to be completely transparent, open and honest.
"If things go wrong, not point fingers but to correct them and to make everything we do be based on science and evidence." — AFP
January 21, 2021
In a dramatic about-turn, the new US administration on Thursday thanks the World Health Organization for leading the global pandemic response and vowed to remain a member.
"The United States also intends to fulfil its financial obligations to the organisation," top US scientist Anthony Fauci, who has been named President Joe Biden's chief medical adviser, tells a meeting of the WHO's executive board. — AFP
January 21, 2021
Taiwan's de facto ambassador to the US was formally invited to President Joe Biden's inauguration in what Taipei says Thursday was a precedent-setting first since Washington switched recognition to Beijing in 1979.
Hsiao Bi-khim, Taipei's envoy, posted a video of herself at Wednesday's inauguration saying she was "honored to represent the people and government of Taiwan here at the inauguration of President Biden and Vice President Harris".
"Democracy is our common language and freedom is our common objective," she added.
Taipei's foreign ministry said it was the first time in decades that a Taiwanese envoy had been "formally invited" by the inauguration's organizing committee while the ruling Democratic Progressive Party described it as "a new breakthrough in 42 years". — AFP
January 21, 2021
Mexico hails US President Joe Biden's order to halt construction of Donald Trump's wall along the US-Mexican border, as well as his other immigration-linked reforms.
"Mexico welcomes the end of the construction of the wall, the immigration initiative in favor of DACA and a path to dual citizenship," Foreign Minister Marcelo Ebrard wrote on Twitter.
He was referring to the Deferred Action for Childhood Arrivals program to regularize the immigration status of young people who arrived illegally as children, which Trump tried to shut down. — AFP
January 21, 2021
President Joe Biden's first call to a foreign leader will be to Canadian Prime Minister Justin Trudeau, White House spokeswoman Jen Psaki says.
"His first foreign leader call will be on Friday with Prime Minister Trudeau," Psaki tells reporters at her first White House briefing.
She says they would discuss the "important relationship with Canada" and the Biden administration's decision to halt further construction of the Keystone XL oil pipeline between Canada and the United States. — AFP
Joe Biden takes office as the 46th president of the United States with an optimistic call for unity, vowing to bridge deep divides and defeat domestic extremism two weeks after a violent mob tried to undo his election victory.
On a frigid but sunny day at the very Capitol building that was assaulted on January 6, Biden was sworn in moments after Kamala Harris became America's first woman vice president, closing the book on Donald Trump's tumultuous four years.
"Democracy is precious, democracy is fragile and at this hour, my friends, democracy has prevailed," Biden says before a National Mall that was virtually empty due to the ultra-tight security and a raging COVID-19 pandemic that he vowed to confront immediately. — AFP