Policies and developments in the Biden presidency
October 22, 2021 | 11:55am
+ Follow Story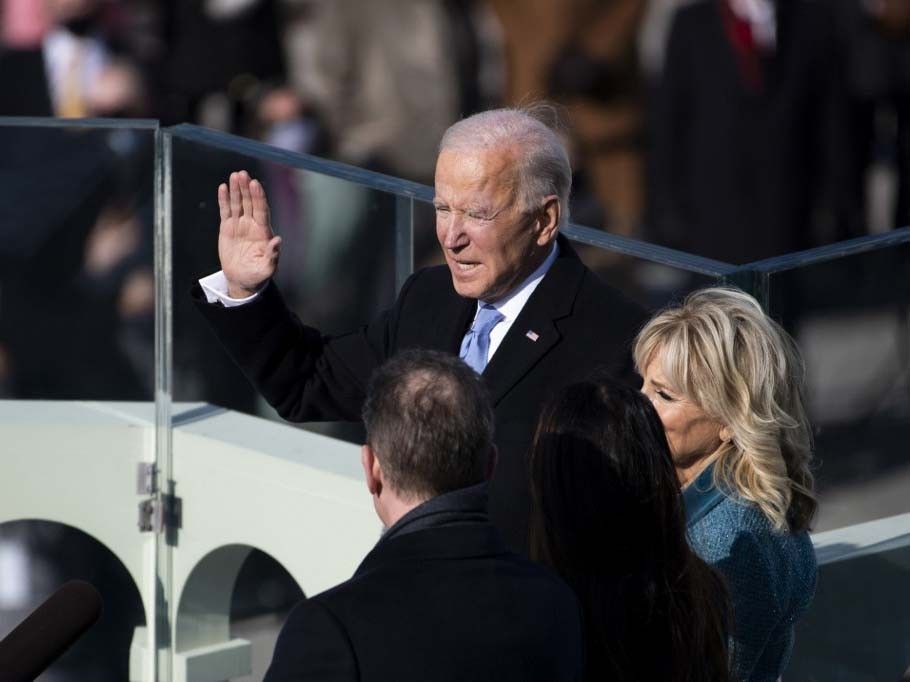 15 hours ago
President Joe Biden says the United States would defend Taiwan if the island were attacked by China, which considers it part of its territory.
"Yes," he responds when asked in a CNN town hall about defending Taiwan. "We have a commitment to that."
Biden's statement was at odds with the long-held US policy known as "strategic ambiguity," where Washington helps build Taiwan's defenses but does not explicitly promise to come to the island's help. — AFP
2 days ago
President Joe Biden was "more confident" about saving his multi-trillion-dollar agenda in Congress from internal party wrangling, the White House press secretary said late Tuesday, after a day of intensive negotiations with Democrats.
At stake are two huge bills: an infrastructure package worth $1.2 trillion and a second, even bigger proposal to expand the social safety net.
"After a day of constructive meetings, the President is more confident this evening about the path forward," said spokeswoman Jen Psaki.
"There was broad agreement that there is urgency in moving forward over the next several days and that the window for finalizing a package is closing," she added. — AFP
October 15, 2021
US President Joe Biden signs into law a bill to lift the nation's borrowing authority, averting the threat of a first-ever debt default -- but only for a few weeks.
On Tuesday the Democratic-controlled House of Representatives voted along party lines to pass the stop-gap $480 billion hike, which advanced from the Senate last Thursday after weeks of heated debate.
Without this increase in the debt limit, the Treasury warned that the federal government would be incapable of securing and servicing loans after October 18. This would have reverberated around the world as an economic catastrophe. — AFP
October 15, 2021
US President Joe Biden announces a major new COVID-19 vaccine donation for Africa and promised greater commitment to the continent as he welcomes his first African leader, Kenya's Uhuru Kenyatta.
Meeting at the White House, Biden and the Kenyan president promised to work together on climate change and ending violence on the Horn of Africa, although there appeared to be no headway on Kenya's hopes on a trade deal.
Biden announced that the United States would immediately donate another 17 million doses of the single-shot Johnson & Johnson vaccine to the African Union, on top of 50 million doses already sent. — AFP
October 14, 2021
The United States is returning to the UN Human Rights Council three-and-a-half years after its dramatic walk-out -- time seized upon by China to assert wider influence.
The United Nations General Assembly elects new members of the UN's top rights body on Thursday, with countries kicking off their three-year council term from January 1.
Though member states are chosen in a secret ballot, the election is a non-contest, with 18 candidate countries standing for 18 seats. — AFP
October 9, 2021
US President Joe Biden congratulates investigative journalists Maria Ressa of the Philippines and Dmitry Muratov of Russia for winning the Nobel Peace Prize for their work promoting freedom of expression.
"Ressa and Muratov have pursued the facts -- tirelessly and fearlessly," Biden says in a statement. "They have worked to check the abuse of power, expose corruption, and demand transparency.
"They have been tenacious in founding independent media outlets and defending them against forces that seek their silence."
October 1, 2021
President Joe Biden signs a stopgap bill passed earlier by Congress ahead of a midnight deadline to avoid forcing the US government to shut down due to lack of funding.
The House of Representatives voted by 254 votes to 175 to keep the lights on for another two months with a resolution that had already advanced comfortably from the Senate. — AFP
September 29, 2021
President Joe Biden is putting off a major trip to Chicago on Wednesday to stay behind in Washington and fight for his domestic agenda, which hangs from a thread in Congress, the White House said.
Biden had been meant to address his Covid-19 vaccination policy in Chicago but his two signature legislative policies — a $1.2 trillion infrastructure bill and an even bigger social spending package — risk failing in the divided legislature.
"He will now remain at the White House tomorrow to continue working on advancing these two pieces of legislation to create jobs," an administration official said in a surprise statement. — AFP
September 24, 2021
President Joe Biden deepens his bid to cement US leadership of the Indo-Pacific against a rising China with the first in-person summit of the regional Quad group.
Meeting in the White House, Biden and the leaders of Australia, India and Japan will discuss a COVID vaccines drive, regional infrastructure, climate change and securing supply chains for the semiconductors used in computer technology.
While China is not officially on the agenda, the Quad will stress backing for a "free and open Indo-Pacific," a senior US official told reporters. That's a phrase often standing in for ensuring that communist China will not end up dominating the region, including vital international sea lanes. — AFP
September 23, 2021
The White House says US President Joe Biden met with the warring wings of his Democratic Party in an effort to save his troubled economic plans.
The White House says in a statement Biden held three "productive and candid" meetings with two dozen members of Congress, as he dives in to try and settle an internal party squabble threatening to sink his ambitious social spending and infrastructure agenda.
One meeting featured the two most powerful Democrats, House Speaker Nancy Pelosi and Senate Majority Leader Chuck Schumer. Both are close Biden allies but are struggling to get their ranks in line behind the economic plans. — AFP
September 23, 2021
President Joe Biden says the US will donate 500 million more Pfizer-BioNTech vaccines to poorer countries, bringing its total commitment to 1.1 billion doses.
Biden is also to urge leaders at a virtual summit on the sidelines of the United Nations General Assembly to make sure 70 percent of their populations are covered by next September. — AFP
September 21, 2021
The Biden administration announces Monday that it would double the number of refugees it will accept in the coming fiscal year to 125,000, amid rising pressure from people fleeing Afghanistan and other countries.
"Today, the State Department is reaffirming our commitment to refugee resettlement in line with our long tradition of providing a safe haven and opportunity to individuals fleeing persecution," says spokesperson Ned Price.
"With the world facing unprecedented global displacement and humanitarian needs, the United States is committed to leading efforts to provide protection and promote durable solutions to humanitarian crises," Price says in a statement. — AFP
September 20, 2021
US President Joe Biden has requested early talks with French President Emmanuel Macron, France said on Sunday, in an apparent effort to mend fences after a row over a submarines contract sparked rare tensions between the allies.
But French government spokesman Gabriel Attal said Sunday that there would be a telephone conversation between Biden and Macron "in the coming days" at the request of the US president.
Macron will ask the US president for "clarification" after the announcement of a US-Australian-British defence pact that prompted Canberra's cancellation of the huge contract for diesel-electric French vessels. — AFP
September 18, 2021
President Joe Biden will host a virtual summit with world leaders on the coronavirus pandemic next Wednesday, a day after he addresses the United Nations General Assembly, the White House says.
"This meeting is about expanding and enhancing our shared efforts to defeat Covid-19" and will seek to "align on a common vision" against the virus, Press Secretary Jen Psaki says in a statement.
The summit will be "on the margins of the UN General Assembly." — AFP
September 17, 2021
The US State Department announces Thursday the approval of a maintenance contract worth up to $500 million for Saudi Arabia's military helicopter fleet, the first with the kingdom since Joe Biden became president.
Under the deal, a continuation of a previous agreement, the US will provide 350 contractor technicians and two government officials over two years to handle the maintenance of the Saudi military's Apache and Black Hawk attack helicopters, as well as the future fleet of Chinook transports.
Before his election Biden had promised to make Saudi leaders "pay" for the murder of US-based journalist Jamal Khashoggi, who was killed by a team closely tied to the court of Crown Prince Mohammed bin Salman. — AFP
September 16, 2021
The United States hopes to work "closely" in the Indo-Pacific with France, President Joe Biden said Wednesday as he announced a new strategic partnership in the region with Australia and Britain.
The new initiative throws into question a multi-billion-dollar French deal to provide conventional submarines to Australia.
Calling France "a key partner and ally in strengthening the security and prosperity of the region," Biden said "the United States looks forward to working closely with France and other key countries as we go forward." — AFP
September 15, 2021
President Joe Biden's administration will meet Friday with Israeli and Arab leaders to celebrate a normalization accord overseen by Donald Trump one year ago, calling it a step toward peace with the Palestinians.
US Secretary of State Antony Blinken's virtual meeting with his counterparts from Israel, the United Arab Emirates, Bahrain and Morocco marks a full embrace of what former president Trump considered one of his top foreign policy legacies.
State Department spokesman Ned Price said the administration was "thrilled to celebrate" the anniversary of the Abraham Accords, using the name given by the Trump administration from which the Biden team earlier shied away. — AFP
September 14, 2021
US President Joe Biden, whose international reputation has taken a hit after the chaotic withdrawal from Afghanistan, is upping the number of major diplomatic meetings this fall as he strives to boost alliances to counter China.
The White House said on Monday Biden will travel to New York on September 21 to address the United Nations General Assembly.
The world's largest diplomatic meeting, which was held virtually in 2020 due to the coronavirus pandemic, will be held this year with a hybrid in-person-virtual format. — AFP
September 10, 2021
President Joe Biden's administration will mandate companies with 100 or more employees to vaccinate all workers or administer weekly Covid-19 tests in a new effort to defeat the surging Delta virus, the White House says Thursday.
The companies must "ensure their workforce is fully vaccinated or require any workers who remain unvaccinated to produce a negative test result on at least a weekly basis," the White House says.
The measure will affect some 80 million people and comes in addition to extension of vaccine mandates for federal employees and new mandates for all those working in hospitals receiving federal healthcare reimbursements. — AFP
September 9, 2021
The Biden administration says Wednesday the United States should aim to garner nearly 50% of its electric supply from solar energy by mid-century, unveiling the latest component of its climate change strategy.
A report released by the Department of Energy (DOE) says solar could account for much as 40% of the power supply by 2035 and 45% by 2050, up from its current level of just three percent.
However reaching this level would require the United States to quadruple its annual solar capacity additions, the department says in a statement. — AFP
September 5, 2021
US President Joe Biden will commemorate the 20th anniversary of 9/11 by traveling to all the three sites of the attacks, the White House said Saturday.
On September 11, the president and First Lady Jill Biden will "honor and memorialize the lives lost 20 years ago," according to the White House statement.
They will take part in ceremonies in New York, where the twin towers of the World Trade Center fell; in Shanksville, Pennsylvania, the site of a crash of a plane hijacked by four jihadists; and in Arlington, Virginia, where the Pentagon was struck.
Biden had been counting on marking the 20th anniversary of the tragedy with a symbolic withdrawal of US troops from Afghanistan. — AFP
September 2, 2021
President Joe Biden will visit hurricane damage in the southern state of Louisiana on Friday, the White House says.
"The president will travel to New Orleans, Louisiana to survey storm damage from Hurricane Ida and meet with state and local leaders from impacted communities," the administration announces Wednesday.
Louisiana and Mississippi took the brunt of Hurricane Ida, which has killed four people. New Orleans was especially hard-hit. — AFP
August 25, 2021
US President Joe Biden's plans to spend nearly $5 trillion to change the world's largest economy advanced in the House of Representatives on Tuesday, after Democratic leaders reached an agreement with centrist lawmakers to end a dispute threatening the bills.
Biden and his Democratic allies controlling the chamber are pushing for passage of both a $1.2 trillion infrastructure overhaul and a bill costing $3.5 trillion over 10 years that would pay for improvements to education, health care and climate change resiliency.
The dispute erupted when centrist Democrats in the House said the infrastructure bill, which the Senate already approved, must be voted on first. — AFP
August 24, 2021
US Vice President Kamala Harris' trip to Hanoi delayed due to 'health incident', embassy says
August 23, 2021
US Vice President Kamala Harris vowed "enduring engagement" in Asia on Monday, offering reassurances of Washington's commitment to the region following the United States' withdrawal from Afghanistan and the Taliban takeover.
The hardline Islamists' swift return to power a week ago, and desperate scenes of thousands trying to flee, have cast a shadow over the United States' status as a global superpower.
But on a visit to Singapore, her first stop on a trip that will also include Vietnam, Harris repeatedly insisted that Washington could be depended on.
"Our administration is committed to enduring engagement in Singapore, into Southeast Asia and the Indo-Pacific," Harris told a press conference alongside Singapore's leader.
"The reason I am here is because the United States is a global leader, and we take that role seriously." — AFP
August 18, 2021
The United States is open to maintaining its diplomatic presence at Kabul's airport after a withdrawal deadline at the end of the month if conditions permit, a State Department spokesman says Tuesday.
"We are thinking about this in terms of August 31. If it is safe and responsible for us to potentially stay longer, that is something we may be able to look at," the spokesman, Ned Price, tells reporters. — AFP
August 17, 2021
US President Joe Biden warns the Taliban Monday not to disrupt or threaten the evacuation of thousands of American diplomats and Afghan translators at the Kabul airport.
The response to any attack would be "swift and forceful," Biden says in a televised address from the White House.
"We will defend our people with devastating force if necessary," he says. — AFP
August 17, 2021
US President Joe Biden on Monday acknowledges that the Afghan government collapsed more quickly than he expected even as he defends his decision to withdraw troops.
"I always promised the American people that I will be straight with you. The truth is, this did unfold more quickly than we had anticipated," Biden says in a national address.
"We gave them every chance to determine their own future. We could not provide them with the will to fight for that future." — AFP
August 16, 2021
US President Joe Biden on Sunday authorizes the deployment of another 1,000 US troops to Kabul to aid in the effort to evacuate thousands of US and Afghan civilians, a Pentagon official says, as the Taliban entered the Afghan capital and took control.
In all, 6,000 US soldiers will be in Kabul "in the coming days," the official said on condition of anonymity, as those seeking safe passage out of Afghanistan converged on the airport. — AFP
August 12, 2021
US President Joe Biden, who just scored an important victory with the passage of a giant infrastructure package, on Wednesday highlighted another key goal of his administration: a massive social spending plan aimed at helping middle-class Americans.
"As we recover from this crisis, now is the moment to put in place the long-term plan to build back America better," Biden said in a speech at the White House.
The Democratic leader lamented the rising costs "that are squeezing families month after month and year after year."
"We need to make this economy work better for working families in the long run," he added. — AFP
August 11, 2021
US President Joe Biden hails the "historic" $1.2 trillion infrastructure package passed by the Senate on Tuesday, saying it will "transform America."
The bill funds work on roads, bridges and ports, as well as clean water and high-speed internet that will create thousands of high-paying jobs, most of which do not require a college degree, Biden said.
The investments will make "infrastructure more resilient" and "allow us to outcompete the rest of the world," he adds. — AFP
August 10, 2021
The Taliban are making swift gains in Afghanistan but President Joe Biden is standing firm on a US exit with limited options appearing to be on the table to reverse the insurgents' momentum.
The Taliban's advances, including seizing six provincial capitals within days, may appear startling in their speed but were not unexpected in Washington as the US military completes the pullout ordered by Biden by August 31.
"The decision to withdraw was made in full knowledge that what we are seeing happen now was likely to happen," said Laurel Miller, until 2017 the US special representative for Afghanistan and Pakistan. — AFP
August 2, 2021
US senators on Sunday finalized a historic, trillion-dollar infrastructure proposal that is expected to be approved within days, Democratic Senate leader Chuck Schumer said.
If passed by Congress and signed into law, the bill would pump historic levels of federal funding into fixing US roads, bridges and waterways, ensuring broadband internet for all Americans and expanding clean energy programs.
A bipartisan group "finished writing the text of the infrastructure bill," Schumer told the Senate, which met for an extended weekend session in Washington.
"I believe the Senate can process relevant amendments and pass this bill in a matter of days."
The bill, a cornerstone of President Joe Biden's sweeping domestic agenda, is about 2,700 pages long and provides for $1 trillion in funding. — AFP
July 8, 2021
President Joe Biden pushes his giant infrastructure spending plans in a speech urging the country to modernize and create "an American century."
"We have to think bigger, we have to act bolder and we have to build back better," he says in a speech in Crystal Lake, Illinois.
Referring to Ronald Reagan's famous assertion in 1984 that the booming economy brought "morning in America," Biden says his plans promised "an American century." — AFP
July 3, 2021
President Joe Biden on Friday cheers the "historic" US rebound from the COVID-19 crisis as the economy gained 850,000 new jobs in June, cementing the evidence of a broad recovery.
The uptick was better than expected and came after two months of disappointing results, buoyed by big increases in the hard-hit leisure and hospitality sector, the Labor Department said in its closely watched monthly report.
With the latest gains, the world's largest economy has added 3.3 million jobs in the first six months of the year. — AFP
July 2, 2021
President Joe Biden will celebrate America's defeat of COVID-19 with a July 4th barbecue this Sunday, but the fireworks smoke will barely clear before the Democrat has to confront maybe even tougher challenges.
About 1,000 guests -- emergency service and essential workers, military members and their families -- are set to pour into the White House grounds for the kind of party unimaginable a year ago, when the country was under lockdown.
The Independence Day bash on the South Lawn, followed by a thunderous fireworks display on the National Mall, will allow Biden to mark what he's calling "independence from this virus."
June 29, 2021
Lawyers for the Trump Organization were making a last-ditch effort on Monday to ward off what appeared to be an impeding criminal indictment of the ex-president's company, according to US media.
A series of reports in recent days seem to indicate that closed-door investigations into the business practices of the former New York real estate mogul — a case opened more than two years ago by the Manhattan district attorney and two Democratic members of Congress, and focusing on alleged financial fraud — are about to bear fruit.
According to several media outlets, including the Washington Post, lawyers for the Trump Organization, an unlisted family holding company that owns golf clubs, hotels and luxury properties, were presenting their final arguments to prosecutors Monday to forestall charges.
A face-to-face meeting was scheduled, according to CNN. — AFP
June 24, 2021
US Vice President Kamala Harris on Friday will visit the country's border with Mexico, the White House announced, as the Biden administration faces intense scrutiny over its handling of an immigration surge.
Hundreds of thousands of migrants, many fleeing poverty and violence in Central America, have attempted to cross into the United States in recent months, prompting scathing criticism from Republicans that President Joe Biden's more humane approach to immigration was provoking rather than preventing a crisis.
Harris senior advisor Symone Sanders said Wednesday that the vice president will visit the border city of El Paso, Texas, and will be accompanied by Homeland Security Secretary Alejandro Mayorkas.
Biden tasked Harris earlier this year with overseeing efforts to address what the administration describes as root causes of migration from El Salvador, Guatemala and Honduras. — AFP
June 23, 2021
A day before US President Joe Biden was due to announce measures to combat a rise in violent crime, the Justice Department on Tuesday revealed it had created five new units to tackle gun trafficking.
The units will be set up in the next 30 days and will focus on the major cities of New York, Chicago, Los Angeles, San Francisco and Washington, which have suffered a sharp increase in homicides over the past year and a half.
Bringing together federal prosecutors, specialized police officers and local partners, the "firearms trafficking strike forces will investigate and disrupt the networks that channel crime guns into our communities with tragic consequences," said Attorney General Merrick Garland in a statement.
On Wednesday, Garland will be at the White House when the Democratic president sets out his administration's strategy to fight rising crime, in the face of criticism from the Republican opposition that he has not properly addressed the problem.
After years of decline, homicide rates rose about 25 percent in 2020, and remain at their highest levels in 2021. — AFP
June 21, 2021
Director Patrick Forbes hopes his new documentary "The Phantom" could be the spark prompting President Joe Biden to act against the death penalty thanks to its powerful message: "An innocent man was executed."
The movie, set for a July 2 release, takes a detailed look at the murder of Wanda Lopez, who was stabbed to death one night in February 1983 while working as a cashier in a Corpus Christi, Texas service station.
Just before she died, the young woman had called police to describe a suspect.
The documentary, a reconstitution of the crime in minute and chilling detail, opens with a recording of Lopez's last words: "You want it? I'll give it to you. I'll give it to you. I'm not going to do nothing to you. Please!"
The police, who arrived too late to save Lopez, took off in pursuit of a man who witnesses had seen fleeing on foot. Forty minutes later they arrested Carlos DeLuna, a 20-year-old with a long criminal record. He was hiding under a car.
Feeling certain they had found Lopez's killer, investigators ended the hunt, even as DeLuna vociferously insisted on his innocence. No trace of blood was found on him.
During his trial, DeLuna said he had fled out of fear of being blamed, and said he, in fact, knew the guilty party: a certain Carlos Hernandez whom he had met in prison.
But when shown photos of men by that name, DeLuna was unable to identify Carlos Hernandez. Certain lies he told during the trial further undercut his credibility.
The prosecutor insisted that "Carlos Hernandez" was a figment of DeLuna's imagination — a "phantom." He was convicted and subsequently sentenced to death.
After all his appeals failed, DeLuna was executed in 1989. — AFP
June 20, 2021
President Joe Biden went to church Saturday in his hometown a day after US Roman Catholic bishops issued a challenge to him over his support for abortion rights.
Biden and first lady Jill Biden spent time at St. Joseph on the Brandywine church in Wilmington. They also visited the church graveyard where the president's first wife Neilia, son Beau and infant daughter Naomi are buried.
Biden, 78, is a devout Catholic who attends mass at least once a week, and he supports the landmark 1973 US Supreme Court decision affirming a woman's right to an abortion. — AFP
June 14, 2021
US President Joe Biden will seek to restore bonds of trust at NATO's first post-Trump summit on Monday, as leaders push to revitalise the alliance despite differences over dangers ahead.
The allies will agree a statement stressing common ground on securing their withdrawal from Afghanistan, joint responses to cyber attacks and relations with a rising China.
Biden's predecessor Donald Trump undermined faith in the West's security architecture by questioning Washington's commitment to defend European partners.
And he clashed publicly with counterparts the last time leaders met in 2019, before abruptly heading home early.
In contrast, Biden has firmly reasserted American backing for the 72-year-old military alliance — and his administration has been making a show of consulting more with partners. — AFP
June 13, 2021
President Joe Biden marks the fifth anniversary of a mass shooting in a gay nightclub in Florida, taking the rare step of saying he would designate the club as a national memorial.
"In the coming days, I will sign a bill designating Pulse Nightclub as a national memorial, enshrining in law what has been true since that terrible day five years ago: Pulse Nightclub is hallowed ground," the US president says in a statement released as he continued a European tour.
On June 12, 2016, a gunman opened fire inside the Orlando club, killing 49 people, many of them Latinos, and wounding more than 50 others in what was then the deadliest mass shooting in modern US history. — AFP
June 11, 2021
President Joe Biden calls a US donation of 500 million COVID-19 vaccine doses to poorer countries a "historic step" in the fight against the global pandemic.
"This is about our responsibility, our humanitarian obligation to save as many lives as we can," he tells reporters on the eve of the G7 summit in Cornwall, southwest England, adding it was also in the US interest because of the risk of variants. — AFP
June 10, 2021
Joe Biden and Boris Johnson will hold their first face-to-face meeting Thursday, during which they will lay the foundations for a new pact, despite Brexit and its consequences in Northern Ireland casting a shadow on the old "special relationship".
Biden — on his first overseas tour as US president — and the British Prime Minister are set to agree a modern version of the 1941 "Atlantic Charter" signed by Winston Churchill and Franklin D. Roosevelt, that set out post-war goals for democracy, trade and opportunity.
But while keen to affirm the strength of the long-celebrated partnership, Biden has reportedly ordered US diplomats to scold Johnson over his handling of Brexit and its effects on the Northern Ireland peace process. — AFP
June 9, 2021
Joe Biden departs Washington early Wednesday on the first foreign trip of his presidency, launching an intense series of summits with G7, European and NATO partners before a tense face-to-face with Russia's Vladimir Putin.
Biden, 78, heads from the White House first to Britain ahead of a G7 summit in a Cornish seaside resort from Friday to Sunday.
From there, in rapid succession, the veteran Democrat will visit Queen Elizabeth II at Windsor Castle, fly to Brussels for summits with the NATO military alliance and European Union, then finish up in Geneva, where he meets Putin next Wednesday. — AFP
June 8, 2021
Joe Biden will fight what he calls a "defining" battle for democracy on his first foreign presidential trip, meeting top US allies in Europe ahead of a tricky summit with Russia's Vladimir Putin.
The busy agenda -- with G7, NATO and European Union summits ahead of the Putin sit-down in Geneva -- will see Biden fly the flag for a West he sees at an "inflection point."
"This is a defining question of our time," Biden wrote in The Washington Post ahead of his trip. — AFP
June 8, 2021
President Joe Biden reaffirmed US support for Ukraine's territorial integrity Monday after Russian troop movements on its border, and invited President Volodymyr Zelensky to the White House.
National Security Advisor Jake Sullivan told reporters that Biden talked by phone with Zelensky, telling him "he will stand up firmly for Ukraine's sovereignty" and "looks forward to welcoming him to the White House this summer."
The invitation to visit in July marked a show of support for Ukraine ahead of Biden's summit with Russian President Vladimir Putin in Geneva next week.
White House press secretary Jen Psaki said the leaders had discussed the countries' "shared democratic values and Ukraine's Euro-Atlantic aspirations."
She said Biden "affirmed the United States' unwavering commitment to Ukraine's sovereignty and territorial integrity in the face of ongoing Russian aggression in Donbas and Crimea."
In a statement Zelensky accepted the invitation. — AFP
June 7, 2021
US Vice President Kamala Harris arrived in Guatemala Sunday, bringing a message of "hope" to a region hammered by Covid-19 and which is the source of most of the undocumented migrants seeking entry to the United States.
Harris, who will also visit Mexico, is making her first journey abroad as President Joe Biden's deputy with an eye toward tackling the root causes of migration from the region — one of the thorniest issues facing the White House.
She landed at an air force base outside Guatemala City on Sunday evening, where she was greeted by Foreign Minister Pedro Brolo and US Ambassador William Popp. — AFP
June 6, 2021
The United States will stand with its European allies against Russia, President Joe Biden has promised ahead of the first face-to-face meeting with Vladimir Putin of his administration.
Biden will head to Europe Wednesday, and is set to attend both the G-7 and NATO summits as well as holding a high-stakes meeting with the Russian leader in Geneva on June 16.
The summit comes amid the biggest crisis in ties between the two countries in years, with tensions high over a litany of issues including hacking allegations, human rights and claims of election meddling. — AFP
June 5, 2021
The administration of President Joe Biden announces it would restore protections under the Endangered Species Act, a law credited with saving iconic animals like the gray wolf and bald eagle, which were loosened by his predecessor Donald Trump.
Conservation groups welcomed the move but said they were concerned about how long the reversal might take.
"The US Fish and Wildlife Service (FWS) is committed to working with diverse federal, Tribal, state and industry partners to not only protect and recover America's imperiled wildlife but to ensure cornerstone laws like the Endangered Species Act are helping us meet 21st century challenges," says the agency's Martha Williams. — AFP
June 3, 2021
US President Joe Biden says he is "looking" at possible retaliation after the White House linked Russia to a cyberattack against global meat processing giant JBS.
Asked by a reporter if he would take action against President Vladimir Putin, whom he will meet for a summit in Geneva later this month, Biden says: "We're looking closely at that issue."
The ransomware attack on a US subsidiary of Brazilian-owned JBS has again prompted accusations that Russia is at least harboring cybercriminals. — AFP
May 29, 2021
US President Joe Biden proposes a $6 trillion budget that for first time in 45 years did not prohibit federal funds being used for abortion, as the Democrat leader fulfilled a campaign pledge.
The absence of the "Hyde amendment" in the proposed budget will be subject of bitter debate in Congress, where elected Republicans will seek to reintroduce it.
The amendment limits the use of federal funds to finance abortions through Medicaid in cases of rape, incest or when the mother's life is in danger. Medicaid is public health medical insurance intended for poorer Americans. — AFP
May 28, 2021
President Joe Biden urges "generational" investment in US infrastructure to keep the economic superpower ahead of China while ensuring that less wealthy Americans are not left behind.
Speaking at a community college in Cleveland, Ohio, Biden says his $1.7 trillion American Jobs Plan is an opportunity to capitalize on the rapid US recovery from the COVID-19 shutdown.
"We're at an inflection point," he says. "We have a chance to seize the economic momentum... and this time we're going to deal everyone in, everyone who's been left out." — AFP
May 22, 2021
President Joe Biden acknowledges there is no easy path to getting North Korea to give up its nuclear weapons but reaffirmed his "iron-clad" commitment to the US alliance with South Korea after talks with President Moon Jae-in.
"We're under no illusions how difficult this is -- none whatsoever. The past four administrations have not achieved the objective. It's an incredibly difficult objective," Biden tells reporters at a press conference with his South Korean counterpart at the White House.
The US leader also announced he had named veteran diplomat Sung Kim, the former US ambassador to Seoul, as his special envoy for North Korea. — AFP
May 21, 2021
President Joe Biden meets South Korean President Moon Jae-in at the White House on Friday to underscore a strategic focus on Asia, while playing down chances of quick progress on the two biggest challenges facing the United States.
The rising power of China as a rival for leadership in Asia and the powder keg of nuclear-armed North Korea loom over the talks.
The Biden administration admits it has no easy answer to either. — AFP
May 8, 2021
The United States added just 266,000 jobs in April -- a quarter of the number expected -- in a surprise setback for President Joe Biden's efforts to revive an economy blighted by the COVID-19 pandemic.
The weak hiring also pushed the unemployment rate up slightly to 6.1%, according to the Labor Department's monthly employment report released Friday.
The data defied economists' upbeat predictions that widespread Covid-19 vaccines and government relief measures would allow businesses to return to normal and add one million jobs last month. — AFP
May 6, 2021
President Joe Biden says that America's Republicans face an identity crisis and a "mini-revolution" after Donald Trump's turbulent presidency.
The Democrat, who defeated Trump last November and had pledged to work with Republicans if he could, said the opposition has lost its way.
"It seems as though the Republican Party is trying to identify what it stands for and they're in the midst of a significant mini-revolution," he tells reporters at the White House. — AFP
May 4, 2021
President Joe Biden announces, after coming under fierce criticism, that he was raising the maximum number of refugees allowed into the United States this year to 62,500 — up from the 15,000 cap imposed by his predecessor Donald Trump.
The change follows backlash from allies over Biden's earlier decision to keep the Trump-era limits -- a politically costly moment of confusion that stood out in a White House notable for its iron discipline in its first three months.
"This erases the historically low number set by the previous administration of 15,000, which did not reflect America's values as a nation that welcomes and supports refugees," Biden says in a statement. — AFP
May 3, 2021
Britain this week hosts the first face-to-face meeting of G7 foreign ministers in two years, joined by US Secretary of State Antony Blinken, as world powers tackle pandemic recovery plus growing tensions with Russia and China.
The Covid-secure gathering in London will prepare the ground for a G7 summit in southwest England next month, which will mark Joe Biden's inaugural visit to Europe as US president. Both events will also be joined by Indian leaders.
Many of the G7 nations have rallied to India's aid as the world's most populous democracy confronts a terrifying surge of coronavirus cases, although the pandemic is ebbing elsewhere in the West thanks to mass vaccination drives. — AFP
April 30, 2021
US President Joe Biden meets with longtime ally and Democratic icon Jimmy Carter as he visited the southern state of Georgia to pitch his huge spending plans.
It was their first face-to-face encounter since Biden won the White House last November.
"They are such a powerful reminder that serving our country isn't limited to the office you hold," Jill Biden says afterwards in Duluth, Georgia, before introducing her husband at a rally. — AFP
April 29, 2021
The United States will stand up to China but is not looking for conflict, President Joe Biden was to say in an address to Congress on Wednesday.
In prepared remarks, Biden said that he had told his Chinese counterpart Xi Jinping that "we welcome the competition — and that we are not looking for conflict." — AFP
April 29, 2021
US President Joe Biden tells Americans in his first speech to Congress that the nation has pulled off a massive logistical success with its battle against the coronavirus pandemic.
"Because of you, the American people, our progress these past 100 days against one of the worst pandemics in history is one of the greatest logistical achievements our country has ever seen," the president says in an address to a joint session of Congress.
The 78-year-old Biden notes that senior deaths from COVID-19 have plunged some 80% since January, more than half of all US adults have received at least one vaccine dose, and that first responders considered the vaccine as "a dose of hope." — AFP
April 28, 2021
The Biden administration announces a new effort Tuesday to pressure "transnational criminal organizations" it said were involved in smuggling undocumented migrants crossing the southern border.
Secretary of Homeland Security Alejandro Mayorkas says the new Operation Sentinel will bring together multiple law and border enforcement agencies along with the State Department to make it hard for the gang members to travel internationally or move money and goods around.
"These criminal organizations put profit over human life. They routinely prey on migrants taking vast sums of money from them, in exchange for often empty promises to get them safely to the United States," Mayorkas says. — AFP
April 27, 2021
US Vice President Kamala Harris promises Guatemalan President Alejandro Giammattei Monday that Washington would give more help to Central American countries struggling to stop migrants from fleeing north.
Harris, who leads President Joe Biden's efforts to address the influx of migrants from Guatemala, Honduras and El Salvador to the US-Mexico border, met with Giammattei by videoconference, prior to her visit to Central America scheduled for June.
"The United States plans to increase relief to the region, strengthen our cooperation to manage migration in an effective, secure and humane manner," she promises Giammattei. — AFP
April 27, 2021
President Joe Biden will propose a tax hike on the investment gains of the wealthiest individuals to pay for his new plan to help US families, a top White House economist says.
Biden this week is expected to lay out his $1.8 trillion American Families Plan that would provide national child care, paid family leave and free community college, using higher taxes on the rich to offset the hefty price tag.
The increased levy on the profits earned from sales of stocks and other assets will only impact those earning $1 million a year, a narrow sliver of American taxpayers comprising 500,000 people, said Brian Deese, head of the White House National Economic Council.
"This change will only apply to three tenths of a percent of taxpayers, which is not the top one percent, it's not even the top one half of one percent," he tells reporters, citing 2018 tax filing data. — AFP
April 22, 2021
US President Joe Biden is preparing to recognize the World War I-era killings of 1.5 million Armenians by the Ottoman Empire as genocide, US media says.
Such a move would further inflame tensions with NATO ally Turkey, which vehemently rejects the designation that has already been adopted by dozens of other countries including France and Russia.
Biden is expected to announce the genocide designation on Saturday, the 106th anniversary of the mass killings that began in 1915, when the Ottoman Empire was battling Tsarist Russia during World War I in the region that is now Armenia, according to The New York Times and Wall Street Journal. — AFP
April 21, 2021
China's President Xi Jinping will attend US President Joe Biden's virtual climate summit this week, Beijing says, as the world's top polluting nations seek rare common ground despite wider political tensions.
Biden has invited 40 world leaders including Xi and Russia's Vladimir Putin to the meet starting on Earth Day, meant to mark Washington's return to the front lines of the fight against climate change after former president Donald Trump disengaged from the process.
The virtual summit will be the first meeting between the two leaders since Biden became president. — AFP
April 21, 2021
President Joe Biden calls on Americans to unite after the guilty verdict in the racially charged murder by a policeman of a Black man and pleaded for protesters to stay clear of violence.
"This is the time for this country to come together, to unite as Americans," he says in nationally televised remarks.
"There are those who will seek to exploit the raw emotions in the moment — agitators and extremists who have no interest in social justice," he warns. "We can't let them succeed." — AFP
April 17, 2021
US President Joe Biden says it was too early to know whether indirect talks underway with Iran would succeed in reviving a nuclear accord.
Biden says the United States does "not think that it's at all helpful" that Iran this week ramped up uranium enrichment, a move taken in response to sabotage on a nuclear facility believed to have been carried out by Israel.
"We are nonetheless pleased that Iran has continued to agree to engage in discussions," Biden says at a joint news conference with Japanese Prime Minister Yoshihide Suga. — AFP
April 16, 2021
Finnish President Sauli Niinisto has offered Finland as a host country for a possible meeting between US president Joe Biden and his Russian counterpart Vladimir Putin, Niinisto's office says.
"When it comes to this possible meeting, the readiness of Finland to organise it has been presented to both Washington and Moscow," a spokesman for the Finnish President's Office told AFP by email.
Finland previously hosted Putin and President Trump in Helsinki for the 2018 summit between the two leaders. — AFP
April 16, 2021
President Joe Biden receives Japan's prime minister for his first in-person summit, with the leaders expected to announce a $2 billion 5G initiative as part of a concerted US push to compete with China.
Biden's decision to invite Prime Minister Yoshihide Suga as his first guest -- with South Korean President Moon Jae-in set to come in May -- reflects his renewed priority on US alliances as he zeroes in on a rising China as America's most pressing challenge.
A senior US official said that technology leader Japan would announce a "very substantial commitment" of $2 billion in partnership with the United States "to work on 5G and next steps beyond." — AFP
April 15, 2021
Reviving the Iran nuclear deal would seem like a simple task for US President Joe Biden. Iran wants him to lift sanctions in exchange for Tehran's return to compliance.
But as Iran and the United States resume indirect talks in Vienna led by the European Union, the Biden administration faces the question of which sanctions exactly are on the table.
Further casting a shadow over the talks is an explosion at a key Iranian nuclear facility purportedly carried out by Israel, a sworn foe of the 2015 accord, which led Tehran to announce it was ramping up uranium enrichment closer to weapons-grade levels. — AFP
April 14, 2021
President Joe Biden will formally announce the withdrawal of all US troops from Afghanistan before this year's 20th anniversary of the September 11 attacks, finally ending America's longest war despite mounting fears of a Taliban victory, officials say.
The drawdown delays only by around five months an agreement with the Taliban by former president Donald Trump to pull troops, amid a growing consensus in Washington that little more can be achieved.
The decision came as Turkey announced an international peace conference on Afghanistan in hopes of reaching an agreement that brings stability to a nation battered by nearly 40 years of war. — AFP
April 14, 2021
President Joe Biden agrees to address a joint session of Congress this month to mark 100 days in office as he grapples with critical issues including the coronavirus pandemic and America's economic woes.
Biden accepted House Speaker Nancy Pelosi's invitation to deliver an April 28 address on "the challenges and opportunities of this historic moment."
The speech will not technically be a so-called State of the Union address, which American presidents give yearly under the Constitution. Brand new leaders like Biden instead deliver a speech to a joint session of Congress. — AFP
April 14, 2021
President Joe Biden will withdraw all US troops from Afghanistan before this year's 20th anniversary of the September 11 attacks, finally ending America's longest war despite mounting fears of a Taliban victory, officials say Tuesday.
The drawdown delays only by around five months an agreement with the Taliban by former president Donald Trump to pull troops, amid a growing consensus in Washington that little more can be achieved.
The decision came as Turkey announced an international peace conference on Afghanistan in hopes of reaching an agreement that brings stability to a nation battered by nearly 40 years of war. But the Taliban, newly emboldened, said they would boycott the conference. — AFP
April 13, 2021
President Joe Biden met virtually Monday with leading CEOs for a summit on the semiconductor shortage as he works to build support for his infrastructure bill.
Biden, in brief remarks to a group that included the leaders of General Motors, Alphabet/Google, and US semiconductor powerhouse Intel, said the United States must build up its own infrastructure to prevent future supply crises.
"We led the world in the middle of the 20th century," Biden said. "We led the world toward the end of the century, we're going to lead the world again." — AFP
April 8, 2021
President Joe Biden will unveil measures on Thursday aimed at curbing rampant US gun violence, especially seeking to prevent the spread of untraceable "ghost guns," White House officials said.
Biden has come under pressure from his Democratic party to tackle the bloodshed, most recently highlighted by mass killings in Colorado, Georgia and California.
In addition to relatively modest measures on the politically hyper-sensitive issue, Biden will announce his nomination of David Chipman, a gun-control proponent, to head the Bureau of Alcohol, Tobacco, Firearms and Explosives — a central agency in the fight against gun violence. — AFP
April 7, 2021
President Joe Biden announces that all adults across America will be eligible for Covid-19 shots within two weeks, while economic powerhouse California set a June 15 target to fully reopen businesses.
The positive news from the United States — which has reported the most coronavirus deaths of any country but is now a leader in the vaccine rollout — contrasted with a record daily toll in Brazil and Europe's troubled rollout of the AstraZeneca shot.
Biden announced in a White House speech that he is moving up the deadline for all over 18 to be eligible for vaccines to April 19. The previous target had been May 1. — AFP
April 2, 2021
Japan's Prime Minister Yoshihide Suga will hold face-to-face talks with Joe Biden in Washington on April 16, as the first foreign leader hosted by the US president, the Japanese government says.
Local media had reported the trip would take place next week, but top government spokesman Katsunobu Kato said the mid-April date would give both sides time to prepare.
The trip comes at a time of renewed focus on China's role in the region, as well as its alleged abuses of the Uyghur minority and its crackdown on freedoms in Hong Kong. — AFP
April 1, 2021
US President Joe Biden announces a massive $2 trillion infrastructure program that he says will generate millions of jobs, revitalize the US economy and help Washington compete with China.
"It's the largest American jobs investment since World War II. It will create millions of jobs, good-paying jobs," Biden says.
The United States "can't delay another minute' to rebuild US infrastructure, he says. — AFP
March 31, 2021
US President Joe Biden nominates several Black women, an Asian American and the first Muslim ever to federal judgeships Tuesday in a push for diversity in the US court system.
Breaking with predecessor Donald Trump's four-year effort to staff federal courts with largely white male conservatives, Biden unveils his first 11 picks for judges, with only two of them men, neither of them white.
At the top of his list was nominating Judge Ketanji Brown Jackson, who is African-American, to the US Court of Appeals for the District of Columbia Circuit, which is known to handle major cases. — AFP
March 29, 2021
US President Joe Biden's new trade negotiator has said the United States is not yet ready to lift tariffs on Chinese imports, but could be open to talks with Beijing.
US Trade Representative Katherine Tai, whose appointment was confirmed earlier this month, told The Wall Street Journal she understood the levies were hitting some American companies and consumers, but they can also protect businesses.
In January 2020, then-president Donald Trump signed an accord between Beijing and Washington after a bruising trade battle that saw tariffs imposed by both sides.
"I have heard people say, 'Please just take these tariffs off,'" the 47-year-old Tai told the WSJ in an interview published Sunday. — AFP
March 26, 2021
President Joe Biden warns North Korea that the United States will "respond accordingly" if it escalates its military testing, after Pyongyang fired two missiles in its first major provocation since he took office.
The nuclear-armed North has a long history of using weapons tests to ramp up tensions, in a carefully calibrated process to try to forward its objectives.
Biden's response demonstrates a change of tone from his predecessor Donald Trump, who engaged in an extraordinary diplomatic bromance with North Korean leader Kim Jong Un and last year repeatedly played down similar short-range launches. — AFP
March 22, 2021
"The border is closed": With those words, a top Biden administration official pushes back Sunday against fast-mounting criticism that it has bungled immigration policy, spurring an influx of migrants in the biggest crisis to emerge under the new president.
Homeland Security Secretary Alejandro Mayorkas says the administration's message to would-be border-crossers was simple: "Now is not the time to come. Do not come. The journey is dangerous.
"We are building safe, orderly and humane ways to address the needs of vulnerable children," he says on ABC's "This Week." — AFP
March 18, 2021
US President Joe Biden says that it would be "tough" to meet the deadline to withdraw American troops from Afghanistan by May 1, as agreed with the Taliban in a deal secured under Donald Trump.
The Taliban insurgents have largely stuck to a promise not to attack US or other foreign troops since the agreement was struck in February last year, but they say the date to end America's longest war is inflexible.
"Could happen, but it is tough," Biden says when asked about the May 1 deadline in a TV interview broadcast on Wednesday. "I'm in the process of making that decision now." — AFP
March 17, 2021
US President Joe Biden urges migrants not to come to the United States as criticism mounted over a surge in people arriving at the southern border with Mexico -- including thousands of unaccompanied children.
"Yes I can say quite clearly don't come over ... Don't leave your town or city or community," he says in an interview with ABC News, addressing the migrants. — AFP
March 17, 2021
US President Joe Biden's administration intends to show its firmness against Beijing in its first meeting with Chinese diplomatic leaders in Alaska on Thursday, but does not expect immediate results, US officials.
Secretary of State Antony Blinken and White House national security adviser Jake Sullivan are set for talks with senior Chinese official Yang Jiechi and Foreign Minister Wang Yi that represent "an initial discussion to understand... our interests, intentions and priorities," one senior US official tells reporters.
"Sometimes there is sense, potentially a perception, or maybe it's a hope in Beijing, that our public message is somehow different than our private message. And we think it's really important that we dispel that idea very early," the official adds. — AFP
March 17, 2021
US President Joe Biden will hold his first formal press conference since taking office next week, White House Press Secretary Jen Psaki said Tuesday.
Biden, who was sworn in on January 20, has broken with precedent by waiting so long to hold a full question and answer session with journalists. The White House says that he has frequently answered questions in informal settings instead.
The press conference on March 25 will take place more than 60 days into Biden's term. — AFP
March 16, 2021
President Joe Biden's $1.9 trillion stimulus will start flooding into the US economy soon, and some analysts say much of that money could end up invested in stocks or even bitcoin.
Over the weekend, the government began sending the $1,400 direct payments that will go to nearly everyone in the United States.
About $400 billion in payments will flow directly to households, going to individuals earning less than $75,000 a year or married couples making up to $150,000, as well as their children. — AFP
March 12, 2021
US President Joe Biden warns Americans not to relent in the fight to defeat Covid-19, saying it was "far from over," while offering hope for brighter days to come as virus cases wane and vaccinations accelerate.
"This fight is far from over," Biden says in his first primetime address to the nation. "This is not the time to let up."
He urges Americans to get vaccinated and to continue to follow social distancing rules and wear face masks, adding that ultimately, "history will record that we faced and overcame one of the toughest and darkest periods in this nation's history." — AFP
March 12, 2021
President Joe Biden will order authorities across the entire United States to lift priority restrictions on people wanting to get Covid-19 vaccinations by the start of May, an official said Thursday.
"He will direct states that no later than May 1, all Americans need to be eligible to receive the vaccine," said a senior administration official, who asked not to be identified.
Biden will discuss his plans in a primetime television speech later Thursday. — AFP
March 10, 2021
US President Joe Biden will hold first-ever joint talks Friday with the leaders of Australia, India and Japan, boosting an emerging four-way alliance often cast as a bulwark against China.
It will be one of the first summits, albeit in virtual format, for Biden, who has vowed to revive US alliances in the wake of the disarray of Donald Trump's administration. — AFP
March 10, 2021
President Joe Biden plans to nominate a prominent advocate of breaking up Big Tech firms to a key regulatory post, suggesting an aggressive antitrust stance, media reports said Tuesday.
The reports said Lina Khan — a Columbia University law professor who has suggested antitrust laws could be interpreted to break up tech titans — would be named to the Federal Trade Commission, an agency with some authority over mergers and antitrust policy.
Khan's appointment would follow the naming of Tim Wu, another Big Tech critic, to an economic advisory post in the White House. — AFP
March 7, 2021
US President Joe Biden hails the Senate passage of a $1.9 trillion relief package for the pandemic-stricken American economy, following a marathon overnight voting session.
"I promised the American people help was on the way. Today, I can say we've taken one more giant step forward in delivering on that promise," Biden says after the plan was approved along strict party lines. — AFP
March 3, 2021
President Joe Biden says Tuesday the United States would have sufficient vaccine supply by the end of May to inoculate the entire US adult population.
"We're now on track to have enough vaccine supply for every adult in America by the end of May," says Biden — who had previously forecast it would take until the end of July to amass that many doses.
"That's progress. Important progress. But it is not enough to have the vaccine supply," Biden says, stressing the work still ahead to administer the vaccines once acquired. — AFP
March 2, 2021
The US Senate will start its debate "this week" on President Joe Biden's massive economic stimulus plan, Democratic Majority Leader Chuck Schumer says Monday.
The House of Representatives, also under Democratic control, on Saturday approved the $1.9 trillion package designed to jumpstart the US economy after the implosion caused by the Covid-19 pandemic, and which included a hike in the federal minimum wage.
The version of the bill the Senate will debate will not include the latter section on increasing minimum wage due to congressional rules governing the budgetary process. — AFP
February 27, 2021
US President Joe Biden will attend his second "virtual" summit with a foreign leader early next week when he meets his Mexican counterpart Andres Manuel Lopez Obrador.
"On Monday, March 1, President Joe Biden will meet with President Andres Manuel Lopez Obrador," White House Press Secretary Jen Psaki says in a statement.
She added that the "virtual event" would touch on cooperation on migration, joint development efforts in Southern Mexico and Central America, Covid-19 recovery and economic cooperation. — AFP
February 26, 2021
US President Joe Biden urges Congress to "move quickly" to pass a $1.9 trillion coronavirus relief package after a Senate ruling that prevents a minimum wage hike from being included in the sweeping plan.
"President Biden is disappointed in this outcome, as he proposed having the $15 minimum wage as part of the American Rescue Plan," White House press secretary Jen Psaki says in a statement.
"He urges Congress to move quickly to pass the (bill), which includes $1400 rescue checks for most Americans" and other funding to help control and end the pandemic. — AFP
February 26, 2021
President Joe Biden reaffirms the US commitment to Saudi Arabia's defense but stressed the importance of human rights Thursday in a long-delayed first call with Saudi King Salman, the White House said.
They discussed "the US commitment to help Saudi Arabia defend its territory as it faces attacks from Iranian-aligned groups," a statement says.
However, Biden also "affirmed the importance the United States places on universal human rights and the rule of law" in the call, which was overshadowed by a soon-to-be-released US intelligence report on the murder of Washington Post journalist Jamal Khashoggi in a Saudi consulate. — AFP
February 24, 2021
The US Senate easily confirms two more of Joe Biden's cabinet nominees as the president fills out his inner circle, although another pick was facing mounting opposition.
Linda Thomas-Greenfield, 68, a former career diplomat, earns confirmation to be US ambassador to the United Nations, on a 78-20 vote.
The Senate then comfortably greenlights Tom Vilsack, 70, to be secretary of agriculture, a post he held throughout Barack Obama's administration. — AFP
February 23, 2021
US President Joe Biden calls the milestone of more than 500,000 US deaths from Covid-19 "heartbreaking" on Monday and urges the country to unite against the pandemic.
"I know what it's like," an emotional Biden says in a national television address, referring to his own long history of family tragedies.
"I ask all Americans to remember, remember those we lost and those they left behind," Biden says. "I also ask us to act, to remain vigilant, to say socially distant, to mask up, to get vaccinated." — AFP
February 19, 2021
President Joe Biden will pledge $4 billion in US aid to the Covax global Covid-19 vaccination program during his virtual meeting with other G7 leaders on Friday, White House officials say.
An initial $2 billion will be released "by the end of this month," with the rest coming over the next two years, a senior White House official who asked not to be identified says Thursday. — AFP
February 16, 2021
Kamala Harris spoke with French President Emmanuel Macron on Monday to discuss topics including the pandemic and climate change, in a rare phone call between a US vice president and a foreign leader.
Harris's office released a statement saying she had expressed her commitment "to revitalizing the transatlantic alliance."
"Vice President Harris and President Macron agreed on the need for close bilateral and multilateral cooperation to address COVID-19, climate change, and support democracy at home and around the world," the statement said. — AFP
February 14, 2021
The White House said Saturday it has accepted the resignation of a staffer who allegedly threatened to "destroy" a reporter who was asking about his personal life.
White House Deputy Spokesman TJ Ducklo was originally suspended for one week without pay, but now the administration of President Joe Biden has accepted his resignation, White House Press Secretary Jen Psaki said in a statement.
According to Vanity Fair magazine, Ducklo called Politico reporter Tara Palmeri after she began asking questions about his months-old personal relationship with a reporter from Politico rival Axios, Alexi McCammond.
"I will destroy you," Ducklo allegedly said to Palmeri in a phone call shortly after Biden's January 20 presidential inauguration.
According to Vanity Fair, Ducklo "made derogatory and misogynistic comments" to Palmeri and called her "jealous." — AFP
February 13, 2021
President Joe Biden's administration announces that asylum seekers forced to remain in Mexico while their cases are being resolved in the United States will begin to be admitted into the US as of next week.
Biden instructed the Department of Homeland Security earlier this month to take action to end the controversial "Remain in Mexico" program put in place by his predecessor Donald Trump.
It saw tens of thousands of non-Mexican asylum seekers -- mostly from Central America -- sent back over the border pending the outcome of their asylum applications, creating a humanitarian crisis in the area, exacerbated by the COVID-19 pandemic. — AFP
February 11, 2021
Joe Biden challenged Chinese leader Xi Jinping on human rights, trade and regional muscle-flexing, in their first call since the new US president took office.
An increasingly assertive Beijing has tested US patience since Xi came to power, and under former president Donald Trump found itself on the receiving end of trade tariffs as relations frayed.
Biden is under pressure at home and abroad to maintain the stance that Trump adopted, as the West looks to hold China to account for human rights abuses against mainly Muslim Uighurs in Xinjiang and its crushing of opposition in Hong Kong, as well as saber-rattling over Taiwan.
His call on Wednesday was about setting the tone for the relationship, at a time when many in the US and the wider world blame China for failing to contain the coronavirus pandemic, which was first discovered in Wuhan. — AFP
February 11, 2021
Joe Biden voices concern to Chinese leader Xi Jinping about crackdown in Hong Kong, rights in Xinjiang, according to White House.
February 11, 2021
US President Joe Biden announces sanctions against Myanmar's military leaders and demanded they relinquish power, after tens of thousands of people took to the streets of the Southeast Asian nation's biggest city for a fifth consecutive day demanding a return to democracy.
The popular show of force in Yangon, which came in defiance of a protest ban in Myanmar's former capital, saw crowds swarm through the city and call for the release of Aung San Suu Kyi following her ouster in a coup last week.
Protesters faced down police a day after authorities dispersed crowds elsewhere with tear gas and rubber bullets, and ramped up their harassment of the deposed leader's party. — AFP
February 8, 2021
President Joe Biden anticipates the US rivalry with China will take the form of "extreme competition" rather than conflict between the two world powers.
Biden says in an excerpt of a CBS interview aired Sunday that he has not spoken with Chinese counterpart Xi Jinping since he became US president.
"He's very tough. He doesn't have — and I don't mean it as a criticism, just the reality — he doesn't have a democratic, small D, bone in his body," Biden says. — AFP
February 6, 2021
President Joe Biden seizes on feeble US employment data to argue the world's largest economy needs his $1.9 trillion pandemic relief package, which cleared a key Senate hurdle without support from the Republican opposition.
The closely-watched jobs data showed the unemployment rate dropped to 6.3 percent in January, but the economy added only 49,000 jobs, the Labor Department says.
The anemic report made plain the ongoing struggles in the United States as Americans cope with the largest COVID-19 outbreak in the world. — AFP
January 28, 2021
US President Joe Biden's administration on Wednesday signalled a fresh look at US policy in the Middle East, announcing reviews of massive arms packages for the United Arab Emirates and Saudi Arabia as well as envisioning a slow return to diplomacy with Iran.
On his first full day on the job, Secretary of State Antony Blinken said that his top priorities would include addressing the catastrophe for civilians in Yemen, where US ally Saudi Arabia has been bombarding Iranian-linked Huthi rebels.
"We've seen a campaign, led by Saudi Arabia, that has also contributed to what is by many estimates the worst humanitarian crisis in the world today, and that's saying something," Blinken told a news conference.
"It's vitally important even in the midst of this crisis that we do everything we can to get humanitarian assistance to the people of Yemen, who are in desperate need," he said of the country where 80 percent of the 29 million people rely on aid to survive. — AFP
January 27, 2021
US President Joe Biden ordered the end to the use of private prisons for federal inmates Tuesday, saying they incentivized throwing more people in prison without improving on government-run jails.
Biden ordered the Justice Department to phase out the use of private incarceration facilities, which house about 16 percent of federal prisoners.
"There is broad consensus that our current system of mass incarceration imposes significant costs and hardships on our society and communities and does not make us safer," Biden said in the order.
"To decrease incarceration levels, we must reduce profit-based incentives to incarcerate by phasing out the federal government's reliance on privately operated criminal detention facilities," he said. — AFP
January 26, 2021
The US Senate on Tuesday voted to confirm Janet Yellen as the first woman to lead the US Department of the Treasury.
Yellen, who was also the first woman to lead the Federal Reserve and the White House Council of Economic Advisers, will play a key role in crafting US President Joe Biden's economic policy as the United States confronts the ongoing Covid-19 pandemic. — AFP
January 25, 2021
US President Joe Biden will re-impose a COVID-19 travel ban on most non-US citizens who have been in Britain, Brazil, Ireland and much of Europe, a White House official said Sunday, as the new administration ramps up its pandemic response.
Biden will also on Monday extend the ban to travelers who have recently been to South Africa amid warnings that new, more transmissible coronavirus variants are already establishing themselves in the United States, the official said, confirming US media reports.
The new president last week tightened mask wearing rules and ordered quarantine for people flying into the United States, as he seeks to tackle the country's worsening coronavirus crisis.
Biden has said that the COVID-19 death toll would likely rise from 420,000 to half a million next month — and that drastic action was needed. — AFP
January 25, 2021
French President Emmanuel Macron and new US President Joe Biden are in agreement on climate change and how to fight coronavirus, the Elysee palace said on Sunday.
The two leaders spoke for the first time since Biden's inauguration in a telephone call Sunday and also discussed "their willingness to act together for peace in the Near and Middle East, in particular on the Iranian nuclear issue," the French presidency said.
The pair spoke for about an hour in English, according to members of Macron's team.
Earlier this week, Macron had lauded Biden's decision to return to the Paris climate accord. — AFP
January 24, 2021
Boris Johnson and Joe Biden on Saturday vowed to deepen ties and cooperate on tackling climate change in their first conversation since the US president's inauguration, the British prime minister's office said.
Johnson congratulated Biden on his inauguration and "the two leaders looked forward to deepening the close alliance between our nations", said the statement from Downing Street.
British newspapers reported that Johnson was the first European leader to receive a call from Biden, who earlier spoke to Canadian and Mexican counterparts. — AFP
January 23, 2021
Canadian leader Justin Trudeau and new US President Joe Biden speak on the phone on an extensive range of topics, and make plans to meet in person "next month," Ottawa said.
"The two leaders agreed to meet next month in order to advance the important work of renewing the deep and enduring friendship between Canada and the United States," Trudeau's office says in a statement. — AFP
January 22, 2021
Russia says it welcomed a proposal by US President Joe Biden to extend New START, a landmark nuclear arms reduction agreement due to expire next month.
"We can only welcome the political will to extend this document," Kremlin spokesman Dmitry Peskov tells reporters, noting that any decision to extend the pact will depend on "the details of this proposal". — AFP
January 22, 2021
In his first White House briefing as US President Joe Biden's top advisor on COVID-19, Anthony Fauci said it was "liberating" that he could focus on science without fear of repercussion now that Donald Trump had left office.
The top infectious disease scientist was briefing reporters Thursday on the state of the US outbreak that has claimed more than 408,000 lives.
Asked to compare his experience under the previous administration to the new one, the 80-year-old responded a little coyly at first, saying he wasn't sure he could "extrapolate" based on first impressions.
"But one of the things that was very clear as recently as about 15 minutes ago, when I was with the president, is that one of the things that we're going to do is to be completely transparent, open and honest.
"If things go wrong, not point fingers but to correct them and to make everything we do be based on science and evidence." — AFP
January 21, 2021
In a dramatic about-turn, the new US administration on Thursday thanks the World Health Organization for leading the global pandemic response and vowed to remain a member.
"The United States also intends to fulfil its financial obligations to the organisation," top US scientist Anthony Fauci, who has been named President Joe Biden's chief medical adviser, tells a meeting of the WHO's executive board. — AFP
January 21, 2021
Taiwan's de facto ambassador to the US was formally invited to President Joe Biden's inauguration in what Taipei says Thursday was a precedent-setting first since Washington switched recognition to Beijing in 1979.
Hsiao Bi-khim, Taipei's envoy, posted a video of herself at Wednesday's inauguration saying she was "honored to represent the people and government of Taiwan here at the inauguration of President Biden and Vice President Harris".
"Democracy is our common language and freedom is our common objective," she added.
Taipei's foreign ministry said it was the first time in decades that a Taiwanese envoy had been "formally invited" by the inauguration's organizing committee while the ruling Democratic Progressive Party described it as "a new breakthrough in 42 years". — AFP
January 21, 2021
Mexico hails US President Joe Biden's order to halt construction of Donald Trump's wall along the US-Mexican border, as well as his other immigration-linked reforms.
"Mexico welcomes the end of the construction of the wall, the immigration initiative in favor of DACA and a path to dual citizenship," Foreign Minister Marcelo Ebrard wrote on Twitter.
He was referring to the Deferred Action for Childhood Arrivals program to regularize the immigration status of young people who arrived illegally as children, which Trump tried to shut down. — AFP
January 21, 2021
President Joe Biden's first call to a foreign leader will be to Canadian Prime Minister Justin Trudeau, White House spokeswoman Jen Psaki says.
"His first foreign leader call will be on Friday with Prime Minister Trudeau," Psaki tells reporters at her first White House briefing.
She says they would discuss the "important relationship with Canada" and the Biden administration's decision to halt further construction of the Keystone XL oil pipeline between Canada and the United States. — AFP
Joe Biden takes office as the 46th president of the United States with an optimistic call for unity, vowing to bridge deep divides and defeat domestic extremism two weeks after a violent mob tried to undo his election victory.
On a frigid but sunny day at the very Capitol building that was assaulted on January 6, Biden was sworn in moments after Kamala Harris became America's first woman vice president, closing the book on Donald Trump's tumultuous four years.
"Democracy is precious, democracy is fragile and at this hour, my friends, democracy has prevailed," Biden says before a National Mall that was virtually empty due to the ultra-tight security and a raging COVID-19 pandemic that he vowed to confront immediately. — AFP