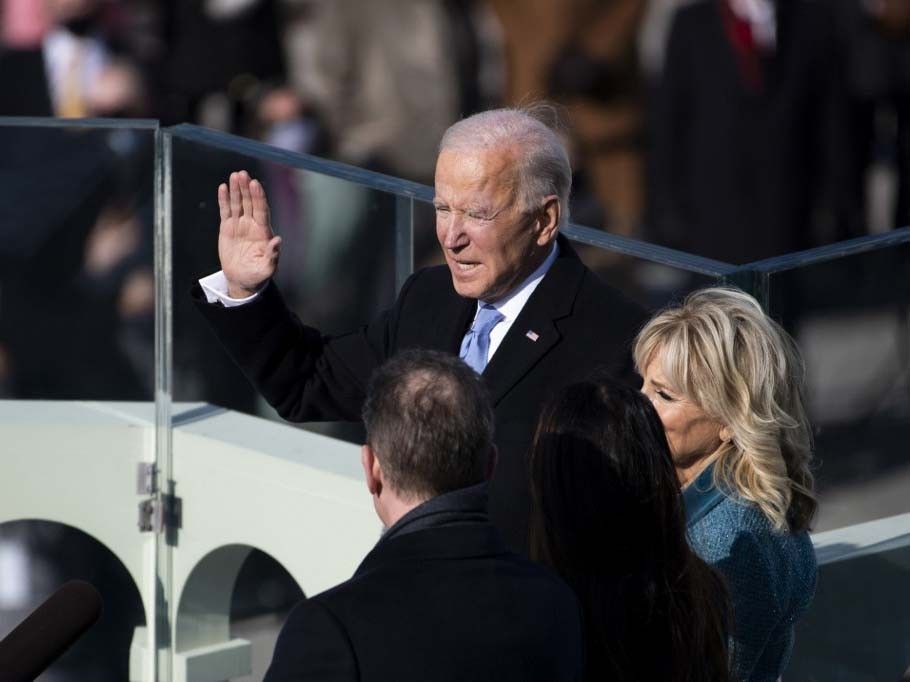 Policies and developments in the Biden presidency
LATEST UPDATE: May 4, 2021 - 10:15am
+ Follow Story
1 day ago
President Joe Biden announces, after coming under fierce criticism, that he was raising the maximum number of refugees allowed into the United States this year to 62,500 — up from the 15,000 cap imposed by his predecessor Donald Trump.
The change follows backlash from allies over Biden's earlier decision to keep the Trump-era limits -- a politically costly moment of confusion that stood out in a White House notable for its iron discipline in its first three months.
"This erases the historically low number set by the previous administration of 15,000, which did not reflect America's values as a nation that welcomes and supports refugees," Biden says in a statement. — AFP
2 days ago
Britain this week hosts the first face-to-face meeting of G7 foreign ministers in two years, joined by US Secretary of State Antony Blinken, as world powers tackle pandemic recovery plus growing tensions with Russia and China.
The Covid-secure gathering in London will prepare the ground for a G7 summit in southwest England next month, which will mark Joe Biden's inaugural visit to Europe as US president. Both events will also be joined by Indian leaders.
Many of the G7 nations have rallied to India's aid as the world's most populous democracy confronts a terrifying surge of coronavirus cases, although the pandemic is ebbing elsewhere in the West thanks to mass vaccination drives. — AFP
April 30, 2021
US President Joe Biden meets with longtime ally and Democratic icon Jimmy Carter as he visited the southern state of Georgia to pitch his huge spending plans.
It was their first face-to-face encounter since Biden won the White House last November.
"They are such a powerful reminder that serving our country isn't limited to the office you hold," Jill Biden says afterwards in Duluth, Georgia, before introducing her husband at a rally. — AFP
April 29, 2021
The United States will stand up to China but is not looking for conflict, President Joe Biden was to say in an address to Congress on Wednesday.
In prepared remarks, Biden said that he had told his Chinese counterpart Xi Jinping that "we welcome the competition — and that we are not looking for conflict." — AFP
April 29, 2021
US President Joe Biden tells Americans in his first speech to Congress that the nation has pulled off a massive logistical success with its battle against the coronavirus pandemic.
"Because of you, the American people, our progress these past 100 days against one of the worst pandemics in history is one of the greatest logistical achievements our country has ever seen," the president says in an address to a joint session of Congress.
The 78-year-old Biden notes that senior deaths from COVID-19 have plunged some 80% since January, more than half of all US adults have received at least one vaccine dose, and that first responders considered the vaccine as "a dose of hope." — AFP
April 28, 2021
The Biden administration announces a new effort Tuesday to pressure "transnational criminal organizations" it said were involved in smuggling undocumented migrants crossing the southern border.
Secretary of Homeland Security Alejandro Mayorkas says the new Operation Sentinel will bring together multiple law and border enforcement agencies along with the State Department to make it hard for the gang members to travel internationally or move money and goods around.
"These criminal organizations put profit over human life. They routinely prey on migrants taking vast sums of money from them, in exchange for often empty promises to get them safely to the United States," Mayorkas says. — AFP
April 27, 2021
US Vice President Kamala Harris promises Guatemalan President Alejandro Giammattei Monday that Washington would give more help to Central American countries struggling to stop migrants from fleeing north.
Harris, who leads President Joe Biden's efforts to address the influx of migrants from Guatemala, Honduras and El Salvador to the US-Mexico border, met with Giammattei by videoconference, prior to her visit to Central America scheduled for June.
"The United States plans to increase relief to the region, strengthen our cooperation to manage migration in an effective, secure and humane manner," she promises Giammattei. — AFP
April 27, 2021
President Joe Biden will propose a tax hike on the investment gains of the wealthiest individuals to pay for his new plan to help US families, a top White House economist says.
Biden this week is expected to lay out his $1.8 trillion American Families Plan that would provide national child care, paid family leave and free community college, using higher taxes on the rich to offset the hefty price tag.
The increased levy on the profits earned from sales of stocks and other assets will only impact those earning $1 million a year, a narrow sliver of American taxpayers comprising 500,000 people, said Brian Deese, head of the White House National Economic Council.
"This change will only apply to three tenths of a percent of taxpayers, which is not the top one percent, it's not even the top one half of one percent," he tells reporters, citing 2018 tax filing data. — AFP
April 22, 2021
US President Joe Biden is preparing to recognize the World War I-era killings of 1.5 million Armenians by the Ottoman Empire as genocide, US media says.
Such a move would further inflame tensions with NATO ally Turkey, which vehemently rejects the designation that has already been adopted by dozens of other countries including France and Russia.
Biden is expected to announce the genocide designation on Saturday, the 106th anniversary of the mass killings that began in 1915, when the Ottoman Empire was battling Tsarist Russia during World War I in the region that is now Armenia, according to The New York Times and Wall Street Journal. — AFP
April 21, 2021
China's President Xi Jinping will attend US President Joe Biden's virtual climate summit this week, Beijing says, as the world's top polluting nations seek rare common ground despite wider political tensions.
Biden has invited 40 world leaders including Xi and Russia's Vladimir Putin to the meet starting on Earth Day, meant to mark Washington's return to the front lines of the fight against climate change after former president Donald Trump disengaged from the process.
The virtual summit will be the first meeting between the two leaders since Biden became president. — AFP
April 21, 2021
President Joe Biden calls on Americans to unite after the guilty verdict in the racially charged murder by a policeman of a Black man and pleaded for protesters to stay clear of violence.
"This is the time for this country to come together, to unite as Americans," he says in nationally televised remarks.
"There are those who will seek to exploit the raw emotions in the moment — agitators and extremists who have no interest in social justice," he warns. "We can't let them succeed." — AFP
April 17, 2021
US President Joe Biden says it was too early to know whether indirect talks underway with Iran would succeed in reviving a nuclear accord.
Biden says the United States does "not think that it's at all helpful" that Iran this week ramped up uranium enrichment, a move taken in response to sabotage on a nuclear facility believed to have been carried out by Israel.
"We are nonetheless pleased that Iran has continued to agree to engage in discussions," Biden says at a joint news conference with Japanese Prime Minister Yoshihide Suga. — AFP
April 16, 2021
Finnish President Sauli Niinisto has offered Finland as a host country for a possible meeting between US president Joe Biden and his Russian counterpart Vladimir Putin, Niinisto's office says.
"When it comes to this possible meeting, the readiness of Finland to organise it has been presented to both Washington and Moscow," a spokesman for the Finnish President's Office told AFP by email.
Finland previously hosted Putin and President Trump in Helsinki for the 2018 summit between the two leaders. — AFP
April 16, 2021
President Joe Biden receives Japan's prime minister for his first in-person summit, with the leaders expected to announce a $2 billion 5G initiative as part of a concerted US push to compete with China.
Biden's decision to invite Prime Minister Yoshihide Suga as his first guest -- with South Korean President Moon Jae-in set to come in May -- reflects his renewed priority on US alliances as he zeroes in on a rising China as America's most pressing challenge.
A senior US official said that technology leader Japan would announce a "very substantial commitment" of $2 billion in partnership with the United States "to work on 5G and next steps beyond." — AFP
April 15, 2021
Reviving the Iran nuclear deal would seem like a simple task for US President Joe Biden. Iran wants him to lift sanctions in exchange for Tehran's return to compliance.
But as Iran and the United States resume indirect talks in Vienna led by the European Union, the Biden administration faces the question of which sanctions exactly are on the table.
Further casting a shadow over the talks is an explosion at a key Iranian nuclear facility purportedly carried out by Israel, a sworn foe of the 2015 accord, which led Tehran to announce it was ramping up uranium enrichment closer to weapons-grade levels. — AFP
April 14, 2021
President Joe Biden will formally announce the withdrawal of all US troops from Afghanistan before this year's 20th anniversary of the September 11 attacks, finally ending America's longest war despite mounting fears of a Taliban victory, officials say.
The drawdown delays only by around five months an agreement with the Taliban by former president Donald Trump to pull troops, amid a growing consensus in Washington that little more can be achieved.
The decision came as Turkey announced an international peace conference on Afghanistan in hopes of reaching an agreement that brings stability to a nation battered by nearly 40 years of war. — AFP
April 14, 2021
President Joe Biden agrees to address a joint session of Congress this month to mark 100 days in office as he grapples with critical issues including the coronavirus pandemic and America's economic woes.
Biden accepted House Speaker Nancy Pelosi's invitation to deliver an April 28 address on "the challenges and opportunities of this historic moment."
The speech will not technically be a so-called State of the Union address, which American presidents give yearly under the Constitution. Brand new leaders like Biden instead deliver a speech to a joint session of Congress. — AFP
April 14, 2021
President Joe Biden will withdraw all US troops from Afghanistan before this year's 20th anniversary of the September 11 attacks, finally ending America's longest war despite mounting fears of a Taliban victory, officials say Tuesday.
The drawdown delays only by around five months an agreement with the Taliban by former president Donald Trump to pull troops, amid a growing consensus in Washington that little more can be achieved.
The decision came as Turkey announced an international peace conference on Afghanistan in hopes of reaching an agreement that brings stability to a nation battered by nearly 40 years of war. But the Taliban, newly emboldened, said they would boycott the conference. — AFP
April 13, 2021
President Joe Biden met virtually Monday with leading CEOs for a summit on the semiconductor shortage as he works to build support for his infrastructure bill.
Biden, in brief remarks to a group that included the leaders of General Motors, Alphabet/Google, and US semiconductor powerhouse Intel, said the United States must build up its own infrastructure to prevent future supply crises.
"We led the world in the middle of the 20th century," Biden said. "We led the world toward the end of the century, we're going to lead the world again." — AFP
April 8, 2021
President Joe Biden will unveil measures on Thursday aimed at curbing rampant US gun violence, especially seeking to prevent the spread of untraceable "ghost guns," White House officials said.
Biden has come under pressure from his Democratic party to tackle the bloodshed, most recently highlighted by mass killings in Colorado, Georgia and California.
In addition to relatively modest measures on the politically hyper-sensitive issue, Biden will announce his nomination of David Chipman, a gun-control proponent, to head the Bureau of Alcohol, Tobacco, Firearms and Explosives — a central agency in the fight against gun violence. — AFP
April 7, 2021
President Joe Biden announces that all adults across America will be eligible for Covid-19 shots within two weeks, while economic powerhouse California set a June 15 target to fully reopen businesses.
The positive news from the United States — which has reported the most coronavirus deaths of any country but is now a leader in the vaccine rollout — contrasted with a record daily toll in Brazil and Europe's troubled rollout of the AstraZeneca shot.
Biden announced in a White House speech that he is moving up the deadline for all over 18 to be eligible for vaccines to April 19. The previous target had been May 1. — AFP
April 2, 2021
Japan's Prime Minister Yoshihide Suga will hold face-to-face talks with Joe Biden in Washington on April 16, as the first foreign leader hosted by the US president, the Japanese government says.
Local media had reported the trip would take place next week, but top government spokesman Katsunobu Kato said the mid-April date would give both sides time to prepare.
The trip comes at a time of renewed focus on China's role in the region, as well as its alleged abuses of the Uyghur minority and its crackdown on freedoms in Hong Kong. — AFP
April 1, 2021
US President Joe Biden announces a massive $2 trillion infrastructure program that he says will generate millions of jobs, revitalize the US economy and help Washington compete with China.
"It's the largest American jobs investment since World War II. It will create millions of jobs, good-paying jobs," Biden says.
The United States "can't delay another minute' to rebuild US infrastructure, he says. — AFP
March 31, 2021
US President Joe Biden nominates several Black women, an Asian American and the first Muslim ever to federal judgeships Tuesday in a push for diversity in the US court system.
Breaking with predecessor Donald Trump's four-year effort to staff federal courts with largely white male conservatives, Biden unveils his first 11 picks for judges, with only two of them men, neither of them white.
At the top of his list was nominating Judge Ketanji Brown Jackson, who is African-American, to the US Court of Appeals for the District of Columbia Circuit, which is known to handle major cases. — AFP
March 29, 2021
US President Joe Biden's new trade negotiator has said the United States is not yet ready to lift tariffs on Chinese imports, but could be open to talks with Beijing.
US Trade Representative Katherine Tai, whose appointment was confirmed earlier this month, told The Wall Street Journal she understood the levies were hitting some American companies and consumers, but they can also protect businesses.
In January 2020, then-president Donald Trump signed an accord between Beijing and Washington after a bruising trade battle that saw tariffs imposed by both sides.
"I have heard people say, 'Please just take these tariffs off,'" the 47-year-old Tai told the WSJ in an interview published Sunday. — AFP
March 26, 2021
President Joe Biden warns North Korea that the United States will "respond accordingly" if it escalates its military testing, after Pyongyang fired two missiles in its first major provocation since he took office.
The nuclear-armed North has a long history of using weapons tests to ramp up tensions, in a carefully calibrated process to try to forward its objectives.
Biden's response demonstrates a change of tone from his predecessor Donald Trump, who engaged in an extraordinary diplomatic bromance with North Korean leader Kim Jong Un and last year repeatedly played down similar short-range launches. — AFP
March 22, 2021
"The border is closed": With those words, a top Biden administration official pushes back Sunday against fast-mounting criticism that it has bungled immigration policy, spurring an influx of migrants in the biggest crisis to emerge under the new president.
Homeland Security Secretary Alejandro Mayorkas says the administration's message to would-be border-crossers was simple: "Now is not the time to come. Do not come. The journey is dangerous.
"We are building safe, orderly and humane ways to address the needs of vulnerable children," he says on ABC's "This Week." — AFP
March 18, 2021
US President Joe Biden says that it would be "tough" to meet the deadline to withdraw American troops from Afghanistan by May 1, as agreed with the Taliban in a deal secured under Donald Trump.
The Taliban insurgents have largely stuck to a promise not to attack US or other foreign troops since the agreement was struck in February last year, but they say the date to end America's longest war is inflexible.
"Could happen, but it is tough," Biden says when asked about the May 1 deadline in a TV interview broadcast on Wednesday. "I'm in the process of making that decision now." — AFP
March 17, 2021
US President Joe Biden urges migrants not to come to the United States as criticism mounted over a surge in people arriving at the southern border with Mexico -- including thousands of unaccompanied children.
"Yes I can say quite clearly don't come over ... Don't leave your town or city or community," he says in an interview with ABC News, addressing the migrants. — AFP
March 17, 2021
US President Joe Biden's administration intends to show its firmness against Beijing in its first meeting with Chinese diplomatic leaders in Alaska on Thursday, but does not expect immediate results, US officials.
Secretary of State Antony Blinken and White House national security adviser Jake Sullivan are set for talks with senior Chinese official Yang Jiechi and Foreign Minister Wang Yi that represent "an initial discussion to understand... our interests, intentions and priorities," one senior US official tells reporters.
"Sometimes there is sense, potentially a perception, or maybe it's a hope in Beijing, that our public message is somehow different than our private message. And we think it's really important that we dispel that idea very early," the official adds. — AFP
March 17, 2021
US President Joe Biden will hold his first formal press conference since taking office next week, White House Press Secretary Jen Psaki said Tuesday.
Biden, who was sworn in on January 20, has broken with precedent by waiting so long to hold a full question and answer session with journalists. The White House says that he has frequently answered questions in informal settings instead.
The press conference on March 25 will take place more than 60 days into Biden's term. — AFP
March 16, 2021
President Joe Biden's $1.9 trillion stimulus will start flooding into the US economy soon, and some analysts say much of that money could end up invested in stocks or even bitcoin.
Over the weekend, the government began sending the $1,400 direct payments that will go to nearly everyone in the United States.
About $400 billion in payments will flow directly to households, going to individuals earning less than $75,000 a year or married couples making up to $150,000, as well as their children. — AFP
March 12, 2021
US President Joe Biden warns Americans not to relent in the fight to defeat Covid-19, saying it was "far from over," while offering hope for brighter days to come as virus cases wane and vaccinations accelerate.
"This fight is far from over," Biden says in his first primetime address to the nation. "This is not the time to let up."
He urges Americans to get vaccinated and to continue to follow social distancing rules and wear face masks, adding that ultimately, "history will record that we faced and overcame one of the toughest and darkest periods in this nation's history." — AFP
March 12, 2021
President Joe Biden will order authorities across the entire United States to lift priority restrictions on people wanting to get Covid-19 vaccinations by the start of May, an official said Thursday.
"He will direct states that no later than May 1, all Americans need to be eligible to receive the vaccine," said a senior administration official, who asked not to be identified.
Biden will discuss his plans in a primetime television speech later Thursday. — AFP
March 10, 2021
US President Joe Biden will hold first-ever joint talks Friday with the leaders of Australia, India and Japan, boosting an emerging four-way alliance often cast as a bulwark against China.
It will be one of the first summits, albeit in virtual format, for Biden, who has vowed to revive US alliances in the wake of the disarray of Donald Trump's administration. — AFP
March 10, 2021
President Joe Biden plans to nominate a prominent advocate of breaking up Big Tech firms to a key regulatory post, suggesting an aggressive antitrust stance, media reports said Tuesday.
The reports said Lina Khan — a Columbia University law professor who has suggested antitrust laws could be interpreted to break up tech titans — would be named to the Federal Trade Commission, an agency with some authority over mergers and antitrust policy.
Khan's appointment would follow the naming of Tim Wu, another Big Tech critic, to an economic advisory post in the White House. — AFP
March 7, 2021
US President Joe Biden hails the Senate passage of a $1.9 trillion relief package for the pandemic-stricken American economy, following a marathon overnight voting session.
"I promised the American people help was on the way. Today, I can say we've taken one more giant step forward in delivering on that promise," Biden says after the plan was approved along strict party lines. — AFP
March 3, 2021
President Joe Biden says Tuesday the United States would have sufficient vaccine supply by the end of May to inoculate the entire US adult population.
"We're now on track to have enough vaccine supply for every adult in America by the end of May," says Biden — who had previously forecast it would take until the end of July to amass that many doses.
"That's progress. Important progress. But it is not enough to have the vaccine supply," Biden says, stressing the work still ahead to administer the vaccines once acquired. — AFP
March 2, 2021
The US Senate will start its debate "this week" on President Joe Biden's massive economic stimulus plan, Democratic Majority Leader Chuck Schumer says Monday.
The House of Representatives, also under Democratic control, on Saturday approved the $1.9 trillion package designed to jumpstart the US economy after the implosion caused by the Covid-19 pandemic, and which included a hike in the federal minimum wage.
The version of the bill the Senate will debate will not include the latter section on increasing minimum wage due to congressional rules governing the budgetary process. — AFP
February 27, 2021
US President Joe Biden will attend his second "virtual" summit with a foreign leader early next week when he meets his Mexican counterpart Andres Manuel Lopez Obrador.
"On Monday, March 1, President Joe Biden will meet with President Andres Manuel Lopez Obrador," White House Press Secretary Jen Psaki says in a statement.
She added that the "virtual event" would touch on cooperation on migration, joint development efforts in Southern Mexico and Central America, Covid-19 recovery and economic cooperation. — AFP
February 26, 2021
US President Joe Biden urges Congress to "move quickly" to pass a $1.9 trillion coronavirus relief package after a Senate ruling that prevents a minimum wage hike from being included in the sweeping plan.
"President Biden is disappointed in this outcome, as he proposed having the $15 minimum wage as part of the American Rescue Plan," White House press secretary Jen Psaki says in a statement.
"He urges Congress to move quickly to pass the (bill), which includes $1400 rescue checks for most Americans" and other funding to help control and end the pandemic. — AFP
February 26, 2021
President Joe Biden reaffirms the US commitment to Saudi Arabia's defense but stressed the importance of human rights Thursday in a long-delayed first call with Saudi King Salman, the White House said.
They discussed "the US commitment to help Saudi Arabia defend its territory as it faces attacks from Iranian-aligned groups," a statement says.
However, Biden also "affirmed the importance the United States places on universal human rights and the rule of law" in the call, which was overshadowed by a soon-to-be-released US intelligence report on the murder of Washington Post journalist Jamal Khashoggi in a Saudi consulate. — AFP
February 24, 2021
The US Senate easily confirms two more of Joe Biden's cabinet nominees as the president fills out his inner circle, although another pick was facing mounting opposition.
Linda Thomas-Greenfield, 68, a former career diplomat, earns confirmation to be US ambassador to the United Nations, on a 78-20 vote.
The Senate then comfortably greenlights Tom Vilsack, 70, to be secretary of agriculture, a post he held throughout Barack Obama's administration. — AFP
February 23, 2021
US President Joe Biden calls the milestone of more than 500,000 US deaths from Covid-19 "heartbreaking" on Monday and urges the country to unite against the pandemic.
"I know what it's like," an emotional Biden says in a national television address, referring to his own long history of family tragedies.
"I ask all Americans to remember, remember those we lost and those they left behind," Biden says. "I also ask us to act, to remain vigilant, to say socially distant, to mask up, to get vaccinated." — AFP
February 19, 2021
President Joe Biden will pledge $4 billion in US aid to the Covax global Covid-19 vaccination program during his virtual meeting with other G7 leaders on Friday, White House officials say.
An initial $2 billion will be released "by the end of this month," with the rest coming over the next two years, a senior White House official who asked not to be identified says Thursday. — AFP
February 16, 2021
Kamala Harris spoke with French President Emmanuel Macron on Monday to discuss topics including the pandemic and climate change, in a rare phone call between a US vice president and a foreign leader.
Harris's office released a statement saying she had expressed her commitment "to revitalizing the transatlantic alliance."
"Vice President Harris and President Macron agreed on the need for close bilateral and multilateral cooperation to address COVID-19, climate change, and support democracy at home and around the world," the statement said. — AFP
February 14, 2021
The White House said Saturday it has accepted the resignation of a staffer who allegedly threatened to "destroy" a reporter who was asking about his personal life.
White House Deputy Spokesman TJ Ducklo was originally suspended for one week without pay, but now the administration of President Joe Biden has accepted his resignation, White House Press Secretary Jen Psaki said in a statement.
According to Vanity Fair magazine, Ducklo called Politico reporter Tara Palmeri after she began asking questions about his months-old personal relationship with a reporter from Politico rival Axios, Alexi McCammond.
"I will destroy you," Ducklo allegedly said to Palmeri in a phone call shortly after Biden's January 20 presidential inauguration.
According to Vanity Fair, Ducklo "made derogatory and misogynistic comments" to Palmeri and called her "jealous." — AFP
February 13, 2021
President Joe Biden's administration announces that asylum seekers forced to remain in Mexico while their cases are being resolved in the United States will begin to be admitted into the US as of next week.
Biden instructed the Department of Homeland Security earlier this month to take action to end the controversial "Remain in Mexico" program put in place by his predecessor Donald Trump.
It saw tens of thousands of non-Mexican asylum seekers -- mostly from Central America -- sent back over the border pending the outcome of their asylum applications, creating a humanitarian crisis in the area, exacerbated by the COVID-19 pandemic. — AFP
February 11, 2021
Joe Biden challenged Chinese leader Xi Jinping on human rights, trade and regional muscle-flexing, in their first call since the new US president took office.
An increasingly assertive Beijing has tested US patience since Xi came to power, and under former president Donald Trump found itself on the receiving end of trade tariffs as relations frayed.
Biden is under pressure at home and abroad to maintain the stance that Trump adopted, as the West looks to hold China to account for human rights abuses against mainly Muslim Uighurs in Xinjiang and its crushing of opposition in Hong Kong, as well as saber-rattling over Taiwan.
His call on Wednesday was about setting the tone for the relationship, at a time when many in the US and the wider world blame China for failing to contain the coronavirus pandemic, which was first discovered in Wuhan. — AFP
February 11, 2021
Joe Biden voices concern to Chinese leader Xi Jinping about crackdown in Hong Kong, rights in Xinjiang, according to White House.
February 11, 2021
US President Joe Biden announces sanctions against Myanmar's military leaders and demanded they relinquish power, after tens of thousands of people took to the streets of the Southeast Asian nation's biggest city for a fifth consecutive day demanding a return to democracy.
The popular show of force in Yangon, which came in defiance of a protest ban in Myanmar's former capital, saw crowds swarm through the city and call for the release of Aung San Suu Kyi following her ouster in a coup last week.
Protesters faced down police a day after authorities dispersed crowds elsewhere with tear gas and rubber bullets, and ramped up their harassment of the deposed leader's party. — AFP
February 8, 2021
President Joe Biden anticipates the US rivalry with China will take the form of "extreme competition" rather than conflict between the two world powers.
Biden says in an excerpt of a CBS interview aired Sunday that he has not spoken with Chinese counterpart Xi Jinping since he became US president.
"He's very tough. He doesn't have — and I don't mean it as a criticism, just the reality — he doesn't have a democratic, small D, bone in his body," Biden says. — AFP
February 6, 2021
President Joe Biden seizes on feeble US employment data to argue the world's largest economy needs his $1.9 trillion pandemic relief package, which cleared a key Senate hurdle without support from the Republican opposition.
The closely-watched jobs data showed the unemployment rate dropped to 6.3 percent in January, but the economy added only 49,000 jobs, the Labor Department says.
The anemic report made plain the ongoing struggles in the United States as Americans cope with the largest COVID-19 outbreak in the world. — AFP
January 28, 2021
US President Joe Biden's administration on Wednesday signalled a fresh look at US policy in the Middle East, announcing reviews of massive arms packages for the United Arab Emirates and Saudi Arabia as well as envisioning a slow return to diplomacy with Iran.
On his first full day on the job, Secretary of State Antony Blinken said that his top priorities would include addressing the catastrophe for civilians in Yemen, where US ally Saudi Arabia has been bombarding Iranian-linked Huthi rebels.
"We've seen a campaign, led by Saudi Arabia, that has also contributed to what is by many estimates the worst humanitarian crisis in the world today, and that's saying something," Blinken told a news conference.
"It's vitally important even in the midst of this crisis that we do everything we can to get humanitarian assistance to the people of Yemen, who are in desperate need," he said of the country where 80 percent of the 29 million people rely on aid to survive. — AFP
January 27, 2021
US President Joe Biden ordered the end to the use of private prisons for federal inmates Tuesday, saying they incentivized throwing more people in prison without improving on government-run jails.
Biden ordered the Justice Department to phase out the use of private incarceration facilities, which house about 16 percent of federal prisoners.
"There is broad consensus that our current system of mass incarceration imposes significant costs and hardships on our society and communities and does not make us safer," Biden said in the order.
"To decrease incarceration levels, we must reduce profit-based incentives to incarcerate by phasing out the federal government's reliance on privately operated criminal detention facilities," he said. — AFP
January 26, 2021
The US Senate on Tuesday voted to confirm Janet Yellen as the first woman to lead the US Department of the Treasury.
Yellen, who was also the first woman to lead the Federal Reserve and the White House Council of Economic Advisers, will play a key role in crafting US President Joe Biden's economic policy as the United States confronts the ongoing Covid-19 pandemic. — AFP
January 25, 2021
US President Joe Biden will re-impose a COVID-19 travel ban on most non-US citizens who have been in Britain, Brazil, Ireland and much of Europe, a White House official said Sunday, as the new administration ramps up its pandemic response.
Biden will also on Monday extend the ban to travelers who have recently been to South Africa amid warnings that new, more transmissible coronavirus variants are already establishing themselves in the United States, the official said, confirming US media reports.
The new president last week tightened mask wearing rules and ordered quarantine for people flying into the United States, as he seeks to tackle the country's worsening coronavirus crisis.
Biden has said that the COVID-19 death toll would likely rise from 420,000 to half a million next month — and that drastic action was needed. — AFP
January 25, 2021
French President Emmanuel Macron and new US President Joe Biden are in agreement on climate change and how to fight coronavirus, the Elysee palace said on Sunday.
The two leaders spoke for the first time since Biden's inauguration in a telephone call Sunday and also discussed "their willingness to act together for peace in the Near and Middle East, in particular on the Iranian nuclear issue," the French presidency said.
The pair spoke for about an hour in English, according to members of Macron's team.
Earlier this week, Macron had lauded Biden's decision to return to the Paris climate accord. — AFP
January 24, 2021
Boris Johnson and Joe Biden on Saturday vowed to deepen ties and cooperate on tackling climate change in their first conversation since the US president's inauguration, the British prime minister's office said.
Johnson congratulated Biden on his inauguration and "the two leaders looked forward to deepening the close alliance between our nations", said the statement from Downing Street.
British newspapers reported that Johnson was the first European leader to receive a call from Biden, who earlier spoke to Canadian and Mexican counterparts. — AFP
January 23, 2021
Canadian leader Justin Trudeau and new US President Joe Biden speak on the phone on an extensive range of topics, and make plans to meet in person "next month," Ottawa said.
"The two leaders agreed to meet next month in order to advance the important work of renewing the deep and enduring friendship between Canada and the United States," Trudeau's office says in a statement. — AFP
January 22, 2021
Russia says it welcomed a proposal by US President Joe Biden to extend New START, a landmark nuclear arms reduction agreement due to expire next month.
"We can only welcome the political will to extend this document," Kremlin spokesman Dmitry Peskov tells reporters, noting that any decision to extend the pact will depend on "the details of this proposal". — AFP
January 22, 2021
In his first White House briefing as US President Joe Biden's top advisor on COVID-19, Anthony Fauci said it was "liberating" that he could focus on science without fear of repercussion now that Donald Trump had left office.
The top infectious disease scientist was briefing reporters Thursday on the state of the US outbreak that has claimed more than 408,000 lives.
Asked to compare his experience under the previous administration to the new one, the 80-year-old responded a little coyly at first, saying he wasn't sure he could "extrapolate" based on first impressions.
"But one of the things that was very clear as recently as about 15 minutes ago, when I was with the president, is that one of the things that we're going to do is to be completely transparent, open and honest.
"If things go wrong, not point fingers but to correct them and to make everything we do be based on science and evidence." — AFP
January 21, 2021
In a dramatic about-turn, the new US administration on Thursday thanks the World Health Organization for leading the global pandemic response and vowed to remain a member.
"The United States also intends to fulfil its financial obligations to the organisation," top US scientist Anthony Fauci, who has been named President Joe Biden's chief medical adviser, tells a meeting of the WHO's executive board. — AFP
January 21, 2021
Taiwan's de facto ambassador to the US was formally invited to President Joe Biden's inauguration in what Taipei says Thursday was a precedent-setting first since Washington switched recognition to Beijing in 1979.
Hsiao Bi-khim, Taipei's envoy, posted a video of herself at Wednesday's inauguration saying she was "honored to represent the people and government of Taiwan here at the inauguration of President Biden and Vice President Harris".
"Democracy is our common language and freedom is our common objective," she added.
Taipei's foreign ministry said it was the first time in decades that a Taiwanese envoy had been "formally invited" by the inauguration's organizing committee while the ruling Democratic Progressive Party described it as "a new breakthrough in 42 years". — AFP
January 21, 2021
Mexico hails US President Joe Biden's order to halt construction of Donald Trump's wall along the US-Mexican border, as well as his other immigration-linked reforms.
"Mexico welcomes the end of the construction of the wall, the immigration initiative in favor of DACA and a path to dual citizenship," Foreign Minister Marcelo Ebrard wrote on Twitter.
He was referring to the Deferred Action for Childhood Arrivals program to regularize the immigration status of young people who arrived illegally as children, which Trump tried to shut down. — AFP
January 21, 2021
President Joe Biden's first call to a foreign leader will be to Canadian Prime Minister Justin Trudeau, White House spokeswoman Jen Psaki says.
"His first foreign leader call will be on Friday with Prime Minister Trudeau," Psaki tells reporters at her first White House briefing.
She says they would discuss the "important relationship with Canada" and the Biden administration's decision to halt further construction of the Keystone XL oil pipeline between Canada and the United States. — AFP
Joe Biden takes office as the 46th president of the United States with an optimistic call for unity, vowing to bridge deep divides and defeat domestic extremism two weeks after a violent mob tried to undo his election victory.
On a frigid but sunny day at the very Capitol building that was assaulted on January 6, Biden was sworn in moments after Kamala Harris became America's first woman vice president, closing the book on Donald Trump's tumultuous four years.
"Democracy is precious, democracy is fragile and at this hour, my friends, democracy has prevailed," Biden says before a National Mall that was virtually empty due to the ultra-tight security and a raging COVID-19 pandemic that he vowed to confront immediately. — AFP