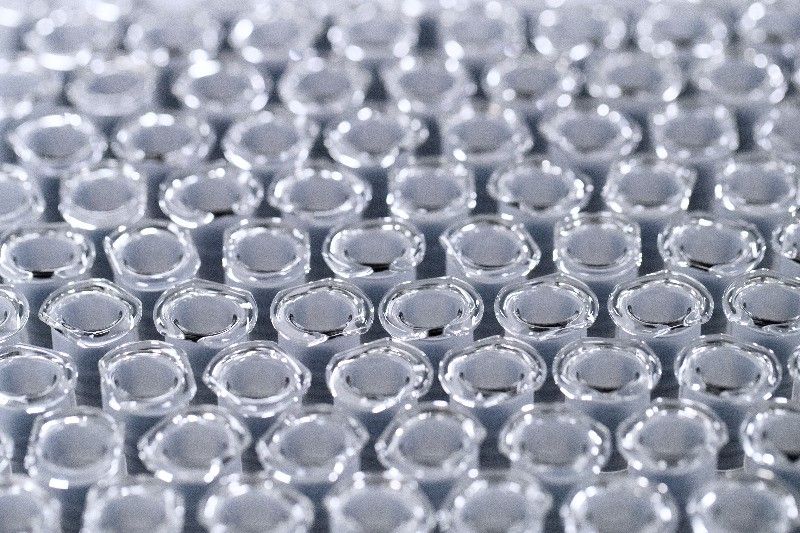 Global COVID-19 vaccine race and related developments
LATEST UPDATE: September 30, 2020 - 8:10am
LOCATION:
GERMANY
UNITED STATES
+ Follow Story
1 day ago
The World Bank says it has asked its board of directors to approve $12 billion to help poor countries purchase and distribute eventual vaccines against COVID-19.
The bank has already implemented emergency response programs in 111 countries and the extra money, if approved, would be aimed at low- and middle-income countries.
"An effective and safe COVID-19 vaccine is the most promising path forward for the world to reopen safely," a World Bank spokesman says. — AFP
September 26, 2020
Latin American leaders have appealed at the United Nations for free access to a future COVID-19 vaccine, urging major powers to share their know-how for the sake of global well-being.
Latin America has taken a heavy blow from Covid-19 with nearly nine million cases and more than 330,000 deaths, one third of the global total, according to an AFP tally based on official data.
"With the pandemic, as with poverty, nobody will be saved on their own," Argentine President Alberto Fernandez tells the UN General Assembly, which is taking place virtually due to the health crisis. — AFP
September 25, 2020
Science Secretary Fortunato dela Peña says the Philippines had signed six confidentiality agreements with foreign pharmaceutical companies for COVID-19 vaccine.
These are:
Russia's Sputnik V (clinical trial and local manufacturing)
China's Sinovac (clinical trial and local manufacturing)
China's Sinopharm (procurement)
China's ZFSW (clinical trial)
Australia's University of Queensland (clinical trial)
Taiwan's Adimmune (clinical trial)
September 22, 2020
More than 60 wealthy nations have joined a WHO-backed programme to facilitate poor countries' access to coronavirus vaccines, but the US and China are not on the list published Monday.
The World Health Organization has in coordination with the global vaccine alliance group Gavi and the Coalition for Epidemic Preparedness Innovations (CEPI) created a mechanism aimed at ensuring a more equitable distribution of any future COVID-19 vaccines.
But the mechanism, known as Covax, has struggled to raise the funds needed to provide for the 92 low-income countries and other economies that quickly signed up.
— AFP
September 16, 2020
President Donald Trump says that a coronavirus vaccine may be available within a month -- an acceleration of even his own surprisingly optimistic predictions -- but added that the pandemic could go away by itself.
"We're very close to having a vaccine," he tells a town hall question-and-answer session with voters in Pennsylvania aired on ABC News.
"We're within weeks of getting it you know -- could be three weeks, four weeks," he says. — AFP
September 15, 2020
A China-developed coronavirus vaccine could be ready for the public as early as November, a Chinese official has told state television, as the global race to clear the final round of trials heats up.
Chinese manufacturers have been bullish about development, with companies Sinovac Biotech and Sinopharm even putting their vaccine candidates on display at a trade fair in Beijing this month.
Representatives of the firms told AFP that they hope their vaccines will be approved after phase 3 trials as early as year-end.
And on late Monday, the chief biosafety expert at the Chinese Centre for Disease Control told state broadcaster CCTV that a vaccine would be available to the general public "around November or December."
Wu Guizhen did not specify which vaccine she was referring to, but said "based on the phase 3 clinical results, the current progress is very smooth." — AFP
September 10, 2020
Drugs giant AstraZeneca says a COVID-19 vaccine could still be available by as early as the end of this year, despite a randomized clinical trial in the UK being paused.
"We could still have a vaccine by the end of this year, early next year," the company's chief executive Pascal Soriot says, adding it depended on how fast regulators moved. — AFP
September 9, 2020
EU reserves 200 million more coronavirus vaccines from Pfizer.
September 9, 2020
Pharmaceutical company AstraZeneca says it has "voluntarily paused" a randomized clinical trial of its coronavirus vaccine in what it called a routine action after a volunteer developed an unexplained illness.
"As part of the ongoing randomized, controlled global trials of the Oxford coronavirus vaccine, our standard review process was triggered and we voluntarily paused vaccination to allow review of safety data by an independent committee," a spokesperson says in a statement. — AFP
September 8, 2020
Saudi King Salman and Russian President Vladimir Putin discussed Monday the possible joint production of a Russian coronavirus vaccine, the Kremlin said.
In early August, Russia said it had developed the world's first vaccine against the virus and claimed that more than a billion doses had been pre-ordered by 20 countries, including Saudi Arabia.
Russia's sovereign wealth fund has provided much of the financing, and it has identified Saudi Arabia as one of the countries interested in the vaccine.
On Monday, Putin and Salman discussed "collective efforts aimed at overcoming the negative impact of the coronavirus pandemic," a Kremlin statement said, while noting the call had come at the Saudi king's initiative. — AFP
September 8, 2020
China has put its homegrown coronavirus vaccines on display for the first time, as the country where the contagion was discovered looks to shape the narrative surrounding the pandemic.
High hopes hang on the small vials of liquid on show at a Beijing trade fair this week -- vaccine candidates produced by Chinese companies Sinovac Biotech and Sinopharm.
Neither has hit the market yet but the makers hope they will be approved after all-important phase 3 trials as early as year-end. — AFP/Beiyi Seow
September 3, 2020
The Trump administration has urged US states to get ready to distribute a potential Covid-19 vaccine by November 1, media reported Wednesday, in the latest sign of the accelerating race to deliver a vaccine by year's end.
"CDC urgently requests your assistance in expediting applications for these distribution facilities," read a letter from Robert Redfield, director of the Centers for Disease Control and Prevention, quoted by The Wall Street Journal.
The CDC, "if necessary, asks that you consider waiving requirements that would prevent these facilities from becoming fully operational by Nov. 1, 2020," two days before the US presidential election, the letter said. — AFP
September 1, 2020
Hong Kong launches a mass coronavirus testing scheme, but calls for millions to take up the offer have been undermined by deep distrust of the government following China's crushing of the city's democracy movement.
The free voluntary tests are part of an attempt to stamp out a third wave of infections that began in late June and saw the densely populated city reimpose economically painful social distancing measures.
But the programme has been hampered by a limited response due to the involvement of mainland Chinese testing firms and doctors -- and swirling public fears of the harvesting of data and DNA as Beijing cracks down on calls for democratic reform. — AFP
September 1, 2020
Hong Kong launched a mass coronavirus testing scheme on Tuesday, but calls for millions to take up the offer have been undermined by deep distrust of the government following China's crushing of the city's democracy movement.
The free voluntary tests are part of an attempt to stamp out a third wave of infections that began in late June and saw the densely populated city reimpose economically painful social distancing measures.
But the program has been hampered by a limited response due to the involvement of mainland Chinese testing firms and doctors — and swirling public fears of the harvesting of data and DNA as Beijing cracks down on calls for democratic reform.
Since registration began on Saturday, 510,000 people have signed up — around seven percent of the city's 7.5 million population. — AFP
August 31, 2020
The head of the US Food and Drug Administration raises the possibility that a future vaccine against the coronavirus might be given emergency approval before the end of trials designed to ensure its safety and effectiveness. — AFP
August 20, 2020
Anthony Fauci, the United States' top infectious diseases official, says the government wouldn't make any future COVID-19 vaccine obligatory for the general public -- though local jurisdictions could make it mandatory for some groups, like children.
"You don't want to mandate and try and force anyone to take a vaccine. We've never done that," says Fauci, a member of the White House coronavirus task force, during a video talk organized by George Washington University.
"You can mandate for certain groups of people like health workers, but for the general population you can't" he added, citing the example of the National Institutes of Health, where health workers can't treat patients without a flu shot. — AFP
August 18, 2020
Mexican President Andres Manuel Lopez Obrador said Monday that he would be among the first to receive a Russian coronavirus vaccine if it is shown to be effective.
Russia's announcement last week that it was the first in the world to approve a coronavirus vaccine was met with caution from Western scientists who said it still needed to be proved safe and effective.
"I would be the first to get vaccinated, because it matters a lot to me, but we have to ... ensure that it's something effective and that it's available to everyone," Lopez Obrador said at his daily news conference. — AFP
August 14, 2020
Mexico and Argentina aim to have a coronavirus vaccine available for Latin America early next year under a production agreement with drugs giant AstraZeneca, the Mexican government said Thursday.
The vaccine, being developed in collaboration with the University of Oxford, is one of the most promising of dozens that researchers around the world are racing to prove safe and efficient.
The goal is to "start manufacturing to have the vaccine in the first quarter of next year," Mexican President Andres Manuel Lopez Obrador told a news conference. — AFP
August 13, 2020
The Brazilian state of Parana signed a deal Wednesday to test and produce Russia's new coronavirus vaccine, though officials stressed they would have to be sure of its safety and effectiveness first.
The vaccine would have to receive Brazilian regulatory approval and complete Phase 3 clinical trials, or large-scale testing in humans, before being produced in Brazil, said officials from the southern state.
Production, if it goes ahead, would likely only start in the second half of 2021, said Jorge Callado, head of the state-run Parana Technology Institute, which signed the deal with the Russian Direct Investment Fund. — AFP
August 13, 2020
Palace spokesperson Harry Roque says the earliest time that President Rodrigo Duterte can get vaccinated with the Russian vaccine is on May 1, 2021. — The STAR/Alexis Romero
August 12, 2020
Following Russia's announcement that it has supposedly developed a COVID-19 vaccine, the United States says it is not "a race to be first."
Noting that the Russian vaccine is now only beginning, US Health and Human Services Secretary Alex Azar says two of the six vaccines that the American government invested in entered the third phase of clinical trials weeks ago.
"The data from the initial trials in Russia have not been disclosed, it's not transparent," Azar tells reporters in a teleconference.
August 12, 2020
US President Donald Trump announces a $1.5 billion contract with US biotech company Moderna for 100 million doses of an eventual coronavirus vaccine, the sixth such deal reached since May.
"I'm pleased to announce that we have reached an agreement with Moderna to manufacture and deliver 100 million doses of their coronavirus vaccine candidate," Trump says at a White House news conference. "The federal government will own these vaccine doses, we're buying them."
"We're on track to rapidly produce 100 million doses as soon as the vaccine is approved, and up to 500 million shortly thereafter, so we'll have 600 million doses," he adds. — AFP
August 11, 2020
The World Health Organization says any WHO stamp of approval on a COVID-19 vaccine candidate would require a rigorous safety data review, after Russia announced Tuesday it had approved a vaccine.
President Vladimir Putin said Russia had become the first country to approve a vaccine offering "sustainable immunity" against the new coronavirus.
"We are in close contact with the Russian health authorities and discussions are ongoing with respect to possible WHO pre-qualification of the vaccine," the United Nations health agency's spokesman Tarik Jasarevic tells reporters in Geneva at an online press briefing. — AFP
August 7, 2020
President Donald Trump says that a vaccine may be produced ahead of the US presidential election on November 3 — a more optimistic timeline than given by his top infectious diseases doctor.
Asked by radio talk show host Geraldo Rivera whether a vaccine could come by the election, Trump says: "I think in some cases, yes, possible before. But right around that time."
Trump says the vaccine would be ready "sooner than the end of the year. Could be much sooner."
"We have a lot of vaccines under study by the way. We look like we're going to be really good on vaccines and therapeutics also," he says.— AFP
July 31, 2020
The Armed Forces of the Philippines welcomes the plan of President Rodrigo Duterte for the military to manage the distribution of COVID-19 vaccine once it is abailable.
Maj. Gen. Edgard Arevalo, spokesperson of the AFP, says the AFP chief has directed his staff to plan the task.
"Bagaman at kababanggit pa lang ng Pangulo ang tungkol sa bagay na yan, kaagad pong inatasan ng ating AFP Chief of Staff General Felimon Santos Jr. ang kanyang mga staff upang pagpaplanuhan at paghandaan yan before December kung kailan pinaniniwalaan na magkakaroon na ng vaccine para sa COVID-19," Arevalo says.
July 31, 2020
Finance Secretary Carlos Dominguez III says the Philippines will allocate around P20 billion to purchase COVID-19 expected to be available by "December."
Four vaccines from China, the United Kingdom and the United States are being looked at. The Department of Health will evaluate which is best to use.
"Vaccines will be for free to 'poorest of the poor'," Domingue said, adding that the Philippines targets to vaccinate 20 million people once COVID-19 vaccine is available. That's nearly a fifth of the 108 million people. — Philstar.com/Prinz Magtulis
July 30, 2020
Johnson & Johnson's announces that its lead vaccine candidate elicited a robust immune response as demonstrated by "neutralizing antibodies" in pre-clinical studies.
The data, published in journal Nature, showed that the company's adenovirus serotype 26 nickname Ad26 vaccine successfully prevented subsequent infection and completely protected the lungs from the SARS-CoV2 virus in non-human primates in a single dose during the pre-clinical study.
The pre-clinical tests were conducted by researchers from Beth Israel Deaconess Medical Center in collaboration with the Janssen Pharmaceutical Companies of Johnson & Johnson and others as part of its ongoing collaboration to accelerate the development of a SARS-CoV-2 vaccine.
Pharma giants Sanofi and GSK said on July 29, 2020, that they have agreed to supply Britain with up to 60 million doses of a potential COVID-19 vaccine. The agreement covers a vaccine candidate developed by France's Sanofi in partnership with the UK's GSK and is subject to a "final contract."
This thread collects some of the major developments in the search for a vaccine to ease the new coronavirus pandemic. (Main photo by AFP/Joel Saget)