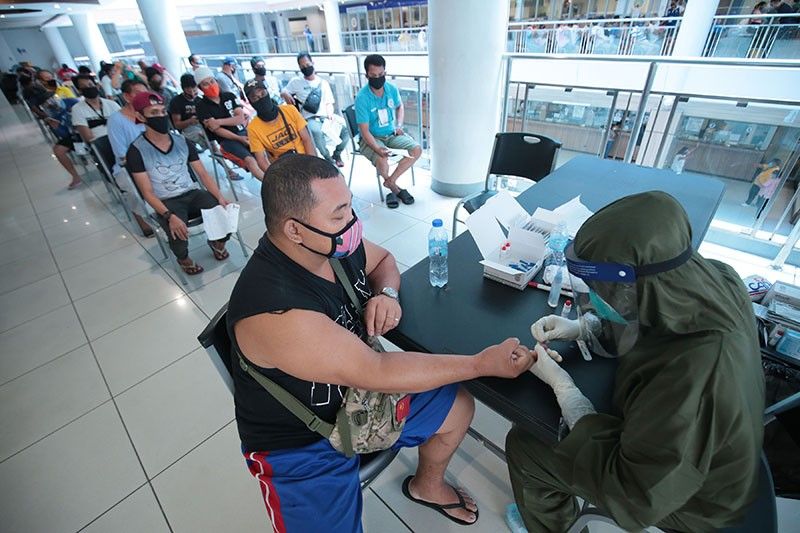 Modified enhanced community quarantine in the Philippines
LATEST UPDATE: June 4, 2020 - 12:33pm
LOCATION:
+ Follow Story
1 day ago
The inter-agency task force on COVID-19 revises its guidelines on the movement of persons in areas under modified general community quarantine.
Under IATF Resolution 43, persons below 21 years old, 60 years old and above, with immunodeficiency, comorbodity, other health risks and pregnant women shall remain in their houses at all times.
Mass gatherings for religious services and work conferences will now be allowed in areas under modified general community quarantine, according to IATF Resolution 43. However, the gatherings should be limited to only 50% seating capacity.
May 31, 2020
Business groups, including the Makati Business Club and Management Association of the Philippines, express disappointment at government officials "violating with impunity" the very same quarantine protocols the government has imposed.
Noting how government have affected millions, the groups say they are "disappointed — even appalled and dismayed — about news reports of public officials violating with impunity the IATF and DOH protocols intended to protect public health."
The statement was signed by MBC, MAP, the American Chamber of Commerce of the Philippines, Canadian Chamber of Commerce in the Philippines, Financial Executives of the Philippines, Institute of Corporate Directors, Institute for Solidarity in Asia, and the Judicial Reform Initiative.
May 30, 2020
The Department of Tourism says they welcome the gradual re-opening of tourism operations in light of the varied community quarantine levels across the country.
"It's important for the tourism sector to open as soon as possible, albeit slowly, gradually and cautiously, so that those who lost their jobs due to the COVID-19 pandemic will be able to work and earn again.", says Tourism Secretary Bernadette Romulo-Puyat
Travel for tourism purposes may be allowed only between places under modified general community quarantine, and subject to travel restrictions imposed by the local government units.
May 30, 2020
The Department of Labor and Employment announces that over 22,000 overseas Filipino workers stranded in different quarantine facilities have so far been transported to their respective hometown,
DOLE Undersecretary Claro Arellano, citing a report from the Overseas Workers Welfare Administration, says that as of 6 a.m. May 30, a total of 22,426 stranded OFWs have been released from quarantine facilities.
"Of this figure, 19,042 were transported between May 25-28 and 3,384 were brought home on May 29 alone," he adds.
May 28, 2020
Duterte says Metro Manila will be under general community quarantine from June 1.
Davao City, meanwhile, will remain under GCQ.
General Community Quarantine will also be implemented in the Cagayan Valley, Central Luzon and Calabarzon regions as well as in Pangasinan and Albay provinces.
"The rest of the country will be placed under Modified General Community Quarantine. That is very clear now," the president also says.
May 28, 2020
A group of researchers from the University of the Philippines recommends that the national government extend the modified enhanced community quarantine in the National Capital Region and other high-risk areas.
In a forecast report released Thursday, the researchers found that while the government has implemented measures to control the spread of the virus in high-risk areas, NCR remains a high-risk areas due to increase of new cases in some cities.
During the first week of MECQ, new COVID-19 cases rose in Makati (170%), Las Pinas (60%) and Pasay (58%). Manila, Taguig, Muntinlupa, Caloocan and Pateros also recorded increases in the number of new COVID-19 cases.
"While such increases cannot be attributed to MECQ at this time, there remains the possibility that a transition from MECQ to GCQ could exacerbate the increase in new Covid-19 cases in these LGUs further undermining the government's efforts to control the transmission of Covid-19," the report read.
May 27, 2020
Without naming anybody, Senate President Pro Tempore Ralph Recto calls on government officials to be clearer in their pronouncements so citizens will easily understand quarantine protocols.
"In general, quarantine rules and regulations, especially those on health, mobility, social assistance must be communicated clearly to the man on the street," he says.
"Trial balloons, thought balloons, thinking-out-loud moments run counter to the need for clarity of messages coming from the government. "
May 27, 2020
The Metropolitan Manila Development Authority announces that medical frontliners are exempted from the modified number coding scheme to be implemented on June 1, as approved by the Metro Manila Council.
"The MMDA understands the plight of the medical frontliners so we want to assist them during this challenging time. We hope that by exempting them from the modified number coding scheme, we are helping to provide ease and convenience to their daily transport," says MMDA General Manager Jojo Garcia in a statement.
May 27, 2020
At least four out of five working-age Filipinos went out of their house one to three times in the past week, according to a Social Weather Stations mobile phone survey.
The poll shows that 81% went out of their house to buy food, 98% to buy medicine and 98% for financial transactions.
"On average, respondents went out 2.6 times to buy food, 1.3 times to buy medicine, and 1.2 times for financial transactions," SWS says.
The mobile survey was conducted from May 4 to 10 among 4,010 respondents nationwide using mobile phone and computer-assisted telephone interviewing.
May 26, 2020
All 17 mayors of Metro Manila are in favor of the region shifting to a general community quarantine from June 1, The STAR reports, quoting MMDA general manager Jojo Garcia.
Under GCQ, mayors will still have the mandate to lockdown certain barangays or areas where there are cases of COVID-19, The STAR also reports.
May 26, 2020
Pasig City Mayor Vico Sotto announces that the liquor ban is lifted in the city as businesses and workers have been affected by the ban.
The mayor, however, reminds his constituents that social gathering is still prohibited.
"Kung inom na inom na po kayo, sa loob na lang muna ng bahay at wag imbitahin ang buong barangay," Sotto says on Twitter.
We are lifting because businesses and workers are also affected by the ban.

NGUNIT paalala na bawal pa rin po ang social gatherings. Kung inom na inom na po kayo, sa loob na lang muna ng bahay at wag imbitahin ang buong barangay pic.twitter.com/GFdwTvirz2

— Vico Sotto (@VicoSotto) May 26, 2020
May 26, 2020
The Alliance of Concerned Teachers Philippines says that the government should execute a "thoroughgoing effort to effectively combat COVID-19 so that the situation may be favorable for a safe school opening."
"Instead of idly and indefinitely waiting for a vaccine, the government shall make productive use of its time and the people's resources on increasing the resiliency of our education system by building safe schools, addressing perennial shortages in personnel, facilities, equipment, and learning resources, and filling in gaps in learning," the group says.
"Likewise, learning must continue even without an official school year," it adds.
May 25, 2020
Fourteen of the 17 mayors of Metro Manila agree to a shift to a general community quarantine by June 1, the scheduled end of the Modified Enhanced Community Quarantine, The STAR reports, quoting Parañaque Mayor Edwin Olivarez.
Olivarez is also chairperson of the policy-making Metro Manila Council.
The STAR also reports that, aside from Olivarez, Valenzuela Mayor Rex Gatchalian and Navotas Mayor Toby Tiangco also favor a shift to GCQ.
May 23, 2020
The Department of Information and Communications Technology says it is set to conduct online seminars to prepare teachers under the Department of Education and the Commission on Higher Education to adapt to alternative learning systems under the "new normal."
"ICT has become crucial for retaining a sense of continuity for our society, especially in the education sector. DICT is here to help upskill the ICT capacity of our teachers in order for them to utilize the full potential of ICT in providing quality education to their students given the disruptions in holding face-to-face classes," Secretary Gregorio Honasan II says.
May 23, 2020
A labor group expresses concerns over the announcement of Labor Secretary Silvestre Bello III on its latest proposal to start a new "Salary Subsidy" program.
Based on the proposal, around 20-25% of the workers' minimum wage will be subsidized to aid employers under small, medium and micro businesses in order for them not to terminate their employees in this time of the COVID-19 pandemic.
"Before starting new rounds of salary subsidy, cash assistance measures or programs, the Labor Department must first report to our workers and people how the billions of public funds were spent and distributed considering that majority of our affected workforce did not receive any assistance," says Thadeus Ifurung, Defend Jobs Philippines spokesperson.
May 22, 2020
The city government of Valenzuela announces that they have signed a new memorandum of agreement with fifth COVID-19 laboratory partner, Hi-Precision Diagnostics (HPD).
HPD is currently on the fourth stage of the accreditation process of the Department of Health to be a COVID-19 laboratory. The company can process swab samples referred by the City Epidemiology and Surveillance Unit once it reached stage 5 of the accreditation.
May 22, 2020
Sen. Koko Pimentel, who is facing a complaint for breaching quarantine protocols, reminds landlords that evicting tenants are illegal during the lockdown period.
"In the time of COVID-19, the eviction of boarders, bedspacers, renters or lessees who are not able to pay their rent is illegal because they have a minimum of 30-day grace period to pay (without interest and penalty) after the ECQ or MECQ," Pimentel says in a statement Friday.
The senator adds that those who are affected may report to the Department of Trade and Industry's Fair Trade Enforcement Bureau.
May 22, 2020
Migrante International urges the government to urgently repatriate all stranded Filipino migrants and persuade governments of other countries to implement amnesty programs or grace periods.
"The Duterte government must prioritize the safe return of our kababayans. Forcing them to pay hefty fees for supposed healthcare services which they don't get in quarantine facilities is tantamount to sequestering them to extract ransom," the group says in a statement.
May 22, 2020
Almost all families have received food-help since the beginning of the COVID-19 crisis, according to a special Social Weather mobile phone survey.
The poll released Thursday night shows that the government was the most common source of food-help at 99%, followed by relatives at 22%, private groups or institutions at 16%, friends at 10% and private individuals at 8%.
The survey was conducted using mobile and computer assisted telephone interviewing among 4,010 working-age Filipinos nationwide. The poll was conducted from May 4 to 10.
May 21, 2020
The Department of Public Works and Highways says they are mobilizing the conversion of Alonte Sports Arena in Biñan, Laguna to address the need for healthcare facilities.
Secretary Mark Villar says the quarantine facility has a total of 68 bed cubicles and will cater to patients from the province of Laguna and other areas from the Southern Tagalog Region.
May 21, 2020
The Department of Foreign Affairs says they continue to repatriate Filipinos from all over the globe by welcoming home 190 overseas Filipino workers from Singapore on Wednesday.
"The 190 Filipino repatriates underwent the appropriate medical protocols upon arrival as required by the Department of Health-Bureau of Quarantine," the DFA says in a statement.
"They will also be required to undergo quarantine in accordance with the omnibus guidelines established by the Inter-Agency Task Force," it adds.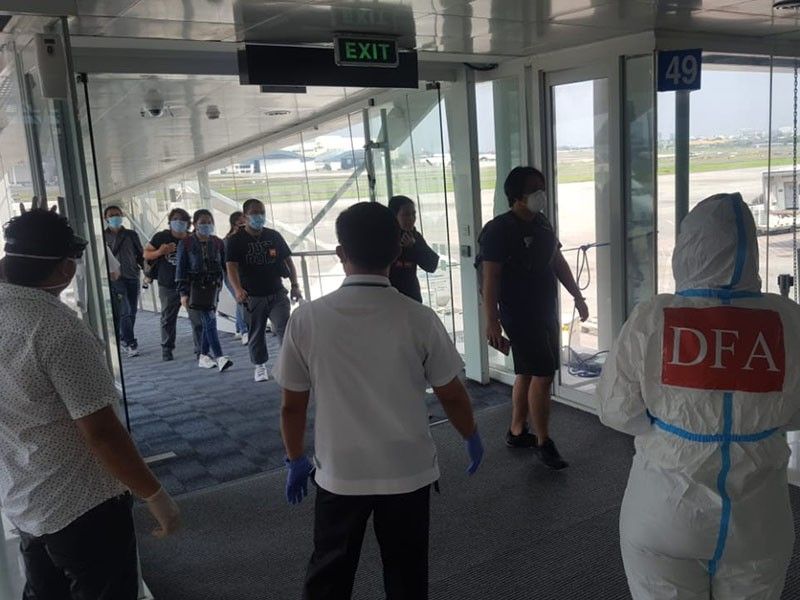 May 20, 2020
The city government of Taguig announces that it has moved the deadline for the payment of taxes, fees and charges from May 20 to June 30, 2020 amid the COVID-19 outbreak.
"Through Executive Order No. 09, Mayor Lino Cayetano is further extending the deadlines of "all business taxes, real property taxes, transfer taxes, amusement taxes and other taxes, fees, charges and other financial obligations, due and payable to the Taguig City Government during the period of the enhanced community quarantine," the local government says in a statement.
May 20, 2020
The Department of Foreign Affairs announces that they have brought home 347 Filipinos from Dammam and Riyadh, Saudi Arabia on Monday.
Among the repatriated overseas Filipino workers were 16 pregnant women, nine minors, including five babies, one male stretcher case, and one recovering stroke victim.
Many of the repatriates were severely affected by the closure of businesses in Saudi Arabia brought about by the COVID-19 pandemic, the DFA says.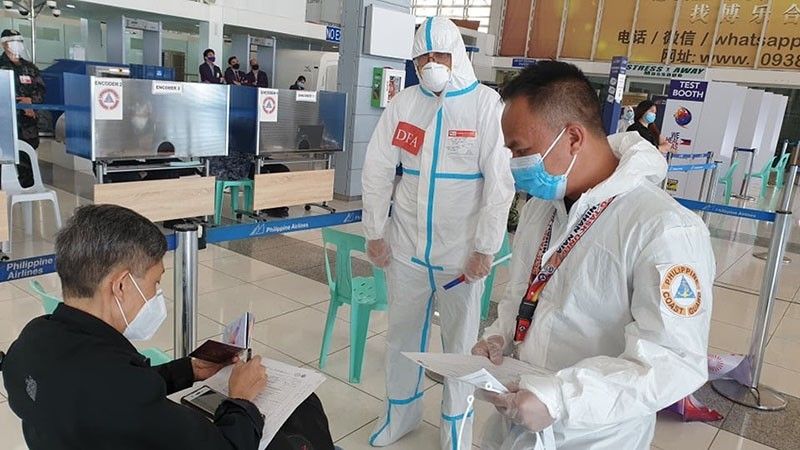 May 20, 2020
The city government of Parañaque announces that it will impose a "calibrated lockdown" in 10 barangays in the city.
The "calibrated lockdown" will start on Thursday until Saturday (May 21 to 23, 2020).
Metro Manila and other "highrisk" areas were placed under a modified enhanced community quarantine last May 16, which is more relaxed than ECQ, but has more restrictions compared with the general community quarantine (GCQ). Bookmark this page for updates. Photo by The STAR/Michael Varcas