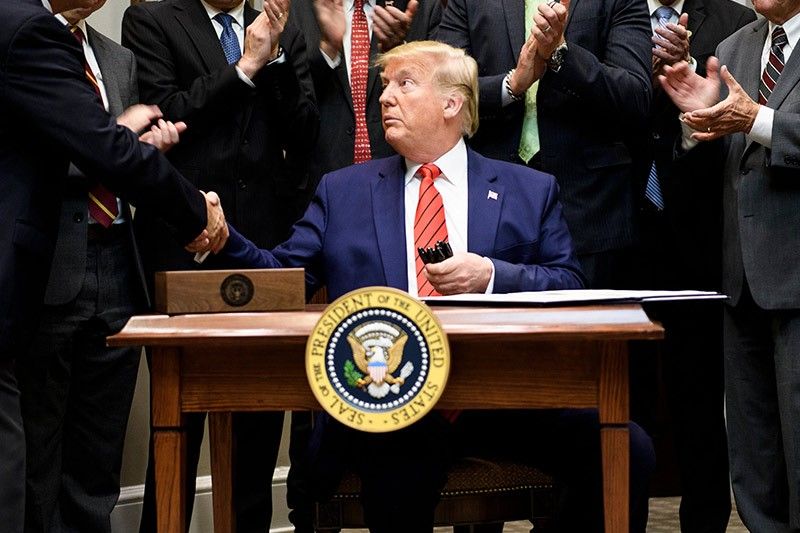 LATEST UPDATE: January 26, 2020 - 1:43pm
+ Follow Story
4 hours ago
Donald Trump demanded the dismissal of Marie Yovanovitch, the ambassador to Ukraine and a key figure in the president's impeachment trial, according to a video recording released to US media on Saturday.
The footage was reportedly taken during an April 2018 donor dinner at a hotel and released to news outlets by an attorney for Lev Parnas, an indicted associate of Trump's personal attorney Rudy Giuliani.
Parnas and his business partner Igor Fruman are key players in Trump's alleged campaign to pressure the government of Ukraine to dig up dirt on Joe Biden, a potential election opponent for the president.
The issue is central to Trump's ongoing impeachment trial in the US Senate. — AFP
1 day ago
Donald Trump's lawyers prepare to deliver his first full-throated defense Saturday in the Senate's historic impeachment trial, after Democratic prosecutors spent three days making their case for the US president's removal from office.
Capping 24 total hours of arguments, Democrats tell the 100 senators that Trump abused the power of the presidency in pressuring Ukraine to launch investigations that would help him politically, and then sought to block efforts by Congress to investigate.
Democrats say they had met that burden of proof, as lead House impeachment manager Adam Schiff warned that Trump would remain an "imminent threat" to American democracy if he stays in power. — AFP
January 21, 2020
US President Donald Trump brands his impeachment trial a "hoax" in the Swiss resort of Davos, hours before senators were to start debating a push to remove him from office.
Asked by reporters why he was in Davos, not back in Washington, Trump says: "We're meeting with world leaders, the most important people in the world and we're bringing back tremendous business."
"The other's just a hoax," he says. "It's the witch hunt that's been going on for years and frankly it's disgraceful." — AFP
January 7, 2020
Former White House national security advisor John Bolton, in a surprise announcement, says Monday that he is willing to testify if subpoenaed in the Senate impeachment trial of President Donald Trump.
Democrats believe Bolton has direct knowledge supporting charges of abuse of power and obstruction of Congress by the president.
But Bolton, a veteran Washington insider who was fired by Trump in September, has not publicly disclosed whether his testimony would be damaging or helpful to the president.
Republican Senate chief Mitch McConnell said Monday that a decision to call witnesses in the trial, expected to begin this month, should be made only after it has begun. — AFP
January 3, 2020
US lawmakers return to Washington with President Donald Trump's upcoming impeachment trial looming over the first Senate session of 2020, but congressional leaders are locked in stalemate over how to proceed.
As Congress braces for a frenetic January, newly uncovered evidence could bolster Democrats' demands for testimony from key witnesses with firsthand knowledge of Trump's Ukraine pressure scheme at the heart of the impeachment scandal.
A series of emails published Thursday signal that the order to maintain a freeze on military aid to Ukraine came directly from Trump, and reveal that the Pentagon raised serious concerns about the legality of the directive. — AFP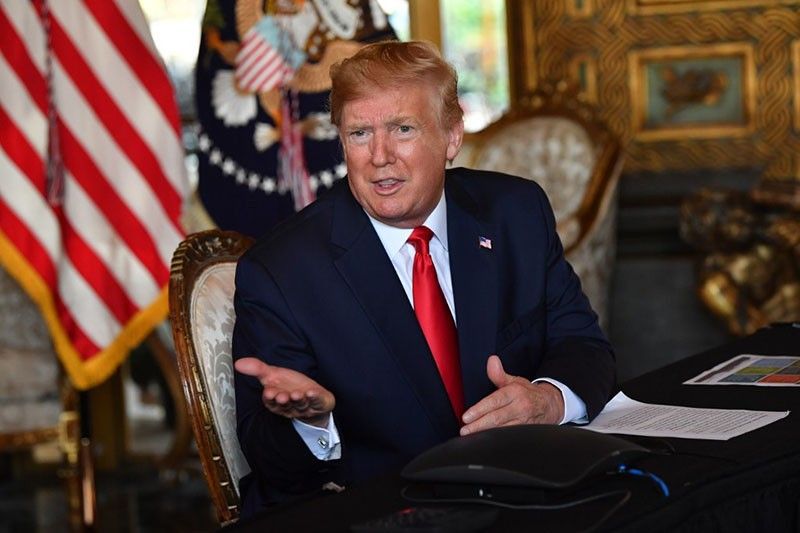 December 21, 2019
US President Donald Trump kicked off Christmas vacation on Friday after a series of legislative victories gave him one of his best weeks in office -- apart from becoming only the third US president ever impeached.
Surprisingly, for a capital paralyzed by Democratic-Republican gridlock and a presidency mired in scandal, a whole string of major breakthroughs came through at once.
While Democrats and Republicans tussle over how his Senate impeachment trial will unfold, possibly in January, he is fighting to refocus voters' minds on the brighter side of his presidency ahead of the 2020 election.
And as he packed his bags for a golf holiday through the New Year at his Mar-a-Lago resort in Florida, Congress handed him ammunition.
Trump was poised to sign a giant $1.4 trillion spending deal that the Senate passed on Thursday, ahead of a deadline to avoid leaving the federal government with empty coffers.
Also Thursday, the House of Representatives, where the Democratic majority had voted for impeachment a day earlier, finally approved a new US-Mexico-Canada free trade deal, known as USMCA. -- Agence France-Presse
December 19, 2019
Russian President Vladimir Putin on Thursday said that the impeachment of Donald Trump was based on "made-up" grounds, adding he did not believe it marked the end of the US president.
"It still needs to go through the Senate, where the Republicans have a majority," Putin said after the House of Representatives voted to impeach Trump for abuse of power.
"And it is hardly likely that they are going to push out of office a representative of their own party, on grounds that are absolutely made-up," he added.
Speaking at his marathon end-of-year news conference, Putin described the events in the US legislature as "simply the continuation of a internal political fight" between Democrats and Republicans.
He reproached the journalist who asked the question for "speaking about Trump as if he is finished". — Agence France-Presse
December 19, 2019
A US Republican lawmaker said Wednesday that President Donald Trump, undergoing impeachment proceedings led by Democrats, has been treated worse than Jesus before his crucifixion, causing a stir on social media.
"I want you to keep this in mind: When Jesus was falsely accused of treason, Pontius Pilate gave Jesus the opportunity to face his accusers," Congressman Barry Loudermilk, who hails from the deeply conservative Bible Belt state of Georgia, told fellow lawmakers.
"During that sham trial, Pontius Pilate afforded more rights to Jesus than the Democrats afforded this president and this process," Loudermilk said, referring to the Roman governor of Judea who approved the death sentence. — AFP
December 19, 2019
The prosecutors in the Democratic Party want to call witnesses. The defense — the White House — rejects the idea as "laughable."
Thus is the stage set for the third trial in history of a sitting US president, where the party of defendant Donald Trump gets to set the rules and some senators who will be jurors are already delivering their verdicts.
Trump is expected to stand trial in the Republican-led Senate beginning in early January, after the House of Representatives voted late Wednesday to impeach him for abuse of power and obstruction of Congress.
If convicted he will be removed from office, an unprecedented outcome but one which looks like a highly unlikely conclusion to what has increasingly become a partisan, political, rather than criminal, process. — Agence France-Presse
December 19, 2019
The US House of Representatives voted 229-198 on Wednesday to impeach President Donald Trump for obstruction of Congress.
Trump was facing two articles of impeachment — for abuse of power and obstruction of Congress — and both articles were passed in the Democratic-majority House.
The House impeached Trump for abuse of power by a 230-197 vote.
The 45th US president is just the third occupant of the White House in US history to be impeached.
Trump will now face a trial in the Senate, where Republicans have a majority and removal from office is unlikely. — AFP
December 19, 2019
US President Donald Trump railed against a Democratic Party "consumed with hatred" after he was impeached Wednesday for abuse of power and obstructing Congress.
"While we're creating jobs and fighting for Michigan, the radical Left in Congress is consumed with envy and hatred and rage, you see what's going on," the Republican leader seethed at campaign rally in the state. "These people are crazy."
Trump said the Democratic Party, which controls the House of Representatives where the votes took place, was "trying to nullify the ballots of tens of millions of patriotic Americans." — AFP
December 19, 2019
A majority of members of the US House of Representatives voted on Wednesday to impeach President Donald Trump for abuse of power, setting up a Senate trial on removing him from office.
A simple majority is required for the Democratic-controlled House to make the 45th US president the third White House occupant in American history to be impeached.
The House will then vote on the second article of impeachment facing Trump — for obstructing the congressional probe into his attempt to have Ukraine investigate his potential 2020 Democratic presidential opponent Joe Biden. — AFP
December 18, 2019
US lawmakers will take a historic and highly anticipated vote on impeaching President Donald Trump on Wednesday (Thursday, Manila time), the leading Democrat in Congress says.
"Tomorrow the House of Representatives will exercise one of the most solemn powers granted to us by the Constitution as we vote to approve two articles of impeachment against the president of the United States," House Speaker Nancy Pelosi says in a letter to Democratic colleagues on Tuesday (Wednesday, Manila time).
"During this very prayerful moment in our nation's history, we must honor our oath to support and defend our constitution from all enemies, foreign and domestic," she adds. — AFP
December 14, 2019
US President Donald Trump stands on the verge of impeachment after a House panel approved charges he abused his power and obstructed Congress, setting up a historic vote in the chamber next week.
In a grave moment for a deeply divided nation, members of the Judiciary Committee voted along party lines to approve two articles of impeachment against the president for committing acts that met the constitutional threshold of "high crimes and misdemeanors."
The panel recommended by 23 votes to 17 that the Democratic-led House ratify both articles, ahead of a vote by the entire chamber that is expected to make Trump only the third US president in history to be impeached, after Andrew Johnson in 1868 and Bill Clinton in 1998. — AFP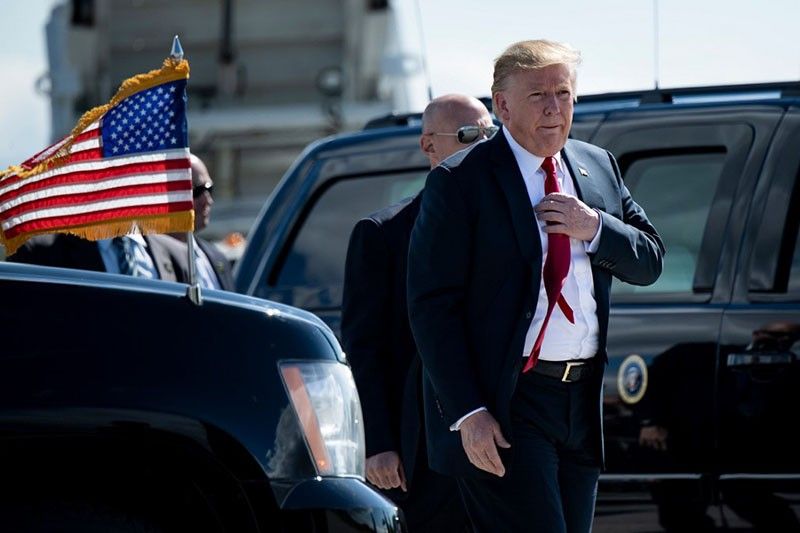 December 13, 2019
Democrats set a vote on impeachment charges against President Donald Trump after a frequently caustic 14-hour debate with Republicans over the US leader's alleged misconduct in seeking political support from Ukraine.
In a shock late-night end to a marathon hearing of the House Judiciary Committee, Chairman Jerry Nadler abruptly postponed a final vote on the two articles of impeachment, saying he wanted to give committee members time to "search their conscience" over the evidence presented against the US leader.
Surprised Republicans bitterly accused Nadler of running a "kangaroo court," but Democrat Jamie Raskin said they did not want to be accused of taking such a momentous action against the president in the dead of night. — AFP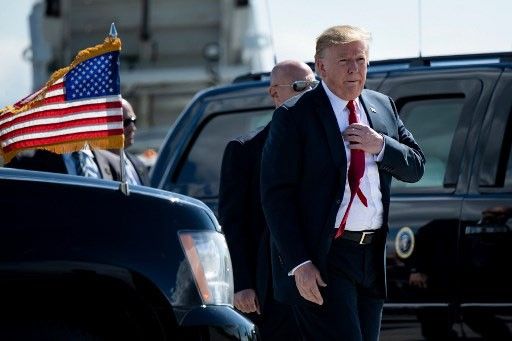 December 12, 2019
Democrats warn that US President Donald Trump was on the verge of dictatorship while Republicans fiercely defended his record at the opening of a stormy, historic debate on impeachment charges Wednesday.
The parties held tightly to diametrically opposed views of Trump as they weighed articles of impeachment at the beginning of a two-day debate.
Trump is alleged to have wielded the power of the presidency for personal and political gain by pressuring Ukraine to interfere in the 2020 US election. — AFP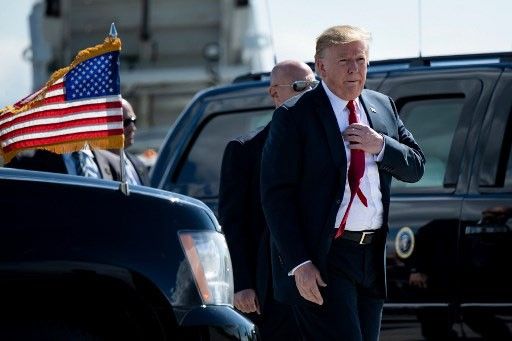 December 10, 2019
US media reports that Democrats are expected to announce on Tuesday two articles of impeachment against Donald Trump, after laying out their case at a hearing against a president they branded a "clear and present danger" to national security.
The articles will focus on abuse of power and obstruction of Congress, The Washington Post says, citing three official familiar with the matter.
It added that the full House of Representatives would vote on the articles next week, ahead of a trial in the Senate. — AFP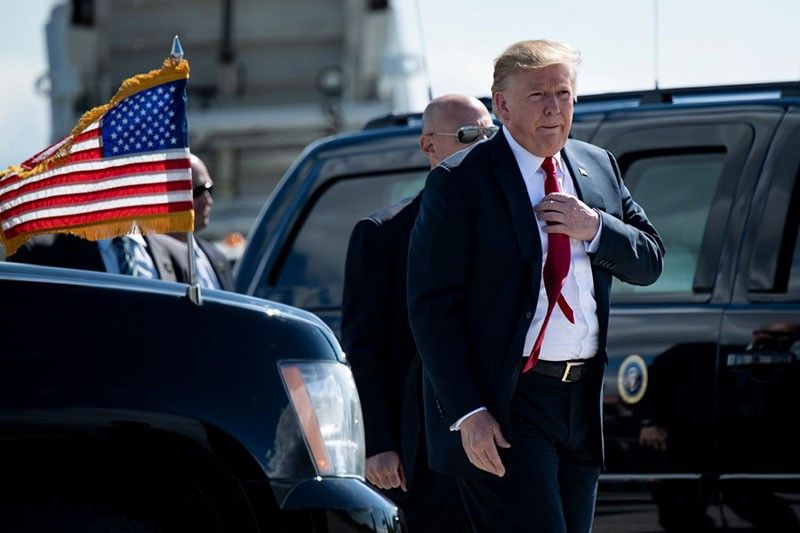 December 7, 2019
Democrats are marching quickly toward the impeachment of US President Donald Trump and placing him on trial for abuse of power, bribery and obstruction.
They have laid out significant evidence that he illicitly pressured Ukraine to announce investigations into Democrats that could help him in the 2020 election.
That could see Trump formally charged in the Democrat-controlled House within weeks, making him only the third US president ever impeached. — AFP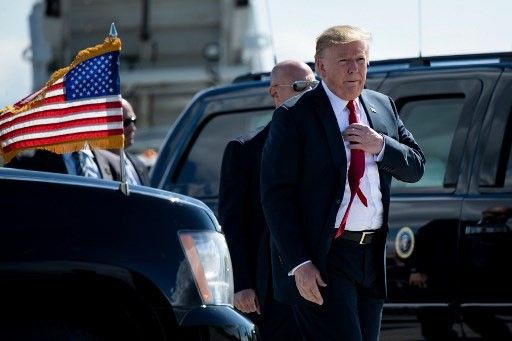 November 21, 2019
A senior US diplomat directly implicates President Donald Trump in a scheme to force Ukraine to probe a political rival, in bombshell testimony to a televised impeachment hearing.
Gordon Sondland, the ambassador to the European Union, tells lawmakers he followed the president's orders in seeking a "quid pro quo" deal for Ukraine to investigate Democrat Joe Biden in exchange for a White House summit.
Sondland says Trump's personal lawyer Rudy Giuliani led the effort at Trump's direction to pressure Ukraine President Volodymr Zelensky for the investigation and that top officials in the White House and State Department knew about it. — AFP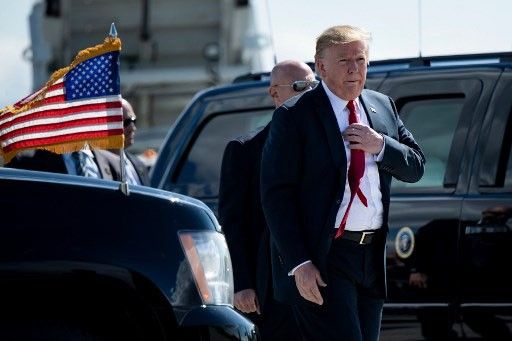 November 16, 2019
President Donald Trump tweets an attack against the former US ambassador to Ukraine while she was in the middle of testifying in his impeachment probe, prompting her to complain she was being intimidated.
Trump's furious tweet came as Marie Yovanovitch testified in the House of Representatives about her abrupt firing from her post in Ukraine following an alleged smear campaign led by the president's personal attorney, former New York mayor Rudy Giuliani.
"Everywhere Marie Yovanovitch went turned bad," Trump says, finishing his tweet with a reminder that presidents have the "absolute right" to hire and fire ambassadors. — AFP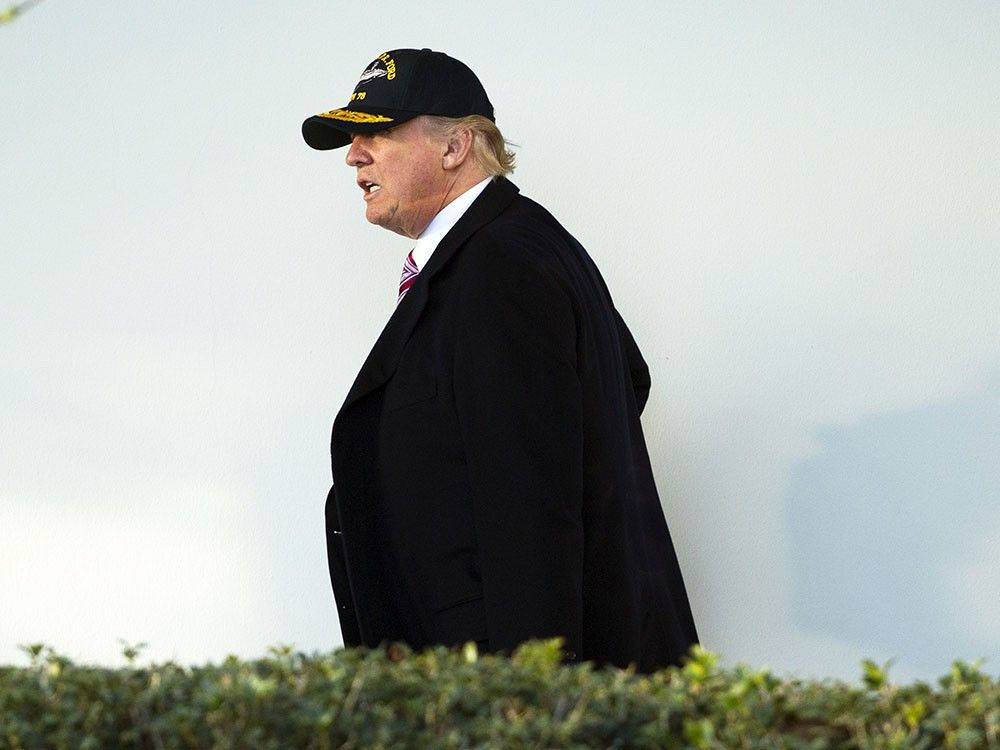 November 15, 2019
Lawyers of President Donald Trump argue that the American leader enjoys immunity both from prosecution and from any acts of investigation.
"For the first time in our nation's history, a state or local prosecutor has launched a criminal investigation of the President of the United States and subjected him to coercive criminal process," Trump's attorney Jay Sekulow said, according to US media.
"Politically motivated subpoenas like this one are a perfect illustration of why a sitting president should be categorically immune from state criminal process," he said. — AFP
November 14, 2019
Two top US diplomats deliver gripping testimony about Donald Trump's efforts to get Ukraine to investigate his potential 2020 rival Joe Biden, as the impeachment inquiry into the president shifted into a new phase of high-stakes televised hearings.
Trump dismissed the probe in the Democratic-led House of Representatives as a "witch hunt" and said he was "too busy" to watch the first public hearings, during which he received staunch backing from Republican lawmakers.
William Taylor, the top US diplomat in Ukraine, begins his testimony before the House Intelligence Committee with a new revelation about Trump's efforts to pressure Kiev -- the main issue of just the fourth impeachment process in US history. — AFP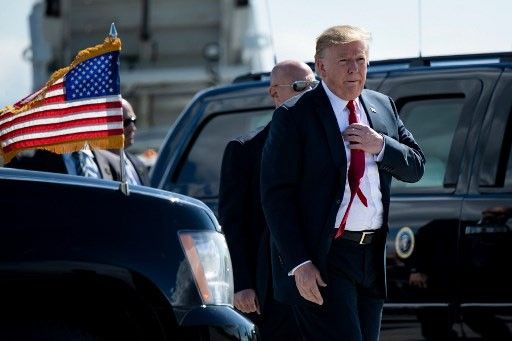 November 9, 2019
White House Acting Chief of Staff Mick Mulvaney snubs demands by House impeachment investigators to testify, claiming immunity as a top aide to President Donald Trump.
As Trump again blasted the probe as "corrupt" and a "witch hunt," Mulvaney rejects a subpoena from the House Intelligence Committee to appear for a closed-door interview.
The brush-off came days ahead of Democrats taking their impeachment investigation public with what promises to be highly contentious open hearings in Congress starting next Wednesday. — AFP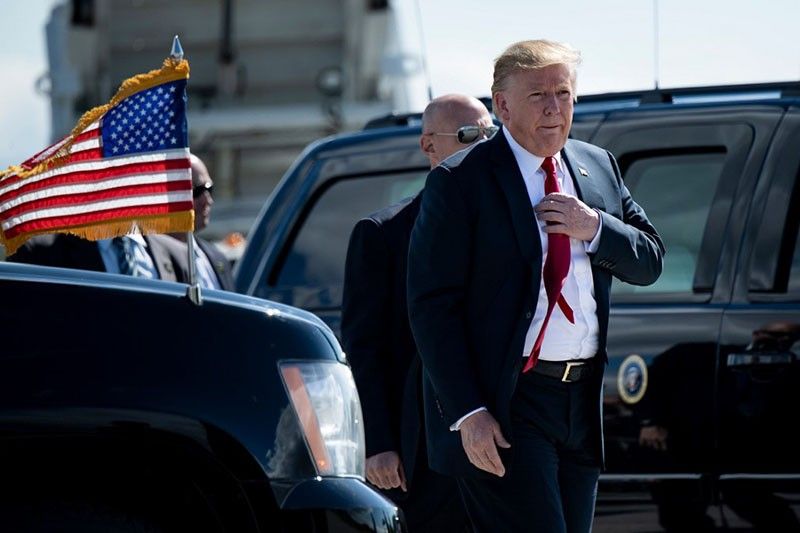 November 7, 2019
The congressman leading the probe says the first open impeachment hearings into US President Donald Trump will begin next week as the investigation heads into a highly anticipated public phase.
William Taylor, Washington's top diplomat to Ukraine, and deputy assistant secretary of state George Kent are scheduled to testify next Wednesday.
People will be able to see "the degree to which the president enlisted whole departments of government in the illicit aim of trying to get Ukraine to dig up dirt on a political opponent," says House Intelligence Committee chairman Adam Schiff. — AFP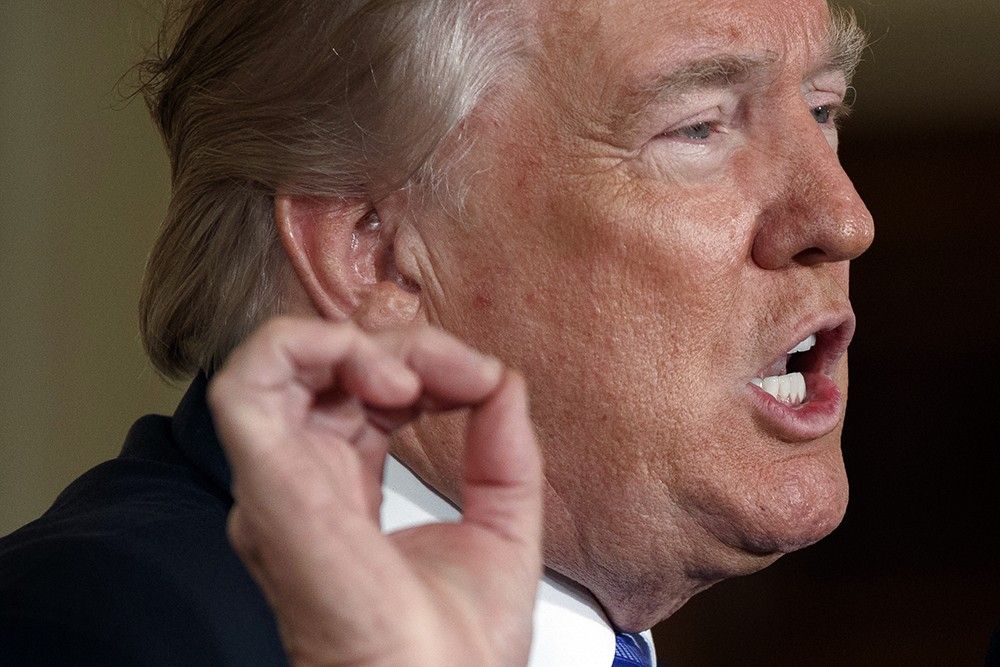 October 30, 2019
The White House rejects a plan by congressional Democrats to bring the impeachment inquiry into US President Donald Trump out in the open, saying the process remains a "scam."
The "Democrats' impeachment has been an illegitimate sham from the start as it lacked any proper authorization by a House vote," Trump spokeswoman Stephanie Grisham says in a statement.
The revamped procedures announced in the House earlier Tuesday do "nothing to change the fundamental fact that House Democrats refuse to provide basic due process rights," she says. — AFP
October 29, 2019
A senior aide says the US House of Representatives will hold its first formal vote Thursday on the impeachment inquiry into President Donald Trump, as Democrats forge ahead with a process that includes public hearings.
The move marks a shift in strategy by Democrats who had insisted for weeks that they did not need a floor vote to proceed with investigation into Trump's dealings with Ukraine, a posture that angered Republicans who relentlessly attacked the process as unfair.
The chamber will go on record for the first time to "lay out the next steps for the inquiry," a senior Democratic aide says after House Speaker Nancy Pelosi informed fellow Democrats of the plan. — AFP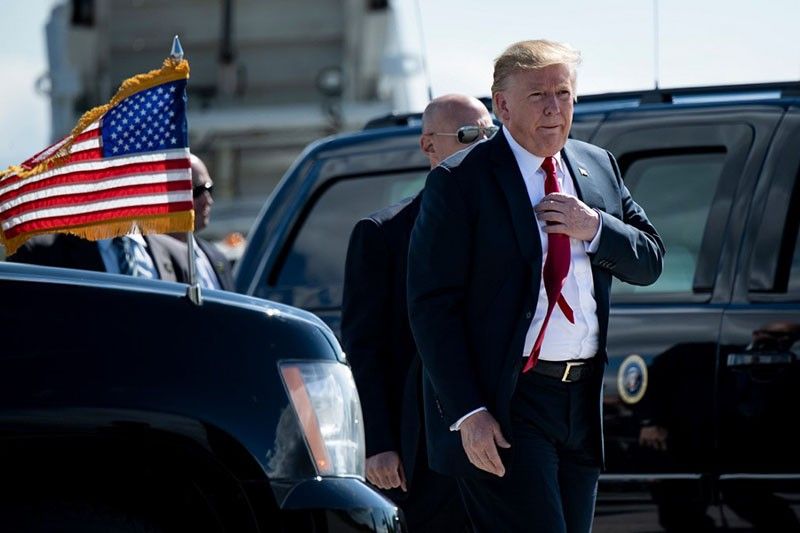 October 16, 2019
The leader of the impeachment investigation of President Donald Trump says that witnesses had provided substantial support for allegations that Trump illegally tried to force Ukraine to investigate his political rival Joe Biden.
While the White House and Trump's personal lawyer Rudy Giuliani refused to turn over subpoenaed documents on the Ukraine affair to Congress, House Intelligence Committee Chairman Adam Schiff says five witnesses had backed up allegations of misuse of power that could underpin formal impeachment charges.
Witnesses have supplied information showing that Trump's July 25 phone call with Ukraine leader Volodymyr Zelensky, in which Trump appeared to tie military aid to getting dirt on Biden from Kiev, was planned in advance and then followed up, Schiff says. — AFP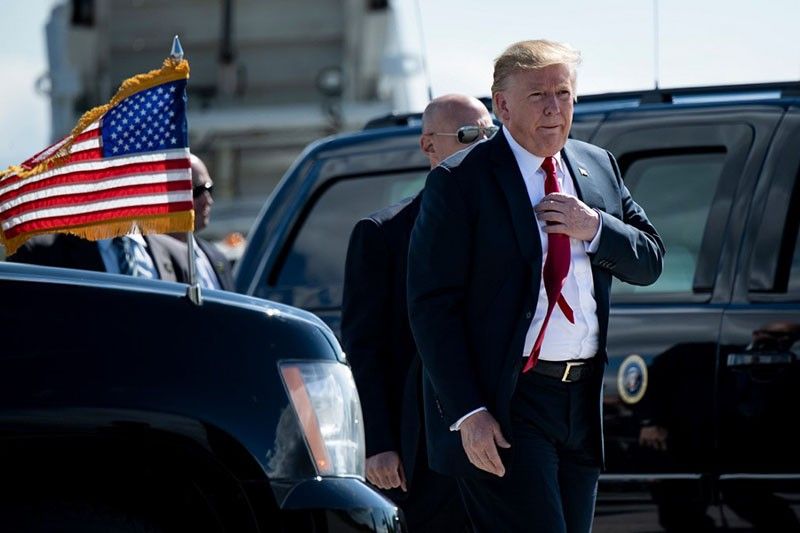 October 10, 2019
US President Donald Trump says that a battle with Democrats over his possible impeachment will likely go to the Supreme Court, after the White House said it would not cooperate with an ongoing probe.
Trump has repeatedly sought to discredit an impeachment inquiry over his possible abuse of power in pressuring Ukraine to dig up dirt on political rival Joe Biden.
"It probably ends up being a big Supreme Court case," Trump says, decrying how he and the Republican Party had been "treated very badly by the Democrats." — AFP
Monitor updates on the impeachment investigation into US President Donald Trump.