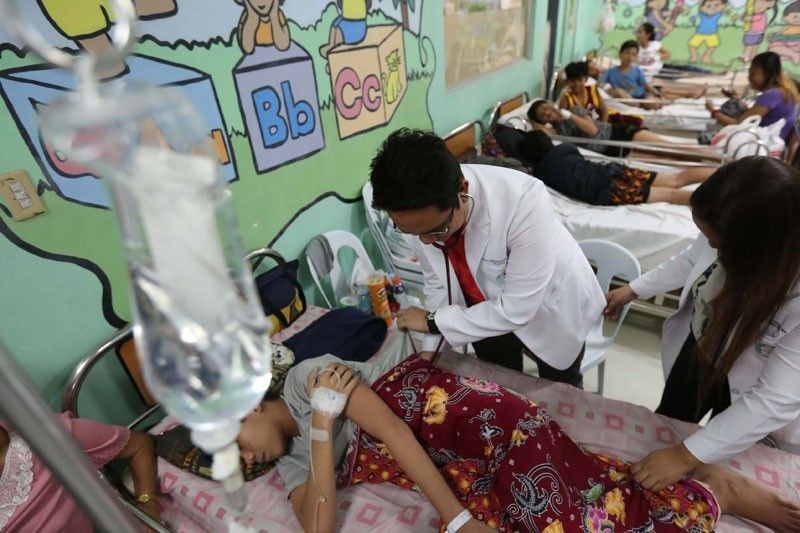 LATEST UPDATE: August 14, 2019 - 3:56pm
+ Follow Story
August 14, 2019
Taguig City will have a Dengue Cleanup Day on August 16, Friday, in all public schools, health centers, Super Health Centers, Taguig-Pateros District Hospital, barangay halls, City Hall and all government facilities, the city's Public Information Office announces.
The city encourages residents and communities to participate in the cleanup. it also says.
The city's local health board has also adopted an action plan to address dengue in Taguig.
August 6, 2019
The Department of Health has declared a national dengue epidemic as it records a 98-percent increase in dengue cases between January and July 20, 2019 against the same period last year.
LOOK | Department of Health declared a national dengue epidemic in the wake of the 146,062 cases recorded since January - July 20, 2019. This is 98% higher than the same period in 2018. There were 622 deaths @News5AKSYON @onenewsph pic.twitter.com/XTgV56HXHy

— Marianne Enriquez (@mariannenriquez) August 6, 2019
The DOH says there have been 146,062 cases recorded, with 622 of those cases leading to death.
July 24, 2019
Senate President Pro Tempore Ralph Recto says the Department of Health should tap a P500-million Quick Response Fund in the National Disaster Risk Reduction and Management Fund to respond to a rising number of dengue cases.
Recto says the actual number of dengue cases in the first half of 2019 may be higher than the 106,630 recorded by the DOH.
"There is almost a 70,000 difference between the two," Recto says of data from the DOH and from the Philippine Health Insurance Corp., "with PhilHealth receiving 174,000 claims and the DOH reporting 106,630 cases from January to June of this year."
He says multiple admissions could account for the higher number recorded by PhilHealth, "but whether it is the figure from DOH or from PhilHealth, the number is alarming."
He says that aside from the QRF, the Health department can forego nonessential and postponable meetings, trainings in hotels and redirect the funding for these to the dengue control effort.
The Department of Health has declared a national dengue alert, noting there were 106,630 cases recorded from January 1 to June 29 this year.
The DoH declared for the very first time a National Dengue Alert today. The health department said there are 106,630 cases from Jan 1 to Jun 29 this year, 85% higher compared to the same period last year. Despite this, it doesn't mean there is a national epidemic. @bworldph pic.twitter.com/rWY6I5EDjY

— Gillian Cortez (@gmcortez_) July 15, 2019
This was 85% higher than in the same period last year, DOH also says.
Ang Dengue ay nakamamatay, alamin ang mga sintomas ng dengue at agad na kumonsulta sa pinakamalapit na health facility sa inyong lugar. pic.twitter.com/n8IyEyF3Ec

— Department of Health (@DOHgov) July 10, 2019
The STAR reports that, according to the DOH, the following regions have exceeded the "epidemic threshold":
MIMAROPA
Western Visayas
Central Visayas
Northern Mindanao
The following have meanwhile breached the "alert threshold":
Ilocos
Cagayan Valley
CALABARZON
Bicol
Eastern Visayas
Zamboanga Peninsula
Davao Region
Bangsamoro Autonomous Region in Muslim Mindanao
Cordillera Administrative Region