Migration and refugees
July 10, 2023 | 9:53am
Location:
SYRIA, UNITED STATES
+ Follow Story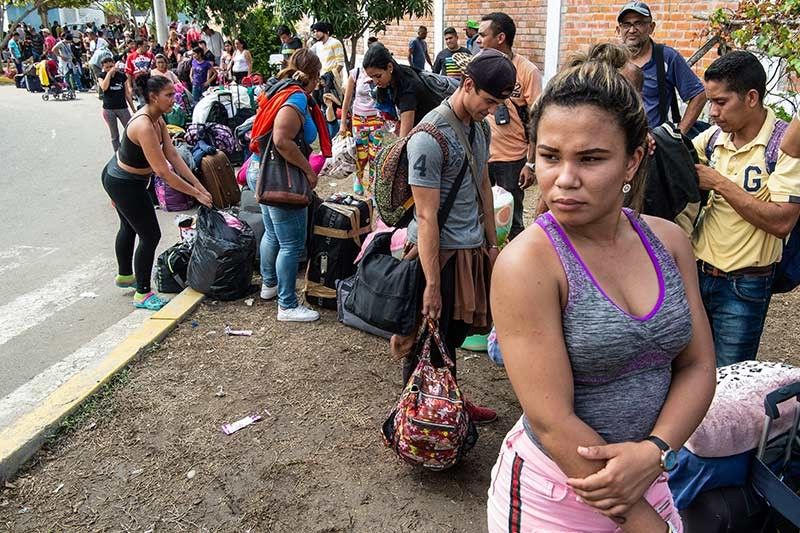 July 10, 2023
Peruvian authorities on Sunday rescued 23 Afghans from migrant traffickers along the border with Brazil, the attorney general's office says.
The migrants, who were trying to get to Ecuador, paid money to people smugglers to transport them across the nation and to the northern border, prosecutors say.
But they were cheated out of their money and crowded into a house without food in the village of Inapari in the Madre de Dios department along the Peru-Brazil border, a statement from the prosecutor's office says.
Among the victims were "four children, including a two-month-old baby," it says. — AFP
June 14, 2023
Greece's coastguard said Wednesday that 80 migrants had been rescued after their boat capsized and sank in international waters off the southwestern Peloponnese coast.
Strong winds were complicating efforts, which also included a Greek navy frigate, an army plane and helicopter as well as six other boats in the area.
"Since very early Wednesday, an extensive rescue operation is underway off Pylos, after a fishing boat capsized with a large number of migrants onboard," the coastguard said in a statement.
A spokeswoman later confirmed that "so far 80 migrants have been picked up in the water and will be transferred to the port of Kalamata".
The coastguard said a surveillance plane with Europe's Frontex agency had spotted the boat Tuesday afternoon, but the passengers "refused any help".
Greece along with Italy and Spain have long been the main destinations for the tens of thousands of people seeking to reach the Europe from Africa and the Middle East. — AFP
June 8, 2023
EU interior ministers meeting Thursday looked to reach an agreement on a long-stalled revision of the bloc's rules to more equally share the hosting of asylum seekers and migrants.
But diplomats have cautioned the odds of a deal were still 50-50, with increasing numbers of European Union members adopting hardline policies on the issue.
"It's almost three years since I presented this huge proposal and it's been a marathon," said EU home affairs commissioner Ylva Johansson.
"We have maybe 100 metres left, so we are so close to actually finding an agreement today." — AFP
May 7, 2023
Authorities in northwest Mexico rescued 113 kidnapped migrants of different nationalities from a building along the border with the United States, the state prosecutor's office said.
Thousands of migrants fleeing violence and poverty risk abduction and exploitation at the hands of criminal gangs while crossing Mexico on the way to the US border.
The latest discovery in the municipality of San Luis Rio Colorado, which borders the US state of Arizona, arose from follow-up investigations by authorities who found on Friday 10 Colombian citizens presumed to have been kidnapped.
"This time people from El Salvador, Honduras, Dominican Republic, Ecuador, United States, India, Peru, Nepal, Bangladesh, Cuba, Colombia, Brazil and Afghanistan were brought to safety," the prosecutor's office of Sonora state said on its official Facebook page. — AFP
April 19, 2023
Fifteen Tunisian migrants are missing after their boat sank in the Mediterranean during an attempt to reach Europe, authorities said Wednesday.
The boat carrying 19 Tunisians sank Monday night, said a statement by Tunisia's National Guard, which oversees the coastguard.
Four migrants were rescued by a fisherman after the boat sank, while the search for the remaining 15 continued Wednesday morning, the statement added.
Tunisia, whose coastline is less than 150 kilometres (90 miles) from the Italian island of Lampedusa, has long been a favoured stepping stone for migrants attempting the perilous sea journey. — AFP
April 17, 2023
A top Mexican immigration official has been arrested over a fire at a detention center last month that killed 40 migrants, according to federal authorities.
Salvador Gonzalez Guerrero, head of the National Immigration Institute (INM) in the state of Chihuahua, was taken into police custody on Sunday night, according to the Ministry of Public Safety's arrest records.
Mexican authorities have accused the people in charge of the facility in Ciudad Juarez, on the border with US city El Paso, of doing nothing to evacuate the migrants, who were locked in their cell during the blaze.
Security camera footage showed no one came to their aid. — AFP
April 12, 2023
January to March 2023 was the deadliest quarter for migrants crossing the central Mediterranean since 2017, the United Nations said Wednesday, with 441 lives lost while attempting to reach Europe.
"The persisting humanitarian crisis in the central Mediterranean is intolerable. With more than 20,000 deaths recorded on this route since 2014, I fear that these deaths have been normalised," said Antonio Vitorino, head of the UN's International Organization for Migration. — AFP
March 28, 2023
Five Venezuelan migrants, including a pregnant woman and a minor, were rescued from a small Caribbean island after they were abandoned by human traffickers en route to the United States, the Colombian Navy says.
The group departed from the San Andres archipelago, in Colombian territorial waters, and were allegedly heading some 200 kilometers west (124 miles) to the coast of Central America to continue their overland journey to the United States.
"They paid $1,200, had their belongings stolen, and were abandoned" on Cayo Albuquerque, said Colombian Navy Captain Carlos Eduardo Solano Prada, in a video posted on Twitter.
The small atoll, measuring about eight kilometers across, is located between Nicaragua and San Andres. — AFP
March 19, 2023
Anti-racism protesters marched in London on Saturday to denounce the government's controversial plan to tackle cross-Channel migrant crossings by preventing arrivals from applying for asylum.
Around 2,000 protesters, many carrying signs reading "no human being is illegal" and bearing trade union logos, marched towards Downing Street, the prime minister's official residence.
Organisers said the demonstration was partly a response to the government's "inhuman" and "illegal" migration bill.
"People in this country are decent... and they're willing to open their arms to people who are fleeing terrible circumstances," said the protest's planning officer Mark Daly.
"The government is trying to make these people not only unwelcome but illegal. We cannot classify people as illegal," he said. "It's a racist policy from a racist government." — AFP
March 12, 2023
Three boats overcrowded with migrants were brought safely to Italian ports on Saturday, the coastguard says, as thousands of marchers remembered the victims of last month's deadly shipwreck off Calabria's coast.
The rescue of more than 1,300 migrants came the same day as three more bodies from the shipwreck nearly two weeks ago were found, bringing the death toll to 76.
The bodies recovered were those of two girls, both under the age of 10, and that of an adult male, said Italian news reports.
The February 26 shipwreck just off the shore of Calabria, has drawn sharp criticism of the right-wing government led by Prime Minister Giorgia Meloni for its failure to intervene in time to save the migrants. — AFP
March 8, 2023
The UN rights chief has criticised a British draft law that would outlaw asylum claims by anyone arriving in the country illegally, a bid to stop migrants from trying to cross the English Channel on small boats.
"I am deeply concerned at this legislation," the high commissioner for human rights, Volker Turk, says in a statement, warning that "such a wholesale ban preventing people from seeking asylum and other forms of international protection in the UK" would violate international law. — AFP
February 26, 2023
At least 27 migrants died after their boat sank at dawn off the Italian coastal city of Crotone in the southern region of Calabria, Italian media reported on Sunday.
News agency ANSA said at least 30 people were believed dead. The search for survivors was continuing, hampered by stormy seas. -- AFP
February 7, 2023
Three migrants died and more than 20 were feared missing after a second boat sank off the coast of Greece in just days, the coastguard says.
The two women and one man who drowned are believed to have been part of a group of 41 people whose dinghy sank after hitting a reef near the island of Lesbos, a coastguard spokeswoman tells AFP.
Sixteen people have been rescued so far amid an ongoing search by land, sea and air that's being hampered by strong winds, she adds. — AFP
January 11, 2023
Haitians seeking to escape from poverty and despair are flocking to government offices hoping to get a passport and perhaps their ticket to life in America under a new US immigration program.
At the main migration office in Port-au-Prince, the crowd is so big that security officers keep the metal gates closed and only let people in one by one.
Under the new policy announced by President Joe Biden, the United States will accept 30,000 people per month from Haiti and a handful of other countries mired in crisis -- Cuba, Nicaragua and Venezuela -- but on condition they stay away from the overcrowded US border with Mexico and arrive by plane.
To qualify for this program, candidates must also have a sponsor in the US who can show sufficient income to support them. — AFP
January 4, 2023
More than 100 Haitian migrants landed in southern Florida Tuesday on board a sailing boat, the latest in a wave of migration to the southern US state, local media says.
The boat had left northwest Haiti on Friday, said one of the passengers quoted by the Miami Herald.
The US Border Patrol confirmed on Twitter that "a sailing vessel involving a large number of migrants made landfall" in Key Largo, about 70 miles (110 kilometers) south of Miami, without specifying their nationality. — AFP
December 25, 2022
A Moroccan rights group on Saturday slammed "unjust" punishments given to migrants sentenced over a mass attempted crossing into the Spanish enclave of Melilla that left at least 23 dead.
Around 2,000 people, many of them Sudanese, stormed the frontier on June 24 in an attempt to reach Spanish territory across one of the European Union's two land borders with Africa.
Morocco has since handed dozens of migrants sentences of up to three years' imprisonment on charges including illegal entry and violence against law enforcement officers.
"The sentences have been very severe and unjust," Souad Lazreg, a member of the Moroccan Association for Human Rights (AMDH), said on Saturday, presenting a report on the migrants' trials.
Lawyer Khalid Ameza, who has represented some of the migrants, said court documents "include confessions that they have denied throughout the legal process. Despite that, they were given very severe sentences."
The verdicts lacked "logical and convincing arguments" to support them, he added. — AFP
November 22, 2022
Greece's coastguard on Tuesday was rescuing a fishing boat with up to 500 migrants onboard in strong winds southwest of Crete, a spokeswoman told AFP.
"The distress call said there are 400-500 people on board," a coastguard spokeswoman told AFP, adding that the operation was hampered by near gale-force winds.
"They can see the boat, it's adrift, there is a large number of people on board," she added.
The coastguard said it had received the distress call shortly after midnight on Monday. Two nearby cargo ships, a tanker and two Italian fishing boats were lending assistance, it said.
Because of bolstered patrols by the Greek coastguard and EU border agency Frontex in the Aegean Sea, migrant smugglers are increasingly employing the longer and more perilous route south of Crete, Greek officials say. — AFP
November 14, 2022
France and the UK sign a new agreement to work together to stop migrants crossing the Channel to England in small boats, a source of huge bilateral tension.
The deal, signed in Paris by French Interior Minister Gerald Darmanin and British counterpart Suella Braverman, will see Britain pay France 72.2 million euros ($74.5 million) in 2022-2023 so that French authorities can increase by 40 percent the numbers of its security forces patrolling French northern beaches, the French interior ministry says. — AFP
November 9, 2022
Hundreds of migrants waiting aboard rescue ships after Italy denied them entry finally came ashore Tuesday, even as a diplomatic row broke out between Paris and Rome over another vessel seeking safe harbour.
Nearly 500 migrants have been in limbo after being rescued by three different charity ships last month during their perilous crossing from North Africa to Italy's shores.
But on Tuesday night, the Geo Barents and the Humanity 1 finally disembarked the nearly 250 migrants they carried after Italian health authorities gave them the green light at Sicily's eastern port of Catania.
"My life is back!" shouted one of the migrants, according to Doctors Without Borders (MSF), which operates the Geo Barents.
Both the Geo Barents and Humanity 1, run by non-governmental group SOS Humanity, docked at the weekend in Catania, disembarking about 500 of the most vulnerable migrants. — AFP
October 19, 2022
Mexican President Andres Manuel Lopez Obrador on Tuesday discussed migration, drug trafficking and economic development with his US counterpart Joe Biden, officials said, amid a simmering trade dispute between the neighbors.
Biden confirmed he would attend the so-called "Three Amigos" summit in Mexico with Lopez Obrador and Canadian Prime Minister Justin Trudeau, the Mexican leader said.
A date has yet to be announced for the three-way talks, which are expected to be held sometime in December.
"We had a cordial conversation with President Joe Biden on migration, security and development cooperation," Lopez Obrador tweeted after the phone call. — AFP
October 11, 2022
Former German chancellor Angela Merkel urges leaders to refrain from sending people back to countries where they face persecution as she accepted the UN refugee agency's prestigious Nansen Award.
Merkel, hailed for the dedication she showed while in office to protect people displaced by conflict, insists "refugee rights must be respected".
"No refugees should be sent back to their countries in which they face persecution," she says during a lavish award ceremony in Geneva. — AFP
October 10, 2022
More than 360 migrants were rescued Sunday while attempting the perilous crossing between the north coast of France and the south coast of England, in small boats, French officials say.
Regional maritime boats and a French Navy patrol ship made multiple trips to rescue groups of people in difficulty in the Channel, the French coastal authority Premar says.
In all, they rescued 367 people, taking them to the French ports of Calais, Boulogne and Dunkirk.
Increasing numbers of migrants seeking to reach England are trying to cross the Channel in makeshift boats now that officials have increased security at Calais and the cross-Channel tunnel. — AFP
October 7, 2022
A Moroccan appeals court more than tripled to three years prison sentences against 18 African migrants over the deadly storming of a Spanish enclave in June, a lawyer says.
The migrants had been arrested after some 2,000 people, mostly from Sudan, tried to breach the frontier with the enclave of Melilla on June 24 in a bid to reach Europe. At least 23 migrants died in a crush.
"Eighteen migrants arrested on June 24 were sentenced to three years in prison" by the appeals court in Nador, a town near the border with Melilla, defence lawyer Mbarek Bouirig tells AFP.
The 18 migrants -- among more than 60 arrested following the Melilla tragedy -- had initially been sentenced to 11 months in prison. — AFP
January 4, 2022
A record number of more than 28,000 migrants crossed the Channel from France to the UK in small boats last year, the PA news agency reported Tuesday, based on its analysis of government data.
As people smugglers exploited demand, charging thousands of pounds for trips across the busy shipping lane in flimsy boats, at least 28,395 people reached the UK — more than triple the figure for 2020.
The peak came in November, during the course of which least 6,869 people reached the UK, spurred by favourable weather conditions.
On November 11, a record-breaking 1,185 reached British shores in a single day.
The higher numbers were partly due to the use of bigger boats, carrying an average of about 28 people and sometimes as many as 50. — AFP
December 27, 2019
Spain's maritime rescue service says around 100 migrants were rescued off the coast of Spain on Thursday, adding to around another 200 plucked off makeshift boats on Christmas Day.
More than half of them were found off the Costa Blanca on Spain's southeastern coast, with 10 people rescued just before dawn, among them eight men, a woman and a child.
Later in the morning, rescuers saved 16 men off a boat near Torrevieja, while another 12 men were rescued from a dinghy off Xabia, some 45 kilometres (27 miles) up the coast from Benidorm. — AFP
September 19, 2019
Qatar is not fulfilling all its promises to improve the conditions of migrant workers in the country in the run-up to the 2022 World Cup, Amnesty International says.
In a report entitled "All Work, No Pay", the rights group said: "Despite the significant promises of reform which Qatar has made ahead of the 2022 World Cup, it remains a playground for unscrupulous employers."
The report comes ahead of a meeting in Paris on Thursday between President Emmanuel Macron and Qatar Emir Sheikh Tamim bin Hamad Al-Thani. — AFP
September 16, 2019
Around 600,000 Rohingya Muslims remaining in Myanmar face a "serious risk of genocide," UN investigators say, warning the repatriation of a million of the minority already driven out of the country by the army remains "impossible."
"Myanmar continues to harbor genocidal intent and the Rohingya remain under serious risk of genocide," the United Nations fact-finding mission to Myanmar says in a report due to be presented to the body's Human Rights Council Tuesday. — AFP
September 7, 2019
Spain is struggling to accommodate thousands of young migrants who over the years have arrived alone on rickety boats or hidden in trucks, some of whom have ended up on the streets or even become involved in crime.
There are currently around 14,000 unaccompanied young migrants in Spain, according to the government, up from just around 4,000 in 2016.
In regions like Catalonia in Spain's northeast, which has a large Moroccan community that attracts the youngsters after they arrive in the south, reception centres are overwhelmed. — AFP
September 5, 2019
South Africa says it has closed its diplomatic missions in the Nigerian cities of Abuja and Lagos following violence against South African businesses in reprisal for attacks on foreign-owned stores in Johannesburg.
"After receiving reports and threats from some of the Nigerians we decided to temporarily close while we are assessing the situation," foreign ministry spokesman Lunga Ngqengelele says, adding the missions were shut on Wednesday.
September 3, 2019
President Cyril Ramaphosa condemns a wave of xenophobic violence unfurling in several parts of South Africa.
Attacks on businesses run by "foreign nationals is something totally unacceptable, something that we cannot allow to happen in South Africa," Ramaphosa says in a video address diffused on Twitter.
The people of our country want to live in harmony; whatever concerns or grievances we may have, we need to handle them in a democratic way. There can be no justification for any South African to attack people from other countries. pic.twitter.com/StGyNlhV1q

— Cyril Ramaphosa ???????? (@CyrilRamaphosa) September 3, 2019
August 6, 2019
The UN voices concern over a law approved by Italy's parliament that imposes stiffer penalties on NGO migrant rescue boats in the Mediterranean, demanding humanitarian work "not be criminalized or stigmatized."
The European Union also says it planned to "analyze" the legislation's consistency with European law.
The text adopted by Italian lawmakers gives far-right Interior Minister Matteo Salvini more authority to block ships carrying rescued migrants from entering Italian waters.
August 4, 2019
Malta says it has authorized 40 migrants aboard a rescue ship run by German NGO Sea-Eye to disembark following an agreement reached among several EU countries to take them in.
The deal was announced after the migrants on the Alan Kurdi ship, rescued on Wednesday off Libya, had been barred from landing in Italy.
Italy's far-right Interior Minister Matteo Salvini has taken a hard line against migrants entering the country.
July 25, 2019
The European Union takes Hungary to the EU's highest court over controversial legislation against assisting migrants, known as the "Stop Soros" laws.
The European Commission, the EU's executive arm, decides to refer Hungary to the Luxembourg-based court over "legislation that criminalizes activities in support of asylum applications and further restricts the right to request asylum," a statement says.
The commission has clashed repeatedly with Hungarian Prime Minister Viktor Orban's government, especially since the migration crisis of 2015.
July 21, 2019
Humanitarian group SOS Mediterranee says it has relaunched migrant rescue operations off Libya, seven months after it was forced to abandon efforts using its ship Aquarius.
SOS Mediterranee and Doctors Without Borders (MSF) "are back at sea with a new vessel, the Ocean Viking, to conduct search and rescue activities in the central Mediterranean," it says.
"As people are still fleeing Libya on one of the most perilous sea crossings in the world, and with almost no available rescue assets present in the central Mediterranean, it has been an imperative for both SOS Mediterranee and MSF to return at sea following the ending of their operations with the Aquarius in December 2018." — AFP
July 15, 2019
The new Greek government underscores its intention to reinforce the country's borders, as a visiting EU official notes an uptick in the number of refugees crossing from Turkey.
"Our plan involves better use of European Frontex (border) forces, reinforced coast guard patrols with upgraded equipment, and better, more transparent management of European funds," a government statement says.
July 10, 2019
Court document shows two US Marines have been arrested for smuggling undocumented Mexican migrants into the United States in exchange for money.
Byron Darnell Law II and David Javier Salazar-Quintero were arrested on July 3 along the Mexican border in Jacumba, California, the document says.
They were charged with having transported three undocumented migrants about six miles (10 kilometers) over the border.
The three Mexican nationals seated in the back of the Marines' vehicle were prepared to pay $8,000 "to be smuggled into the United States," although it is unclear to whom they would have paid the money. — AFP
July 9, 2019
The US Department of Homeland Security requested 1,000 additional soldiers to help manage the migrant crisis in Texas, the Pentagon says, amid growing outcry over conditions in migrant detention facilities.
In a statement, the Pentagon says they had been asked to authorize the Texas National Guard to lend support to Customs and Border Protection officials, who say they are overwhelmed by the numbers of refugees crossing the southern US border.
Thousands of active duty and National Guard troops have already been deployed for months along the US-Mexico border to support immigration officials.
July 6, 2019
Officials say Mexican authorities rescued 24 Central American migrants, including nine children, who had been held hostage for nearly three weeks in the crime-ridden state of Guanajuato.
The migrants were held for 20 days in the town of Celaya, about 210 kilometres (130 miles) from Mexico City, says Secretary of State Security Juan Jose Gonzalez.
They told officials that their relatives had been making payments to their captors during that time, Gonzalez says.
The victims were receiving medical attention after their ordeal, he adds. — AFP
July 5, 2019
Human Rights Watch condemns Lebanon's order for Syrian refugees to demolish their hard shelters as tantamount to "illegitimate pressure" on them to return to their war-torn country.
Lebanon, a country of some four million people, says it hosts at least 1.5 million Syrians on its soil after they fled the eight-year civil war next door, many living in informal settlements in the country's east.
Nearly a million are registered as refugees with the United Nations High Commissioner for Refugees.
To discourage any permanent settlement, Lebanese authorities gave Syrians living in the region of Arsal until July 1 to demolish shelters made of anything but timber and plastic sheeting. — AFP
July 5, 2019
A charity says a sailboat belonging to Italian charity Mediterranea has rescued 54 people including pregnant women and children in distress off the Libyan coast.
"All 54 survivors have been rescued and are now aboard," Mediterranea, which is made up of left-wing activists, tweets.
"Among them 11 women (three pregnant) and 4 children.... Happy to have rescued 54 lives from the hell of Libya. Now we need a safe port." — AFP
June 27, 2019
President Donald Trump says he hated seeing a traumatic picture taken of a migrant father and infant daughter who drowned during an attempt to enter the United States across the Mexican border.
"I hate it," Trump says of the photo of the Salvadoran man and the two-year-old girl in the Rio Grande river.
"That father... was probably a wonderful guy," Trump says, insisting that opposition Democrats' refusals to back his tough border policies are to blame for deaths of illegal migrants. — AFP
June 19, 2019
More than 70 million people were listed as migrants or refugees at the end of 2018, a record that underestimates the real number of people displaced from their homes, the UN says.
In its annual global trends report, the United Nations refugee agency described the figure of 70.8 million as "conservative," particularly because the number of people who fled Venezuela's devastating crisis is undercounted. ?
— AFP
Updates on the global refugee crisis and issues surrounding migration.