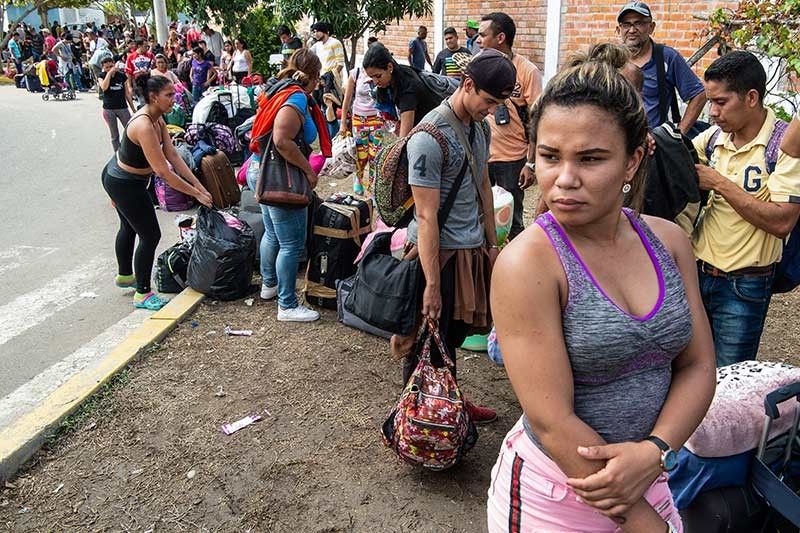 LATEST UPDATE: July 21, 2019 - 2:46pm
LOCATION:
SYRIA
UNITED STATES
+ Follow Story
3 days ago
Humanitarian group SOS Mediterranee says it has relaunched migrant rescue operations off Libya, seven months after it was forced to abandon efforts using its ship Aquarius.
SOS Mediterranee and Doctors Without Borders (MSF) "are back at sea with a new vessel, the Ocean Viking, to conduct search and rescue activities in the central Mediterranean," it says.
"As people are still fleeing Libya on one of the most perilous sea crossings in the world, and with almost no available rescue assets present in the central Mediterranean, it has been an imperative for both SOS Mediterranee and MSF to return at sea following the ending of their operations with the Aquarius in December 2018." — AFP
July 15, 2019
The new Greek government underscores its intention to reinforce the country's borders, as a visiting EU official notes an uptick in the number of refugees crossing from Turkey.
"Our plan involves better use of European Frontex (border) forces, reinforced coast guard patrols with upgraded equipment, and better, more transparent management of European funds," a government statement says.
July 10, 2019
Court document shows two US Marines have been arrested for smuggling undocumented Mexican migrants into the United States in exchange for money.
Byron Darnell Law II and David Javier Salazar-Quintero were arrested on July 3 along the Mexican border in Jacumba, California, the document says.
They were charged with having transported three undocumented migrants about six miles (10 kilometers) over the border.
The three Mexican nationals seated in the back of the Marines' vehicle were prepared to pay $8,000 "to be smuggled into the United States," although it is unclear to whom they would have paid the money. — AFP
July 9, 2019
The US Department of Homeland Security requested 1,000 additional soldiers to help manage the migrant crisis in Texas, the Pentagon says, amid growing outcry over conditions in migrant detention facilities.
In a statement, the Pentagon says they had been asked to authorize the Texas National Guard to lend support to Customs and Border Protection officials, who say they are overwhelmed by the numbers of refugees crossing the southern US border.
Thousands of active duty and National Guard troops have already been deployed for months along the US-Mexico border to support immigration officials.
July 6, 2019
Officials say Mexican authorities rescued 24 Central American migrants, including nine children, who had been held hostage for nearly three weeks in the crime-ridden state of Guanajuato.
The migrants were held for 20 days in the town of Celaya, about 210 kilometres (130 miles) from Mexico City, says Secretary of State Security Juan Jose Gonzalez.
They told officials that their relatives had been making payments to their captors during that time, Gonzalez says.
The victims were receiving medical attention after their ordeal, he adds. — AFP
July 5, 2019
Human Rights Watch condemns Lebanon's order for Syrian refugees to demolish their hard shelters as tantamount to "illegitimate pressure" on them to return to their war-torn country.
Lebanon, a country of some four million people, says it hosts at least 1.5 million Syrians on its soil after they fled the eight-year civil war next door, many living in informal settlements in the country's east.
Nearly a million are registered as refugees with the United Nations High Commissioner for Refugees.
To discourage any permanent settlement, Lebanese authorities gave Syrians living in the region of Arsal until July 1 to demolish shelters made of anything but timber and plastic sheeting. — AFP
July 5, 2019
A charity says a sailboat belonging to Italian charity Mediterranea has rescued 54 people including pregnant women and children in distress off the Libyan coast.
"All 54 survivors have been rescued and are now aboard," Mediterranea, which is made up of left-wing activists, tweets.
"Among them 11 women (three pregnant) and 4 children.... Happy to have rescued 54 lives from the hell of Libya. Now we need a safe port." — AFP
June 27, 2019
President Donald Trump says he hated seeing a traumatic picture taken of a migrant father and infant daughter who drowned during an attempt to enter the United States across the Mexican border.
"I hate it," Trump says of the photo of the Salvadoran man and the two-year-old girl in the Rio Grande river.
"That father... was probably a wonderful guy," Trump says, insisting that opposition Democrats' refusals to back his tough border policies are to blame for deaths of illegal migrants. — AFP
June 19, 2019
More than 70 million people were listed as migrants or refugees at the end of 2018, a record that underestimates the real number of people displaced from their homes, the UN says.
In its annual global trends report, the United Nations refugee agency described the figure of 70.8 million as "conservative," particularly because the number of people who fled Venezuela's devastating crisis is undercounted. ?
— AFP
Updates on the global refugee crisis and issues surrounding migration.