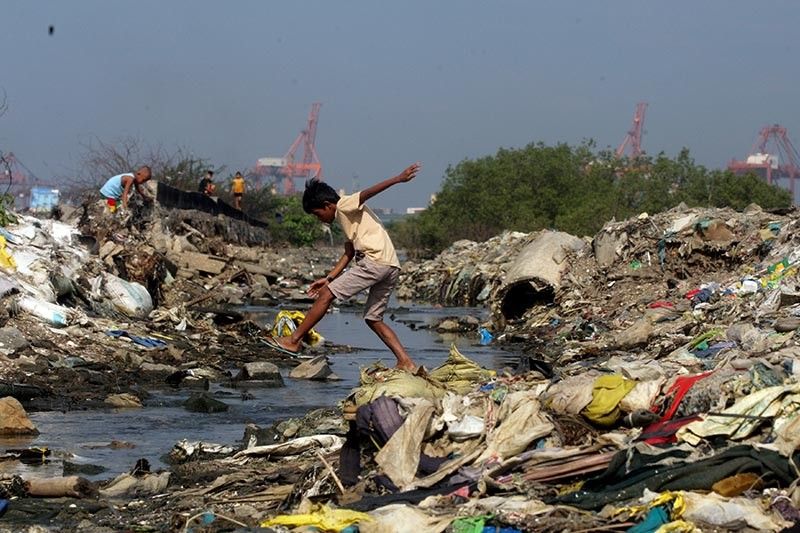 Manila Bay rehabilitation
LATEST UPDATE: February 11, 2019 - 10:50am
LOCATION:
MANILA BAY
MANILA
+ Follow Story
February 11, 2019
Philippine microsatellite Diwata-1 can help monitor water quality in Manila Bay, the Department of Science and Technology's Science and Technology Information Institute says in a release.
Images collected on February 19, 2018, DOST-STII says, show turbidity—or the degree to which water loses its transparency due to particulates in it—at the mouth of the Pasig River.
"Using a baseline of less than 5 Formazin Nephelometric Unit (FNU, to measure water clarity) based from Figure 2, which generally indicates clear waters, more than 25 FNU units are shown to move out from the mouth of the river even extending inside the river," DOST-STII says.
Turbid waters are also seen along the shores of Bulacan and Pampanga, which, DOST-STII says, is caysed by aquaculture.
"In the figure, we can see the environmental impact of the growing demand for food to supply the growing Philippine population. To keep up with supply, masses of aquaculture farms have to be set up for intensive fish farming which is an activity commonly associated with using fish feed and fertilizers."
February 6, 2019
Speaking at the Kapihan sa Manila Bay news forum, Environment Secretary Roy Cimatu says the government is in the process of conducting a census of informal setllers -- there are around 230,000 in Metro Manila-- in preparation for relocating them.
He says the census includes around 30,000 located along the waterline of Manila Bay.
Cimatu says, though, that relocation will take years, since "the maximum statistical number of informal settlers relocated per year is 10,000." That means relocating all the informal settlers in Metro Manila could take more than two decades.
Cleanup of Manila Bay has raised concerns that this, and the relocation of informal settlers, could be a prelude to massive reclamation works that activist groups say will have a huge impact on the environment and on the livelihoods of people who collect and sell mussels or tahong.
February 4, 2019
The Department of Health issues an advisory for the public to wait until the Manila Bay is deemed safe for recreational swimming after photos showing people dipping into its waters amid its rehabilitation.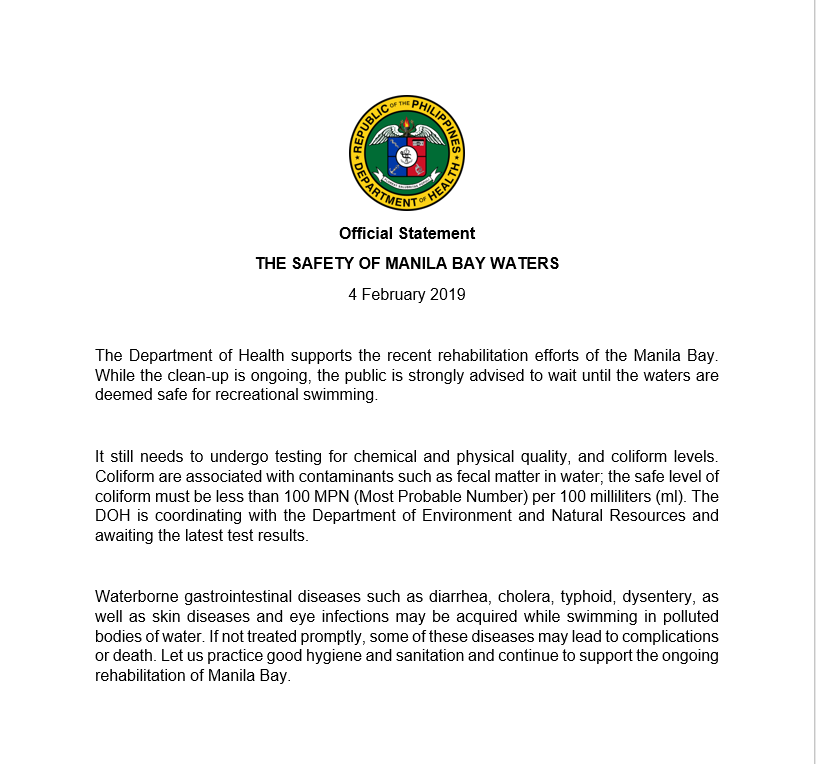 January 29, 2019
Fisherfolk group Pamalakaya (Pambansang Lakas ng Kilusang Mamalakaya sa Pilipinas) is calling for a moratorium on reclamation projects in Manila Bay, where a clean-up campaign was launched over the weekend, saying reclamation work could have "socio-economic and environmental impacts."
The fisherfolk group said there are plans in Bacoor, Cavite for a 320-hectare reclamation project and another one that will cover 100 hectares . It said the reclamation projects would kill off the mussel industry in Bacoor and may also displace 7,000 people.
"The DENR should show its sincerity inr estoring the abundant life of Manila Bay by issuing a moratorium on all reclamation projects that will further destroy the historic bay," Pamalakaya chairperson Fernando Hicap says.
The Department of Environment and Natural Resources orders the closure of Aristocrat restaurant in Roxas Boulevard for "generating and discharging pollutive wastewater" amid the government's move to rehabilitate Manila Bay.
The Manila Bay rehabilitation program involves cleanup activities, relocation of illegal settlers as well as apprehension of establishments that violate the Philippine Clean Water Act and other environmental laws.
Last January 22, the Manila City government has ordered the temporary closure of Manila Zoo to allow the reconstruction of its sewer lines. The zoo is located near Estero de San Antonio Abad in Malate, Manila, which directly drains into the Manila Bay.
DENR ordered establishments around the bay to put up their own sewage treatment plants last January 11.