EDITORYAL - Nagmika pagpatuman sa RA 9003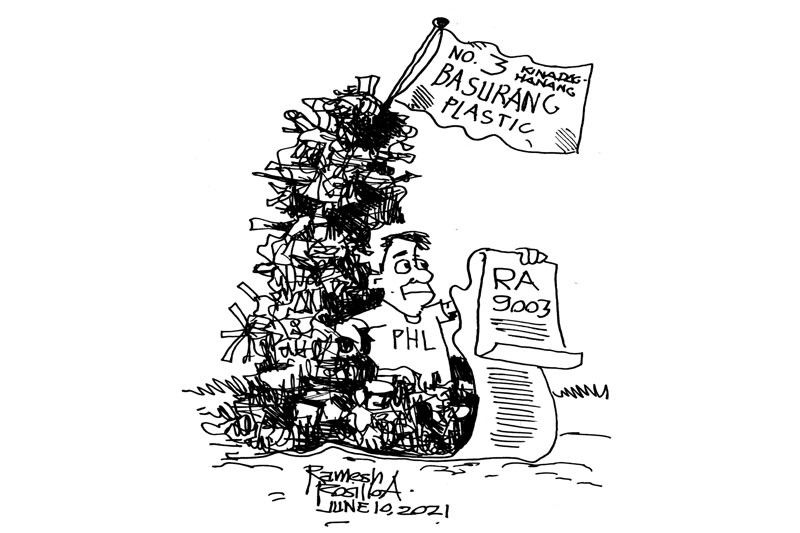 Ang Pilipinas adunay labing estriktong balaud mahitungod sa hustong pagbahig sa mga basura nga gituyo aron panalipdan ang kalikopan gikan sa polusyon.
Hagbay ra'ng napasar ug nahimong balaud ang Republic Act 9003, or the Ecological Solid Waste Management Act of 2000.
Apan subo lang nga hangtud karon ang Pilipinas nagpabiling maoy ikatulo sa tibuok kalibotan sunod sa China ug Indonesia nga tinubdan sa plastik na basurang makita karon sa kadagatan.
Ang maong balaud nga napasar niadtong 2000 estriktong nimando nga kinahanglang bahigon gyud ang tanang matang sa basura ayha kini ilabay.
Buwagon ang mga dili malata, malata ug kadtong mga peligrosong mga basura gikan sa mga tambalanan, ug pabrika.
Gimando diha sa maong balaud nga kinahanglang mag-recycle, re-use ug maghimo og mga programa sama sa composting aron magamit sa sektor sa agrikultura ang mga salin nga basurang malata isip abono sa mga tanom. Gani bag-ohay lang gitugtan sa gobiyerno pinaagi sa National Solid Wasted Management Commission ang panawagan nga apilon sa lista sa mga basurang plastik ang mga straw sa softdrinks hasta ang mga pangkutaw og kape.
Usa sa mga kusog mogamit aning maong mga plastik ang mga fastfood chains, hinuon kadaghanan kanila wala na mogamit niini.
Mag-unsa ra man ang higpit nga balaud kun ang gobiyerno mismo gikan sa nasudnong kagamhanan ngadto na sa mga barangay wala moseryoso sa papatuman niini. Sa pikas bahin, dako sab og papel ang katawhan sa kahimsog sa kalikopan apan mas daghan ang wala magpakabana.
Ang plastik nga mga basurang napunta sa kadagatan mao ra unyay hinungdan sa pagkamatay sa dagat.
Kung way political will ang mga naa sa pamunoan sa tanang lebel sa panggobiyerno mawala ang bili sa maong balaud ug mabutang sa peligro ang seguridad sa pagkaon sa mga Pilipino sa umaabot nga mga henerasyon.