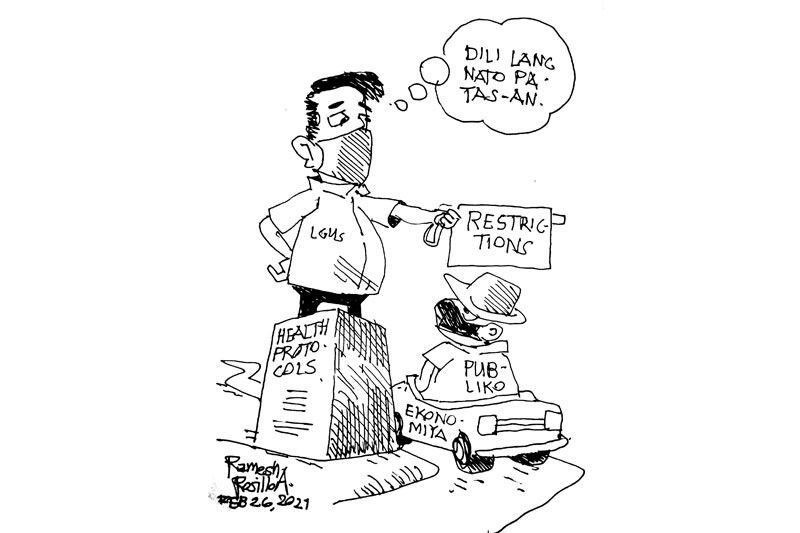 EDITORYAL - Pagpaluag sa restriksyon
(Banat) - February 26, 2021 - 12:00am
Aron mas mapadali ang pag-rekober sa ekonomiya gikinahanglang paluagan pa gyud ang mga quarantine restrictions apan dili kinahanglang lugak nga makapadaghan og samot sa mga kaso sa coronavirus disease.
Ang Department of Interior and Local Government misugyot ngadto sa Inter-Agency Task Force on Covid-19 nga hinayhinay ng ipatangtang ang pipila ka mga requirements sa mga biyahidor ilabi na kadtong mga mamauli sa ilang tagsa-tagsa ka probinsya.
Kini sama sa pag-require sa mga tawong mamauli sa ilang kalungsoran pagdala og medical certificates, travel authority unya duna pay certificate of acceptance gikan sa lungsod nga ilang ulian.
Kung buot tan-awon, mura man ni og diskriminasyon ilabi na niadtong mga locally stranded individuals nga gustong makauli sa ilang yutang natawhan. Ang uban ani nila mga nanarbaho sa laing dapit apan nangataktak tungod sa pandemiya. Nganong dili man buhaton sama sa tratamento sa mga returning Filipino immigrants o ba kaha mga OFWs sa mga SLIs? Maayo man ning gikan sa abroad dunay kwarta kun itandi sa mga SLIs nga nahutdan og kwarta tungod sa pagkatanggong kung asa nga lugar sila naabtan sa lockdowns sugod pa sa miaging tuig.
Dili man tingali kinahanglan gyud silang mag-hotel sa pagpaka-quarantine kay mahimo raman gud silang mag-home quarantine basta moseryuso gyud ang mga barangay officials sa ilang pag-monitor aning mga SLIs sa ilang barangay nga nagkwarantina lang sa balay.
Parehong dunay punto ang DILG ug ang mga local officials pagabot sa tagsatagsa ka restriksyon nga buot nilang maoy ipatuman.
Apan angay tingaling timbang-timbangon gyud nga kinahanglang dili makadugang sa kahasol, kalisdanan ug gastos sa mga tawo ang mga rekisitos.
Kay pagkatinuod, daan ng nagduda ang publiko nga tanan halos lihok sa gobiyerno bahin sa Covid-19 pulos nalang pangwarta. Ingon niana lang ka simple maghunahuna ang mga tawong kabus nga walay ikasarang.
Gawas pa, makadugang sab kini sa kalagsik sa publiko pagpanikaysikay. Kung duna gani kagawasan ang mga tawo nga makalihok, makapakisaw kini sa ekonomiya sa bisan asang lugar. Importante gyud kaayo nga makalihok ang mga tawo apan dili kinahanglang magpabaya kay ang Covid-19 naa ra gyud pirme sa palibot.