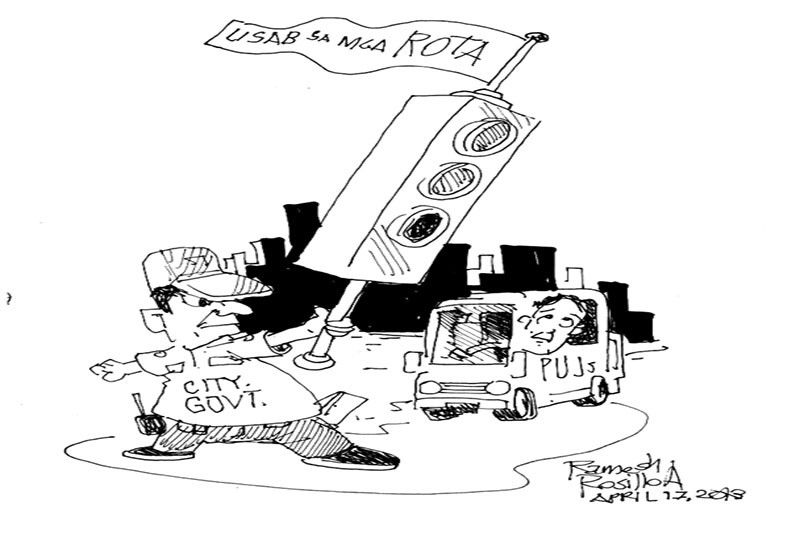 EDITORYAL - Rota sa mga PUJ usbon
Nindot kaayo ang tinguha nga magmugna og usa ka grupo ang kagamhanan sa dakbayan sa Sugbo aron mohimo'g pagtuon sa mga rota nga paagian sa mga public utility jeepneys. Gibase kini sa kamandoan gikan sa Department of the Interior and Local Government (DILG) ug Department of Transportation (DOTr). Bisan si Francisco "Isko" Ouano nga maoy operations chief sa Cebu City Traffic Operations Management (CITOM), gusto gyud nga mamugna dayon ang maong pundok aron masuta kon hain nga rota sa mga PUJ ang angay'ng himoan og kausaban.
Dinhi sa dakbayan sa Sugbo, hilabihan na kadaghan sa mga passenger jeepney nga nagdagan sa pipila ka rota, sama sa Talamban, nga nakatampo sa kahuot kaayo sa mga karsada nga anaa mag-agi kining maong mga public utility vehicles. Angay gyud nga kontrolahon ang mga sakyanan nga pabiyaheon sa usa ka rota ug ang grupo nga pagatawgon og Local Public Transport Route Plan (LPTRP) team maoy tugyanan sa maong gimbuhaton.
Unta si Mayor Tomas Osmeña mohatag gyud og pagtagad sa awhag sa Cebu City Council nga magmugna siya og LPTRP team kay maayo ang tumong niini. Daghan ang nabalaka nga basin ang sugyot dili aprobahan sa mayor kay ang nagsugyot niini konsehal man nga alyado sa kaatbang nila nga partido. Nakabantay ra ba ang mga tigpaniid nga ang mayor wala gani magtudlo og mga sakop sa CITOM Board kay siya ra maoy magbuot kon unsay ipahimo sa mga traffic enforcers.
Kanunay'ng gibalikbalik pagpasabot sa mayor nga ang problema sa trapiko usa sa gitutokan niya pag-ayo nga hatagan og kasulbaran. Nakaigo hinoon ang mayor diha nga estrikto niyang gipatuman ang balaod nga tanggongon sulod sa usa ka buwan ang mga sakyanan nga masakpan nga mosugat sa traffic. Pinaagi niini, napitol og gamay ang kaabusado sa ubang motorista nga mosugat sa traffic.