Over 560 Ukraine National Guard soldiers killed in war: Kyiv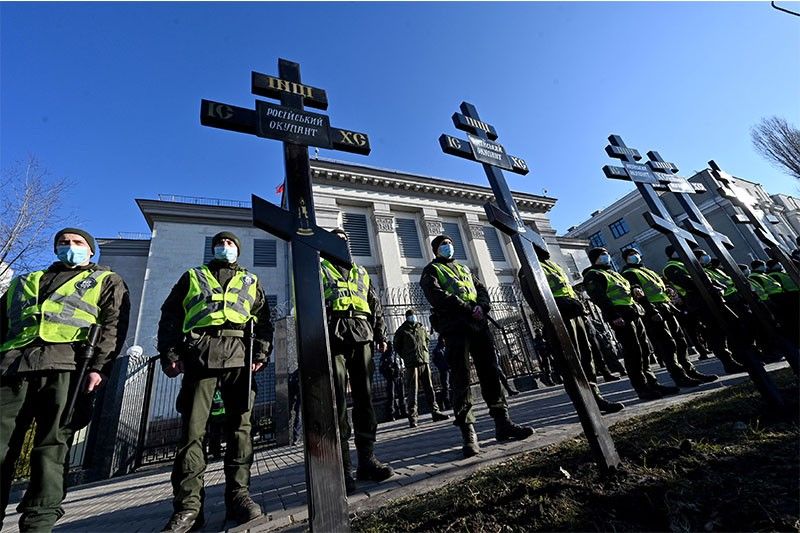 KYIV, Ukraine — Over 560 soldiers from Ukraine's National Guard, a force which includes the Azov regiment currently holed up in Mariupol's steelworks, have been killed since the war with Russia began, its leader said Wednesday.
Besides the 561 dead, an additional 1,697 troops had been wounded since the invasion began on February 24, National Guard chief Oleksiy Nadtochy said in an online briefing.
Wednesday's statement marked a rare move as both Ukrainian and Russian officials have been tight-lipped about their losses in the war.
Figures about troops killed in battle have very rarely been released by Ukrainian officials, with neither the defence ministry in Kyiv nor its counterpart in Moscow offering any information on their own military losses.
In mid-April, President Volodymyr Zelensky said between 2,500 and 3,000 Ukrainian soldiers had been killed while around 10,000 others had been wounded, admitting it was "difficult to say how many of them would survive".
Ukraine's National Guard, which falls under the interior ministry, was created in March 2014 as Russia seized control of the Black Sea peninsula of Crimea and massed troops on Ukraine's eastern border.
By law, it can have up to 60,000 soldiers in its ranks and has notably absorbed several self-defence groups that were on the frontline of the 2014 Maidan revolution, as well as various nationalist outfits like Azov.
Previously known as the "Azov Battalion", the unit was created in 2014 by far-right activists and first deployed against pro-Russian separatists in eastern Ukraine.
It has since shaken off the far-right ideology and been integrated into the National Guard, experts say. It is now known as the "Azov Regiment" and has a reputation for being a tough fighting unit.
Kyiv on Tuesday said more than 1,000 fighters remain trapped inside the besieged Azovstal steel plant in the southern port city of Mariupol, hundreds of whom are injured.
Some Azov soldiers have also died at the plant, but it remains unclear how many.
As It Happens
LATEST UPDATE: May 18, 2022 - 6:13pm
President Vladimir Putin says he hopes that Moscow and the West could find a solution to the raging security crisis over Ukraine, but also accused Washington of using Kyiv as a "tool" against Russia.
"I hope that in the end we will find a solution, although it will not be simple," Putin says, indicating he was ready for more talks with the West, which has accused Moscow of massing more than 100,000 troops on the border and plotting to invade Ukraine.
"It seems to me that the United States is not so much concerned about the security of Ukraine... but its main task is to contain Russia's development," Putin says. — AFP
May 18, 2022 - 6:13pm
The Kremlin accuses Kyiv authorities of not wanting to continue talks to end hostilities that started after Russian President Vladimir Putin sent troops into pro-Western Ukraine.
"Talks are indeed not moving forward and we note the complete lack of will of Ukrainian negotiators to continue this process," Kremlin spokesman Dmitry Peskov tells reporters. — AFP
May 18, 2022 - 2:37pm
Finland and Sweden on Wednesday hand in their bids to join US-led alliance NATO, after Russia's invasion of Ukraine up-ended decades of military non-alignment.
"The applications you have made today are an historic step. Allies will now consider the next steps on your path to NATO," alliance chief Jens Stoltenberg says after receiving the bids from the Finnish and Swedish ambassadors at NATO headquarters. — AFP
May 18, 2022 - 8:18am
French President Emmanuel Macron told his Ukrainian counterpart Volodymyr Zelensky during a call on Tuesday that arms supplies from Paris would "increase in intensity", according to a statement from the French presidency.
"He confirmed that arms deliveries by France would continue and would increase in intensity in the days and weeks to come, the same as for the supply of humanitarian equipment," the statement said.
France was initially hesitant to supply heavy weaponry to Kyiv as Macron positioned himself as a mediator in the crisis, holding regular conversations with Russian leader Vladimir Putin. — AFP
May 17, 2022 - 6:15pm
Russia's defense ministry says that 265 Ukrainian soldiers, including several dozen wounded, surrendered at the besieged Azovstal steel plant in Ukraine's port city of Mariupol.
"Over the past 24 hours, 265 militants laid down their arms and surrendered, including 51 heavily wounded," the ministry says in a briefing.
It adds that those in need of medical care were transferred to a hospital in the town of Novoazovsk. — AFP
May 17, 2022 - 8:15am
At least ten people were killed in the latest shelling in Severodonetsk in the east of Ukraine, as the city is almost surrounded by Russian troops, the Lugansk region governor Sergiy Gaiday says Monday.
Russian troops "are shelling Severodonetsk without stopping," Gaiday says in a statement in Telegram.
"At least ten people were killed. It is currently extremely difficult to check the area due to new shelling," he adds, urging the locals not to leave the shelters. — AFP