20 countries still below 10% COVID-19 jab rate: WHO experts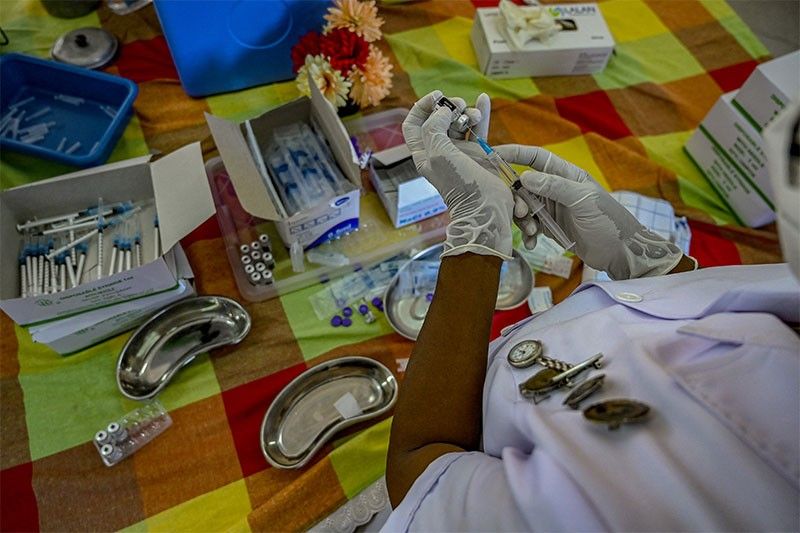 GENEVA, Switzerland — Twenty mostly African countries have still not vaccinated even 10 percent of their population against Covid-19, the World Health Organization's vaccine advisers lamented Monday.
The Strategic Advisory Group of Experts on Immunisation (SAGE) said the speed of the Covid jab rollout had been "unprecedented".
However, 20 countries — down from 34 in January — had still not managed a 10-percent immunisation rate, Kate O'Brien, the WHO's vaccines chief, told reporters.
"These are countries that are working really hard to advance their programmes. Supply is no longer the issue. The legacy of all the supply constraint from 2021 — the effects of that (are) still being felt," she said.
SAGE said vaccination coverage among the groups most vulnerable to severe Covid-19 disease was not enough to give them the protection they needed.
Health worker coverage is at 65 percent overall.
"That's certainly a very, very strong position to be in, but we're really carrying the message forward that it needs to be 100 percent," said O'Brien.
Coverage in the over-60s is at 69 percent — though the figure falls to 24 percent in some regions of the world.
Omicron data gap
So far, the WHO has authorised eight Covid-19 vaccines and versions thereof, giving them the green light with its emergency use listing (EUL) status.
SAGE said that available data on their effectiveness against the Omicron variant of Covid-19 generally showed waning immunity against infection but high and more sustained effectiveness against severe disease and death — especially after booster doses.
However, it added: "Data remain very limited for some of the WHO EUL vaccines" in their performance against Omicron.
The WHO EUL-approved vaccines are those made by Pfizer, AstraZeneca, Janssen, Moderna, Sinovac, Sinopharm, Bharat Biotech and Novavax.
SAGE had data on the first five of those, said O'Brien, but for some it had "a lot more evidence than others".
Studies were only just starting to come out on the Sinovac jab, she said. "We don't have real-world evidence in the Omicron era for other products that are WHO EUL."
70 percent target
The Covax facility, founded to ensure the poorest 92 countries in the world get access to Covid-19 jabs with the cost covered by donors, has so far shipped 1.42 billion vaccine doses to 145 territories, according to UNICEF, which handles the logistics.
The scheme has sufficient supply available for all those countries to achieve the WHO's 70-percent coverage target by June, said SAGE.
Covax can only use WHO EUL vaccines.
Cravioto said SAGE had reviewed the CanSino vaccine and would produce its usage recommendations for the jab once the WHO gave it the EUL green light, "hopefully in the next weeks".
It would be the third Chinese vaccine authorised by the WHO.
Cravioto described the EUL jabs as "wonderful products to finish the job", adding: "The best way to finish the pandemic is for all of us to be vaccinated."
As It Happens
LATEST UPDATE: June 16, 2022 - 8:48am
Pharma giants Sanofi and GSK said on July 29, 2020, that they have agreed to supply Britain with up to 60 million doses of a potential COVID-19 vaccine. The agreement covers a vaccine candidate developed by France's Sanofi in partnership with the UK's GSK and is subject to a "final contract."
This thread collects some of the major developments in the search for a vaccine to ease the new coronavirus pandemic. (Main photo by AFP/Joel Saget)
June 16, 2022 - 8:48am
A panel of experts convened by the US Food and Drug Administration unanimously recommends Covid-19 vaccines for children under five, the final age group awaiting immunization in most countries.
Formal authorizations should follow soon, with the first shots in arms expected early next week, just over a year-and-a-half after the first Covid vaccines were greenlighted for the elderly in December 2020.
"This recommendation does fill a significant unmet need for a really ignored younger population," says Michael Nelson, a professor of medicine at the University of Virginia, one of the 21 experts asked to vote for the milestone meeting. — AFP
June 15, 2022 - 9:24am
A panel of US medical experts recommends the Moderna COVID-19 vaccine for use in children aged six through 17.
Formal authorization should soon follow, at which point families will have a second option against the coronavirus, as Pfizer's vaccine was given the greenlight for teens and younger children last year.
After weighing available data, 22 experts convened by the US Food and Drug Administration unanimously agreed that the known benefits outweighed the known risks when Moderna's vaccine was administered as two shots at the adult dose of 100 micrograms to those aged 12-17, and half of that for children 6-11. — AFP
June 8, 2022 - 10:16am
A panel of experts convened by the US drug regulator recommends the Novavax COVID-19 shot, a late runner in the fight against the virus that could nonetheless play a role in overcoming vaccine hesitancy.
Three vaccines are currently approved in the United States: Pfizer and Moderna, which are based on messenger RNA, and Johnson and Johnson, which recently received a recommendation against broad use becase of links to a serious form of clotting.
Experts voted 21 in favor of the Novavax vaccine, with none against, and one abstention, despite some concerns it may be linked to rare cases of heart inflammation. — AFP
June 4, 2022 - 6:04pm
The Food and Drug Administration voices concern about myocarditis being potentially linked to the Novavax COVID-19 vaccine, just as experts are to weigh its use in the United States.
The Novavax vaccine is already authorized in other countries, particularly in Europe. In the United States, an independent committee convened at the request of the FDA is to meet Tuesday to evaluate data from the clinical trials of Novavax and give its recommendation.
In advance of that, the agency published a lengthy document on Friday analyzing these results, as it had done for the three other vaccines already authorized in the country. — AFP
April 14, 2022 - 9:19am
The head of US pharmaceutical giant Pfizer says a COVID-19 vaccine effective against multiple variants is possible before the end of 2022.
Chairman Albert Bourla says the firm was also working on producing a vaccine that could provide good protection for a whole year, meaning people would come back annually for boosters, as with influenza shots.
"I hope, clearly by autumn... that we could have a vaccine" that worked against not only the dominant Omicron but all known variants, he says. — AFP