Covax delivers one billionth Covid vaccine dose
January 16, 2022 | 9:04am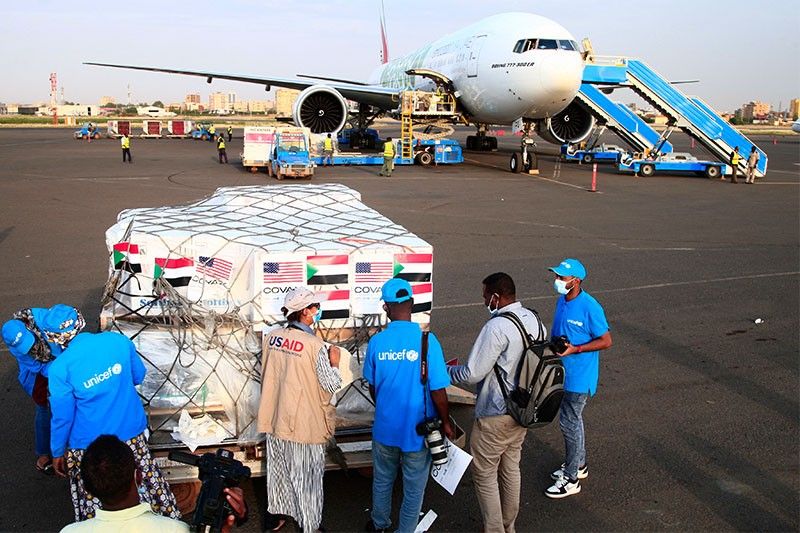 GENEVA, Switzerland — The Covax scheme aimed at equitable global access to Covid-19 vaccines hit a "key milestone" Saturday when it delivered its one billionth dose, one of its key backers said.
The Covax facility was set up in 2020 by the World Health Organization, Gavi the Vaccine Alliance and the Coalition for Epidemic Preparedness Innovations to ensure that poorer countries can access the vaccines needed to battle the pandemic.
"Covax has delivered its first billionth dose of Covid-19 vaccines to 144 countries & territories across the world," Gavi chief executive Seth Berkley tweeted.
"It's a key milestone in the largest and most rapid global vaccine rollout in history."
Berkley said that when the plane carrying the shipment with the one billionth dose had touched down in Kigali, Rwanda Saturday evening, "I felt proud but also humbled knowing how far we have to go to protect everyone and solve vaccine inequity".
Covax hit the one-billionth mark less than a year after delivering its first vaccine dose late last February -- to Ghana.
All countries have been permitted to order doses through the mechanism, but lower-income countries have received the jabs free of charge.
Berkley said in a statement Saturday that he was "proud that nearly 90 percent of the first billion doses Covax has delivered have been full-funded doses sent to the low and lower-middle countries".
Omicron could 'unravel' progress
But while reaching that one-billion milestone is impressive, Covax has fallen far short of its initial objective of delivering two billion doses by the end of 2021.
That is because it has been forced to compete with rich countries willing to pay a high price and hoarding doses.
In a speech on Thursday, WHO chief Tedros Adhanom Ghebreyesus pointed out that while more than 9.4 billion vaccine doses had been administered around the world, more than 85 percent of people in Africa have yet to receive a single dose.
Health experts warn that allowing Covid to spread unabated in some places dramatically increases the chance of new, more dangerous variants emerging.
WHO said late last month that nearly half of its 194 member states had missed its target of vaccinating 40 percent of their population by the end of 2021.
It has called for a redoubling of efforts to ensure all countries manage to hit its second target, of vaccinating 70 percent of their populations, by mid-2022.
But experts warn that the current imbalance risks deepening further as many countries now rush to roll out additional doses to respond to the fast-spreading coronavirus variant Omicron.
"We cannot afford to let Omicron and the increased demand for boosters unravel the progress we've made," Berkley tweeted, urging the world to "work together to #breakCovid now".
"If the world unites to ensure adults in lower-income countries are immunised at levels achieved in high-income countries," he said, "between 940,000 and 1.27 million deaths could be prevented in the next year."
As It Happens
LATEST UPDATE: May 30, 2023 - 12:56pm
Pharma giants Sanofi and GSK said on July 29, 2020, that they have agreed to supply Britain with up to 60 million doses of a potential COVID-19 vaccine. The agreement covers a vaccine candidate developed by France's Sanofi in partnership with the UK's GSK and is subject to a "final contract."
This thread collects some of the major developments in the search for a vaccine to ease the new coronavirus pandemic. (Main photo by AFP/Joel Saget)
May 30, 2023 - 12:56pm
As negotiations towards a new pandemic treaty pick up pace, observers warn of watered-down efforts to ensure equitable access to the medical products needed to battle future Covid-like threats.
Shaken by the pandemic, the World Health Organization's 194 member states are negotiating an international accord aimed at ensuring countries are better equipped to deal with the next catastrophe, or even prevent it altogether.
The process is still in the early stages, with the aim of reaching an agreement by May 2024.
But critics warn that revisions being made to the preliminary negotiating text are weakening the language -- notably in a key area aimed at preventing the rampant inequity seen in access to vaccines and other medical products during the Covid pandemic.
"I think it is a real step backwards," Suerie Moon, co-director of the Global Health Centre at the Geneva Graduate Institute, told AFP. — AFP
April 20, 2023 - 8:03pm
Africa's first mRNA vaccine hub is ceremonially launched on Thursday to acclaim from the UN's global health chief, who hailed it as a historic shift to help poor countries gain access to life-saving jabs.
The facility was set up in the South African city of Cape Town in 2021 on the back of the success of revolutionary anti-Covid vaccines introduced by Pfizer/BioNTech and Moderna.
"This precious project... will bring a paradigm shift in addressing the serious problem we faced, the equity problem, during the pandemic, so (that) it's not repeated again," World Health Organization (WHO) head Tedros Adhanom Ghebreyesus tells a media briefing to mark the inauguration. — AFP
March 22, 2023 - 3:37pm
China has approved its first locally developed messenger RNA (mRNA) vaccine against Covid-19, its manufacturer said Wednesday, months after the relaxation of strict Covid-zero regulations sparked a surge in cases.
The vaccine, developed by CSPC Pharmaceutical Group Ltd, has been approved for "emergency use" by Beijing's health regulator, the company said in a statement.
It showed high efficacy in a trial in which it was used as a booster shot for people who have been given other types of vaccines, the company added, without offering further details. — AFP
March 1, 2023 - 1:53pm
COVID-19 vaccine maker Novavax raises doubts about its ability to continue its business, announcing plans to cut spending after struggles in rolling out its coronavirus jab.
Shares of Novavax plummeted 25 percent in extended trading, after the company reported fourth-quarter earnings that missed analyst estimates.
While the firm should have enough money to fund operations, the situation is "subject to significant uncertainty," it says in a statement. — AFP
February 17, 2023 - 8:53am
The protection against Covid-19 from being previously infected lasts at least as long as that offered by vaccination, one of the largest studies conducted on the subject says.
Ten months after getting Covid, people still had an 88% lower risk of reinfection, hospitalisation and death, according to the study published in the Lancet journal.
That makes this natural immunity "at least as durable, if not more so" than two doses of Pfizer or Moderna's vaccines, the study says.
The authors nevertheless emphasized that their findings should not discourage vaccination, which remains the safest way to get immunity. — AFP