Greenhouse gas levels reach record high amid COP26 worries
October 26, 2021 | 8:38am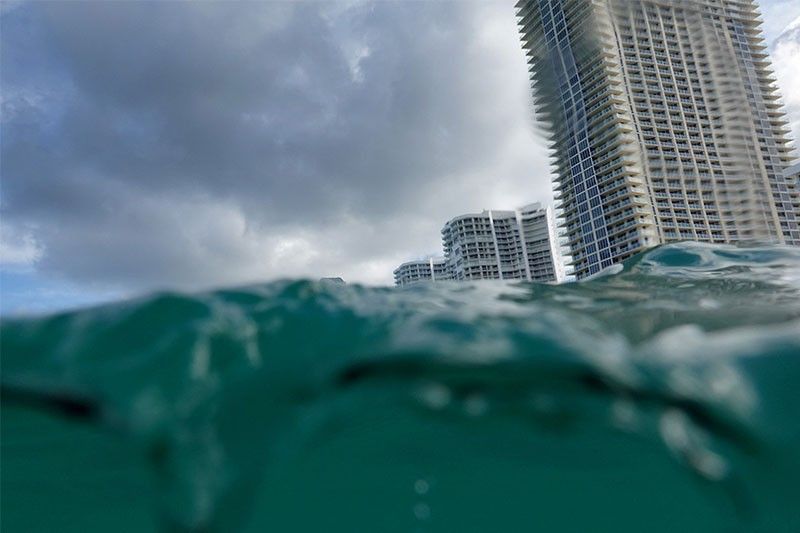 GENEVA, Switzerland — Greenhouse gas concentrations in the atmosphere reached record levels last year, the United Nations said Monday, in a stark warning as Britain's Boris Johnson admitted being "very worried" about the COP26 summit going awry.
The UN's blunt report on rising global warming comes as Prime Minister Johnson, the COP26 host, said it was "very, very far from clear that we'll get the progress that we need".
"I'm very worried because it might go wrong... it's touch and go," Johnson said, though he remained hopeful a deal can be done at the 12-day climate talks to reduce carbon emissions and limit future temperature rises.
Highlighting the difficulties ahead, coal-intensive Australia on Monday unveiled a long-awaited 2050 target to reach net zero emissions — while dismissing any upgrade to its 2030 goals.
"We want our heavy industries, like mining, to stay open, remain competitive and adapt, so they remain viable for as long as global demand allows," conservative Prime Minister Scott Morrison said.
COP26, the UN Climate Change Conference, is being held in Glasgow from October 31 to November 12.
The UN's World Meteorological Organization said that continued rising greenhouse gas emissions would result in more extreme weather and wide-ranging impacts on the environment, the economy and humanity.
The WMO said the economic slowdown caused by the Covid-19 pandemic triggered a temporary decline in new emissions, but had no discernible impact on the atmospheric levels of greenhouse gases and their growth rates.
The organisation's Greenhouse Gas Bulletin said the annual rate of increase last year was above the yearly average between 2011 and 2020 — and the trend continued in 2021.
'Way off track'
The WMO said that as long as emissions continue, global temperatures will continue to rise.
And given the long life of carbon dioxide (CO2), the temperature levels already observed will persist for several decades even if emissions are rapidly reduced to net zero.
"The Greenhouse Gas Bulletin contains a stark, scientific message for climate change negotiators at COP26," said WMO chief Petteri Taalas.
"At the current rate of increase in greenhouse gas concentrations, we will see a temperature increase by the end of this century far in excess of the Paris Agreement targets of 1.5 to two degrees Celsius above pre-industrial levels," he warned.
"We are way off track."
The WMO said that with continued rising greenhouse gas emissions, alongside rising temperatures, the planet could expect more extreme weather.
"We need to revisit our industrial, energy and transport systems and whole way of life. The needed changes are economically affordable and technically possible," said Taalas. "There is no time to lose."
The WMO also said that alarmingly, the southeast part of the Amazon rainforest, long a carbon sink, has now become a source of carbon emissions due to deforestation.
'The disaster gets closer'
The three major greenhouses gases are CO2, methane and nitrous oxide. CO2 is the most important, accounting for around 66 percent of the warming effect on the climate.
CO2 concentrations reached 413.2 parts per million (ppm) in 2020, up 2.5 ppm, and is at 149 percent of the pre-industrial level in 1750, the WMO said.
Methane averages reached a new high of 1,889 parts per billion in 2020, up 11 ppb on the year before, and is at 262 percent of the pre-industrial benchmark.
Nitrous oxide averages reached 333.2 ppb, up 1.2 ppb, and is now at 123 percent of 1750 levels.
Euan Nisbet, from the University of London's Greenhouse Gas Group, compared the greenhouse gas measurements to "skidding into a car crash."
"The disaster gets closer and closer but you can't stop it. You can clearly see the crash ahead, and all you can do is howl."
Dave Reay, director of the Edinburgh Climate Change Institute, said the report provided a "brutally frank" assessment of COP achievements so far: "An epic fail."
Meanwhile, a decade-old target for rich countries to contribute $100 billion a year to help poorer ones fight climate change should be attainable in 2023, according to analysis by the Organization for Economic Co-operation and Development.
The target was meant to have been reached last year, and the failure of developed nations to do so has become a key point of contention heading into Glasgow.
Saudi Arabia's de facto ruler pledged more than $1 billion for new environmental initiatives on Monday, taking further steps to bolster the environmental credentials of the world's top oil exporter.
And two days after targeting carbon neutrality by 2060, Crown Prince Mohammed bin Salman promised to contribute 15 percent of $10.4 billion to fund the "circular carbon economy" and provide "clean fuel" to help feed 750 million people worldwide.
As It Happens
LATEST UPDATE: June 17, 2022 - 8:01am
At current levels of greenhouse gas emissions, Earth could warm by 1.5 degrees Celsius (2.7 degrees Fahrenheit) as early as 2030, the Intergovernmental Panel for Climate Change says in a landmark report.
"Global warming is likely to reach 1.5C between 2030 and 2052 if it continues to increase at the current rate," the report concluded with "high confidence."
Earth's surface has warmed one degree Celsius (1.8 degrees Fahrenheit)—enough to lift oceans and unleash a crescendo of deadly storms, floods and droughts—and is on track toward an unliveable 3C or 4C rise.
June 17, 2022 - 8:01am
Developing countries voice "disappointment" as climate talks in Germany ended Thursday with frustrations flaring over a lack of momentum on helping vulnerable nations cope with the impacts of warming.
With world attention drawn towards other challenges, notably Russia's invasion of Ukraine and spiralling food, energy and economic crises, the technical discussions meant to lay the groundwork for key United Nations negotiations later this year were mired in disagreements.
Representatives of nearly 200 countries arrived in the city of Bonn buoyed by the ambition displayed six months ago during the UN COP26 negotiations in Glasgow, where countries rallied around the urgent threat of climate change.
"After that sense of emergency had been established, probably the expectations were very high," says Preety Bhandari, senior climate adviser at the World Resources Institute. — AFP
June 6, 2022 - 11:02am
Negotiators from almost 200 countries will meet in Bonn Monday for climate talks tasked with reigniting momentum on tackling global warming, as Russia's invasion of Ukraine overshadows the threat from rising emissions.
The conference will set the stage for a fresh round of major United Nations talks later this year in Egypt.
It will also be a chance to test the resolve of nations facing a catalogue of crises, including escalating climate impacts, geopolitical tensions, bloodshed in Ukraine and the threat of a devastating global food crisis.
"Climate change is not an agenda we can afford to push back on our global schedule," said outgoing UN climate change chief Patricia Espinosa ahead of the meeting. — AFP
May 24, 2022 - 8:15am
Nations in the G20 group of major economies have yet to strengthen greenhouse gas reduction goals despite agreeing to revisit their plans ahead of critical UN climate talks in November, according to an analysis by leading research NGOs seen exclusively by AFP.
At the Glasgow COP26 climate summit last year countries pledged to review inadequate plans for cutting carbon pollution this decade ahead of the COP27 conference.
Two G20 nations — India and Turkey — have failed to update their original carbon cutting plans submitted in 2015, as required under the Paris Agreement.
Neither has non-G20 member Egypt, which will host the COP27 climate summit in November. — AFP
May 18, 2022 - 4:04pm
Four key climate change indicators all set new record highs in 2021, the United Nations said Wednesday, warning that the global energy system was driving humanity towards catastrophe.
Greenhouse gas concentrations, sea level rise, ocean heat and ocean acidification all set new records last year, the UN's World Meteorological Organization (WMO) said in its "State of the Global Climate in 2021" report.
"The global energy system is broken and bringing us ever closer to climate catastrophe," UN Secretary-General Antonio Guterres said of the findings. — AFP
March 16, 2022 - 11:09am
The 193 members of the United Nations General Assembly adopt a resolution Tuesday supporting bicycles as a tool for combatting climate change.
The resolution, proposed by Turkmenistan, was passed unanimously and like all General Assembly resolutions is non-binding.
It calls on member states to "integrate the bicycle into public transportation, in urban and rural settings in developing and developed countries." — AFP