As COP looms, Prince William awards debut Earthshot Prize
October 18, 2021 | 7:29am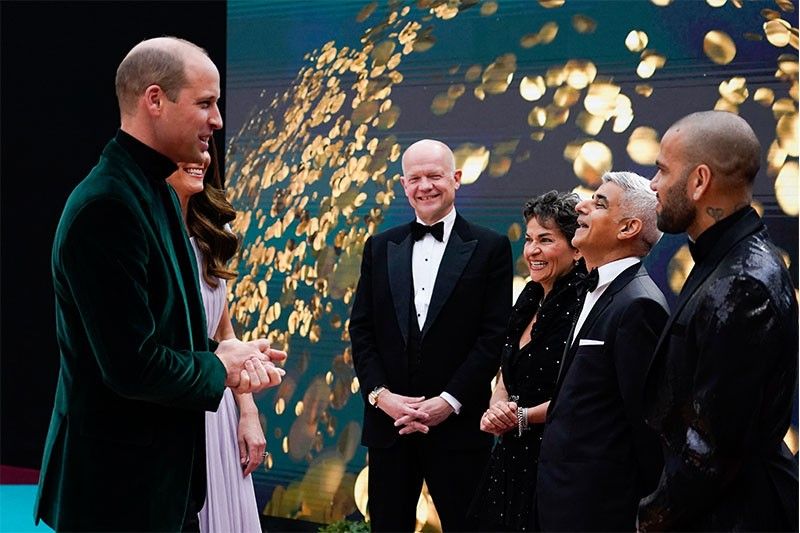 LONDON, United Kingdom — Queen Elizabeth II's grandson Prince William presented the inaugural Earthshot prizes at a ceremony in London on Sunday, with projects from Costa Rica, Italy, the Bahamas and India picking up prizes.
The new annual awards were created by Prince William to reward efforts to save the planet in the face of climate change and global warming.
Five winners were announced, each receiving a million pounds ($1.4 million).
The build-up to the televised event — featuring the renowned naturalist David Attenborough and performances by Coldplay, Ed Sheeran and others — was marked by royal displeasure at world leaders' inaction on climate change.
William hopes it will help propel the fight against climate change leading up to the COP26 summit, which opens in Scotland at the end of the month, calling those on the shortlist "innovators, leaders and visionaries".
In a short film recorded for the ceremony in the London Eye and released ahead of the event on Sunday, William warns that the "actions we choose or choose not to take in the next 10 years will determine the fate of the planet for the next thousand".
"A decade doesn't seem long, but humankind has an outstanding record of being able to solve the unsolvable," he says.
"The future is ours to determine. And if we set our minds to it, nothing is impossible."
Winning initiatives
The Republic of Costa Rica was one of the winners on Sunday picking up the "Protect and Restore Nature" award for its efforts to protect forests, plant trees and restore ecosystems.
"We receive this recognition with pride but humility, what we have achieved in this small country in Central America can be done anywhere," said Costa Rican President Carlos Alvarado.
Indian company Takachar won the "Clean our Air" prize for the creation of a portable machine which turns agricultural waste into fertiliser so that farmers do not burn the waste and cause air pollution
The other winners included Coral Vita, from the Bahamas, for a project to grow coral in tanks, 50 times quick than coral normally grows.
The northern Italian city of Milan won the "Food Waste Hubs" award for collecting unused food and giving it to people who need it most.
The "Fix our Climate" laureate went to a joint Thai-German-Italian team for the AEM Electrolyzer, which uses renewable energy to make clean hydrogen by splitting water into its constituent elements.
Each of the finalists — chosen by experts from more than 750 nominations — will be given help from companies to develop their projects.
Prince William announced that the 2022 edition of the Earthshot Prize will be held in the United States.
In a BBC interview this week, William took a potshot at wealthy space tourists, for neglecting problems closer to Earth, while his father and grandmother have also weighed in this week on climate change.
Opening the Welsh legislature in Cardiff on Thursday, the 95-year-old monarch was overheard upbraiding world leaders who "talk" but "don't do" enough about the planetary crisis.
The queen complained that not enough leaders had confirmed their attendance at COP26, with Chinese President Xi Jinping and Indian Prime Minister Narendra Modi among the key players in doubt.
Royal double standards?
William's father, long-time environmentalist Prince Charles, meanwhile told the BBC that he worried the leaders coming would "just talk", rather than implement "action on the ground".
However, campaigners alleged climate hypocrisy from the royal family, which is Britain's biggest landowner, including large tracts of Scotland given over to hunting and farming.
Last weekend, TV presenter and environmentalist Chris Packham led a children's march to Buckingham Palace in London to deliver a petition with more than 100,000 signatures asking the queen to rewild royal lands.
"If they were to do so it would be a very powerful message that would resonate with people all over the world," he said.
The Earthshot Prize, launched in October last year, was inspired by US president John F. Kennedy's "Moonshot" project in the 1960s to put a man on the moon.
It covers five areas: how to protect and restore nature; clean our air; revive our oceans; build a waste-free world; and fix our climate.
As It Happens
LATEST UPDATE: June 17, 2022 - 8:01am
At current levels of greenhouse gas emissions, Earth could warm by 1.5 degrees Celsius (2.7 degrees Fahrenheit) as early as 2030, the Intergovernmental Panel for Climate Change says in a landmark report.
"Global warming is likely to reach 1.5C between 2030 and 2052 if it continues to increase at the current rate," the report concluded with "high confidence."
Earth's surface has warmed one degree Celsius (1.8 degrees Fahrenheit)—enough to lift oceans and unleash a crescendo of deadly storms, floods and droughts—and is on track toward an unliveable 3C or 4C rise.
June 17, 2022 - 8:01am
Developing countries voice "disappointment" as climate talks in Germany ended Thursday with frustrations flaring over a lack of momentum on helping vulnerable nations cope with the impacts of warming.
With world attention drawn towards other challenges, notably Russia's invasion of Ukraine and spiralling food, energy and economic crises, the technical discussions meant to lay the groundwork for key United Nations negotiations later this year were mired in disagreements.
Representatives of nearly 200 countries arrived in the city of Bonn buoyed by the ambition displayed six months ago during the UN COP26 negotiations in Glasgow, where countries rallied around the urgent threat of climate change.
"After that sense of emergency had been established, probably the expectations were very high," says Preety Bhandari, senior climate adviser at the World Resources Institute. — AFP
June 6, 2022 - 11:02am
Negotiators from almost 200 countries will meet in Bonn Monday for climate talks tasked with reigniting momentum on tackling global warming, as Russia's invasion of Ukraine overshadows the threat from rising emissions.
The conference will set the stage for a fresh round of major United Nations talks later this year in Egypt.
It will also be a chance to test the resolve of nations facing a catalogue of crises, including escalating climate impacts, geopolitical tensions, bloodshed in Ukraine and the threat of a devastating global food crisis.
"Climate change is not an agenda we can afford to push back on our global schedule," said outgoing UN climate change chief Patricia Espinosa ahead of the meeting. — AFP
May 24, 2022 - 8:15am
Nations in the G20 group of major economies have yet to strengthen greenhouse gas reduction goals despite agreeing to revisit their plans ahead of critical UN climate talks in November, according to an analysis by leading research NGOs seen exclusively by AFP.
At the Glasgow COP26 climate summit last year countries pledged to review inadequate plans for cutting carbon pollution this decade ahead of the COP27 conference.
Two G20 nations — India and Turkey — have failed to update their original carbon cutting plans submitted in 2015, as required under the Paris Agreement.
Neither has non-G20 member Egypt, which will host the COP27 climate summit in November. — AFP
May 18, 2022 - 4:04pm
Four key climate change indicators all set new record highs in 2021, the United Nations said Wednesday, warning that the global energy system was driving humanity towards catastrophe.
Greenhouse gas concentrations, sea level rise, ocean heat and ocean acidification all set new records last year, the UN's World Meteorological Organization (WMO) said in its "State of the Global Climate in 2021" report.
"The global energy system is broken and bringing us ever closer to climate catastrophe," UN Secretary-General Antonio Guterres said of the findings. — AFP
March 16, 2022 - 11:09am
The 193 members of the United Nations General Assembly adopt a resolution Tuesday supporting bicycles as a tool for combatting climate change.
The resolution, proposed by Turkmenistan, was passed unanimously and like all General Assembly resolutions is non-binding.
It calls on member states to "integrate the bicycle into public transportation, in urban and rural settings in developing and developed countries." — AFP