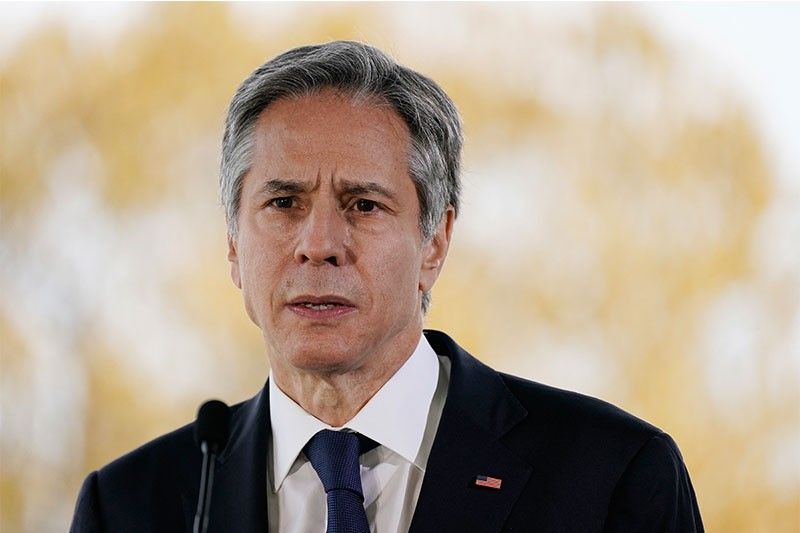 (FILES) In this file photo taken on April 19, 2021 Secretary of State Antony Blinken speaks about climate change, at the Chesapeake Bay Foundation in Annapolis, Maryland.
AFP/Jacquelyn Martin, Pool
US top diplomat: China acting more 'repressively, aggressively'
(Agence France-Presse) - May 3, 2021 - 10:30am
WASHINGTON, United States — An increasingly powerful China is challenging the world order, acting "more repressively" and "more aggressively" as it flexes its influence, US Secretary of State Antony Blinken said in an interview that aired Sunday.
"What we've witnessed over the last several years is China acting more repressively at home and more aggressively abroad. That is a fact," the top American diplomat said in an interview with CBS's "60 Minutes."
His comments came after President Joe Biden, in his first address to Congress on Wednesday, underscored that he was not seeking conflict with Beijing.
Biden said he told Chinese President Xi Jinping that in the competition to be the dominant power of the 21st century, "we welcome the competition — and that we are not looking for conflict."
Blinken said China is "the one country in the world that has the military, economic, diplomatic capacity to undermine or challenge the rules-based order that we care so much about and are determined to defend.
"But I want to be very clear about something... our purpose is not to contain China, to hold it back, to keep it down; it is to uphold this rules-based order that China is posing a challenge to."
Tensions have risen sharply with China over the past few years as the United States also takes issue with Beijing's assertive military moves and human rights concerns, including what Washington has described as genocide against the mostly Muslim Uyghur minority.
As It Happens
LATEST UPDATE: April 15, 2021 - 12:11pm
The US decision to disinvite China from upcoming maritime exercises in the Pacific is "non-constructive," China's Foreign Affairs Minister Wang Yi says.
"We find that a very non-constructive move," Wang says at a press conference with Secretary of State Mike Pompeo after the two met in Washington.
"It's also a decision taken lightly and is unhelpful to mutual understanding between China and the US." — Agence France-Presse
April 15, 2021 - 12:11pm
US climate envoy John Kerry met with his Chinese counterparts in Shanghai on Thursday, in the first visit to China by an official from a Biden administration seeking to re-establish America's leadership on the environment.
The trip is seen as a chance to put aside high political tensions — following a heated initial meeting last month between diplomats in the US — and focus on areas of potential climate collaboration.
The two sides clashed in Alaska over accusations about China's policies in Hong Kong and its treatment of Uyghurs in the northwestern Xinjiang region, criticisms China rejects as interference in its domestic affairs. — AFP
March 23, 2021 - 8:19am
The US Treasury Department placed sanctions Monday on two senior Chinese officials for what it called "serious human rights abuses" against Uighurs and other minorities in the country's Xinjiang region.
"Chinese authorities will continue to face consequences as long as atrocities occur in Xinjiang," said Andrea Gacki, the Treasury official overseeing the sanctions program.
The sanctions targeted Wang Junzheng, the secretary of the Chinese Communist Party committee of the Xinjiang Production and Construction Corps (XPCC), and Chen Mingguo, director of the Xinjiang Public Security Bureau. — AFP
March 20, 2021 - 10:30am
State news agency Xinhua reports that top Chinese diplomat Yang Jiechi said the first talks between Beijing and US President Joe Biden's administration were "candid, constructive and helpful," but warned that differences remain.
The two days of talks between the world's top two economies, held in Alaska on Thursday and Friday, began in acrimony, with both delegations launching broadsides over human rights and geopolitical ambitions. — AFP
March 19, 2021 - 8:57am
The United States accuses Chinese diplomatic leaders of "grandstanding," with a focus on "public theatrics and dramatics over substance" Thursday at the opening of the first high-level meeting between Washington and Beijing since US President Joe Biden's election.
A senior US official criticizes Beijing as having "arrived intent on grandstanding, focused on public theatrics and dramatics over substance" at the Alaska summit.
The official says this was made clear by the top Chinese Communist Party diplomat Yang Jiechi "promptly violating protocol" with a long opening statement instead of a previously agreed upon short two-minute speech. — AFP
March 19, 2021 - 7:12am
The United States does not want conflict with China but welcomes tough competition with its strategic rival, President Joe Biden's national security advisor says Thursday in Alaska at the opening of a meeting with top Chinese diplomats.
"We do not seek conflict, but we welcome stiff competition. And we will always stand up for our principles for our people, and for our friends," Jake Sullivan warns in Anchorage. — AFP