Amid criticism, US to export up to 60 million AstraZeneca COVID-19 vaccine doses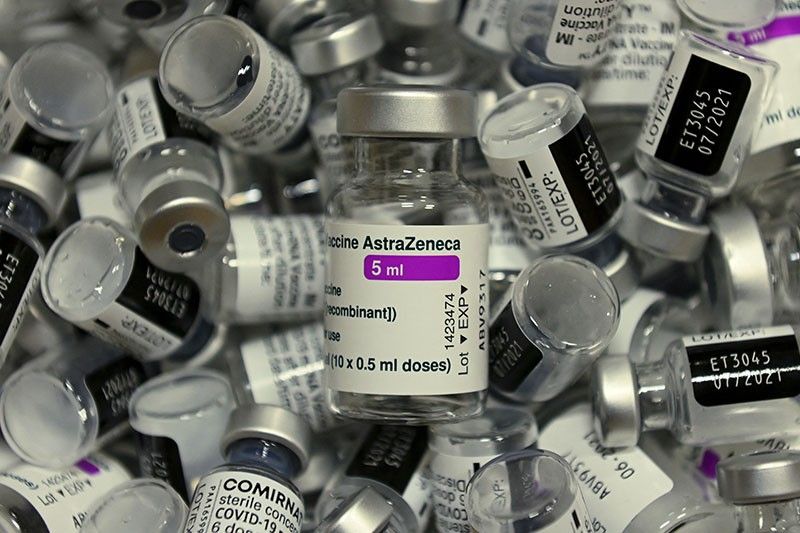 WASHINGTON, United States — The United States will send up to 60 million doses of the AstraZeneca Covid-19 vaccine abroad, officials announced Monday, as President Joe Biden pledged to "be there" for India in its hour of need.
Critics have accused Washington of "hoarding" the British-developed vaccine, which is not authorized in the country and will likely not be required to vaccinate Americans.
The issue has risen to the fore in recent days as India faces a catastrophic new surge that has overwhelmed its health care system and driven crematoriums to full capacity.
"U.S. to release 60 million Astra Zeneca doses to other countries as they become available," tweeted Andy Slavitt, senior advisor to the White House on Covid response.
BREAKING: U.S. to release 60 million Astra Zeneca doses to other countries as they become available.

— Andy Slavitt (@aslavitt46) April 26, 2021
An administration official told reporters the first 10 million doses could be available "in the coming weeks" after they pass a quality inspection by the Food and Drug Administration.
"Further, there's an estimated additional 50 million doses that are in various stages of production, and these could be completed in stages across May and June," she added.
White House spokeswoman Jen Psaki said at a briefing that the recipient countries have not yet been decided and that the administration was still formulating its distribution plan.
But India appears to be a leading contender after Biden held a telephone call with his counterpart Prime Minister Narendra Modi, pledging US support to fight the Covid surge.
"Today, I spoke with Prime Minister @narendramodi and pledged America's full support to provide emergency assistance and resources in the fight against COVID-19. India was there for us, and we will be there for them," Biden tweeted.
Administration officials added Washington was looking at options to supply oxygen — from direct shipments to generation systems — as well as the antiviral drug remdesivir, personal protective equipment, tests, and teams of experts.
Covid cases declining
The vaccine announcement greatly expands a US action from last month to loan four million AstraZeneca doses to Mexico and Canada.
It also comes as US domestic supply appears increasingly assured, making it unlikely AstraZeneca will be required.
Pfizer and Moderna say they are on track to deliver 600 million doses between them by the end of July. Both are two-dose regimens.
The country has also resumed vaccinations with the Johnson & Johnson single shot, the third authorized injection, after a brief pause over suspected links to a rare form of clotting.
More than 53 percent of adults in the United States have so far received at least one dose of vaccine, according to official data, and domestic demand has begun to taper off as many people who wished to get vaccinated have already done so.
The rate of new daily Covid cases in the United States is also in decline, dipping below a seven-day average of 60,000 for the first time in a month.
Ashish Jha, dean of Brown University's School of Public Health, said one of the main hurdles to sending AstraZeneca doses abroad had been the issue of legal liability, since the original contract was formulated between the company and the United States.
"There may be some adverse events and there may even be events that are not related to the vaccine," Jha said during a webinar, adding the maker was worried about being sued without the indemnity it enjoyed in the United States.
"These are solvable in my mind by India, offering indemnity and protection to AstraZeneca," he added.
But he predicted the issue might be politically sensitive in India if the AstraZeneca vaccine comes to be viewed as a second-tier or "discarded" shot.
As It Happens
LATEST UPDATE: September 18, 2021 - 9:14am
Pharma giants Sanofi and GSK said on July 29, 2020, that they have agreed to supply Britain with up to 60 million doses of a potential COVID-19 vaccine. The agreement covers a vaccine candidate developed by France's Sanofi in partnership with the UK's GSK and is subject to a "final contract."
This thread collects some of the major developments in the search for a vaccine to ease the new coronavirus pandemic. (Main photo by AFP/Joel Saget)
September 18, 2021 - 9:14am
A panel of leading US medical experts advising the government vote in favor of authorizing boosters of Pfizer's coronavirus vaccine for everyone aged 65 and up, as well as people at high risk of developing severe Covid.
The same committee however rejected an initial proposal, submitted by Pfizer and backed by President Joe Biden's administration, to fully approve boosters to everyone aged 16 and over.
The decisions came after a day-long meeting full of data presentations and at times charged debate that was convened by the Food and Drug Administration (FDA). Tens of millions of Americans will soon be eligible for a third shot. — AFP
September 17, 2021 - 12:51pm
US medical experts will meet Friday to debate and vote on the controversial question of giving out booster doses of Pfizer's Covid-19 vaccine to the general population.
President Joe Biden's administration announced in August a plan to roll out third shots to everyone, not just the immune compromised already able to receive them, starting from September 20.
But experts have since expressed reservations about whether they are required, amid concerns over global inequity, the greater need to vaccinate the unvaccinated, and possible increased risk of side effects. — AFP
September 16, 2021 - 5:21pm
China has fully vaccinated more than one billion people against the coronavirus — 71% of its population — official figures showed Thursday.
The country had mostly curbed the virus within its borders but is racing to get the vast majority of its population vaccinated as a new outbreak takes hold in the southeast.
"As of September 15, 2.16 billion vaccine doses have been administered nationwide," said National Health Commission spokesman Mi Feng at a press briefing.
Chinese health authorities said late last month that 890 million people in China had been fully vaccinated and two billion doses administered.
The government has not publicly announced a target for vaccination coverage, but top virologist Zhong Nanshan said last month that the country is likely to have 80% of its population inoculated by the end of the year.
China is currently battling an outbreak of the Delta variant in the southeastern province of Fujian that has infected almost 200 people so far in three cities, many of whom are schoolchildren. — AFP
September 16, 2021 - 7:21am
Cuba says it would seek World Health Organization approval for two home-grown coronavirus vaccines it hopes to commercialize widely.
A vetting process will start Thursday with WHO experts examining the nation's Abdala and Soberana 02 jabs, says Rolando Perez of state pharma group BioCubaFarma.
Perez says the experts would examine the vaccines' "safety, immunogenicity (the ability of a vaccine to provoke an immune response) and efficacy." — AFP
September 15, 2021 - 6:09pm
The European Union is to donate another 200 million COVID-19 vaccine doses to low-income countries, more than doubling its present pledge, the bloc's chief says.
The extra doses announced by European Commission President Ursula von der Leyen come on top of 250 million shots the EU has already promised to give to other countries, particularly ones in Africa.
"I can announce today that the commission will add a new donation of another 200 million doses until the middle of next year," she tells the European Parliament in her annual State of the European Union address. — AFP