WHO says don't dismiss AstraZeneca shot after South Africa delays jabs
February 9, 2021 | 7:35am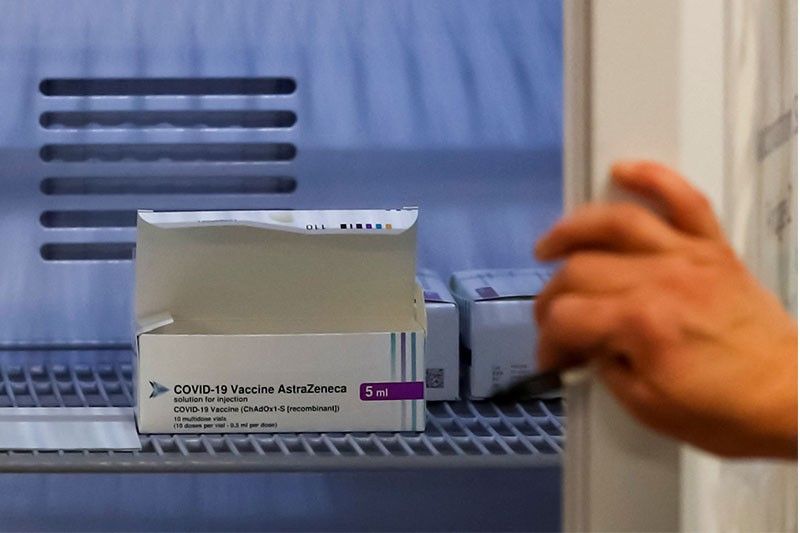 GENEVA, Switzerland — The World Health Organization insisted Monday that the AstraZeneca vaccine was still a vital tool in the global fight against the coronavirus pandemic, after South Africa delayed the start of its inoculation programme over concerns about its efficacy against a virus variant.
"It is vastly too early to be dismissing this vaccine," said Richard Hatchett, who heads the Coalition for Epidemic Preparedness Innovations (CEPI), which co-leads the Covax vaccine facility with the WHO and Gavi after the AstraZeneca shot ran into a number of setbacks, including questions about its efficacy for over-65s.
"It is absolutely crucial to use the tools that we have as effectively as we possibly can," he said, speaking at the WHO's regular bi-weekly press briefing on the coronavirus pandemic.
The AstraZeneca vaccine is currently a vital part of Covax, which was set up to procure COVID-19 vaccines and ensure their equitable distribution around the world.
It accounts for almost all of the 337.2 million vaccine doses Covax is preparing to begin shipping to some 145 countries during the first half of the year, once it receives WHO authorisation, which is expected next week.
But a trial at Johannesburg's University of Witwatersrand, concluded the vaccine provided only "minimal" protection against mild to moderate COVID-19 caused by the variant first detected in South Africa.
That was bad news for many poorer nations counting on the logistical advantages offered by the AstraZeneca shot.
South Africa, the continent's hardest-hit nation, had been due to start its campaign in the coming days with a million AstraZeneca doses.
However, the government decided to hold off because of the results from the trial.
"It's a temporary issue that we have to hold on AstraZeneca until we figure out these issues," Health Minister Zweli Mkhize told reporters on Sunday.
South Africa has 1.5 million AstraZeneca vaccine doses, which will expire in April.
AstraZeneca, which developed the shot with the University of Oxford, also stood by its product.
"We do believe our vaccine will still protect against severe disease," it told AFP.
A company spokesperson said researchers were already working to update the vaccine to deal with the South African variant spreading rapidly around the world.
Russian virus deaths
Worldwide, according to official figures, the coronavirus pandemic has claimed more than 2.3 million lives worldwide out of more than 106 million known infections.
Russia has recorded a dramatic increase in mortality in 2020 fuelled by the coronavirus pandemic, according to new data published by the Rosstat agency.
The figures showed that between April, when the pandemic hit Russia, and December, the country saw 162,429 coronavirus-related fatalities.
However, as of Monday, the official total released by Russia's health officials stood at only 77,068 virus deaths.
As inoculation programmes are rolled out around the world, Facebook announced Monday it would ban groups that repeatedly spread false claims about the virus and vaccines in general.
The social media giant has updated a list of debunked claims about the virus and existing vaccines with the help of the WHO.
Facebook's critics, however, were unimpressed.
"Facebook has been promising to crack down on Covid and anti-vaxx misinformation for the past year," the nonprofit Center for Countering Digital Hate wrote on Twitter.
"Every time, it fails to meet these headline announcements with action."
Worse than we thought: Biden
Efforts are under way in the United States, the hardest-hit nation, to accelerate its mass vaccination programme, which has been plagued by supply and logistics issues.
The more contagious and possibly more dangerous British variant of the virus is spreading rapidly across the country, said a new study posted online Sunday.
Although yet to be peer-reviewed, it does offer the most comprehensive look at the rise of the variant, known as B.1.1.7. Scientists led by researchers at The Scripps Research Institute analysed half a million test samples collected across the country since last summer.
President Joe Biden, who took office last month, said his predecessor Donald Trump's handling of the pandemic "was even more dire than we thought", in an interview with CBS News Sunday.
There was less vaccine available than they had initially been led to believe, he said.
The United States is the country that has suffered most from the virus, recording more than 463,000 deaths.
Schools reopened Monday in Romania, Denmark and Austria. Museums and shops were also due to reopen in Austria.
But the Netherlands decided to extend its overnight curfew to March 2, because of the more contagious coronavirus variants circulating. The measure has already provoked riots there.
On Tuesday, an international team of experts in China investigating how the outbreak started will speak to the media in Wuhan on Tuesday, the WHO announced.
The briefing, at 4:00pm local time (0800 GMT) at a hotel in the city, will be live-streamed in English on the UN health agency's digital and social media platforms.
The first COVID-19 cases were detected in Wuhan in December 2019.
Scientists think the disease originated in bats and could have been transmitted to humans via another mammal.
But there are no definitive answers so far and top WHO officials have played down the chances of the sensitive investigation mission finding them on the first attempt. — with AFP bureaus
As It Happens
LATEST UPDATE: September 24, 2021 - 2:16pm
Pharma giants Sanofi and GSK said on July 29, 2020, that they have agreed to supply Britain with up to 60 million doses of a potential COVID-19 vaccine. The agreement covers a vaccine candidate developed by France's Sanofi in partnership with the UK's GSK and is subject to a "final contract."
This thread collects some of the major developments in the search for a vaccine to ease the new coronavirus pandemic. (Main photo by AFP/Joel Saget)
September 24, 2021 - 2:16pm
A committee of US health experts declines to approve Pfizer booster shots for individuals at high risk of COVID-19 exposure due to their jobs, despite authorization from a different agency just the night before.
The decision has contributed to growing confusion about the campaign for booster doses in the United States, which the administration of President Joe Biden announced in mid-August but has since lost momentum.
The Centers for Disease Control and Prevention (CDC) committee voted Thursday to recommend a third dose of Pfizer's vaccine for people over age 65 and for those with underlying conditions who are at risk of developing a severe case of COVID-19. — AFP
September 23, 2021 - 7:50am
The United States authorizes the use of boosters of Pfizer's Covid-19 vaccine for people aged over 65, people at high-risk of severe disease and those in high-exposure settings to the virus.
"Today's action demonstrates that science and the currently available data continue to guide the FDA's decision-making for COVID-19 vaccines during this pandemic," says Janet Woodcock, acting head of the Food and Drug Administration. — AFP
September 22, 2021 - 8:18am
COVID-19 vaccine manufacturers are putting profit before lives, Amnesty International says, as it demands two billion doses for poorer nations by the end of the year.
The human rights group says in a new report that US President Joe Biden was expected to outline a pledge at the UN General Assembly to fully vaccinate 70% of the world's population by next September.
"We need leaders like President Biden to put billions of doses on the table and deliver the goods, otherwise this is just another empty gesture and lives will continue to be lost," Amnesty chief Agnes Callamard says.
September 18, 2021 - 9:14am
A panel of leading US medical experts advising the government vote in favor of authorizing boosters of Pfizer's coronavirus vaccine for everyone aged 65 and up, as well as people at high risk of developing severe Covid.
The same committee however rejected an initial proposal, submitted by Pfizer and backed by President Joe Biden's administration, to fully approve boosters to everyone aged 16 and over.
The decisions came after a day-long meeting full of data presentations and at times charged debate that was convened by the Food and Drug Administration (FDA). Tens of millions of Americans will soon be eligible for a third shot. — AFP
September 17, 2021 - 12:51pm
US medical experts will meet Friday to debate and vote on the controversial question of giving out booster doses of Pfizer's Covid-19 vaccine to the general population.
President Joe Biden's administration announced in August a plan to roll out third shots to everyone, not just the immune compromised already able to receive them, starting from September 20.
But experts have since expressed reservations about whether they are required, amid concerns over global inequity, the greater need to vaccinate the unvaccinated, and possible increased risk of side effects. — AFP