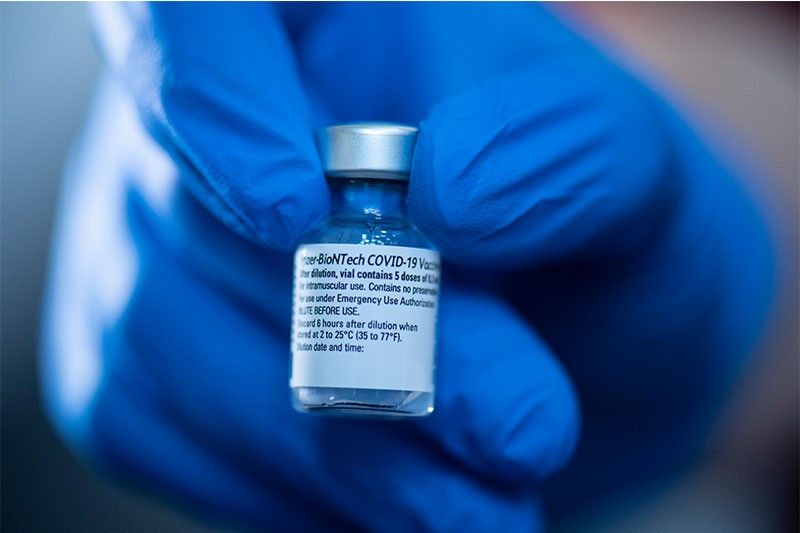 A pharmacist holds a vial containing the Pfizer-BioNTech vaccine against Covid-19 at the vaccination centre in the Festhalle hall in Frankfurt am Main, western Germany, on January 19, 2021, amid the novel coronavirus / COVID-19 pandemic.
AFP/Boris Roessler, Pool
Italy threatens legal action over Pfizer vaccine delays
(Agence France-Presse) - January 20, 2021 - 6:34pm
ROME, Italy — Italy has threatened to take legal action against pharma giant Pfizer over delays in deliveries of the coronavirus vaccine.
"Protecting the health of Italian citizens is not negotiable," Domenico Arcuri, the special commissioner for the pandemic, said in a statement late Tuesday.
A meeting with ministers and regional leaders considered how to protect Italians "in all civil and criminal venues where possible", he said.
"It was unanimously decided that these actions will be taken starting in the next few days."
Pfizer/BioNTech's vaccine, which was developed at record-breaking speed, was approved for use in the European Union in late December and has been quickly rolled out.
But Pfizer said last Friday it would delay shipments of vaccinations over the next three to four weeks due to works at its key processing plan in Belgium.
The following day, in a joint statement with German vaccine partner BioNTech, the US drugmaker said it had a plan to limit delays of deliveries to one week.
The delays have sparked concern across Europe, which has suffered badly from the pandemic — with Italy among the worst.
Arcuri said that 29 percent of promised doses were not delivered this week.
"The vaccination campaign cannot be slowed down, even less so for the administration of the second doses for the many Italians who have already been given the first."
Italy has so far recorded more than 83,000 deaths from coronavirus and vaccinated more than 1.2 million people.
As It Happens
LATEST UPDATE: February 24, 2021 - 4:59pm
Pharma giants Sanofi and GSK said on July 29, 2020, that they have agreed to supply Britain with up to 60 million doses of a potential COVID-19 vaccine. The agreement covers a vaccine candidate developed by France's Sanofi in partnership with the UK's GSK and is subject to a "final contract."
This thread collects some of the major developments in the search for a vaccine to ease the new coronavirus pandemic. (Main photo by AFP/Joel Saget)
February 24, 2021 - 4:59pm
Ghana receives the first shipment of COVID-19 vaccines from Covax, a global scheme to procure and distribute inoculations for free, as the world races to contain the pandemic.
Covax, launched last April to help ensure a fairer distribution of coronavirus vaccines between rich and poor nations, said it would deliver two billion doses to its members by the end of the year. — AFP
February 22, 2021 - 2:02pm
The world's biggest vaccine maker, India's Serum Institute, has urged other countries to be "patient" about it supplying anti-coronavirus shots, saying it has been instructed to prioritize its home market.
"Dear countries & governments, as you await #COVISHIELD supplies, I humbly request you to please be patient," Serum chief Adar Poonawalla tweeted on Sunday.
"@SerumInstIndia has been directed to prioritise the huge needs of India and along with that balance the needs of the rest of the world. We are trying our best."
Serum, from its sprawling facility in Pune in western India, is producing hundreds of millions of doses of the AstraZeneca vaccine.
Many countries around the world, particularly poorer nations, are relying heavily on the company for supplies of the vaccine, and it has already shipped millions of doses abroad. — AFP
February 22, 2021 - 8:08am
Australia launches its public rollout of the COVID-19 vaccine Monday amid protests over the campaign, including a vocal show of opposition by crowds at the final of the Australian Open.
Some 60,000 doses are set to be given this week, starting with frontline workers — from healthcare staff to hotel quarantine employees and police — and residents of aged care homes.
Morning television news programmes show the first shots being administered to medical and quarantine staff in Melbourne and Sydney, a day after Prime Minister Scott Morrison received his jab in a "curtain-raiser" event aimed at convincing Australians the vaccine was safe. — AFP
February 20, 2021 - 11:19pm
The number of coronavirus vaccine doses administered worldwide passed 200 million Saturday, an AFP count shows, as wealthy G7 countries pledged to more than double aid to support access for the less well-off.
With 45% of injections so far among the rich club -- which accounts for just 10 percent of the global population -- the G7 on Friday said its aid to projects like the World Health Organization's Covax now amount to $7.5 billion.
February 20, 2021 - 6:08pm
Moscow announces it had registered its third vaccine against the coronavirus and promised to introduce the jab to the Russian population by March.
Russia was the first country to register a vaccine against COVID-19 in August ahead of clinical trials, and the Sputnik V jab has been authorised in more than two dozen countries around the world.
"Today we note that a third vaccine, CoviVac, has been registered," Prime Minister Mikhail Mishustin says at a government meeting broadcast on state television. — AFP