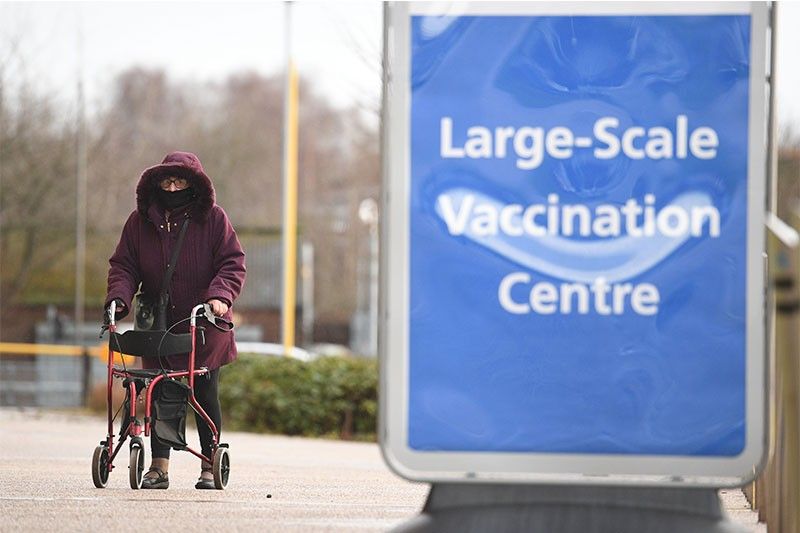 A woman arrives at Totally Wicked Stadium home of St Helen's rugby club as it opens as a Covid-19 mass vaccination centre in St Helen's, northwest England on January 18, 2021. Britain on January 18 extended its coronavirus vaccination campaign to people over the age of 70, and new tougher restrictions for all arrivals to the country came into force. Since the innoculation campaign began on December 8, more than 3.8 million people have received a first dose of vaccine against the virus that has infected 3.4 million people in the UK and claimed more than 89,000 lives.
AFP/Oli SCARFF
World facing 'catastrophic' moral failure on vaccines: WHO chief
(Agence France-Presse) - January 18, 2021 - 9:19pm
GENEVA, Switzerland — The world is on the "brink of a catastrophic moral failure" if rich countries hog COVID-19 vaccine doses while the poorest suffer, the head of the WHO said Monday.
World Health Organization director-general Tedros Adhanom Ghebreyesus denounced the "me-first" attitude of wealthy nations and also blasted vaccine manufacturers for chasing regulatory approval in rich countries rather than submitting their data to the WHO to green-light vaccine use globally.
He said the promise of worldwide equitable access to vaccines against the coronavirus pandemic was now at serious risk, in a speech in Geneva opening a WHO executive board meeting.
Tedros said 39 million doses of the coronavirus vaccine had been administered so far in at least 49 higher income countries.
Meanwhile, "just 25 doses have been given in one lowest income country. Not 25 million; not 25,000; just 25," he said.
"I need to be blunt. The world is on the brink of a catastrophic moral failure — and the price of this failure will be paid with lives and livelihoods in the world's poorest countries."
He said even as some countries pronounced reassuring words on equitable access, they were prioritising their own deals with manufacturers, driving up prices and trying to jump the queue.
He said 44 such deals were struck in 2020 and at least 12 have already been signed since the New Year.
"The situation is compounded by the fact that most manufacturers have prioritised regulatory approval in rich countries where the profits are highest, rather than submitting full dossiers to WHO," Tedros said.
"Not only does this me-first approach leave the world's poorest and most vulnerable people at risk, it's also self defeating.
"Ultimately, these actions will only prolong the pandemic, prolong our pain, the restrictions needed to contain it, and human and economic suffering."
As It Happens
LATEST UPDATE: March 4, 2021 - 5:24pm
Pharma giants Sanofi and GSK said on July 29, 2020, that they have agreed to supply Britain with up to 60 million doses of a potential COVID-19 vaccine. The agreement covers a vaccine candidate developed by France's Sanofi in partnership with the UK's GSK and is subject to a "final contract."
This thread collects some of the major developments in the search for a vaccine to ease the new coronavirus pandemic. (Main photo by AFP/Joel Saget)
March 4, 2021 - 5:24pm
The EU's drug watchdog says on Thursday it had started a "rolling review" of Russia's Sputnik V coronavirus vaccine, a key step towards approval for use across the 27-nation bloc.
"EMA has started a rolling review of Sputnik V, a Covid-19 vaccine developed by Russia's Gamaleya National Centre of Epidemiology and Microbiology," the Amsterdam-based European Medicines Agency (EMA) says in a statement. — AFP
March 2, 2021 - 7:10pm
A shipment of 3.94 million coronavirus jabs arrived in Nigeria on Tuesday, making Africa's most populous nation the world's third country to receive vaccines under Covax, a global scheme to provide free inoculations, an AFP journalist saw.
The Oxford/AstraZeneca vaccines, manufactured by the Serum Institute of India, are the first of 16 million doses that Covax plans to deliver over the coming months to Nigeria, where they will be given first to healthworkers, the government said. — AFP
March 2, 2021 - 6:14pm
The health ministry announces that Iraq received 50,000 Sinopharm vaccines donated by China, launching a long-awaited vaccination campaign.
Health ministry spokesman Seif al-Badr told reporters that the first delivery in the early hours meant inoculations could begin.
"The doses will be delivered to Baghdad's three main hospitals, and maybe to some provinces," says Badr, who confirmed the jabs were donations. — AFP
March 1, 2021 - 9:12pm
Ghana's President Nana Akufo-Addo on Monday became the first recipient of a coronavirus vaccine under the global Covax scheme, as US health workers prepared to distribute nearly four million doses of the single-shot Johnson & Johnson jab.
Covax, a scheme designed to ensure that poorer countries do not miss out on Covid-19 vaccines that have so far been largely hoovered up by rich nations, is aiming to deliver at least two billion doses by the end of the year.
Akufo-Addo received his AstraZeneca shot live on television along with his wife, a day before the rest of the first batch of 600,000 Covax doses are deployed across Ghana.
"It is important that I set the example that this vaccine is safe by being the first to have it, so that everybody in Ghana can feel comfortable about taking this vaccine," the president said. — AFP
March 1, 2021 - 11:31am
Four million doses of the latest Covid-19 vaccine to get US approval will be delivered across the country as early as Tuesday, a senior administration official said.
The United States on Saturday authorized Johnson & Johnson's Covid vaccine for emergency use, boosting President Joe Biden's plan to battle the outbreak that has killed more than 500,000 Americans.
The single-shot vaccine — the third type to be authorized — is highly effective in preventing severe Covid-19, including against newer variants, the Food and Drug Administration (FDA) said before giving it a green light. — AFP