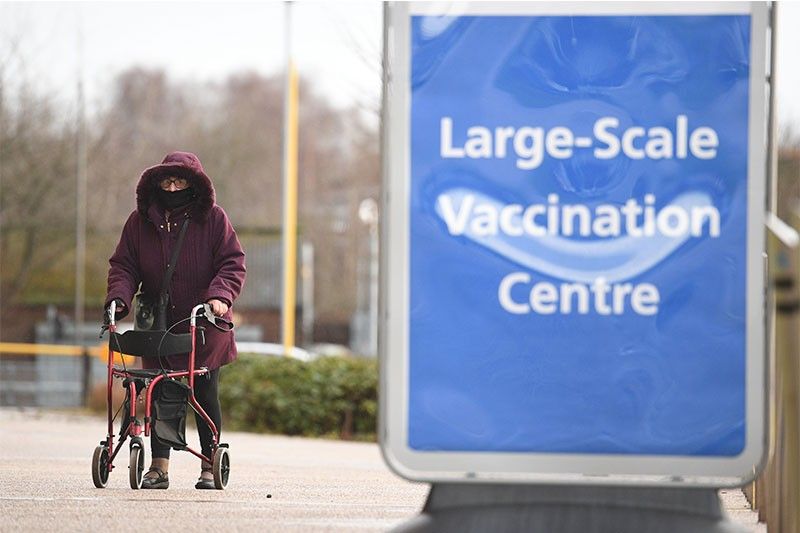 A woman arrives at Totally Wicked Stadium home of St Helen's rugby club as it opens as a Covid-19 mass vaccination centre in St Helen's, northwest England on January 18, 2021. Britain on January 18 extended its coronavirus vaccination campaign to people over the age of 70, and new tougher restrictions for all arrivals to the country came into force. Since the innoculation campaign began on December 8, more than 3.8 million people have received a first dose of vaccine against the virus that has infected 3.4 million people in the UK and claimed more than 89,000 lives.
AFP/Oli SCARFF
World facing 'catastrophic' moral failure on vaccines: WHO chief
(Agence France-Presse) - January 18, 2021 - 9:19pm
GENEVA, Switzerland — The world is on the "brink of a catastrophic moral failure" if rich countries hog COVID-19 vaccine doses while the poorest suffer, the head of the WHO said Monday.
World Health Organization director-general Tedros Adhanom Ghebreyesus denounced the "me-first" attitude of wealthy nations and also blasted vaccine manufacturers for chasing regulatory approval in rich countries rather than submitting their data to the WHO to green-light vaccine use globally.
He said the promise of worldwide equitable access to vaccines against the coronavirus pandemic was now at serious risk, in a speech in Geneva opening a WHO executive board meeting.
Tedros said 39 million doses of the coronavirus vaccine had been administered so far in at least 49 higher income countries.
Meanwhile, "just 25 doses have been given in one lowest income country. Not 25 million; not 25,000; just 25," he said.
"I need to be blunt. The world is on the brink of a catastrophic moral failure — and the price of this failure will be paid with lives and livelihoods in the world's poorest countries."
He said even as some countries pronounced reassuring words on equitable access, they were prioritising their own deals with manufacturers, driving up prices and trying to jump the queue.
He said 44 such deals were struck in 2020 and at least 12 have already been signed since the New Year.
"The situation is compounded by the fact that most manufacturers have prioritised regulatory approval in rich countries where the profits are highest, rather than submitting full dossiers to WHO," Tedros said.
"Not only does this me-first approach leave the world's poorest and most vulnerable people at risk, it's also self defeating.
"Ultimately, these actions will only prolong the pandemic, prolong our pain, the restrictions needed to contain it, and human and economic suffering."
As It Happens
LATEST UPDATE: April 16, 2021 - 5:21pm
Pharma giants Sanofi and GSK said on July 29, 2020, that they have agreed to supply Britain with up to 60 million doses of a potential COVID-19 vaccine. The agreement covers a vaccine candidate developed by France's Sanofi in partnership with the UK's GSK and is subject to a "final contract."
This thread collects some of the major developments in the search for a vaccine to ease the new coronavirus pandemic. (Main photo by AFP/Joel Saget)
April 16, 2021 - 5:21pm
The European Union is very unlikely to renew its COVID-19 vaccine contracts with pharmaceutical company AstraZeneca, a French minister says.
Denmark this week banned the use of AstraZeneca jabs over blood clot concerns, just as the EU said it was expecting 50 million Pfizer vaccine doses earlier than expected.
No final EU decision had been taken, French Industry Minister Agnes Pannier-Runacher tells RMC radio, but "it is highly probable" that no further AstraZeneca doses would be ordered. — AFP
April 16, 2021 - 1:03pm
The head of Pfizer says in an interview that people will "likely" need a third dose of his company's COVID-19 shot within six to 12 months of vaccination, while elsewhere defending the relatively higher cost of the jab.
CEO Albert Bourla also says annual vaccinations against the coronavirus may well be required.
"We need to see what would be the sequence, and for how often we need to do that, that remains to be seen," Bourla tells CNBC in an interview. — AFP
April 15, 2021 - 8:36am
A pause on all US vaccinations with the Johnson & Johnson Covid shot will continue for at least another week after members of a government-convened expert panel said Wednesday they needed more time to assess its possible links to a clotting disorder.
The Centers for Disease Control and Prevention (CDC) convened a meeting a day after authorities reported six cases of women developing brain clots along with low blood platelet counts, including one death, within two weeks of people getting the one-dose Covid-19 vaccine.
The shot has been given to some 7.2 million Americans, and participants at the meeting were told on Wednesday a seventh case involving a 28-year-old woman has been identified. — AFP
April 14, 2021 - 6:46pm
Russian President Vladimir Putin said Wednesday he has received the second dose of a vaccine against the coronavirus and said he hopes Russians follow his example.
"I want to inform you that right now, before entering this room, I also received the second vaccination," he said at a televised meeting. "I assume that you, taking care of yourself and your loved ones, will do the same and follow my example." — AFP
April 13, 2021 - 2:51pm
A leading local drugmaker says India has authorized the Sputnik V COVID-19 vaccine in a boost for the nation's inoculation drive as infection rates soar to record highs.
Russia's Sputnik V is the third vaccine to be approved by India after the Oxford-AstraZeneca vaccine and Covaxin, which was developed by Indian firm Bharat Biotech.
"We are very pleased to obtain the emergency use authorisation for Sputnik V in India," says G.V. Prasad, co-chair of pharmaceutical company Dr Reddy's Laboratories, in a statement. — AFP