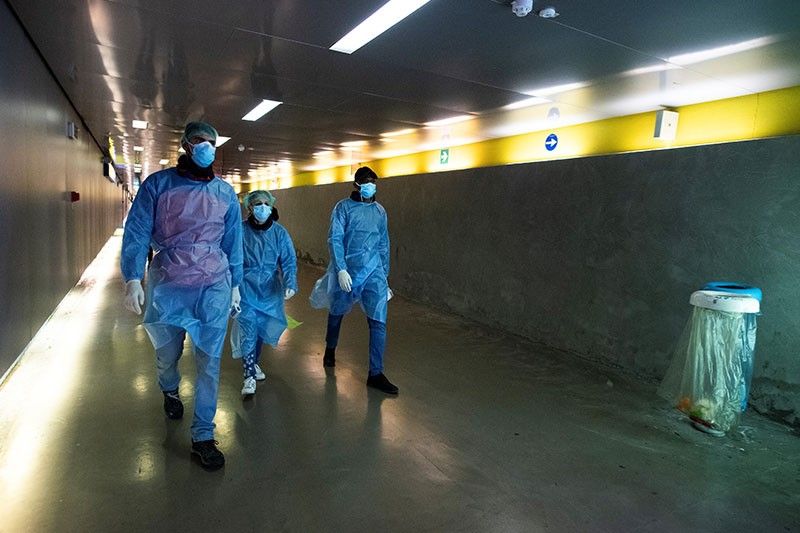 Doctors from MEDU organization (Doctors for Human Rights) roam across the Tiburtina train station on November 25, 2020 in Rome, as part of a MEDU mobile team series of free health checks.
AFP/Tiziana FABI
Italy offers free virus vaccines, starting with doctors
Ella Ide
(Agence France-Presse) - December 2, 2020 - 8:41pm
ROME, Italy — Italy will give all its citizens free vaccinations against coronavirus starting with doctors and care home residents once the jabs are approved, its health minister said Wednesday.
The immunisation drive is expected to begin in the spring. Italy will get its vaccines via an EU procurement programme and is waiting for the European Medicines Agency's green light, Roberto Speranza said.
Britain on Wednesday became the first western country to approve a COVID-19 vaccine for general use, announcing the rollout of a vaccine developed by Germany's BioNTech and its US partner Pfizer from next week.
Meanwhile Europe's medicines regulator has said it will decide by December 29 whether to grant emergency approval to Pfizer-BioNTech's jab, ahead of a rival treatment from Moderna.
The latest timeline suggests Europeans would be lucky to receive the first jabs before the year is over.
Nonetheless, Speranza said: "We can finally see light at the end of the tunnel."
"The vaccine will be distributed to all Italians for free. It will not be obligatory at first. The government will be monitoring how the campaign progresses," he added.
Italy, the first European country to be hit hard by the pandemic early this year, has been battling a new surge in infections in recent months that has taken the total death toll past 56,000.
Shops, restaurants and bars in the worst-affected regions have been shut and a nationwide curfew was imposed, measures that Speranza said had brought infection rates down.
But he said Italians should prepare for restrictions to continue over the Christmas holidays.
"I warn you now: do not mistake the first ray of sunlight for an escape from danger," he said, adding: "If we let down our guard now, the third wave is just around the corner."
Speranza did not give concrete details of new measures that are due to come into force when the previous restrictions expire this week.
'Discouraged'
But he said international travel over the festive season "should be discouraged" and travel between regions would likely be banned — a blow to those hoping to join their relatives in other parts of the country.
All movement between towns is expected to be forbidden on Christmas Day and December 26.
The Italian government is also joining Germany's push for a ban on ski holidays across Europe over Christmas, amid fears resorts could become a major source of coronavirus infections. But it faces opposition from regional leaders, while Austria has said it would be economically disastrous.
"It will be necessary to avoid potential gatherings in places of tourist attraction linked in particular to skiing activities," Speranza said.
The health minister said Italy has signed contracts for vaccines from AstraZeneca, Johnson & Johnson, Sanofi, Pfizer, CureVac and Moderna.
Once approval comes, doctors and health care workers will get the first doses — some 1.4 million people — followed by residents in care homes — just over 570,000 people.
Those aged over 80 will be next in line, followed by those aged between 60 and 79 years old and those suffering from at least one chronic disease.
Vaccines will then be distributed to key workers — teachers, police, prison wardens — before being offered to the general population at walk-in centres.
Speranza urged all lawmakers in Italy, where campaigners against vaccination are very vocal, to get behind the immunisation push.
"There's no government majority or opposition on this, there are simply Italians," he said.
As It Happens
LATEST UPDATE: May 6, 2021 - 9:00pm
Pharma giants Sanofi and GSK said on July 29, 2020, that they have agreed to supply Britain with up to 60 million doses of a potential COVID-19 vaccine. The agreement covers a vaccine candidate developed by France's Sanofi in partnership with the UK's GSK and is subject to a "final contract."
This thread collects some of the major developments in the search for a vaccine to ease the new coronavirus pandemic. (Main photo by AFP/Joel Saget)
May 6, 2021 - 9:00pm
Russian President Vladimir Putin on Thursday said he supported the idea of a waiver on patent protections for coronavirus vaccines and urged his government to consider lifting them for Russia's jabs.
A campaign to lift patent protections on Covid-19 vaccines picked up steam on Thursday, with French, German and EU leadership saying they were ready to discuss a proposal by US President Joe Biden before Putin added his voice in support.
"We are hearing from Europe an idea that, in my opinion, deserves attention -- namely, to remove patent protections from vaccines against COVID-19 altogether," Putin said during a televised meeting with Deputy Prime Minister Tatiana Golikova.
"Russia would of course support such an approach," Putin said, urging Golikova to work out the logistics.
"As I have said many times... We should not think about how to extract maximum profit, but about how to ensure people's safety." — AFP
May 6, 2021 - 7:09pm
Germany is ready to hold talks on a US-backed proposal to waive patents on Covid-19 vaccines, Foreign Minister Heiko Maas says.
"It is a discussion that we're open to," Mass tells reporters when asked about US Trade Representative Katherine Tai's announcement Wednesday that Washington now supports calls for a global waiver on patent protections for Covid-19 vaccines while the pandemic rages.
Maas says Germany would join the discussion about such a move given the "extraordinary situation" of the global coronavirus outbreak. — AFP
May 6, 2021 - 7:04am
The International Federation of Pharmaceutical Manufacturers and Associations expresses disappointment Wednesday at the United States' decision to support a global waiver on patent protections for Covid-19 vaccines.
"As we have consistently stated, a waiver is the simple but the wrong answer to what is a complex problem," the lobby group says in a statement, describing the US move as "disappointing". — AFP
May 5, 2021 - 11:37am
Britain is spending £29.3 million ($40.6 million, 33.8 million euros) on new coronavirus vaccine laboratories in an effort to "future-proof the country from the threat of new variants", the government said Wednesday.
The new labs at the Porton Down research facility in southwest England will be used to test the effectiveness of vaccines against variants and speed up their deployment, according to Health Secretary Matt Hancock.
"We've backed UK science from the very start of this pandemic and this multi-million pound funding for a state-of-the-art vaccine testing facility at Porton Down will enable us to further future-proof the country from the threat of new variants," he says.
May 5, 2021 - 11:35am
The Group of Seven wealthy democracies will discuss coronavirus vaccines Wednesday as they face growing pressure to share stockpiles and know-how with poor nations trailing far behind on fighting the pandemic.
Foreign ministers of Britain, Canada, France, Germany, Italy, Japan and the United States are wrapping up three days of talks in central London that will set the agenda for a G7 leaders' summit next month in Cornwall, southern England.
After a day focused on showing a common front of democracies towards China, the final sessions will also bring in development chiefs and address global challenges including the Covid-19 pandemic and climate change. — AFP