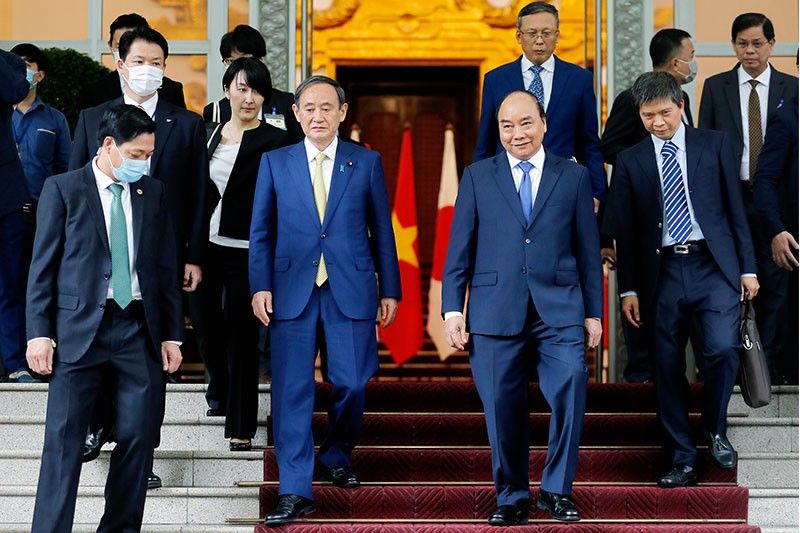 Japan's Prime Minister Yoshihide Suga (centre L) and Vietnam's Prime Minister Nguyen Xuan Phuc (centre R) walk together after a press briefing at Government Office in Hanoi on October 19, 2020.
AFP/Minh HOANG, Pool
Japan, Vietnam boost defence ties as South China Sea tensions mount
(Agence France-Presse) - October 19, 2020 - 6:36pm
HANOI, Vietnam — Japan and Vietnam agreed to step up security and defence cooperation Monday, reaching an agreement in principle for Tokyo to export defence equipment and technology to the Southeast Asian nation.
The deal comes as concerns mount over China's increasing assertiveness in the contested South China Sea, with Beijing expanding its military presence in the region.
The pact would allow Japan to export equipment, likely including patrol planes and radar, to Vietnam, according to Japanese news agency Kyodo.
"It is a big step in the field of security and defence cooperation between the two countries that we reached an agreement in principle on the transfers of defence equipment and technology," said Japanese Prime Minister Yoshihide Suga in Hanoi during his first visit overseas since taking office last month.
"And I believe that it will advance further."
The resource-rich South China Sea is claimed in its entirety by Beijing but is also contested by Vietnam, the Philippines, Malaysia, Brunei and Taiwan.
China has reinforced its claim to the waterway by building up small shoals and reefs into military bases with airstrips and port facilities, and it launched ballistic missiles in the flashpoint waters in August as part of live-fire exercises.
"The two sides agreed to tighten cooperation before regional challenges including the issue of the South China Sea," said Suga.
They would also work together on the issue of Japanese citizens kidnapped by North Korea, he said.
Japan suspects dozens of people who are still missing were abducted by North Korean agents in the 1970s and 1980s to train their own spies in the Japanese language and culture.
Japan and Vietnam also reached an agreement on starting "business track" flights after travel between the two nations was suspended in March.
This would allow executives and skilled workers to travel without a 14-day quarantine period provided they follow certain COVID-19 precautions, Kyodo said.
As It Happens
LATEST UPDATE: July 14, 2021 - 8:49am
July 14, 2021 - 8:49am
Geospatial imagery and analysis firm Simularity stands behind its report on ships dumping raw sewage in the West Philippine Sea, adding a stock photo used in its presentation was not used in its analysis.
"We welcome the news that Philippine agencies are validating our research and results. It is all reproducible, based on publicly available sources, well understood algorithms, and the approach and interpretation are validated by readily available scientific papers, links to which you can find in our report," it says.
July 13, 2021 - 2:44pm
The Department of Environemnt and Natural Resources says it will coordinate with the Philippine Coast Guard and the Department of National Defense "on the authenticity of the allegation" that Chinese ships have been dumping raw waste in areas of the West Philippine Sea, which satellite imaging firm Simularity said has been causing damage to coral reefs in the Spratlys.
"After that, we will be seeking for the attention of the Chinese government through our Department of Foreign Affairs," Undersecretary Benny Antiporda, DENR spokesperson, says.
"We will also validate if indeed these are Chinese vessels," he also says.
July 8, 2021 - 10:59am
Akbayan party-list is planning a rally in front of the Chinese Consular Office in Makati City on July 12 to mark the 5th year since the Permanent Court of Arbitration ruling on China's sweeping claims in the South China Sea.
"The win upheld the country's sovereign rights within its Exclusive Economic Zone (EEZ) against China's 'nine-dash line,' stemming from the landmark case filed by the administration of President Benigno Simeon "Noynoy" Aquino III in 2013," Akbayan says in an advisory.
"The Arbitral Ruling is first and foremost the result of the Filipino people's courageous struggle against foreign aggression, which was matched by President Aquino's strong resolve to file a landmark case against China before the International Tribunal," Dr. RJ Naguit, Akbayan spokesperson, also says.
May 31, 2021 - 11:14am
The government should name and identify rocks and features in the Kalayaan Island Group to assert Philippine sovereignty in the West Philippine Sea, a senator says Monday.
"The features we occupy in the KIG remain unnamed. Mapapalakas ang paggiit natin ng ating karapatan sa WPS kung malinaw ang pangalan, katangian, at sakop ng mga inaangkin nating teritoryo. Udyukin na ng DENR ang National Mapping and Resource Information Authority (NAMRIA) para simulan ang pag-papangalan ng mga ito," Sen. Risa Hontiveros says in a statement.
May 18, 2021 - 10:04pm
The Philippines protests China's unilateral fishing ban in the South China Sea, including the West Philippine Sea.
The Department of Foreign Affairs says the Philippines does not recognize China's fishing moratorium as it covers areas over which the country exercises sovereignty, sovereign rights and jurisdiction.
"China's annual fishing moratorium extends far beyond China's legitimate maritime entitlements under UNCLOS and is without basis under international law," the DFA says in a statement.
JUST IN: The Philippines protests China's unilateral fishing ban in the South China Sea. @PhilstarNews pic.twitter.com/imoUaKNwFN

— Patricia Viray (@patriciaviray) May 18, 2021