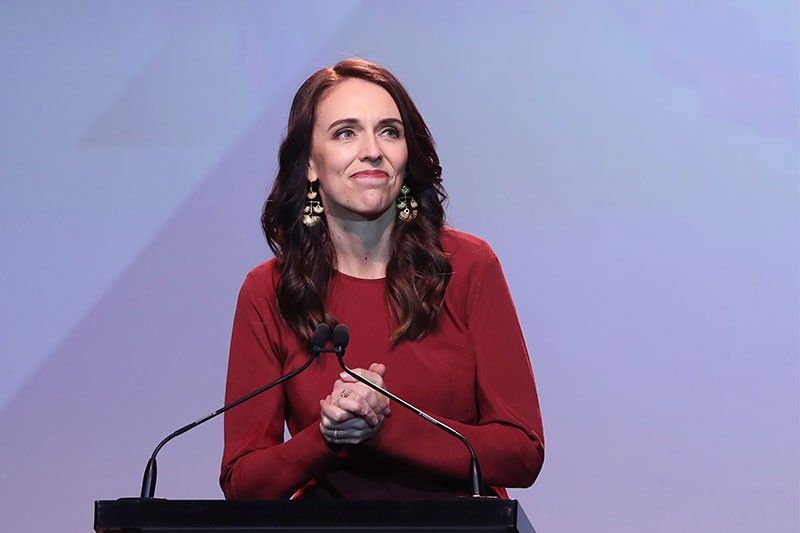 New Zealand Prime Minister Jacinda Ardern speaks at the Labour Election Day party after the Labour Party won New Zealand's general election in Auckland on October 16, 2020.
AFP/MICHAEL BRADLEY
New Zealand announces new virus case day after 'COVID' election
(Agence France-Presse) - October 18, 2020 - 9:32am
WELLINGTON, New Zealand — New Zealand confirmed a new community case of COVID-19 Sunday, two weeks after Prime Minister Jacinda Ardern declared that the South Pacific nation had "beat the virus again".
Director-General of Health Ashley Bloomfield said the latest case involved a port-side worker who returned a positive test on Saturday afternoon.
"Because the person was tested on the day he was developing symptoms, the Ministry of Health was able to self-isolate close contacts," Bloomfield said.
He was potentially infectious as early as Wednesday, October 14.
The announcement came a day after Ardern's Labour Party won a landslide election victory, with her government's handling of the pandemic widely credited as a factor.
Ahead of the vote, Ardern — whose party won 64 seats in the 120-seat parliament — had dubbed it "the Covid election".
She campaigned on her government's success in eliminating community transmission of the virus, which has caused just 25 deaths in a population of five million.
New Zealand declared in May it has beaten community coronavirus transmission, although a new cluster emerged in Auckland in August forcing the country's largest city back into lockdown for several weeks.
As It Happens
LATEST UPDATE: October 25, 2020 - 11:08am
Follow this page for updates on a mysterious pneumonia outbreak that has struck dozens of people in China.
October 25, 2020 - 11:08am
The United States saw a record high number of new daily COVID-19 cases for the second day in a row on Saturday, figures from Johns Hopkins University showed, as warnings grew over its spread.
The country reported 88,973 new infections between 8:30 pm Friday and 8:30 pm Saturday, the figures showed, substantially above the previous day's 79,963.
A total of 8,568,625 cases have been reported in the United States with 224,751 deaths, the highest in the world in absolute terms. — AFP
October 24, 2020 - 4:04pm
The Department of Health reports 2,057 additional cases of the coronavirus disease, bringing the national tally to 367,819.
To date, there are 47,773 active cases. The DOH registers 19 new deaths and 442 additional recoveries.
October 24, 2020 - 2:32pm
Poland's president tests positive for COVID-19, an official says.
October 24, 2020 - 1:24pm
A record of nearly 80,000 new Covid-19 infections over the course of a day were reported in the United States, according to figures from Johns Hopkins University.
Between 8:30 pm Thursday and the same time Friday, 79,963 infections were recorded, bringing the total number since the start of the pandemic to nearly 8.5 million in the country.
The United States had already approached the bar of 80,000 daily cases in July, largely due to new infections in southern states such as Texas and Florida, where the virus was then spreading out of control. — AFP
October 24, 2020 - 10:40am
The northern hemisphere is facing a crucial moment in fighting the COID-19 pandemic, the World Health Organization says, with too many countries witnessing an exponential increase in coronavirus cases.
"The next few months are going to be very tough and some countries are on a dangerous track," WHO chief Tedros Adhanom Ghebreyesus tells a virtual press conference.
"Too many countries are seeing an exponential increase in COVID-19 cases and that is now leading to hospitals and intensive care units running close to or above capacity -- and we're still only in October. — AFP