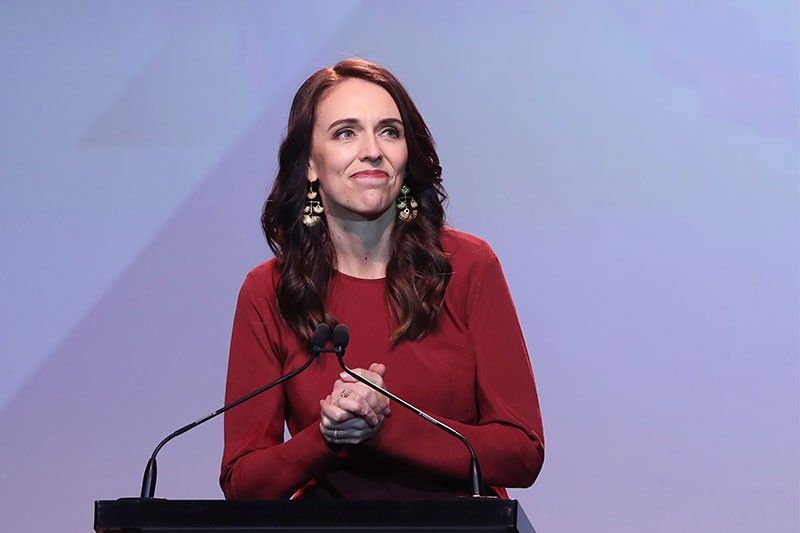 New Zealand Prime Minister Jacinda Ardern speaks at the Labour Election Day party after the Labour Party won New Zealand's general election in Auckland on October 16, 2020.
AFP/MICHAEL BRADLEY
New Zealand announces new virus case day after 'COVID' election
(Agence France-Presse) - October 18, 2020 - 9:32am
WELLINGTON, New Zealand — New Zealand confirmed a new community case of COVID-19 Sunday, two weeks after Prime Minister Jacinda Ardern declared that the South Pacific nation had "beat the virus again".
Director-General of Health Ashley Bloomfield said the latest case involved a port-side worker who returned a positive test on Saturday afternoon.
"Because the person was tested on the day he was developing symptoms, the Ministry of Health was able to self-isolate close contacts," Bloomfield said.
He was potentially infectious as early as Wednesday, October 14.
The announcement came a day after Ardern's Labour Party won a landslide election victory, with her government's handling of the pandemic widely credited as a factor.
Ahead of the vote, Ardern — whose party won 64 seats in the 120-seat parliament — had dubbed it "the Covid election".
She campaigned on her government's success in eliminating community transmission of the virus, which has caused just 25 deaths in a population of five million.
New Zealand declared in May it has beaten community coronavirus transmission, although a new cluster emerged in Auckland in August forcing the country's largest city back into lockdown for several weeks.
As It Happens
LATEST UPDATE: October 20, 2020 - 3:04pm
Follow this page for updates on a mysterious pneumonia outbreak that has struck dozens of people in China.
October 20, 2020 - 3:04pm
A number of European countries took urgent new measures on Monday to combat a second wave of coronavirus infections, as the World Health Organization blamed the surge in worldwide cases — now more than 40 million — on countries' failure to quarantine infected people properly.
Ireland and Wales became the first countries on the continent to re-enter lockdown as the number of people who have died from COVID-19 in Europe passed 250,000, according to an AFP tally.
Irish prime minister Micheal Martin issued a nationwide "stay at home" order from midnight Wednesday, with all non-essential retail businesses to close and bars and restaurants limited to takeaway service only, although schools will remain open. — AFP
October 20, 2020 - 7:29am
Canada, in the midst of a second wave of COVID-19 illnesses, topped 200,000 cases and inched closer to 10,000 deaths Monday, according to official data compiled by Canadian broadcasters CBC and CTV.
About 80% of these cases and more than 90% of the deaths were recorded in the country's two most populous provinces, Ontario and Quebec, which has been the epicenter of the country's epidemic since it broke out in Canada last March.
As of Monday afternoon, Canada had 200,039 cases and 9,772 dead — with its two westernmost provinces still to report their updated tallies — according to the public health data.
That amounts to 532 cases per 100,000 people in the country of 38 million, or five times fewer than in the United States. — AFP
October 19, 2020 - 10:37pm
The novel coronavirus has killed at least 1,114,836 people since the outbreak emerged in China last December, according to a tally from official sources compiled by AFP at 11:00 GMT Monday.
At least 40,064,580 cases of coronavirus have been registered, of whom at least 27,549,400 are now considered recovered.
The tallies, using data collected by AFP from national authorities and information from the World Health Organization (WHO), probably reflect only a fraction of the actual number of infections. Many countries are testing only symptomatic or the most serious cases. — AFP
October 19, 2020 - 8:30pm
South Africa's Health Minister Zweli Mkhize said he has tested positive for COVID-19 just two days after the country's diagnosed cases topped 700,000.
The 64-year-old minister is the fifth member of the government to contract the virus after his colleagues in the ministries of defence, labour, trade and mineral resources.
"I wish to inform the public that this afternoon my wife, Dr May Mkhize, and I have tested positive for COVID-19," said Mkhize is a statement late Sunday. — AFP
October 19, 2020 - 3:44pm
The number of confirmed coronavirus cases worldwide passed 40 million on Monday, according to an AFP tally at 0715 GMT based on official sources.
A total of 40,000,234 infections and 1,113,896 deaths have been recorded across the globe. More than half the global caseload has come in the three hardest-hit countries: the United States with 8,154,935 infections, India with 7,550,273 and Brazil 5,235,344.
In just the last seven days more than that 2.5 million cases have been reported, the highest weekly number since COVID-19 emerged in China late last year.
The increase can only partly be explained by a sharp increase in testing and still likely does not include a large number of less severe or asymptomatic cases. — AFP