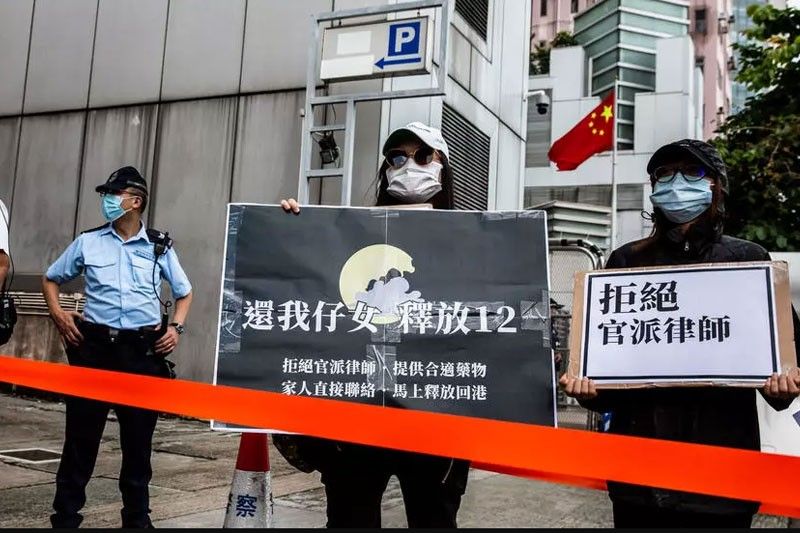 Relatives of the 12 detainees gather outside Beijing's Liaison Office in Hong Kong, to petition for their return.
AFP/Isaac Lawrence
China approves arrest of Hong Kong 'speedboat fugitives'
(Agence France-Presse) - October 1, 2020 - 8:05am
BEIJING, China — Chinese authorities formally approved on Wednesday the arrests of 12 Hong Kong activists caught last month while allegedly trying to flee the city for Taiwan.
The group was snared some 70 kilometres (43 miles) southeast of the city on August 23 while trying to escape by boat, authorities said at the time, adding that they were handed to police in Shenzhen, the mainland metropolis bordering Hong Kong.
They had since disappeared into China's opaque judicial system, with lawyers struggling to access them and family members expressing fear over their fate.
On Wednesday the People's Procuratorate of Yantian District in Shenzhen said it had approved the arrests.
Two of the detainees, referred to as Deng and Qiao respectively, were arrested on suspicion of helping the others escape Hong Kong.
These names were likely to refer to the Chinese surnames of detainees Tang Kai-yin and Quinn Moon.
The other 10 — including suspects surnamed Li and Huang — were arrested for making illegal border crossings.
The case remained under investigation, the statement said.
Families of the 12 said in a statement they were "shocked and concerned" by the approval.
Hong Kong's Security Bureau confirmed that mainland authorities informed local police of Wednesday's approval, but declined to comment on families' complaints of lawyers being barred from visiting the detainees.
Some of those aboard the boat were facing prosecution in Hong Kong for activities linked to last year's huge and often violent pro-democracy protests.
Lu Siwei, one of the mainland lawyers working on the case, told AFP the period of detention for investigation could last up to seven months.
"Review of (the) detention's legality can be applied for any time," Lu added, but said that "for now it remains most important to seek a meeting with the 12 in custody".
At least 14 mainland lawyers hired by the detainees' families have been pressured by authorities to drop their clients, according to activists.
None of the lawyers have managed to see their clients in custody, while senior officials in Hong Kong said the 12 were assigned lawyers by mainland Chinese authorities.
Hong Kong has its own internationally respected common law legal system where detainees are promptly produced after their arrest and tried in open court, but the judicial system on the mainland is notoriously opaque and controlled by the Communist Party, such that conviction is all but guaranteed.
In June, Beijing imposed a new security law on Hong Kong, announcing it would have jurisdiction for some crimes and that mainland security agents could openly operate in the city.
The prospect of Hong Kongers getting entangled in China's judicial system was the spark that lit seven months of protests last year.
The movement began in response to a plan to allow extraditions to the mainland, and soon morphed into wider calls for democracy and greater police accountability.
As Beijing has cracked down on Hong Kong's democracy movement, democratic Taiwan has emerged as a sanctuary, quietly turning a blind eye to residents turning up without proper visas or paperwork.
As It Happens
LATEST UPDATE: October 16, 2020 - 7:00pm
Millions march in Hong Kong in a powerful rebuke of an extradition law feared to expose them to China's capricious justice system.
October 16, 2020 - 7:00pm
A top Chinese diplomat warns Canada against granting asylum to Hong Kong democracy protesters, adding that doing so could jeopardize the "health and safety" of Canadians living in the southern Chinese financial hub.
The remarks by Cong Peiwu, Beijing's Ottawa envoy, prompted a rebuke from Canada's foreign minister, further escalating tensions between the two countries.
Cong was responding to reports that a Hong Kong couple who took part in last year's huge and sometimes violent protests had been granted refugee status. — AFP
October 1, 2020 - 4:23pm
Hong Kong's leader Thursday hailed her city's "return to peace" after China imposed a security law that helped suppress a pro-democracy movement, as just a handful of people defied a heavy police presence and protested during National Day celebrations.
The People's Republic of China celebrates its founding on October 1 with a holiday and carefully choreographed festivities.
But in Hong Kong, it has become a day of grievance for those worried about authoritarian Beijing's intensifying crackdown against its opponents.
Protest has been effectively outlawed for most of this year and Beijing also imposed a strict national security law on the semi-autonomous business hub in June. — AFP
September 24, 2020 - 7:56pm
The European Union on Thursday criticised the arrest of prominent Hong Kong activist Joshua Wong, saying it was "troubling" and undermined trust in China.
The 23-year-old's detention for for "unlawful assembly" over a 2019 demonstration comes after China imposed a sweeping new national security law on Hong Kong in late June.
"The arrest of Hong Kong pro-democracy activist Joshua Wong on 24 September is the latest in a troubling series of arrests of pro-democracy activists since the summer," an EU spokesperson said, calling for "very careful scrutiny" by the judiciary.
"Developments in Hong Kong call into question China's will to uphold its international commitments, undermine trust and impact EU-China relations."
The EU has repeatedly voiced concern at the new Hong Kong security law, which critics say erodes important freedoms in the city. — AFP
September 16, 2020 - 6:24pm
A Swiss photographer who closed a door on a Chinese mainlander moments before he was assaulted during last year's Hong Kong democracy protests should not be held responsible for the attack, his lawyers argued Wednesday.
Marc Progin, a long-time Hong Kong resident, is facing up to a year in jail for "aiding and abetting public disorder" over the incident in which JP Morgan employee Lin Nan was punched.
Footage of Progin closing the door moments before a masked man assaulted Lin went viral and caused widespread anger in mainland China.
Prosecutors said Progin, 75, deliberately shut a door leading to JP Morgan's regional headquarters as an argument broke out between a crowd of pro-democracy supporters and Lin last October.
They argued his actions effectively enabled the assault on Lin and that Progin therefore took part in the unfolding public disorder.
Defense lawyers said Progin was simply doing his job and that he closed the door to get a better angle to capture the argument through his lens.
Defense counsel Michael Delaney said Progin had no intention to "stop, block or obstruct" Lin and that the behavior of the crowd had nothing to do with Progin. — AFP
September 15, 2020 - 3:18pm
Hong Kong activists shouted anti-government slogans outside court on Tuesday as more than two dozen high profile democracy campaigners appeared over a banned vigil to mark the Tiananmen Square crackdown.
Tens of thousands of Hong Kongers defied a ban on rallies on June 4 to mark the anniversary of Beijing's deadly suppression of students pushing for democracy.
The annual vigil has been held in Hong Kong for the last three decades and usually attracts huge crowds, but this year's gathering was banned for the first time with authorities citing coronavirus measures — even though local transmission had largely been halted.
The group of defendants represents a broad section of the pro-democracy movement, from 72-year-old media mogul Jimmy Lai to younger campaigners such as Joshua Wong. — AFP