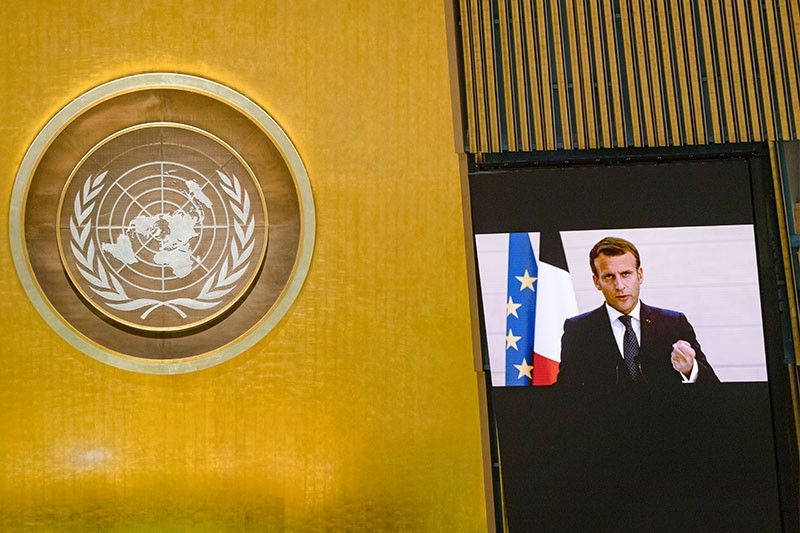 This UN handout photo shows French President Emmanuel Macron as he virtually addresses the general debate of the 75th session of the United Nations General Assembly, on September 22, 2020, in New York.
AFP/Rick BAJORNAS/UNITED NATIONS
World should not be dominated by China-US 'rivalry': Macron
(Agence France-Presse) - September 23, 2020 - 7:53am
UNITED NATIONS, United States — World leaders must not let themselves be dominated by a power struggle between the US and China, French President Emmanuel Macron told the UN on Tuesday, calling for a "modern new consensus" on tackling global challenges.
"The world today cannot be reduced to the rivalry between China and the United States, irrespective of the global weight of these great powers," Macron told the UN General Assembly by video.
Borrowing a term that describes a duet in ballet, he said: "We do not have to settle for a 'pas de deux' that would make us only the rueful spectators of a collective powerlessness."
Macron has already warned that Washington's retreat from the global stage will require Europe to forge its own common defense strategy, and reduce its alliance on key technologies currently supplied by US or Chinese giants.
"The complete dependence on certain powers, with regards to technologies, food or industry, creates vulnerabilities that no longer allow the balances that go hand in hand with global stability," Macron told the UN.
The coronavirus crisis, he warned, has further undermined support for multilateralism and encouraged the willingness of some nations to ignore UN injunctions or international law.
"There will surely be a cure one day for this pandemic. But there will not be a miracle cure for this destruction of the contemporary order," he said.
"This pandemic must be an electric shock for our organization," he said, urging leaders to seize a chance to "clearly lay out our choices and build new alliances."
France will work on deepening its cooperation with UN partners to ensure "that the foundations of our organization are not swept away by the pandemic."
"Multilateralism is not simply an act of faith — it's an operational necessity," he said. "No country will get out of this ordeal on its own."
As It Happens
LATEST UPDATE: November 17, 2020 - 8:23am
The US decision to disinvite China from upcoming maritime exercises in the Pacific is "non-constructive," China's Foreign Affairs Minister Wang Yi says.
"We find that a very non-constructive move," Wang says at a press conference with Secretary of State Mike Pompeo after the two met in Washington.
"It's also a decision taken lightly and is unhelpful to mutual understanding between China and the US." — Agence France-Presse
November 17, 2020 - 8:23am
Chinese telecom giant Huawei announced Tuesday it has sold its Honor budget phone line to a domestic consortium, a move it said was necessary to keep the brand alive amid "tremendous" supply chain pressures caused by US sanctions.
Honor has been purchased by a group of 40 companies comprised of agents, distributors and other businesses dependent on the brand's survival, Huawei and the consortium said in separate statements. — AFP
November 13, 2020 - 11:43am
US President Donald Trump signed an order Thursday that will ban Americans from investing in Chinese firms that could help Beijing's military and security apparatus.
The executive order said the Chinese government obliges private firms to support these activities and through capital markets "exploits United States investors to finance the development and modernization of its military."
The ban takes effect January 11, just days before Trump's presidency ends, and is the latest move in increasingly tense US relations with the Asian power.
Investors have until November 11, 2021 to divest any holdings in the banned companies, according to the order. — AFP
November 10, 2020 - 12:27pm
The United States has imposed sanctions on four more officials accused of curbing freedoms in Hong Kong, vowing accountability over China's clampdown in the city.
Edwina Lau, head of the National Security Division of the Hong Kong Police Force, was among the officials who will be barred from traveling to the United States and whose US-based assets, if any, will be frozen.
"These actions underscore US resolve to hold accountable key figures that are actively eviscerating the freedoms of the people of Hong Kong and undermining Hong Kong's autonomy," Secretary of State Mike Pompeo said in a statement Monday.
Other officials hit by the latest sanctions include Li Jiangzhou, deputy director of a Hong Kong office for "safeguarding national security."
The United States has already imposed similar sanctions on Hong Kong's top leader, Carrie Lam, who is an ally of Beijing.
Lam has tried to downplay the impact but acknowledged that she had trouble with a credit card after the sanctions. — AFP
October 23, 2020 - 3:49pm
Chinese President Xi Jinping on Friday warned of China's military resolve to defeat "invaders", speaking on a 70th anniversary for the Korean War, the only time Chinese forces have fought the United States.
In a long speech, heavy on patriotism and flecked by anecdotes of heroism by Chinese forces, Xi said victory in the 1950-53 conflict was a reminder that his nation stood ready to fight anyone "creating trouble... on China's doorstep".
Beijing frequently uses war anniversaries to fire thinly covered warnings to the US of the military strength of the "new China".
The Korean War is a key foundation story for the ruling Communist Party.
Friday's anniversary comes as the party is called out by US President Donald Trump, in a bitter row spanning trade, tech, human rights and the status of Taiwan, which China says is an inviolable part of the mainland. — AFP
October 15, 2020 - 12:15pm
A US warship sailed through the Taiwan Strait in what the American military described as a "routine" passage Wednesday, but enraging China, which claims sovereignty over the island and surrounding seas.
Ties between Beijing and Washington have deteriorated in recent months, over issues including trade and Hong Kong, with the self-ruled island of Taiwan a long-running source of tension.
The guided-missile destroyer USS Barry passed through the Strait on October 14, according to a statement by the US Pacific Fleet.
"The ship's transit through the Taiwan Strait demonstrates the US commitment to a free and open Indo-Pacific," the statement says. —