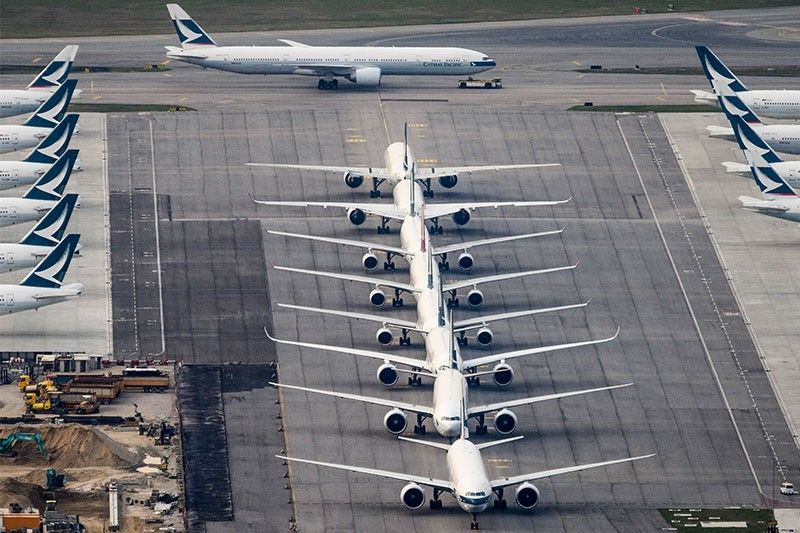 In this file photograph taken on March 10, 2020, a Cathay Pacific passenger airplane (top) is taxied onto the runway as other aircraft belonging to the local flagship carrier are seen parked on the tarmac at Chek Lap Kok International Airport in Hong Kong. The coronavirus has upended everyday life in the six months since the crisis was declared a pandemic by the World Health Organization (WHO). While our understanding of the new respiratory disease has steadily increased since it was first detected in China last year, what lies ahead over the next half-year remains unknown.
AFP/Anthony Wallace
US eases China travel warning, citing virus progress
(Agence France-Presse) - September 15, 2020 - 8:01am
WASHINGTON, United States — The United States on Monday eased its warning against travel to China, acknowledging that the nation had made progress against Covid-19 despite frequent US criticism of its pandemic role.
The State Department still urges Americans to reconsider travel to China, but it upgraded its advice from a blanket warning not to go to the country.
The People's Republic of China "has resumed most business operations (including day cares and schools)," the State Department said.
"Other improved conditions have been reported within the PRC," it said.
The State Department separately still cautioned US citizens about the risk of arbitrary arrest in China, including in Hong Kong as Beijing enforces a tough new security law.
The updated travel advice comes a week after China declared victory over the virus as President Xi Jinping decorated medical professionals in a triumphant ceremony.
China's propaganda machine has sought to reframe Covid-19 as an example of the state's agile leadership against the global pandemic that emerged in the country.
President Donald Trump's administration has frequently lashed out at China and blamed it for Covid-19, news of which was initially suppressed when cases were first reported in the city of Wuhan.
Trump, who faces elections in less than two months, has faced heavy criticism for his handling of the health crisis in the United States, which has suffered the highest death toll of any country.
As It Happens
LATEST UPDATE: September 28, 2020 - 1:13pm
The US decision to disinvite China from upcoming maritime exercises in the Pacific is "non-constructive," China's Foreign Affairs Minister Wang Yi says.
"We find that a very non-constructive move," Wang says at a press conference with Secretary of State Mike Pompeo after the two met in Washington.
"It's also a decision taken lightly and is unhelpful to mutual understanding between China and the US." — Agence France-Presse
September 28, 2020 - 1:13pm
Europe and the United States need to face up to a "new Cold War with China" together, regardless of who wins the White House in November, Germany's point man on transatlantic ties told AFP.
With just five weeks to go until the US election, the German government's coordinator for relations with the United States and Canada, Peter Beyer, insisted there were more shared interests than differences.
"Europe has got to stand shoulder-to-shoulder with the US to face the huge challenge of China," he said.
"The new Cold War between the United States and China has already begun and will shape this century." — AFP
September 22, 2020 - 10:14pm
US President Donald Trump tells the UN General Assembly on Tuesday that China must be held accountable by the world for its actions over the COVID-19 pandemic.
In a recorded message played to the annual meeting of the UN, Trump accused Beijing of allowing the coronavirus to "leave China and infect the world."
"The United Nations must hold China accountable for their actions," he said. — AFP
September 19, 2020 - 1:09pm
China says it had officially implemented a mechanism enabling it to restrict foreign entities, a much-anticipated move seen as retaliation to US penalties against Chinese companies such as telecom giant Huawei.
An announcement by the Ministry of Commerce did not mention any specific foreign entities, but broadly spelled out the factors that could trigger punitive measures, which may include fines, restriction of business activities and investment in China, and the entry of personnel or equipment into the country.
The launch of China's "unreliable entities list" ups the ante in the escalating commercial fight with the Trump administration, which has used its own "entity list" to bar Huawei from the US market on national security grounds. — AFP
September 14, 2020 - 4:13pm
The US ambassador to China, Terry Branstad, is stepping down, Secretary of State Mike Pompeo announced Monday.
Thanking Branstad for his service, Pompeo said in a tweet that he had "contributed to rebalancing U.S.-China relations so that it (sic) is results-oriented, reciprocal, and fair."
The former two-term Iowa governor, 73, had been in the post since May 2017, representing Washington in Beijing during a period of strained ties with China, marked by tensions over trade, regional territorial claims, the coronavirus pandemic, and unrest in Hong Kong.
The reasons for the ambassador's departure were not immediately clear. — AFP
September 10, 2020 - 9:33am
The United States has revoked visas of more than 1,000 Chinese students and researchers under an order by President Donald Trump that accused some of them of espionage, the State Department said Wednesday.
Trump, in a May 29 proclamation as tensions rose with Beijing on multiple fronts, declared that some Chinese nationals officially in the United States for study have stolen intellectual property and helped modernize China's military.
The State Department, offering its first figures on the effects of Trump's order, said that more than 1,000 visas have been revoked since it began implementing the proclamation on June 1. -- AFP