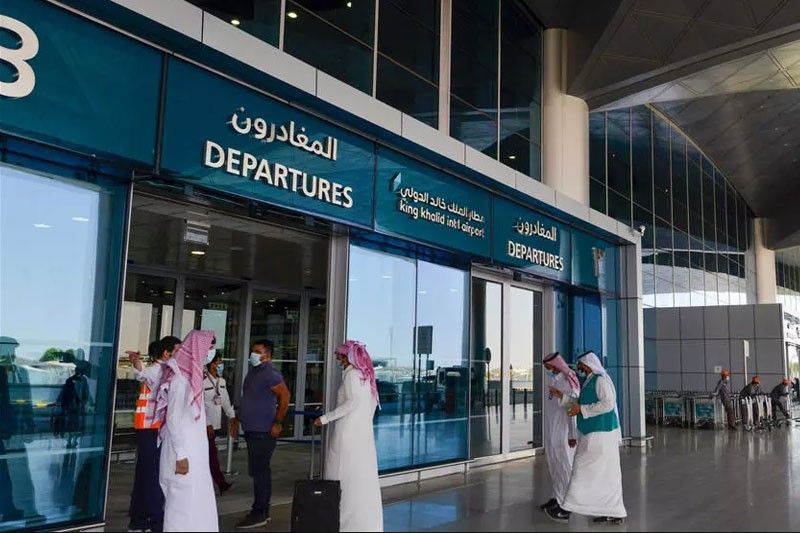 Saudi Arabia will partially lift its suspension of international flights from September 15.
AFP, File
Saudi to ease international flight restrictions Tuesday
(Agence France-Presse) - September 14, 2020 - 7:59am
RIYADH, Saudi Arabia — Saudi Arabia will partially lift its suspension on international flights from Tuesday, the interior ministry said, six months after travel curbs were imposed due to the coronavirus pandemic.
The kingdom will end all restrictions on air, land and sea transport for Saudi citizens "after January 1" next year, the ministry added on Sunday, adding that an exact date will be announced in December.
Gulf citizens and non-Saudis with valid residency permits or visas will be allowed to enter the kingdom from Tuesday as long as they are not infected with the virus, the ministry said in a statement published by the official Saudi Press Agency.
People in other "exceptional categories", including Saudi government and military employees, embassy workers, students and people requiring medical treatment, will also be allowed to enter and exit the kingdom from Tuesday.
Saudi Arabia had suspended international flights in March, leaving many citizens and residents stranded overseas.
The ministry added that Saudi Arabia will later announce a plan to gradually allow the umrah pilgrimage.
Saudi Arabia suspended the year-round umrah in March over fears of the coronavirus pandemic spreading to Islam's holiest cities.
The kingdom also organised a scaled-down hajj in late July, with only up to 10,000 Muslims taking part in the annual pilgrimage, a far cry from the 2.5 million who participated last year.
The kingdom has sought to contain a spike in infections, which have now risen to more than 325,000 cases -- the highest in the Gulf -- and over 4,200 deaths.
But Saudi Arabia has also reported a high rate of recoveries, which surpassed 302,000 on Sunday.
In June, the kingdom moved to end a coronavirus curfew across the kingdom and lift restrictions on businesses, including cinemas and other entertainment venues.
As It Happens
LATEST UPDATE: March 8, 2021 - 8:53pm
Follow this page for updates on a mysterious pneumonia outbreak that has struck dozens of people in China.
March 8, 2021 - 8:53pm
Syrian President Bashar al-Assad and his wife Asma have tested positive for COVID-19 after experiencing mild symptoms, the presidency says Monday.
"After experiencing mild symptoms that resemble... COVID-19, President al-Assad and first lady Asma Al-Assad took a PCR test, and the result showed that they are infected with the virus," the presidency said in a statement.
"They are in good health and their condition is stable," the statement added. — AFP
March 8, 2021 - 12:34pm
Children return to school in England on Monday for the first time since January, as the government begins to ease tough restrictions thanks to a mass vaccination drive against the coronavirus.
Throughout the latest lockdown since the start of the new year, schools have remained open to children of key workers and the most vulnerable.
But all other youngsters have been at home, causing a headache for working parents, and fears about the effect on their learning. — AFP
March 7, 2021 - 10:52am
South Korea and the United States will conduct their annual military training this week but the drills will be smaller because of COVID-19, Seoul says.
The nine-day exercise that begins Monday is still likely to infuriate the North, which has long considered them rehearsals for invasion.
"The upcoming annual training is a computer-simulated command post exercise that is strictly defensive in nature," the Joint Chiefs of Staff says in a statement, adding they went ahead with plans after considering the pandemic. — AFP
March 6, 2021 - 11:37am
The US Senate broke a logjam late Friday when a centrist Democrat compromised on a key provision of the Covid relief package, setting the $1.9 trillion bill on a likely path to passage.
Democrats had struggled to keep Senator Joe Manchin's support for expanded unemployment aid in the sprawling measure, and he threatened to side with Republicans in the evenly divided chamber.
But the deal, which reduced the jobless benefits, kept Manchin on board and allowed action to resume in the Senate as it navigates toward passage of President Joe Biden's top legislative priority sometime this weekend.
Manchin, keen on more fiscal restraint than was evident in the Biden package, was flexing his political muscle, balking at an amendment that would increase weekly additional unemployment benefits from $300 to $400, and extending them through August. — AFP
March 5, 2021 - 4:02pm
The Philippines records 3,045 new coronavirus infections Friday—the highest single day rise since mid-October, pushing the country's caseload to 587,704.
The department also records 178 new recoveries and 19 more fatalities, bringing the total of survivors to 535,207 and the death toll to 12,423, respectively.
Active cases in the country are at 40,074 or 6.8% of the total cases.