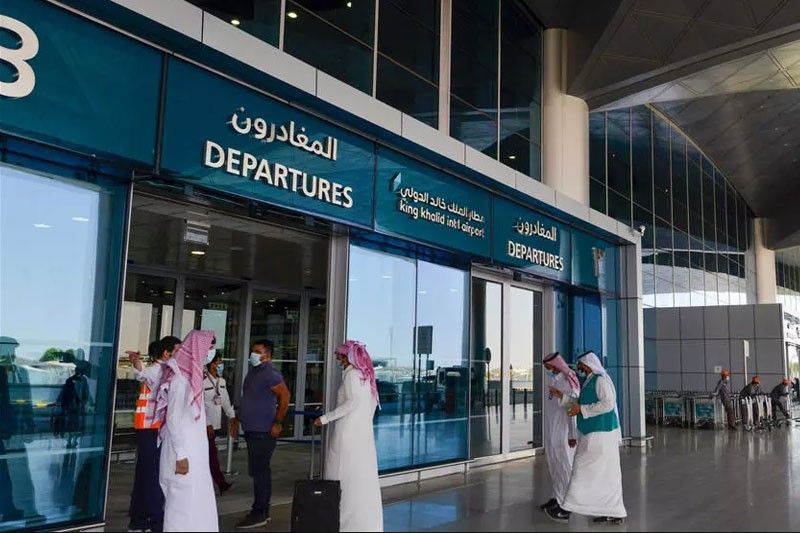 Saudi Arabia will partially lift its suspension of international flights from September 15.
AFP, File
Saudi to ease international flight restrictions Tuesday
(Agence France-Presse) - September 14, 2020 - 7:59am
RIYADH, Saudi Arabia — Saudi Arabia will partially lift its suspension on international flights from Tuesday, the interior ministry said, six months after travel curbs were imposed due to the coronavirus pandemic.
The kingdom will end all restrictions on air, land and sea transport for Saudi citizens "after January 1" next year, the ministry added on Sunday, adding that an exact date will be announced in December.
Gulf citizens and non-Saudis with valid residency permits or visas will be allowed to enter the kingdom from Tuesday as long as they are not infected with the virus, the ministry said in a statement published by the official Saudi Press Agency.
People in other "exceptional categories", including Saudi government and military employees, embassy workers, students and people requiring medical treatment, will also be allowed to enter and exit the kingdom from Tuesday.
Saudi Arabia had suspended international flights in March, leaving many citizens and residents stranded overseas.
The ministry added that Saudi Arabia will later announce a plan to gradually allow the umrah pilgrimage.
Saudi Arabia suspended the year-round umrah in March over fears of the coronavirus pandemic spreading to Islam's holiest cities.
The kingdom also organised a scaled-down hajj in late July, with only up to 10,000 Muslims taking part in the annual pilgrimage, a far cry from the 2.5 million who participated last year.
The kingdom has sought to contain a spike in infections, which have now risen to more than 325,000 cases -- the highest in the Gulf -- and over 4,200 deaths.
But Saudi Arabia has also reported a high rate of recoveries, which surpassed 302,000 on Sunday.
In June, the kingdom moved to end a coronavirus curfew across the kingdom and lift restrictions on businesses, including cinemas and other entertainment venues.
As It Happens
LATEST UPDATE: September 18, 2020 - 7:28pm
Follow this page for updates on a mysterious pneumonia outbreak that has struck dozens of people in China.
September 18, 2020 - 7:28pm
Israel imposes a second nationwide lockdown to tackle one of the world's highest coronavirus infection rates, hours before the Jewish holiday season begins.
The three-week shutdown from 2:00 pm (1100 GMT) started just hours before Rosh Hashana, the Jewish new year, and will extend through other key religious holidays, including Yom Kippur and Sukkot. — AFP
September 18, 2020 - 6:41pm
Britain's government warns it could re-impose a national lockdown across England to counter the coronavirus pandemic, noting rates of hospitalisation are doubling every eight days.
"We want to avoid a national lockdown, but we're prepared to do it if we need to," Health Secretary Matt Hancock tells BBC television.
"We're prepared to do what it takes both to protect lives and to protect livelihoods," he says, warning of more local measures to come after restrictions were placed on swathes of northeast England from Friday. — AFP
September 18, 2020 - 4:17pm
The Department of Health registers 3,257 additional infections, bringing the national caseload to 279,526.
There are 47 new deaths and 733 new recoveries.
September 18, 2020 - 7:33am
The novel coronavirus has killed at least 941,473 people since the outbreak emerged in China last December, according to a tally from official sources compiled by AFP at 1100 GMT on Thursday.
At least 29,914,290 cases of coronavirus have been registered. Of these, at least 20,131,400 are now considered recovered.
The tallies, using data collected by AFP from national authorities and information from the World Health Organization (WHO), probably reflect only a fraction of the actual number of infections. — AFP
September 17, 2020 - 8:57pm
India's total coronavirus cases passed five million on Wednesday, health ministry data showed, as the pandemic extends its grip on the vast country at an ever-faster rate.
With its latest one million cases recorded in just 11 days, a world record, India now has 5.02 million infections. Only the United States has more, with 6.59 million.
India has for some time been recording the world's biggest daily jumps in cases, and on Wednesday, the rise was just over 90,000 with a record 1,290 deaths.
While India took 167 days to reach one million cases, the next million came in just 21 days, faster than the US and Brazil, according to the Times of India.
Just 29 days later, India became only the third country after the US and Brazil to post four million infections. India passed Brazil earlier this month. — AFP