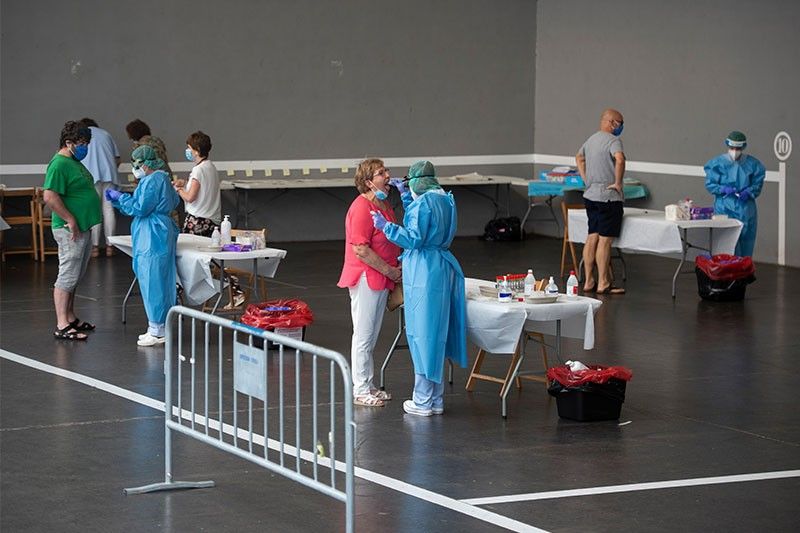 Healthcare workers collect samples from people at a temporary testing centre for the novel coronavirus in Spanish Basque city of Azpeitia on August 15, 2020 following a new outbreak in the city. Spain said it was closing discos and banning smoking in the street without social distancing, as it stepped up restrictions to stop the spread of the new coronavirus.
AFP/ANDER GILLENEA
Spain again grapples with Europe's worst virus infection rate
(Agence France-Presse) - August 17, 2020 - 8:01am
MADRID, Spain — Just seven weeks after bringing its first coronavirus wave under control, experts say Spain is once again in a "critical" situation with the worst infection rate in Western Europe.
The country reported an average of 4,923 new daily cases of the respiratory disease during the last seven days, a higher amount than that of Britain, France, Germany and Italy combined, according to a tally compiled by AFP based on official figures.
Spain counts 95 COVID-19 cases per 100,000 people, compared to 24 in France, 17 in Britain, 13 in Germany and just eight in Italy, the first country outside of China to be hit hard by the pandemic.
The spike has led a growing list of countries to impose restrictions on travel to Spain, which has nearly 323,000 confirmed cases of the disease, the highest number in Western Europe and 11th highest in the world.
"It's a critical moment, we are right at a point where things can get better or worse," said Salvador Macip, an expert in health sciences at Catalonia's Open University who has written a book called "The Great Modern Plagues".
"This means we have to pull out all the stops to curb outbreaks before they become more serious," he told AFP.
There are currently more than 500 outbreak clusters in Spain, according to the health ministry. The ministry's emergencies coordinator Fernando Simon acknowledged Monday that there are cases of community transmission in some places that are "not perfectly controlled" but he said they had "gradually subsided" in recent days.
'Perfect storm'
Spain in mid-March imposed one of the strictest lockdowns in Europe to fight the spread of the virus, with people allowed outside only to buy food, seek medical care, briefly walk their dog or go to work if they could not do so remotely.
When the lockdown measures were completely lifted on June 21, the country reported just 238 new infections and it had just eight cases per 100,000 people.
But infections have surged since the first week of July, in part because the government "rushed" to open the economy "surely thinking about tourism", a pillar of the Spanish economy, said Joan Cayla, the head of Barcelona's Tuberculosis Investigation Unit, which now focuses on COVID-19.
Several outbreak clusters have been reported among seasonal farm workers -- who often live in crammed conditions -- since the summer harvest season began, helping fuel the rise in cases, Macip added.
And the start of warm weather has led people to "relax" a bit, in country where physical contact and get togethers with friends and family are common, Macip said.
This helped create a "perfect storm", Macip said.
He said the best way to curb infections is with more testing, public education campaigns and hiring more people to carry out contact tracing -- and there have been "flaws" in all three areas.
The situation has led other European nations to be increasingly wary of Spain, with Germany on Tuesday classifying Madrid and Basque Country as at risk, advising tourists to avoid them.
Falling death rate
Spain's powerful regional governments, which are responsible for health care, have taken drastic measures to curb outbreaks, such as shutting down nightclubs and making the use of face masks in public mandatory despite the heat.
Several regions have also launched public awareness campaigns with hard-hitting images to encourage youths to respect social distancing measures.
The federal government defends it record, arguing that more cases are being detected because more tests are being carried out -- around 7.5 million so far, with 407,700 last week alone.
It points out that more than half of new infections are amongst asymptomatic patients, who show no symptoms but can still pass on the virus, that hospitals are far from being overwhelmed and that the rate of death from the virus has dropped significantly.
Spain recorded 950 daily COVID-19 deaths on April 2 alone when its first coronavirus wave peaked -- compared to a total of 253 deaths since lockdown measures ended on June 21, for a total of 28,576 fatalities. — Diego Urdaneta
As It Happens
LATEST UPDATE: January 18, 2021 - 9:27pm
Follow this page for updates on a mysterious pneumonia outbreak that has struck dozens of people in China.
January 18, 2021 - 9:27pm
The novel coronavirus has killed at least 2,031,048 people since the outbreak emerged in China in December 2019, according to an AFP tally from official sources at 1100 GMT on Monday.
More than 94,964,590 cases of coronavirus have been registered. Of these, at least 57,817,100 are now considered recovered.
These figures are based on daily tolls provided by health authorities in each country and exclude later re-evaluations by statistical organisations, as has happened in Russia, Spain and Britain. — AFP
January 18, 2021 - 6:45pm
Nearly three million people were put under lockdown in China Monday after a surge in coronavirus cases linked to a travelling salesman in the country's northeast.
While China has largely brought the virus under control, a sharp rise in cases in the past few weeks has prompted fresh lockdowns, travel restrictions and multiple rounds of mass testing.
Monday saw three million residents of two cities in northeastern Jilin province placed under new measures, as China reported 109 new infections. — AFP
January 16, 2021 - 2:04pm
India is set to begin one of the world's largest coronavirus vaccination drives Saturday as the pandemic spread at a record pace and global COVID-19 deaths surged past two million.
The World Health Organization has called for accelerating vaccine rollouts worldwide as well as ramping up efforts to study the sequencing of the virus, which has infected more than 93 million people globally since it was first detected in China in late 2019.
India, home to 1.3 billion people, has the world's second-largest caseload, and the government has given approvals to two vaccines -- though one is yet to complete clinical trials -- aiming to inoculate around 300 million people by July. — AFP
January 16, 2021 - 10:26am
US Secretary of State Mike Pompeo alleges there were COVID-like illnesses among staff at a Chinese virology institute in autumn 2019, casting further blame on Beijing as health experts arrived in the country to probe the pandemic's origins.
The top US diplomat in a statement urged the World Health Organization team that landed Thursday in Wuhan, where COVID-19 was first detected, to "press the government of China" on the "new information."
"The United States government has reason to believe that several researchers inside the (Wuhan Institute of Virology) became sick in autumn 2019, before the first identified case of the outbreak, with symptoms consistent with both COVID-19 and common seasonal illnesses," Pompeo says. — AFP
January 16, 2021 - 9:06am
The global death toll from COVID-19 has surpassed two million, with the World Health Organization urging mass vaccinations as the pandemic progresses at a record pace.
As of 1825 GMT on Friday, at least 2,000,066 people worldwide had been confirmed dead of the virus that first emerged in Wuhan, China, in late 2019, according to an AFP tally.
The grim milestone came as US pharmaceutical giant Pfizer said shipments of its vaccines would slow for a period in late January -- a blow to fledgling campaigns to immunize people against the virus. — AFP