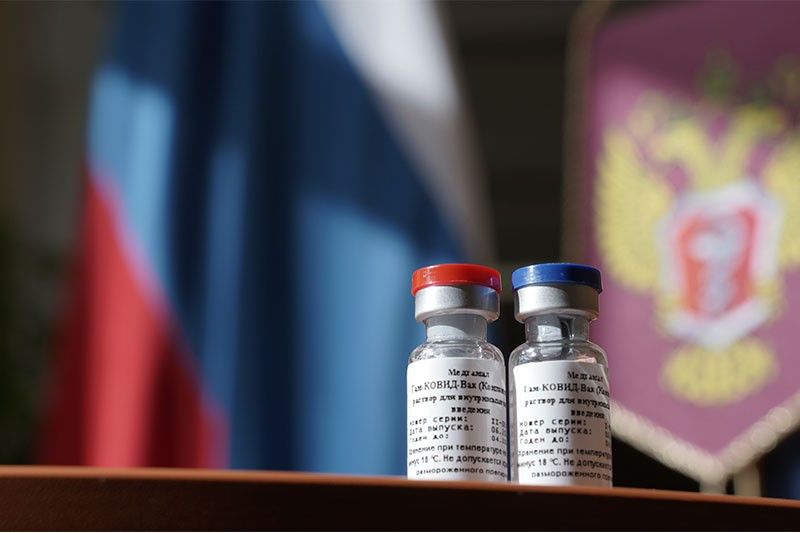 This handout picture released by the Russian Health Ministry on August 11, 2020 shows the vaccine against the coronavirus disease, developed by the Gamaleya Research Institute of Epidemiology and Microbiology.
AFP/Dmitry Kurakin/Russia's Health Ministry
WHO wants to review Russian vaccine safety data
GENEVA, Switzerland — The World Health Organization said any WHO stamp of approval on a COVID-19 vaccine candidate would require a rigorous safety data review, after Russia announced Tuesday it had approved a vaccine.
President Vladimir Putin said Russia had become the first country to approve a vaccine offering "sustainable immunity" against the new coronavirus.
"We are in close contact with the Russian health authorities and discussions are ongoing with respect to possible WHO pre-qualification of the vaccine," said the United Nations health agency's spokesman Tarik Jasarevic.
"Pre-qualification of any vaccine includes the rigorous review and assessment of all the required safety and efficacy data," he told reporters in Geneva at an online press briefing.
Russia's Sputnik V vaccine has been developed by the Gamaleya research institute in coordination with the country's defence ministry.
A total of 168 candidate vaccines are being worked on around the world, according to a WHO overview published Tuesday.
Of those, 28 have progressed to the various phases of being tested on humans, of which six are the furthest ahead, having reached Phase 3 of clinical trials.
The Gamaleya candidate, which is among the 28 in clinical evaluation, is listed as only being in Phase 1.
Kirill Dmitriev, the head of the Russian Direct Investment Fund which finances the vaccine project, said Phase 3 trials would start on Wednesday, industrial production was expected from September and that 20 countries had pre-ordered more than a billion doses.
'Stamp of quality'
"Every country has national regulatory agencies that approve the use of vaccines or medicines on its territory," Jasarevic explained.
"WHO has in place a process of pre-qualification for vaccines but also for medicines. Manufacturers ask to have the WHO pre-qualification because it is a sort of stamp of quality.
"To get this, there is a review and assessment of all required safety and efficacy data that are gathered through the clinical trials. WHO will do this for any candidate vaccine."
The pandemic has seen an unprecedented mobilisation of funding and research to rush through a vaccine that can protect billions of people worldwide.
"We are encouraged by the speed by which several candidate vaccines have been developing and as we have been always saying, we hope some of these vaccines will prove to be safe and efficient," said Jasarevic.
"Accelerating progress does not mean compromising on safety," he said.
As It Happens
LATEST UPDATE: September 26, 2020 - 1:38pm
Pharma giants Sanofi and GSK said on July 29, 2020, that they have agreed to supply Britain with up to 60 million doses of a potential COVID-19 vaccine. The agreement covers a vaccine candidate developed by France's Sanofi in partnership with the UK's GSK and is subject to a "final contract."
This thread collects some of the major developments in the search for a vaccine to ease the new coronavirus pandemic. (Main photo by AFP/Joel Saget)
September 26, 2020 - 1:38pm
Latin American leaders have appealed at the United Nations for free access to a future COVID-19 vaccine, urging major powers to share their know-how for the sake of global well-being.
Latin America has taken a heavy blow from Covid-19 with nearly nine million cases and more than 330,000 deaths, one third of the global total, according to an AFP tally based on official data.
"With the pandemic, as with poverty, nobody will be saved on their own," Argentine President Alberto Fernandez tells the UN General Assembly, which is taking place virtually due to the health crisis. — AFP
September 25, 2020 - 9:31am
Science Secretary Fortunato dela Peña says the Philippines had signed six confidentiality agreements with foreign pharmaceutical companies for COVID-19 vaccine.
These are:
Russia's Sputnik V (clinical trial and local manufacturing)
China's Sinovac (clinical trial and local manufacturing)
China's Sinopharm (procurement)
China's ZFSW (clinical trial)
Australia's University of Queensland (clinical trial)
Taiwan's Adimmune (clinical trial)
September 22, 2020 - 12:01pm
More than 60 wealthy nations have joined a WHO-backed programme to facilitate poor countries' access to coronavirus vaccines, but the US and China are not on the list published Monday.
The World Health Organization has in coordination with the global vaccine alliance group Gavi and the Coalition for Epidemic Preparedness Innovations (CEPI) created a mechanism aimed at ensuring a more equitable distribution of any future COVID-19 vaccines.
But the mechanism, known as Covax, has struggled to raise the funds needed to provide for the 92 low-income countries and other economies that quickly signed up.
— AFP
September 16, 2020 - 10:40am
President Donald Trump says that a coronavirus vaccine may be available within a month -- an acceleration of even his own surprisingly optimistic predictions -- but added that the pandemic could go away by itself.
"We're very close to having a vaccine," he tells a town hall question-and-answer session with voters in Pennsylvania aired on ABC News.
"We're within weeks of getting it you know -- could be three weeks, four weeks," he says. — AFP
September 15, 2020 - 7:11pm
A China-developed coronavirus vaccine could be ready for the public as early as November, a Chinese official has told state television, as the global race to clear the final round of trials heats up.
Chinese manufacturers have been bullish about development, with companies Sinovac Biotech and Sinopharm even putting their vaccine candidates on display at a trade fair in Beijing this month.
Representatives of the firms told AFP that they hope their vaccines will be approved after phase 3 trials as early as year-end.
And on late Monday, the chief biosafety expert at the Chinese Centre for Disease Control told state broadcaster CCTV that a vaccine would be available to the general public "around November or December."
Wu Guizhen did not specify which vaccine she was referring to, but said "based on the phase 3 clinical results, the current progress is very smooth." — AFP