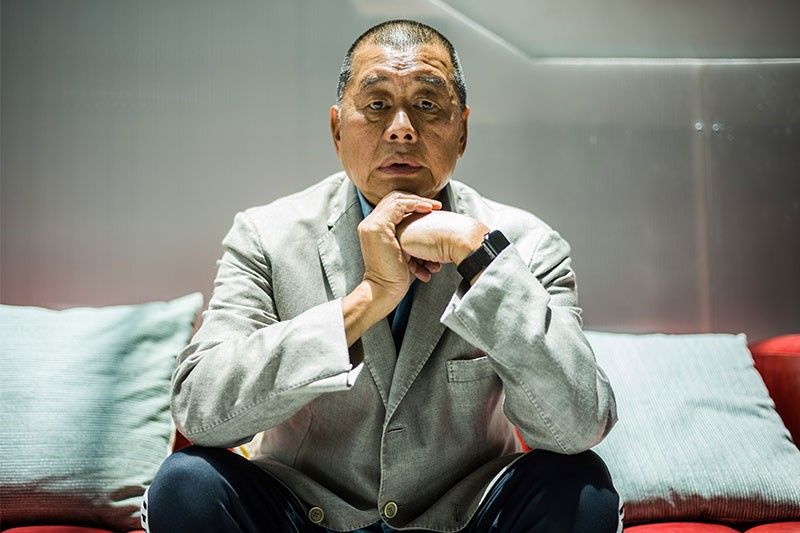 In this file photo taken on June 16, 2020, millionaire media tycoon Jimmy Lai, 72, poses during an interview with AFP at the Next Digital offices in Hong Kong. Lai, a Hong Kong media mogul and one of the city's most prominent pro-democracy figures, was arrested on August 10, 2020 under Beijing's new national security law, a close aide and a police source said.
AFP/Anthony Wallace
Jimmy Lai: the Hong Kong media tycoon that China loathes
HONG KONG, China — A rags-to-riches millionaire, media tycoon Jimmy Lai is a self-styled "troublemaker" who has been a thorn in Beijing's side for decades thanks to his caustic tabloids and unapologetic support for democracy.
Lai's arrest on Monday under a new national security law Beijing imposed on Hong Kong will come as little surprise to observers, including the publisher himself, who said he knew he would be a prime target.
"I'm prepared for prison," the 71-year-old told AFP from the offices of Next Digital, Hong Kong's largest and most rambunctiously pro-democracy media group, in an interview two weeks before the security law was enacted on 30 June.
"If it comes, I will have the opportunity to read books I haven't read. The only thing I can do is to be positive."
Few Hong Kongers generate the level of vitriol from Beijing that Lai does.
For many residents of the semi-autonomous city, he is an unlikely hero -- a pugnacious, self-made tabloid owner and the only tycoon willing to criticise Beijing.
But in China's state media he is a "traitor", the biggest "black hand" behind last year's huge pro-democracy protests and the head of a new "Gang of Four" conspiring with foreign nations to undermine the motherland.
'It feels right'
Like many of Hong Kong's tycoons, Lai rose from poverty.
He was born in mainland China's Guangdong province into a wealthy family but they lost it all when the communists took power in 1949.
Smuggled into Hong Kong aged 12, Lai toiled in sweatshops, taught himself English and eventually founded the hugely successful Giordano clothing empire.
But his path diverged from those of his contemporaries in 1989, when China sent tanks to crush pro-democracy protests in Beijing's Tiananmen Square.
He founded his first publication shortly after and penned columns regularly criticising senior Chinese leaders.
Authorities began closing his mainland clothing stores, so Lai sold up and ploughed the money into a tabloid empire.
Asked why he didn't just keep quiet and enjoy his wealth like Hong Kong's other tycoons, Lai replied: "Maybe I'm a born rebel, maybe I'm someone who needs a lot of meaning to live my life besides money."
Prosecutions and payback
Lai is no stranger to arrest.
Along with dozens of prominent pro-democracy activists, he is facing separate prosecutions both for taking part in last year's protests and for defying police to attend a banned Tiananmen vigil on June 4.
Before the new security law was passed, Chinese state media often accused him of colluding with foreigners, especially after he had a meeting last year with US Secretary of State Mike Pompeo and Vice-President Mike Pence.
During AFP's interview Lai described the proposed security law as "a death knell for Hong Kong".
"It will supersede or destroy our rule of law and destroy our international financial status," he said.
He also feared for his journalists.
"Whatever we write, whatever we say can be subversion, can be sedition," he predicted.
His two primary titles -- the Apple Daily newspaper and the digital-only Next magazine -- openly back democracy protests in a city where competitors either support Beijing or tread a far more cautious line.
The two publications have been largely devoid of advertisements for years as brands steer clear of incurring Beijing's wrath, Lai plugging the losses with his own cash.
But they are popular, offering a heady mix of celebrity news, sex scandals and genuine investigations such as a recent series looking at how the houses of some senior police officers violated building codes.
Lai said he was determined to stay in Hong Kong even once the security law came in.
"The only thing we can do is persist, not to lose spirit or hope," he said. "And to think that what is right will eventually prevail."
Asked why he risked both his wealth and freedom by criticising Beijing and publicly supporting Hong Kong's democracy movement, he replied: "I'm a troublemaker.
"I came here with nothing, the freedom of this place has given me everything. Maybe it's time I paid back for that freedom by fighting for it."
As It Happens
LATEST UPDATE: September 16, 2020 - 6:24pm
Millions march in Hong Kong in a powerful rebuke of an extradition law feared to expose them to China's capricious justice system.
September 16, 2020 - 6:24pm
A Swiss photographer who closed a door on a Chinese mainlander moments before he was assaulted during last year's Hong Kong democracy protests should not be held responsible for the attack, his lawyers argued Wednesday.
Marc Progin, a long-time Hong Kong resident, is facing up to a year in jail for "aiding and abetting public disorder" over the incident in which JP Morgan employee Lin Nan was punched.
Footage of Progin closing the door moments before a masked man assaulted Lin went viral and caused widespread anger in mainland China.
Prosecutors said Progin, 75, deliberately shut a door leading to JP Morgan's regional headquarters as an argument broke out between a crowd of pro-democracy supporters and Lin last October.
They argued his actions effectively enabled the assault on Lin and that Progin therefore took part in the unfolding public disorder.
Defense lawyers said Progin was simply doing his job and that he closed the door to get a better angle to capture the argument through his lens.
Defense counsel Michael Delaney said Progin had no intention to "stop, block or obstruct" Lin and that the behavior of the crowd had nothing to do with Progin. — AFP
September 15, 2020 - 3:18pm
Hong Kong activists shouted anti-government slogans outside court on Tuesday as more than two dozen high profile democracy campaigners appeared over a banned vigil to mark the Tiananmen Square crackdown.
Tens of thousands of Hong Kongers defied a ban on rallies on June 4 to mark the anniversary of Beijing's deadly suppression of students pushing for democracy.
The annual vigil has been held in Hong Kong for the last three decades and usually attracts huge crowds, but this year's gathering was banned for the first time with authorities citing coronavirus measures — even though local transmission had largely been halted.
The group of defendants represents a broad section of the pro-democracy movement, from 72-year-old media mogul Jimmy Lai to younger campaigners such as Joshua Wong. — AFP
September 6, 2020 - 3:08pm
An opposition activist was arrested in Hong Kong on Sunday by a new police squad for "uttering seditious words", hours before a rally against a controversial security law.
The arrest of Tam Tak-chi, vice president of radical democratic party People Power, is the latest detention of a high profile democracy supporter in the financial hub and came on the morning Hongkongers had been due to vote in a general election, delayed because of the coronavirus.
An unauthorized protest in opposition to a new law that gives authorities sweeping powers — as well as the poll's postponement and a Beijing-backed Covid-19 testing program — had more than 10,000 online subscribers.
Tam, a former radio presenter known "Fast Beat", was arrested at his home in north east Hong Kong by police officers from the national security squad, although he was not detained under the new law, police said. — AFP
August 12, 2020 - 7:46am
Hong Kong media tycoon Jimmy Lai has been released from police custody, over a day after being detained under a sweeping security law imposed by China, an AFP journalist saw.
Lai walked free from a Hong Kong police station at roughly midnight (1600 GMT) as cheering supporters greeted his release. — AFP
August 11, 2020 - 11:50am
Shares in the parent company of a Hong Kong pro-democracy newspaper have skyrocketed nine-fold since its owner was arrested, after enjoying another blockbuster surge Tuesday as activists threw their support behind him.
Next Digital, the media group owned by tycoon Jimmy Lai and which runs the tabloid Apple Daily, rose 214 percent to HK$0.80 in the morning on Tuesday -- meaning it has risen 788 percent since trading began on Monday at HK$0.09.
Lai was arrested on Monday and led in handcuffs through his newspaper office, as part of a sweeping crackdown on dissent since China imposed a security law on the city. — AFP