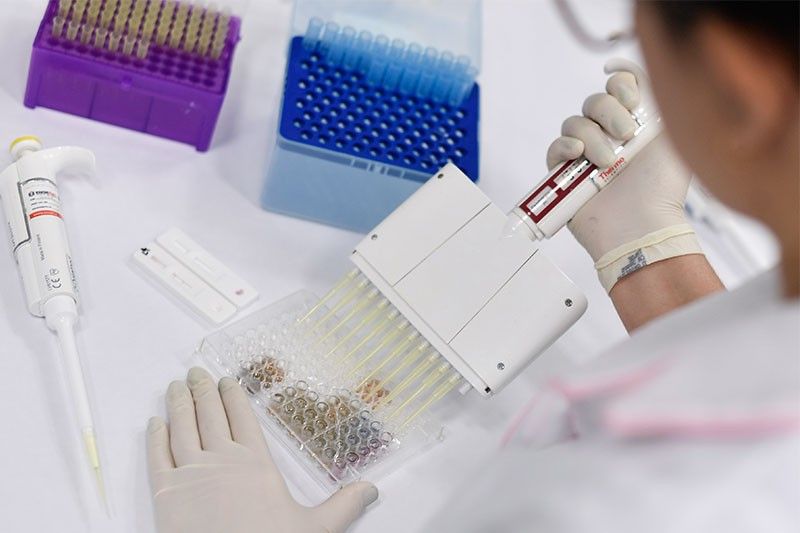 In this file photo taken on March 26, 2020 A researcher works on the diagnosis of suspected coronavirus COVID-19 cases in Belo Horizonte, state of Minas Gerais, Brazil.
AFP/Douglas Magno
Full coronavirus vaccine unlikely by next year — expert
(Agence France-Presse) - July 13, 2020 - 7:43am
PARIS, France — There is little chance of a 100-percent effective coronavirus vaccine by 2021, a French expert warned Sunday, urging people to take social distancing measures more seriously.
"A vaccine is several years in development," said epidemiologist Arnaud Fontanet, a member of the team of scientists advising the government on the crisis, speaking on BFMTV television.
"Of course, there is an unprecedented effort to develop a vaccine, but I would be very surprised if we had that was effective in 2021," he added.
While we would probably have one that worked partially, we were very far from the end of the crisis, he said.
That being the case, "we have to live with this virus" he said. And since another lockdown was out of the question, people had to go back to "more serious habits".
"This summer, let's respect physical distance, at least!" he said, stressing that large gatherings were the main threat.
On Saturday, a DJ's set on a beach in the Mediterranean resort of Nice drew thousands of people together, sparking a furious reaction on social media.
Also Saturday, a group of well-known doctors called for the government to make the wearing of masks inside public buildings compulsory in a bid to head off a second wave of the coronavirus.
Fontanet said the main risks for the appearance of new virus clusters were in confined spaces, such as on cruise ships, warships, sports halls, discos, slaughterhouses, accommodation housing migrant workers and places of worship.
On Wednesday, the French government said it was preparing for a second wave of COVID-19, but rather than imposing another nationwide lockdown, they would use "targeted" measures such as stay-at-home orders or business closures.
As It Happens
LATEST UPDATE: August 7, 2020 - 5:08pm
Follow this page for updates on a mysterious pneumonia outbreak that has struck dozens of people in China.
August 7, 2020 - 5:08pm
Reports say that former Manila mayor Alfredo Lim has been confined at an undisclosed hospital reportedly due to the coronavirus disease.
Lim's grandson, Manila 1st District Councilor Niño Dela Cruz, earlier requested for prayers for the healing of the former mayor. The post has been deleted. — The STAR/Rey Galupo
August 7, 2020 - 4:07pm
The Department of Health announces 3,379 new cases of the coronavirus disease, bringing the national caseload to 122,754 in the Philippines.
There are 96 new recoveries and 24 new deaths.
August 7, 2020 - 12:30pm
The health ministry data show India's coronavirus cases passed two million after a daily jump of more than 60,000 and around 900 new deaths,
India has now recorded 2.03 million infections and 41,585 deaths, according to the ministry's website. Many experts doubt the official figures, however, and say the true numbers may be much higher. — AFP
August 7, 2020 - 7:49am
The number of coronavirus cases recorded worldwide has passed 19 million, according to an AFP tally from official sources at 2300 GMT Thursday.
At least 19,000,553 cases and 712,315 deaths have now been registered.
Forty percent of cases were in the United States and Brazil, the two worst-affected countries with 4,870,367 cases (159,864 deaths) and 2,912,212 infections (98,493 deaths) respectively. — AFP
August 7, 2020 - 7:40am
The number of COVID-19 cases in Africa has risen to over one million, with more than half registered in South Africa, according to an AFP count late Thursday.
The continent's worst-hit nation has registered 538,184 infections, including over 8,000 new cases on Thursday, and 9,604 deaths.
Egypt has recorded around 95,000 COVID-19 cases while the figure in Nigeria is 45,000.
South Africa's infection figures are the fifth-highest after the US, Brazil, India and Russia. — AFP