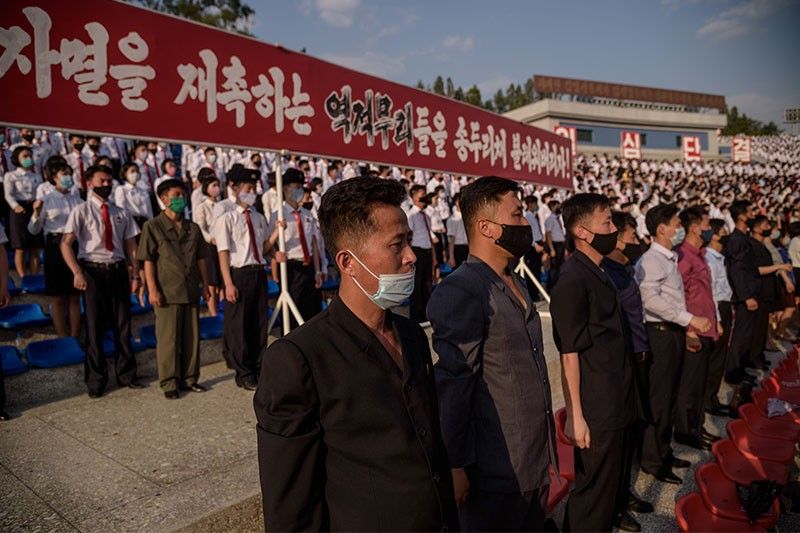 Students and youths attend a mass gathering denouncing 'defectors from the north', at the Pyongyang Youth Park Open-Air Theatre, in Pyongyang on June 6, 2020. North Korea has threatened to close a liaison office with the South as officials seethe over anti-Pyongyang leaflets sent across the border, saying further steps were also in the pipeline to make Seoul "suffer". The warning is the second in two days of possible retaliation over Seoul's failure to stop North Korean defectors dropping information from hot-air balloons criticising the regime's human rights record and nuclear ambitions.
AFP/Kim Won Jin
North Korea to cut communication lines to 'enemy' South: KCNA
(Agence France-Presse) - June 9, 2020 - 7:47am
SEOUL, South Korea — North Korea will cut military and political communication links to "enemy" South Korea on Tuesday, state media said, after threats over activists sending anti-Pyongyang leaflets over the border.
The threats come with inter-Korean ties at a standstill, despite three summits between the North's Kim Jong Un and the South's President Moon Jae-in in 2018.
Pyongyang "will completely cut off and shut down the liaison line between the authorities of the north and the south, which has been maintained through the north-south joint liaison office," as well as other communication links "from 12:00 on June 9, 2020," the Korean Central News Agency said.
The links being cut also include "the East and West Seas communication lines" between militaries of the two sides, an inter-Korean "trial communication line," and a hotline between the Central Committee of the Workers' Party of Korea and South Korea's presidential Blue House, KCNA said.
Last week, the North threatened to close the liaison office with the South and warned of further steps to make Seoul "suffer."
Kim's powerful sister, Kim Yo Jong, also threatened to scrap a military agreement signed with Seoul unless the South stopped activists from sending the leaflets.
North Korean defectors, which she calls "human scum," and other activists have long flown balloons across the border carrying leaflets that criticise Kim over human rights abuses and his nuclear ambitions.
'Betrayers and riff-raff'
KCNA said South Korean authorities connived with "the hostile acts against the DPRK by the riff-raff," referring to the North by its official acronym.
"This has driven the inter-Korean relations into a catastrophe," it said.
"We have reached a conclusion that there is no need to sit face-to-face with the south Korean authorities and there is no issue to discuss with them, as they have only aroused our dismay," KCNA said.
Kim Yo Jong and another top official, Kim Yong Chol, have "stressed that the work towards the south should thoroughly turn into the one against enemy," the state news agency added.
They decided "to make the betrayers and riff-raff pay for their crimes, and then, to begin with, gave an instruction to completely cut off all the communication and liaison lines".
The military pact which Kim Yo Jong has threatened to scrap was signed during Moon's visit to Pyongyang in 2018 aimed at easing border tensions. But most of the deals have not been acted on.
Pyongyang largely severed contact with Seoul following the collapse of a summit between Kim and US President Donald Trump in Hanoi last year that left nuclear talks at a standstill.
The nuclear-armed and impoverished North is subject to multiple UN Security Council sanctions over its banned weapons programmes.
Operations at the liaison office have already been suspended because of the novel coronavirus pandemic, and Pyongyang has carried out a series of weapons tests in recent months -- often describing them as multiple launch rocket systems, although Japan and the US have called them ballistic missiles.
The two sides remain technically at war, since fighting in the Korean War ended with an armistice in 1953 that was never replaced with a peace treaty.
As It Happens
LATEST UPDATE: November 12, 2020 - 3:42pm
South Korean officials were briefing the White House Thursday on the outcome of their pathfinding meeting with North Korean leader Kim Jong Un.
Seoul has already publicized that North Korea offered talks with the United States on denuclearization and normalizing ties, a potential diplomatic opening after a year of escalating tensions over the North's nuclear and missile tests. The rival Koreas also agreed to hold a leadership summit in late April.
Top Trump administration officials were getting a chance to hear firsthand from South Korean national security director, Chung Eui-yong, who led the delegation that went to Pyongyang. — Associated Press
November 12, 2020 - 3:42pm
North Korea has accused the UN agency responsible for regulating atomic energy of being a puppet of hostile countries after a new report said the isolated nation's nuclear weapons stockpile was breaking international law.
Pyongyang has gradually built an atomic stockpile after abandoning the Non-Proliferation Treaty in 2003, and has tested several nuclear bombs in the years since.
Since Kim Jong Un took over from his father as the country's supreme leader, North Korea's military has made rapid strides in its nuclear weapons and ballistic missile programmes, and has been subjected to increasingly strict international sanctions as a result.
The International Atomic Energy Agency, whose inspectors have not been allowed into the country for more than a decade, said Wednesday that Pyongyang's weapons programme was "deeply regrettable."
North Korea's nuclear activities "remain a cause for serious concern," said agency chief Rafael Mariano Grossi in a report to the UN General Assembly. — AFP
June 16, 2020 - 4:04pm
North Korea blew up a liaison office with the South in the border city of Kaesong on Tuesday, Seoul's Unification ministry says, after days of increasingly virulent rhetoric from Pyongyang.
"North Korea blows up Kaesong Liaison Office at 14:49," the office of the spokesman for the ministry, which handles inter-Korean relations, says in a one-line alert sent to reporters. — AFP
March 2, 2020 - 12:04pm
North Korea fires an unidentified projectile on Monday, the South's military says, weeks after Pyongyang declared its moratorium on long-range missile tests over.
The statement from the South's Joint Chiefs of Staff gave no further details. The North carried out a series of weapons tests late last year. — AFP
January 1, 2020 - 3:51pm
North Korean leader Kim Jong Un appeared to skip his set-piece New Year speech Wednesday, with analysts suggesting the move may have been to avoid implicitly admitting mistakes in the last two years of diplomacy with the US.
Kim has been giving the annual speech since 2013, after he revived the tradition started by his grandfather -- North Korea's founding leader Kim Il Sung.
It has been a key moment in the North Korean political calendar, reviewing the past and setting out goals for the future, and printed in full in the Rodong Sinmun mouthpiece newspaper.
At first he wore a party uniform and stood at a lectern to address troops, but the format has evolved over time as Pyongyang modernises its messaging, and last year he sat in his office in a Western-style suit and tie.
But this year there was no January 1 morning broadcast -- as has been standard recently -- or even at noon, considered the latest likely time. -- AFP
January 1, 2020 - 12:08pm
North Korean leader Kim Jong Un has declared an end to moratoriums on nuclear and intercontinental ballistic missile tests and threatened a demonstration of a "new strategic weapon" soon.
Analysts said the announcement, reported by state media on Wednesday, amounted to Kim putting a missile "to Donald Trump's head" -- but warned that escalation by Pyongyang would probably backfire.
Washington was swift to respond, with Secretary of State Mike Pompeo urging Kim to "take a different course" and stressing that the US wanted "peace not confrontation" with the North, while Trump played down the development.
Pyongyang has previously fired missiles capable of reaching the entire US mainland, and has carried out six nuclear tests, the last of them 16 times the size of the Hiroshima blast, according to the highest estimates. -- AFP