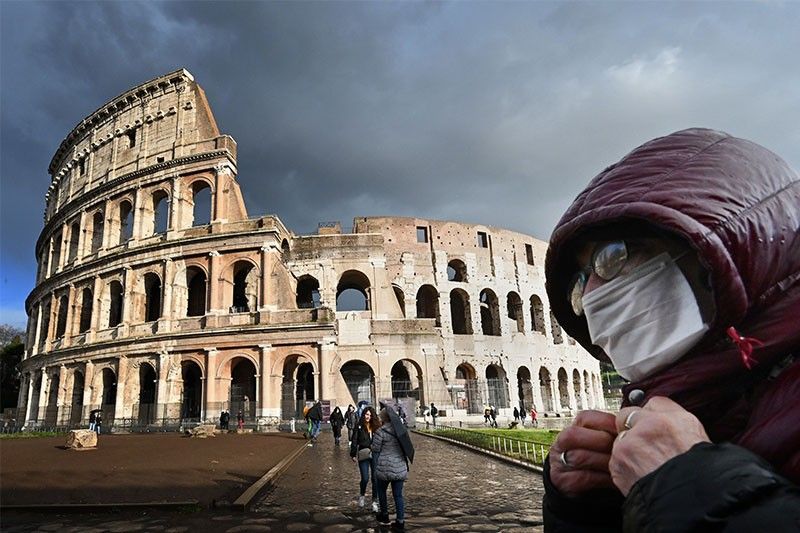 In this file photo taken on March 07, 2020 a man wearing a face mask passes by the Colosseum monument in Rome amid fear of the COVID-19 epidemic. Rome's Colosseum, Italy's most visited tourist site, will reopen on June 1, 2020 after being closed for more than two months due to the pandemic, and will be illuminated for the occasion in Italian colours, official sources said on May 26, 2020.
AFP/Alberto PIZZOLI
Italy thirsts for tourists as country reopens to Europe
Ella Ide
(Agence France-Presse) - June 4, 2020 - 7:41am
ROME, Italy — Italy reopened to travellers from Europe on Wednesday, three months after the country went into coronavirus lockdown, but few arrivals dimmed hopes of reviving the key tourism industry as the summer season begins.
Gondolas are ready to punt along Venice's canals, lovers can act out "Romeo and Juliet" on Verona's famed balcony, and gladiator fans have the chance to pose for selfies at Rome's Colosseum.
But there were fears many foreign tourists are being put off coming to a country still shaking off a vicious pandemic.
"We hoped to see some movement from today, but have no foreign tourists booked in for this week or next," said Alessandra Conti, a receptionist at the Albergo del Senato hotel which overlooks the Pantheon in Rome.
"We've got a few reservations from mid-June... (but) are still getting lots of cancellations for this summer".
'Smouldering' virus
Italy was the first European country to be hit hard by the coronavirus and has officially reported more than 33,500 deaths — the third highest toll in the world.
It imposed an economically crippling lockdown in early March and has since seen its infection numbers drop off dramatically.
With the country facing its deepest recession since World War II, it needs foreign tourists to return, and quickly.
But it is still reporting hundreds of new cases a day, particularly in the northern Lombardy region, and experts warn the government may be moving too quickly in permitting travel between regions and abroad.
Infectious diseases expert Massimo Galli said it would have been better to wait until July to reopen the borders.
The virus "smoulders under the ashes, and when it finds the ideal conditions, it explodes. Even more so if we lower our guard," he said Wednesday.
'Like a leper'
International flights into Milan, Rome and Naples increased, with a few also coming into smaller, regional airports.
German Regina Oswald, 53, was one of the very few foreign tourists to be spotted in Venice's Saint Mark's Square.
"It's fantastic to see Venice without a lot of people, it's the one time in my life I can enjoy it like this," said Oswald, who arrived early Wednesday for a three-day stay.
"I am worried about the virus, but will take precautions", she said, such as always eating at outdoor tables in restaurants.
There were concerns that those who usually come in by car, train or ferry from neighbouring countries would go elsewhere on their holidays.
Switzerland has warned its citizens that if they go to Italy they will be subject to "health measures" on their return. The country will open its borders with Germany, France and Austria on June 15, but not with Italy.
Austria is lifting restrictions at its land borders from Thursday — but again, not with Italy, described last week by Vienna's health minister as "still a hotspot".
Other countries, such as Belgium and Britain, are still advising against, or forbidding, all non-essential travel abroad.
In response to perceived anti-Italian sentiment, Foreign Minister Luigi Di Maio has warned countries not to treat Italy "like a leper".
He said Saturday he would be travelling to Germany, Slovenia and Greece to persuade them Italy is safe for foreign tourists, and was set to meet his French counterpart Jean-Yves Le Drian later Wednesday in Rome.
'Scared'
Italy's lockdown has had a particularly devastating effect on the tourism sector, which amounts to some 13 percent of GDP.
Only 40 of Rome's 1,200 hotels have reopened, the Corriere della Sera newspaper said, and just a dozen in Milan.
Restaurants, cafes and beach establishments have slowly reopened over the past two weeks — although the government has said it reserves the right to impose localised lockdowns if it sees contagion numbers rise.
"Who's going to come? No one from South America, China or the US. And the Europeans will be scared," Mimmo Burgio, 62, owner of a cafe near Rome's Colosseum, told AFP.
"We're pinning all our hopes on Italian tourists, but... I'm afraid they'll go to the seaside instead," he said.
As It Happens
LATEST UPDATE: April 17, 2021 - 7:24pm
Follow this page for updates on a mysterious pneumonia outbreak that has struck dozens of people in China.
April 17, 2021 - 7:24pm
The novel coronavirus has killed at least 3,000,955 people since the outbreak emerged in China in December 2019, according to a tally from official sources compiled by AFP.
At least 139,869,290 cases of coronavirus have been registered.
The vast majority have recovered, though some have continued to experience symptoms weeks or even months later.
April 17, 2021 - 12:51pm
The global coronavirus death toll is expected to reach three million on Saturday, as the race for immunization continues and countries like India grapple with rising infections and new lockdowns.
The virus that surfaced in late 2019 in central China and the ensuing pandemic has infected more than 100 million people, leaving billions more under crippling lockdowns and ravaging the global economy.
India's capital New Delhi went into a weekend lockdown Saturday as the world's second-most populous nation faces more than 200,000 fresh daily cases and families clamouring for drugs and hospital beds. — AFP
April 16, 2021 - 7:16am
Public hospitals are critically short on the drugs needed to intubate Covid-19 patients in Sao Paulo, the most populous state in Brazil, officials said Thursday, warning of a potential public health catastrophe.
Sixty-eight percent of public clinics have run out of neuromuscular blockers, which are used to relax a patient's muscles during intubation, and 61 percent are out of sedatives, a report from the state council of municipal health secretaries (Cosems-SP) found.
"The situation regarding supplies of medications for intubation worsened over the past week," it said, amid a deadly new surge of Covid-19 in Brazil. — AFP
April 15, 2021 - 6:34pm
India's daily coronavirus caseload doubles in 10 days, with a record 200,000 new infections logged Thursday as authorities grapple with shortages of vaccines, treatments and hospital beds.
Having let its guard down with mass religious festivals, political rallies and crowds at cricket matches, India is experiencing a vicious second wave, recording almost two million fresh infections this month alone.
This week, it overtook Brazil to become the country with the second-highest number of cases worldwide, after the United States. — AFP
April 13, 2021 - 12:47pm
The English variant of the novel coronavirus does not increase the severity of COVIDompared to other strains, according to research published Tuesday that also confirmed its increased transmissibility.
The variant, known as B117, is now the dominant viral strain across much of Europe, and previous studies had shown it was linked to a higher likelihood of death than normal variants. — AFP