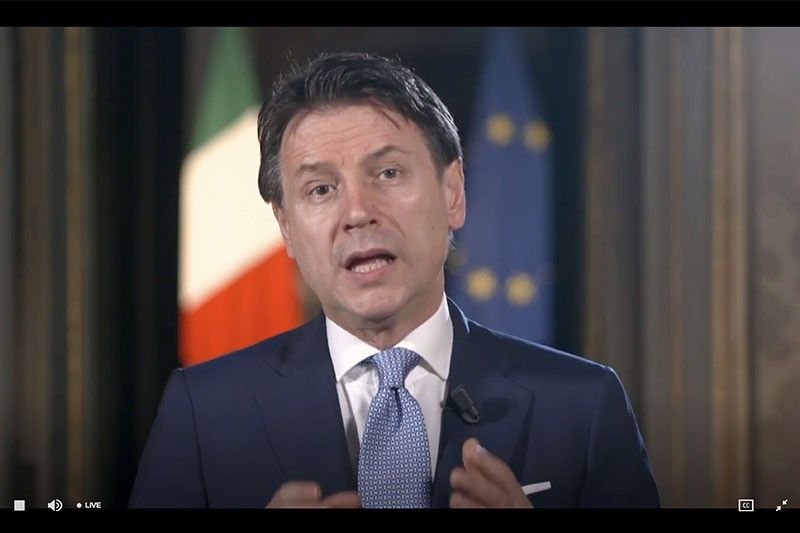 This video grab taken on May 19, 2020 from the website of the World Health Organization (WHO) shows Italian Prime Minister Giuseppe Conte delivering a speech via video link at the closing of a World Health Assembly virtual meeting from the WHO headquarters in Geneva, amid the COVID-19 pandemic, caused by the novel coronavirus. World Health Organization member states agreed on May 19, 2020 to an independent probe into the UN agency's COVID-19 response as US criticism mounted over its handling of the pandemic.
AFP/World Health Organization
Some 50 world leaders call for post-pandemic cooperation
(Agence France-Presse) - May 29, 2020 - 7:38am
UNITED NATIONS, United States — World leaders on Thursday called for resilience and cooperation after the pandemic recedes, during a UN videoconference in which the United States, China and Russia did not participate.
About 50 leaders took part in the event on development financing, with Italian Prime Minister Giuseppe Conte saying in a recorded message that the goal must be to "leave no one behind."
South African President Cyril Ramaphosa said "we need to be innovative, think outside the box," echoing Canadian Prime Minister Justin Trudeau.
Canada and Jamaica organized the conference.
Sustainable development goals for 2030 "are more crucial than ever," said European Commission chief Ursula von der Leyen. "We have to work and fight together."
Several leaders, such as German Chancellor Angela Merkel and French President Emmanuel Macron, said the crisis could be an opportunity to grow a "more resilient" economy to aid the fight against global warming.
Deploring a "deep questioning of multilateralism," Macron stressed "cooperation is essential" as well as "support for the most fragile countries," especially in Africa.
Mauritania President Mohamed Ould Ghazouani called for the "systematic and immediate cancellation of debt."
UN Secretary General Antonio Guterres asked leaders to "go further" than they already have on debt relief for vulnerable countries, in a spirit of "needs-based solidarity and transparency."
Guterres applauded the meeting, playing down the absence of the three missing world powers.
He told reporters that the United States, China and Russia would participate in six working groups created at Thursday's session, for which meetings are scheduled for July, September and December.
British Prime Minister Boris Johnson said he hoped the world would "build back better," adding "we must work together across borders" to avoid a new pandemic and to help global recovery.
Costa Rican President Carlos Alvarado Quesada said the world after COVID-19 should be dominated by "solidarity, not profit."
As It Happens
LATEST UPDATE: July 11, 2020 - 4:53pm
Follow this page for updates on a mysterious pneumonia outbreak that has struck dozens of people in China.
July 11, 2020 - 4:53pm
The Department of Health reports 1,387 additional cases of the coronavirus disease, bringing the total number of COVID-19 infections in the Philippines to 54,222.
There are 807 new recoveries and 12 new deaths.
July 11, 2020 - 1:15pm
The United States records 63,643 new coronavirus cases, according to a tracker maintained by Johns Hopkins University.
As of 8:30 pm (0030 GMT Saturday), 774 people died of COVID-19 in the country in the past 24 hours, the Baltimore-based university says.
The worst-hit country in the world by the pandemic, the US has recorded a total of 133,969 deaths out of 3.18 million cases. — AFP
July 11, 2020 - 9:23am
The US welcomes the World Health Organization's probe into the origins of the novel coronavirus in China, its ambassador to the United Nations in Geneva says.
"We welcome the WHO's investigation. We view the scientific investigation as a necessary step to having a complete and transparent understanding of how this virus has spread throughout the world," ambassador Andrew Bremberg tells reporters.
It was an unexpected endorsement, given that the WHO has faced fierce US criticism over its handling of the coronavirus crisis. — AFP
July 10, 2020 - 4:54pm
The Department of Health reports 1,233 new cases of the coronavirus disease, bringing the total infection count in the Philippines to 52,914.
There are 286 new recoveries and 42 more deaths.
July 10, 2020 - 1:57pm
The Department of Foreign Affairs initiates coordination and exchanges of information with different jurisdictions across the Americas, Asia and the Pacific, Europe, Africa and Middle East about COVID-19 vaccine developments.

"Based on the gathered information by the Department, collaboration with Philippine subsidiaries of vaccine developers, engagement with those overseas for conduct of clinical trials, utilization of multilateral efforts to ensure vaccine access, and bilateral cooperation are key efforts that must be pursued to ensure that a viable vaccine can be made available and accessible for Filipinos," the DFA says in a statement.