China threatens US counter measures if punished for Hong Kong law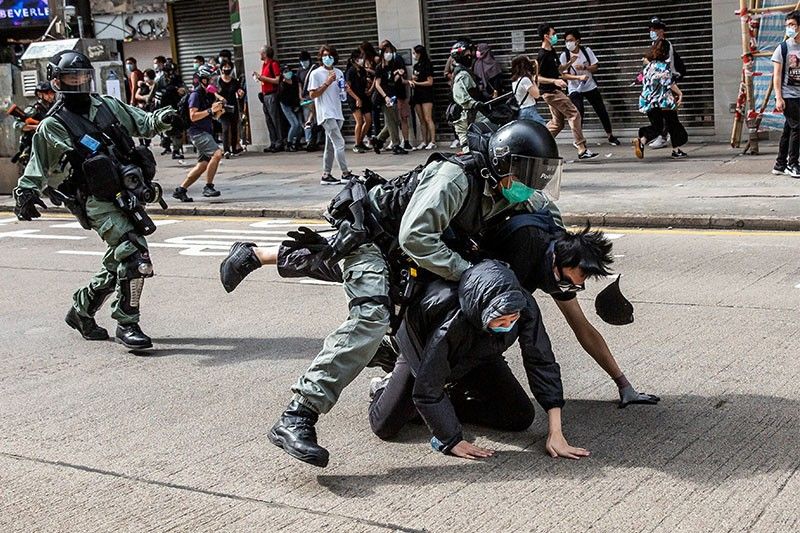 HONG KONG, China — China on Monday threatened counter measures against the United States if it is punished for plans to impose on Hong Kong a sedition law, which the business hub's security chief hailed as a new tool to defeat "terrorism".
Beijing plans to pass the new security law for Hong Kong that bans treason, subversion and sedition after months of massive, often-violent pro-democracy protests last year.
But many Hong Kongers, business groups and Western nations fear the proposal could be a death blow to the city's treasured freedoms, and thousands took to the streets on Sunday despite a ban on mass gatherings introduced to combat coronavirus.
As police dispersed the crowds with tear gas and water cannon, Washington's national security advisor Robert O'Brien warned the new law could cost the city its preferential US trading status.
But China's foreign ministry said Beijing would react to any sanctions from Washington.
"If the US insists on hurting China's interests, China will have to take every necessary measure to counter and oppose this," foreign ministry spokesman Zhao Lijian told reporters on Monday.
Hong Kong has become the latest flashpoint in soaring tensions between the world's two superpowers which China has likened to "the brink of a new Cold War".
The refusal to grant Hong Kongers democracy has sparked rare bipartisan support in an otherwise bitterly divided Washington during the Trump administration.
Beijing portrays the city's protests as a foreign-backed plot to destabilise the motherland and says other nations have no right to interfere in how the international business hub is run.
Mainland agents?
Protesters, who have hit the streets in their millions, say they are motivated by years of Beijing chipping away at the city's freedoms since it was handed back to China by Britain in 1997.
Hong Kong enjoys liberties unseen on the mainland, as well as its own legal system and trade status.
Campaigners view the security law proposal as the most brazen move yet by Beijing to end free speech and the city's ability to make its own laws.
Of particular concern is a provision allowing Chinese security agents to operate in Hong Kong, with fears it could spark a crackdown on those voicing dissent against China's communist rulers.
On the mainland, subversion laws are routinely wielded against critics.
The proposed law, which China's rubber-stamp legislature is expected to act on quickly, will also bypass Hong Kong's own legislature.
The city's influential Bar Association on Monday described the proposed motion as "worrying and problematic" -- and warned it may even breach the territory's mini-constitution.
The proposal has spooked investors with Hong Kong's stock exchange suffering its largest drop in five years on Friday. On Monday it had yet to recover, closing just 0.10 percent up.
'Restore social order'
Hong Kong's unpopular pro-Beijing government has welcomed the law.
"Terrorism is growing in the city and activities which harm national security, such as 'Hong Kong independence', become more rampant," security minister John Lee said in a statement welcoming the planned legislation.
Police chief Chris Tang cited 14 recent cases where explosives had been seized and said the new law would "help combat the force of 'Hong Kong independence' and restore social order".
Last year's protests were initially sparked by plans to allow extraditions to the mainland but soon snowballed into a popular revolt against Beijing and the city's police force.
Beijing has dismissed protester demands for an inquiry into the police, amnesty for the 8,500 people arrested and universal suffrage.
The demonstrations fizzled at the start of the year as mass arrests and the coronavirus took their toll.
But they have rekindled in recent weeks with Sunday's rally producing the most intense clashes for months and police making at least 120 arrests.
During last year's huge pro-democracy rallies, mob attacks were common on both sides of the political divide and a video of protesters beating a lawyer at Sunday's rally was seized on by China's state media.
Hu Xijin, editor-in-chief of the nationalist tabloid Global Times, posted the video on Twitter -- a platform banned in mainland China.
"Let's see what the Washington-backed Hong Kong democracy really looks like," he wrote.
As It Happens
LATEST UPDATE: October 27, 2021 - 7:17pm
Millions march in Hong Kong in a powerful rebuke of an extradition law feared to expose them to China's capricious justice system.
October 27, 2021 - 7:17pm
Hong Kong passed a toughened film censorship law on Wednesday empowering authorities to ban past films for "national security" threats and impose stiffer penalties for any breaches in the latest blow to the city's artistic freedoms.
Authorities have embarked on a sweeping crackdown to root out Beijing's critics after huge and often violent democracy protests convulsed the city two years ago.
A new China-imposed security law and an official campaign dubbed "Patriots rule Hong Kong" has since criminalized much dissent and strangled the democracy movement.
Films and documentaries have become one of many cultural areas authorities have sought to purge.
In June the city announced censors would check any future films for content that breached the security law.
But the law passed on Wednesday by the city's legislature — a body now devoid of any opposition — allows scrutiny of any titles that had previously been given a green light. — AFP
October 13, 2021 - 1:47pm
The Danish artist behind a Hong Kong sculpture mourning those killed in Tiananmen Square has instructed a lawyer to secure his work and bring it overseas after the city's flagship university ordered its sudden removal.
The eight-meter high "Pillar of Shame" by Jens Galschiot has sat on the University of Hong Kong's (HKU) campus since 1997, the year the city was handed back to China.
It features 50 anguished faces and tortured bodies piled on one another and commemorates democracy protesters killed by Chinese troops around Beijing's Tiananmen Square in 1989.
Last week Hong Kong's oldest university ordered it to be removed by 5pm on Wednesday citing "legal advice" as authorities crack down on dissent. — AFP
September 29, 2021 - 8:07pm
Hong Kong's government has applied to dissolve the parent company of a now-shuttered pro-democracy newspaper, officials said Wednesday, the same day strict new guidelines were unveiled for the city's public broadcaster.
Authorities have moved to rein in press freedoms in Hong Kong as China remoulds the once-outspoken city in its own authoritarian image, following huge and often violent democracy protests two years ago.
Earlier this year Apple Daily, the city's most popular pro-democracy newspaper, closed down after its assets were frozen using a national security law that China imposed on Hong Kong to root out dissent.
On Wednesday financial secretary Paul Chan said the government had filed a court petition to wind up Apple Daily's parent company, Next Digital Limited (NDL).
"The Financial Secretary took the view that it would be expedient in the public interest that NDL be wound up," the government said in a statement.
Hong Kong bills itself as a global business and media hub, but authorities have made clear they will move against any company or individual deemed a threat to China's national security. — AFP
September 19, 2021 - 11:32am
Hong Kong's political elite began selecting a powerful committee on Sunday which will choose the city's next leader and nearly half the legislature under a new "patriots only" system imposed by Beijing.
The financial hub has never been a democracy — the source of years of protests — but a small and vocal opposition was tolerated after the city's 1997 handover to authoritarian China.
Huge and often violent democracy rallies exploded two years ago and Beijing has responded with a crackdown and a new political system where only those deemed loyal are allowed to stand for office.
The first poll under that new system — carrying the slogan "Patriots rule Hong Kong" — took place on Sunday as members of the city's ruling classes cast votes for a 1,500-seat Election Committee.
In December, that committee will appoint 40 of the city's 90 legislators — 30 others will be chosen by special interest groups and just 20 will be directly elected. The following year, it will pick Hong Kong's next Beijing-approved leader. — AFP
September 9, 2021 - 8:23pm
Hong Kong police on Thursday raided a museum that houses exhibits commemorating Beijing's deadly crackdown on Tiananmen Square in 1989, a day after they arrested four members of the group that ran the venue.
The raid came as police accused one of the four arrestees — prominent barrister Chow Hang-tung, vice-chairwoman of the group — of inciting subversion, according to Chow's lawyers and relatives.
Officers from the newly created national security unit were seen carting away documents and exhibits from the now-shuttered June 4 museum which is run by the Hong Kong Alliance.
The items included a giant logo of the museum, a paper model of the Goddess of Democracy — a symbol of the 1989 pro-democracy student movement in Beijing — and photos of the huge annual candlelight vigils Hong Kongers hosted for Tiananmen's victims, as well as dozens of boxes of materials. — AFP