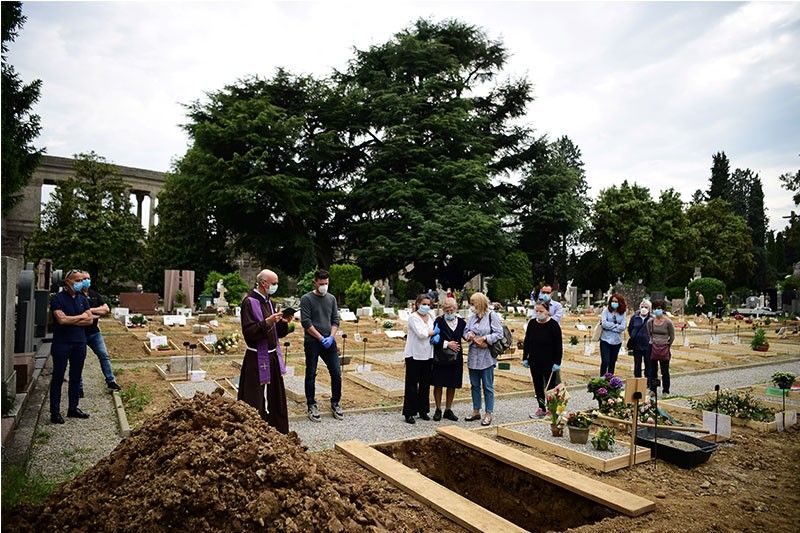 Father Marco Bergamelli (3rdL) prays with relatives of a deceased person during a burial at the Monumental Cemetery of Bergamo, Lombardy, a day after it reopened on May 19, 2020 as the country's is easing its lockdown aimed at curbing the spread of the COVID-19 infection, caused by the novel coronavirus. A new area in the cemetery of Bergamo is being dedicated to some of the people who have died in recent weeks and who have expressly asked to be buried in the ground and not cremated, and who do not have a family tomb or burial place.
AFP/Piero CRUCIATTI
Italy virus death toll could be 19,000 higher than reported: agency
(Agence France-Presse) - May 22, 2020 - 7:43am
ROME, Italy — Italy's death toll from the novel coronavirus in March and April could be nearly 19,000 higher than the official figure of 32,000, the national social security agency said Thursday.
The Istituto Nazionale della Previdenza Sociale (INPS), the largest social security and welfare institute in Italy, said in a new study that the official death figures were not "reliable".
Its study showed that 156,429 total deaths were recorded in Italy in March and April, which is 46,909 higher than the average number of fatalities in those months recorded between 2015 and 2019.
But only 27,938 deaths linked to coronavirus were reported during that period by the Civil Protection Agency, whose toll forms the basis of national statistics, the INPS said.
That meant there were 18,971 more deaths than normal during this period, with the vast majority of 18,412 recorded in the coronavirus-ravaged north of the country.
"Given the fact that the number of deaths is quite stable in these times, we can — with necessary caution — attribute a large portion of these deaths during these past two months to the epidemic," the INPS said.
It added that the increase in deaths was likely not only due to the disease, but from people suffering from other illnesses unable to get healthcare due to hospitals being overwhelmed by the coronavirus pandemic.
As of Friday, the pandemic has claimed 32,486 deaths in Italy, of which 26,715 have been in Lombardy alone — Europe's worst affected region.
As It Happens
LATEST UPDATE: June 5, 2020 - 4:56pm
Follow this page for updates on a mysterious pneumonia outbreak that has struck dozens of people in China.
June 5, 2020 - 4:56pm
The Department of Health reports that the total number of confirmed COVID-19 infections in the Philippines climbed to 20,626 as of Friday, June 5, 2020.
There are 244 additional cases, 82 recoveries and three new deaths.
June 5, 2020 - 9:16am
Brazil's death toll from the novel coronavirus has surged to become the third-highest in the world, surpassing Italy's, according to official figures released Thursday.
The South American country of 210 million people reported a new record of 1,473 deaths in 24 hours, bringing its overall toll to 34,021, from 614,941 infections, the health ministry said.
Italy has confirmed 33,689 deaths from 234,013 infections. — AFP
June 5, 2020 - 7:26am
The novel coronavirus has killed at least 387,280 people since the outbreak first emerged in China last December, according to a tally from official sources compiled by AFP at 1900 GMT on Thursday.
At least 6,563,710 cases of coronavirus have been registered in 196 countries and territories. Of these, at least 2,838,800 are now considered recovered.
The tallies, using data collected by AFP from national authorities and information from the World Health Organization (WHO), probably reflect only a fraction of the actual number of infections. — AFP
June 4, 2020 - 6:44pm
Britain's Prince Charles spoke of his experience of coronavirus, saying he was fortunate to have only mild symptoms and that he hopes the pandemic will refocus efforts on the environment.
"I was lucky in my case and got away with it quite lightly," the 71-year-old heir to the throne told Sky News television in an interview broadcast on Thursday.
"I can so understand what other people have gone through. I feel particularly for those who've lost their loved ones but were unable to be with them at the time.
"That's to me the most ghastly thing," he said. — AFP
June 4, 2020 - 5:05pm
The Department of Health reports 634 additional cases of the coronavirus disease, which brings the national tally to 20,382.
The agency says there are 95 recoveries and 10 deaths.