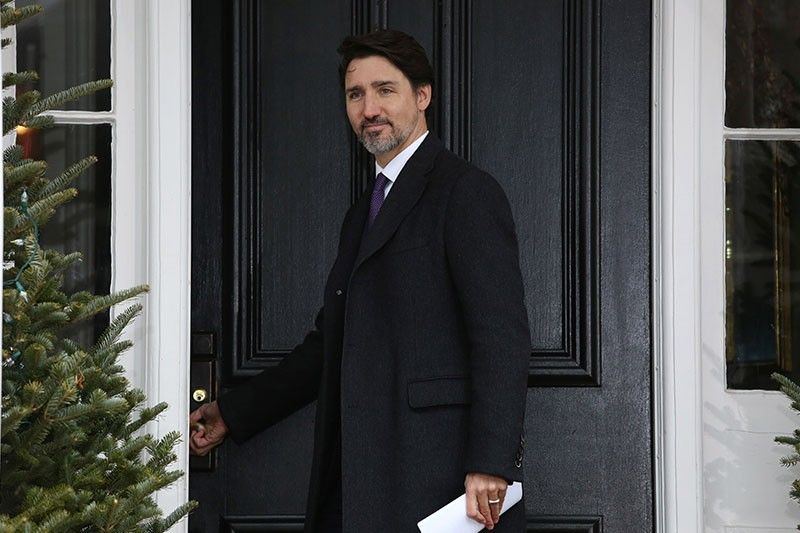 Canadian Prime Minister Justin Trudeau returns to his residence after a news conference on COVID-19 situation in Canada March 20, 2020 in Ottawa, Canada.
AFP/Dave Chan
Canada's Trudeau remains in isolation after wife recovers from virus
(Agence France-Presse) - March 30, 2020 - 9:21am
MONTREAL, Canada — Canadian Prime Minister Justin Trudeau said Sunday that he would remain in self-imposed isolation even though his wife, who had contracted the coronavirus, has recovered.
Although Sophie Gregoire Trudeau received the all-clear from her physicians on Saturday, the prime minister said, and he himself has no symptoms, he had been "sharing a roof with someone who tested positive for COVID-19."
"I have to continue in isolation in order to be sure that we're following all the protocols and the recommendations by Health Canada," Trudeau said.
Since doctors did not know exactly when Sophie Trudeau became virus-free, the prime minister said he would observe another 14 full days of confinement.
Addressing reporters from the porch of his Rideau Cottage residence in Ottawa, Trudeau noted that workers across Canada had discovered that they can do an "awful lot of work via telephone, via video conferences — and that's exactly what I am doing."
The prime minister has been in self-isolation since his wife tested positive for the coronavirus on March 12 following a trip to London.
She announced Saturday that her physicians had pronounced her cured, giving her a green light to return to normal life.
Justin Trudeau said his wife had taken their children to Harrington Lake, just northwest of Ottawa, the site of a summer residence and official retreat for Canadian prime ministers.
Trudeau also announced new financial measures to help vulnerable Canadians — particularly children and the aged — hard hit by the side-effects of the coronavirus.
Asked at the news conference whether he might call on Canada's armed forces to help enforce officially imposed travel curbs, Trudeau said he had no plans to do so for now.
Separately, Dr. Theresa Tam, Canada's chief public health officer, called on Canadians returning to their country to strictly respect the 14 days of confinement imposed by the government.
She referred in particular to "snowbirds" — the Canadians who pass much of the winter in Florida and other warmer locales, many of whom have recently been returning home.
As of Sunday, 6,243 Canadians had tested positive for the coronavirus, and 64 have died, according to a tally from Johns Hopkins University.
As It Happens
LATEST UPDATE: May 31, 2020 - 9:01am
Follow this page for updates on a mysterious pneumonia outbreak that has struck dozens of people in China.
May 31, 2020 - 9:01am
The US recorded 960 coronavirus deaths on Saturday, bringing its total to 103,758 since the global pandemic began, according to a tally kept by Johns Hopkins University.
The country has officially logged 1,769,776 cases of the virus, far more than any other nation, the tracker by the Baltimore-based university showed at 8:30 pm (0030 GMT Sunday). — AFP
May 30, 2020 - 8:49pm
The Department of Health reports 590 new cases of the coronavirus disease, bringing the national tally to 17,224.
Of the new confirmed cases, 252 were considered "fresh" and 338 were positive results returned "late."
There are 88 recoveries 8 deaths, the Health department adds.
May 30, 2020 - 5:35pm
The Department of Health announces that the COVID-19 case bulletin for Saturday, May 30, 2020 will be released around 8:00 p.m.
May 29, 2020 - 9:37pm
The Department of Health reports 1,046 new cases of the coronavirus disease, the highest surge in a day in the Philippines. This brings the national tally to 16,634.
The agency says there are 122 recoveries and 21 new fatalities.
May 29, 2020 - 5:39pm
Health Undersecretary Maria Rosario Vergeire says that out of the 539 new cases reported Thursday, only 109 were "fresh cases" or those confirmed in the last three days.
The remaining were reported infections from last week.