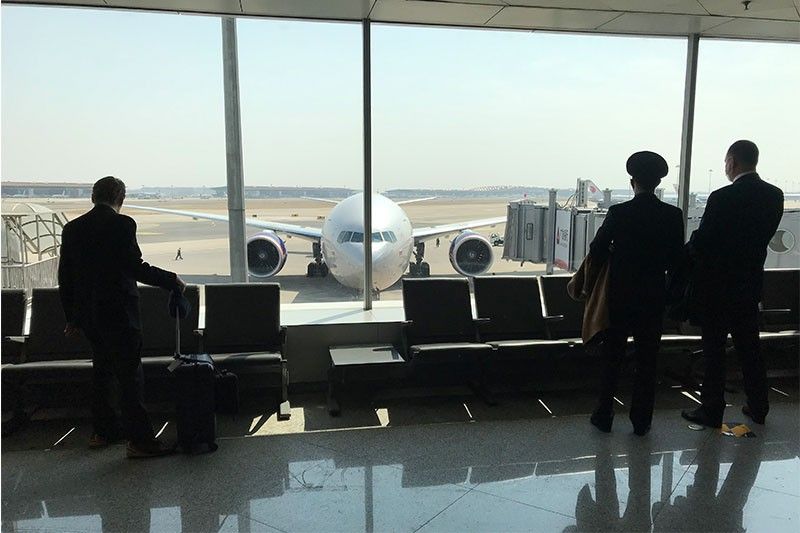 This photo taken on March 21, 2020 shows people looking out at an Aeroflot plane before departure from Beijing airport on a flight to Moscow. China lifted tough restrictions on the province at the epicentre of the coronavirus outbreak on March 25 after a months-long lockdown as the country reported no new domestic cases.
AFP/Laurent Thomet
China cuts international flights, bars foreign residents
(Agence France-Presse) - March 27, 2020 - 8:18am
BEIJING, China — China will drastically cut its international flight routes and bar entry to returning foreigners based in the country to stem the spread of the coronavirus, authorities said Thursday.
The country has not reported any new domestic COVID-19 infections for two consecutive days but officials have raised concerns about the number of imported cases, which have now surpassed 500.
Foreigners living in China with valid visas and resident permits will be blocked from returning to the country after midnight Saturday, the foreign ministry said in a statement.
"The suspension is a temporary measure that China is compelled to take in light of the outbreak situation," it added.
The most of the 500 imported infections involved Chinese nationals returning home, according to the foreign affairs ministry.
Diplomats and the crew of international airlines and vessels will still be permitted into the country, according to the statement.
Flights out of China will be capped at just one route a week to each country, with international airlines also permitted only one route.
The Civil Aviation Administration of China also said the passenger load on flights in and out of China should not exceed 75 percent.
The adjusted flight routes are expected to start running from March 29, it added.
All Beijing-bound international flights have been diverted to other urban centres.
Many Chinese cities including Beijing and Shanghai have already imposed a compulsory 14-day quarantine for all arrivals from abroad.
There were nearly 1,100 return international passenger flights scheduled to come to China this week.
As It Happens
LATEST UPDATE: September 27, 2020 - 5:24pm
Follow this page for updates on a mysterious pneumonia outbreak that has struck dozens of people in China.
September 27, 2020 - 5:24pm
An overnight curfew in Australia's second-largest city will be lifted this week, officials said Sunday, even as the global coronavirus toll inched towards one million dead.
Despite the number of infections worldwide passing 32 million — with the US state of New York reporting a fresh spike — more than 10,000 anti-lockdown protesters demonstrated in central London ahead of the re-imposition of restrictions there.
In more positive news, residents of the Chinese city of Wuhan — where the virus emerged last year — reported a hesitant return to normalcy, while the French Open got underway at Roland Garros in Paris.
In Australia, Victoria Premier Daniel Andrews said Melbourne residents would be free from Monday to leave their homes for work, exercise, shop for essentials, or provide care after active cases in the state fell below 400 for the first time since June 30.
The relaxation of the curfew, imposed August 2, comes after 16 new infections and two deaths were reported Sunday. — AFP
September 27, 2020 - 9:26am
France will face a months-long coronavirus epidemic that will overwhelm its health system if something does not change, one of the country's top medical figures warns Sunday.
"The second wave is arriving faster than we thought," Patrick Bouet, head of the National Council of the Order of Doctors, tells the weekly Journal du Dimanche.
Fresh restrictions to slow the spread of the disease in the country's worst-hit areas, including the Mediterranean city of Marseille and the Paris region, have run into local resistance.
Bouet told the paper that warnings delivered this week by Health Minister Olivier Veran had not gone far enough.
"He didn't say that in three to four weeks, if nothing changes, France will face a widespread outbreak across its whole territory, for several long autumn and winter months," Bouet says. — AFP
September 26, 2020 - 4:13pm
The Philippines surpasses the 300,000-mark, with 2,747 new COVID-19 infections registered on Saturday.
88 individuals died and 787 recovered from the deadly virus.
September 25, 2020 - 4:10pm
The Department of Health reports 2,630 new cases of the coronavirus disease, bringing the national tally to 299.361.
69 have succumbed to the deadly virus while 494 have recovered.
September 25, 2020 - 7:14am
The novel coronavirus has killed at least 978,448 people since the outbreak emerged in China last December, according to a tally from official sources compiled by AFP at 1100 GMT on Thursday.
At least 31,975,020 cases of coronavirus have been registered. Of these, at least 21,891,500 are now considered recovered.
The tallies, using data collected by AFP from national authorities and information from the World Health Organization (WHO), probably reflect only a fraction of the actual number of infections. — AFP