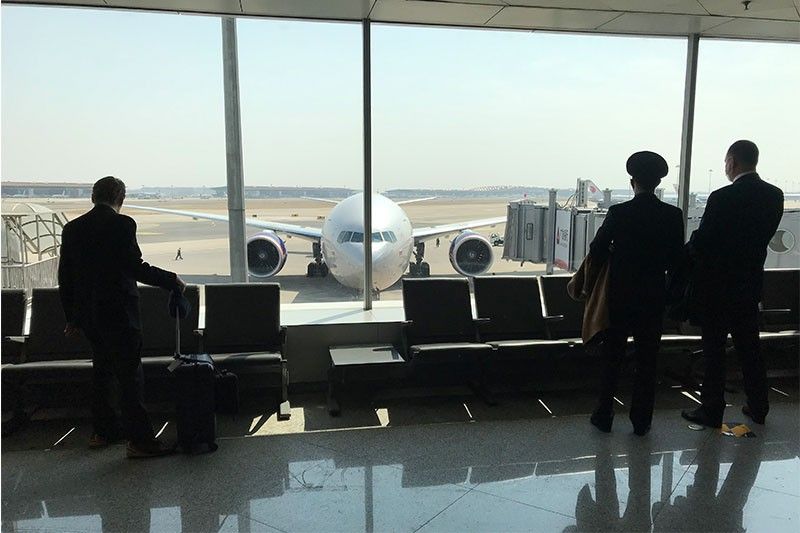 This photo taken on March 21, 2020 shows people looking out at an Aeroflot plane before departure from Beijing airport on a flight to Moscow. China lifted tough restrictions on the province at the epicentre of the coronavirus outbreak on March 25 after a months-long lockdown as the country reported no new domestic cases.
AFP/Laurent Thomet
China cuts international flights, bars foreign residents
(Agence France-Presse) - March 27, 2020 - 8:18am
BEIJING, China — China will drastically cut its international flight routes and bar entry to returning foreigners based in the country to stem the spread of the coronavirus, authorities said Thursday.
The country has not reported any new domestic COVID-19 infections for two consecutive days but officials have raised concerns about the number of imported cases, which have now surpassed 500.
Foreigners living in China with valid visas and resident permits will be blocked from returning to the country after midnight Saturday, the foreign ministry said in a statement.
"The suspension is a temporary measure that China is compelled to take in light of the outbreak situation," it added.
The most of the 500 imported infections involved Chinese nationals returning home, according to the foreign affairs ministry.
Diplomats and the crew of international airlines and vessels will still be permitted into the country, according to the statement.
Flights out of China will be capped at just one route a week to each country, with international airlines also permitted only one route.
The Civil Aviation Administration of China also said the passenger load on flights in and out of China should not exceed 75 percent.
The adjusted flight routes are expected to start running from March 29, it added.
All Beijing-bound international flights have been diverted to other urban centres.
Many Chinese cities including Beijing and Shanghai have already imposed a compulsory 14-day quarantine for all arrivals from abroad.
There were nearly 1,100 return international passenger flights scheduled to come to China this week.
As It Happens
LATEST UPDATE: March 28, 2020 - 6:29pm
Follow this page for updates on a mysterious pneumonia outbreak that has struck dozens of people in China.
March 28, 2020 - 6:29pm
Iran announces that 139 more people had died from the novel coronavirus, raising the official death toll to 2,517 in one of the world's worst-affected countries.
Health ministry spokesman Kianoush Jahanpour says in a press conference that 3,076 more cases had been confirmed in the past 24 hours, bringing the total number of infections to 35,408. — AFP
March 28, 2020 - 3:53pm
Actress Iza Calzado tested positive for the coronavirus disease, her manager says.
March 28, 2020 - 1:30pm
Toyota Makati Inc. announces that a team member tested positive for COVID-19.
"The safety and security of our employees, customers, and all of our stakeholders, is paramount to us. Keeping this in mind, and under the guidance and support of the relevant national and local authorities, we are taking immediate and comprehensive actions necessary, including disinfection of the dealership, to prevent any spread of the virus," the company says.
"Furthermore, all employees who have had close contact with the infected member have been quarantined," it adds.
March 28, 2020 - 10:43am
The United States now has more than 100,000 confirmed cases of the new coronavirus, a tracker maintained by Johns Hopkins University shows.
There have been 100,717 cases including 1,544 deaths as of 6:00 pm Eastern time (2200 GMT).
The biggest cluster by far is in New York, home to almost half the cases, overwhelming the hospital system. — AFP
March 28, 2020 - 9:08am
Manila Development Authority General Manager Jojo Garcia has tested positive for the coronavirus disease.
"I wish to inform everyone that I will have to work from home as I have been found positive for COVID-19," Garcia says in a statement.
"I embrace this challenge with full trust and faith in God that I will overcome the same with your prayers," he adds.