Puerto Rico decrees night-time curfew over coronavirus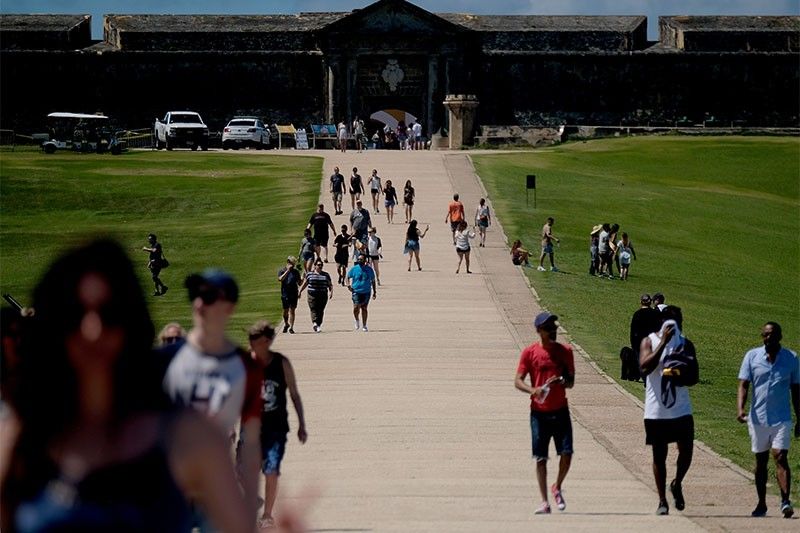 SAN JUAN, Puerto Rico — The US territory of Puerto Rico on Sunday ordered a 9:00 pm to 5:00 am curfew to stem the spread of the novel coronavirus, the strongest measure yet taken on American soil.
It took effect immediately and lasts until March 30.
"Faced with the possibility of transmission and propagation of the virus, I have ordered the imposition of a curfew for all residents of Puerto Rico," Governor Wanda Vazquez announced in a video message.
"We must take every precaution to ensure that we do not become potential carriers," Vazquez said.
The Caribbean territory of 2.9 million, whose residents are US citizens, also will close many businesses from Sunday until the end of the month, she said.
That includes malls, movie theaters, concert venues, gyms, bars and other businesses that bring together large crowds on the island popular with tourists.
The exceptions will be businesses in the food supply chain, and in the medical care system, as well as drugstores, gas stations, banks and senior citizens' group homes.
At night, only those who are providing or receiving medical care, or carrying out essential duties, will be allowed to be on Puerto Rico's streets.
Anyone defying the curfew faces a six-month jail term and a fine of up to $5,000.
The island declared a state of emergency when its first cases were reported March 12. The island has reported five cases.
On Friday, Vazquez accepted the resignation of Health Secretary Rafael Rodriguez Mercado, who was under fire for his handling the coronavirus emergency.
Recently, island residents were irate when two warehouses were found to be filled with abandoned supplies, apparently never used after Hurricanes Irma and Maria in 2017.
The storms' one-two punch left Puerto Ricans without power for months and killed nearly 3,000 people, according to the local government's official numbers.
President Donald Trump has accused the Puerto Rican government of incompetence and siphoning off hurricane relief money.
The Puerto Rican leaders accused Trump of treating the population of the island like second class citizens.
As It Happens
LATEST UPDATE: November 27, 2021 - 9:10am
Follow this page for updates on a mysterious pneumonia outbreak that has struck dozens of people in China.
November 27, 2021 - 9:10am
An anti-Covid pill developed by Merck has proved effective in treating the disease, the US Food and Drug Administration says in a much-awaited preliminary report.
But the report, from an FDA advisory panel, cautioned that pregnant women should not use the drug, known as molnupiravir, saying the potential benefits do not outweigh the risks for those patients.
The report is meant to provide guidance to an FDA experts panel convening Tuesday to consider whether to authorize emergency use of molnupiravir. — AFP
November 25, 2021 - 12:01pm
More than 100,000 people have died of Covid-19 in Germany since the start of the pandemic, a public health agency announces Thursday.
Europe's largest economy is battling a fresh surge in coronavirus cases, and recorded 351 fatalities in the past 24 hours, bringing the total death toll to 100,119, according to figures from the Robert Koch Institute.
As infections reach a record high and intensive care units fill up, the health crisis is posing an immediate challenge to the new coalition government set to take over from Angela Merkel's cabinet. — AFP
November 23, 2021 - 7:02am
Covid infections are on the rise in South African weeks ahead of an expected fourth wave in December, the country's national health laboratory service says Monday.
The National Institute for Communicable Diseases (NICD) reports a "sustained" increase over the past seven days, with the majority of cases detected in the most populous province of Gauteng, which includes Johannesburg and Pretoria.
"We are monitoring these trends to see if these increases persist," NICD's interim executive director, Adrian Puren, says in a statement. — AFP
November 22, 2021 - 7:15pm
Most Germans will be "vaccinated, cured or dead" from Covid-19 in a few months, Health Minister Jens Spahn warned Monday as he urged more citizens to get jabbed.
"Probably by the end of this winter, as is sometimes cynically said, pretty much everyone in Germany will be vaccinated, cured or dead," Spahn said, blaming "the very contagious Delta variant".
"That is why we so urgently recommend vaccination," he added.
The stark warning comes as Germany is racing to contain a record rise in coronavirus infections in recent weeks, with hospitals sounding the alarm about overflowing intensive care units.
Despite widespread access to free coronavirus vaccines, just 68% of the German population is fully vaccinated, a level experts say is too low to keep the pandemic under control. — AFP
November 20, 2021 - 10:53am
The risk of stillbirth is about twice as high for women with COVID-19 compared to those without, and grew to about quadruple during the period when the Delta variant became dominant, a large US government study says.
The analysis, carried out by the Centers for Disease Control and Prevention was based on more than 1.2 million deliveries between March 2020 and September 2021 from a large US hospital database.
Overall, stillbirths were highly rare, accounting for 0.65% or 8,154 deliveries. — AFP