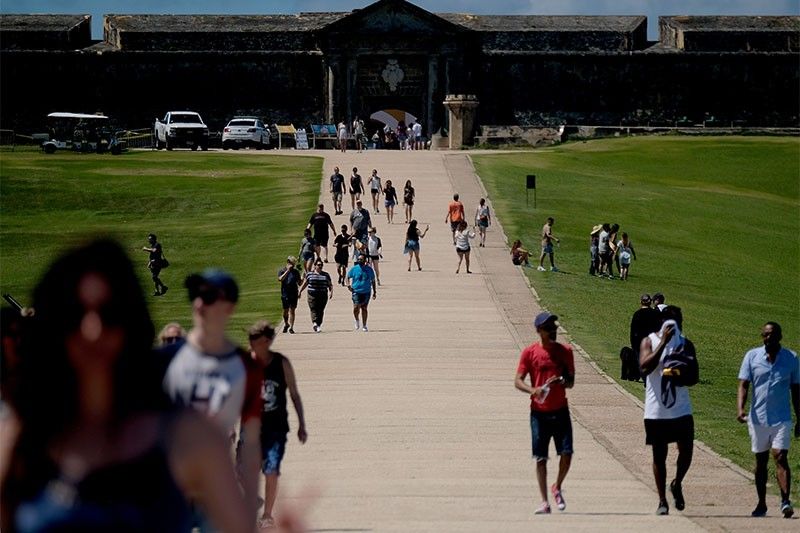 Tourist visit El Morro fort in San Juan, on March 14, 2020.
AFP/Ricardo Arduengo
Puerto Rico decrees night-time curfew over coronavirus
(Agence France-Presse) - March 16, 2020 - 7:31am
SAN JUAN, Puerto Rico — The US territory of Puerto Rico on Sunday ordered a 9:00 pm to 5:00 am curfew to stem the spread of the novel coronavirus, the strongest measure yet taken on American soil.
It took effect immediately and lasts until March 30.
"Faced with the possibility of transmission and propagation of the virus, I have ordered the imposition of a curfew for all residents of Puerto Rico," Governor Wanda Vazquez announced in a video message.
"We must take every precaution to ensure that we do not become potential carriers," Vazquez said.
The Caribbean territory of 2.9 million, whose residents are US citizens, also will close many businesses from Sunday until the end of the month, she said.
That includes malls, movie theaters, concert venues, gyms, bars and other businesses that bring together large crowds on the island popular with tourists.
The exceptions will be businesses in the food supply chain, and in the medical care system, as well as drugstores, gas stations, banks and senior citizens' group homes.
At night, only those who are providing or receiving medical care, or carrying out essential duties, will be allowed to be on Puerto Rico's streets.
Anyone defying the curfew faces a six-month jail term and a fine of up to $5,000.
The island declared a state of emergency when its first cases were reported March 12. The island has reported five cases.
On Friday, Vazquez accepted the resignation of Health Secretary Rafael Rodriguez Mercado, who was under fire for his handling the coronavirus emergency.
Recently, island residents were irate when two warehouses were found to be filled with abandoned supplies, apparently never used after Hurricanes Irma and Maria in 2017.
The storms' one-two punch left Puerto Ricans without power for months and killed nearly 3,000 people, according to the local government's official numbers.
President Donald Trump has accused the Puerto Rican government of incompetence and siphoning off hurricane relief money.
The Puerto Rican leaders accused Trump of treating the population of the island like second class citizens.
As It Happens
LATEST UPDATE: May 12, 2021 - 6:19pm
Follow this page for updates on a mysterious pneumonia outbreak that has struck dozens of people in China.
May 12, 2021 - 6:19pm
The catastrophic scale of the Covid-19 pandemic could have been prevented had the warning signs been heeded, the global panel investigating the world's coronavirus response concluded Wednesday.
The Independent Panel for Pandemic Preparedness and Response blamed a "toxic cocktail" of dithering and poor coordination, said the World Health Organization could have sounded the alarm sooner, and urged rich countries to donate one billion vaccine doses by September, in its long-awaited final report. — AFP
May 12, 2021 - 12:36pm
Official data show India's coronavirus death toll surpassed 250,000 on Wednesday as the pandemic raged across the vast country of 1.3 billion people.
According to the health ministry, 4,205 people died in the past 24 hours -- a new record -- taking total fatalities to 254,197.
The number of cases rose almost 350,000 to 23.3 million, the second-highest after the United States. — AFP
May 12, 2021 - 9:03am
The World Health Organization said Wednesday that a variant of COVID-19 behind the acceleration of India's explosive outbreak has been found in dozens of countries all over the world.
The UN health agency said the B.1.617 variant of COVID-19, first found in India in October, had been detected in sequences uploaded to the GISAID open-access database "from 44 countries in all six WHO regions," adding it had received "reports of detections from five additional countries". — AFP
May 11, 2021 - 6:49pm
Taiwan bans large gatherings after a cluster of local infections prompted authorities to raise the coronavirus alert level in a place with one of the world's best pandemic responses.
The self-ruled island has been hailed as a global leader in containing the COVID-19 pandemic with just 1,210 confirmed cases, 12 deaths and minimal social distancing needed once the initial outbreak was quelled.
Last year ,Taiwan recorded 253 straight days without any local infections. — AFP
May 10, 2021 - 3:26pm
Britain on Monday was set to announce a further easing of its coronavirus lockdown, joining several European nations in gradually reopening their economies, but India remained in the grip of a devastating outbreak.
Rapid vaccination programs have allowed a number of wealthy nations to start taking steps towards normality, but the virus is still surging in many countries and concerns are growing about global vaccine inequality.
The pandemic has claimed close to 3.3 million lives worldwide and Britain has the highest death toll in Europe, but its successful vaccination programme has allowed the authorities to start relaxing curbs.
Prime Minister Boris Johnson was due to announce the latest measures — effective May 17 — in a press conference on Monday, including the reopening of indoor seating in pubs and restaurants. — AFP