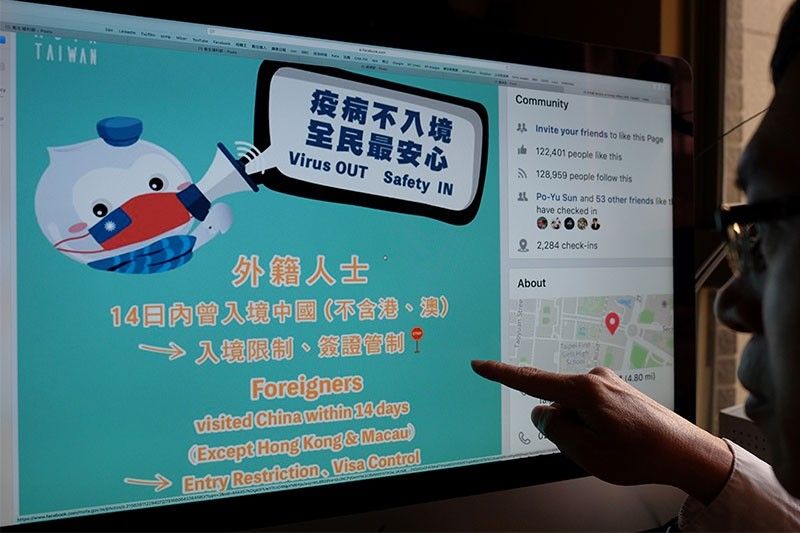 This photo illustration taken on February 14, 2020 shows a man pointing to a webpage from Taiwan's Ministry of Foreign Affairs' Facebook account, used to promote the prevention of the deadly COVID-19 coronavirus, in Taipei. While China deploys stern communist slogans in its battle against a deadly new coronavirus, democratic Taiwan has embraced cuddly mascots and humour to ease public anxiety and educate on best practices. Images of cute animals have featured in daily social media updates from government agencies to tackle disinformation and prevent infections spreading.
AFP/Sam Yeh
Taiwan embraces cute mascots for virus prevention campaign
Amber Wang
(Agence France-Presse) - February 17, 2020 - 11:53am
TAIPEI, Taiwan — While China deploys stern communist slogans in its battle against a deadly new coronavirus, democratic Taiwan has embraced cuddly mascots and humour to ease public anxiety and educate on best practices.
Images of cute animals have featured in daily social media updates from government agencies to tackle disinformation and prevent the spread of infections.
The health ministry has deployed a cartoon "spokesdog" -- a Shiba Inu called Zongchai -- that has proved a hit with hashtags of his name going viral and posts shared hundreds of thousands of times.
Recent contributions have included advice on hygiene and quarantine regulations as well as reminding people to use face masks judiciously given the ongoing shortages since the new virus exploded in China.
"Leave face masks for the people who need them, frequently wash your hands with soap, reduce touching your eyes, nose and mouth with your hands," read one update.
In a Valentine's Day message, Zongchai offered practical advice for dating during an outbreak, from regular hand washing to staying sober and practising safe sex.
The post ended with a question: "What if I am single?" to which the pup quipped: "Stay home then!"
The foreign ministry has rolled out a pigeon in a facemask to announce entry restrictions on foreigners with recent travel history to China, adopting the slogan "Virus OUT, Safety IN".
'So quacking exaggerated'
The economic affairs ministry plumped for a goose when it announced that rumours of disposable paper meal boxes running out were "so quacking exaggerated".
The message deployed a homophone where the word for the noise a goose makes sounds similar to the first character for the word "exaggerated" in Mandarin.
The approach contrasts with the Chinese mainland where authorities have tapped their well-oiled propaganda powers to wage a "people's war" against a virus that has killed nearly 1,800 people.
State media has heralded the importance of patriotism to tackle the outbreak in a campaign reminiscent of Mao Zedong's cries to mobilise the masses.
"To visit each other is to kill each other," read one slogan in a quarantined district in Hubei province, the epicentre of the outbreak. "To get together is to commit suicide."
Despite its cultural links and close proximity to China, Taiwan moved swiftly against the outbreak, quickly restricting and then banning arrivals from the mainland.
The island -- which Beijing views as its own territory and keeps frozen out of the World Health Organization -- recorded its first death on Sunday but has kept confirmed infections to just 20.
There was brief panic buying of face masks before authorities limited each person to just two face masks every seven days using health insurance cards.
The island has also restricted the number of face masks a person can take abroad to 250. Last week, the coast guard stopped a fishing boat for attempting to smuggle out 71,000 masks.
The ruling Democratic Progressive Party, which is loathed by Beijing for leaning towards Taiwanese independence, has been deft at deploying cute memes to win public support.
President Tsai Ing-wen won a landslide second term in January after an election where she regularly featured as an anime-style cartoon character in campaign literature.
In a similar vein, Premier Su Tseng-chang took to his social media accounts in cartoon form this week to warn against panic-buying toilet paper.
"We only have one butt, don't hoard, don't trust rumours," the post read.
Once again, a clever homophone was deployed. In Mandarin, the first characters for "hoard" and "butt" are pronounced the same.
As It Happens
LATEST UPDATE: April 7, 2020 - 2:56pm
Follow this page for updates on a mysterious pneumonia outbreak that has struck dozens of people in China.
April 7, 2020 - 2:56pm
Deep in the Amazon rainforest in northern Brazil, where rivers are the only highways, the coronavirus pandemic is sharply limiting boat traffic, leaving villages even more cut off from the world than before.
Canoes, motor boats and ferries are the cars, trucks and buses of the Amazon, bringing people and goods to remote communities that can only be reached by river -- sometimes with a journey of more than a week.
But because of the pandemic, authorities in Amazonas state have restricted river traffic to essential travel, seeking to stop the spread of the virus in a region that could be particularly vulnerable to it.
Cargo transport is operating normally, but passenger transport is restricted to exceptional circumstances such as medical emergencies and essential services like paramedics and police, said Jerfeson Caldas, regional coordinator for national health agency Anvisa.
Even those trips are bound by special rules: boats can only operate at 40 percent of their passenger capacity, and must supply water, soap and hand sanitizer.
The restrictions amount to the jungle equivalent of the isolation measures now in place for around half the world's population.
"Amazonas depends on rivers for more than 85 percent of the transport we survive on. Unfortunately, people here are now living a sad reality because of this crisis," says Alessandra Martins Pontes, a transportation planning expert at Amazonas Federal University. -- AFP
April 7, 2020 - 11:17am
The Department of Science and Technology says it has accelerated its mass production of face shields to be distributed in various hospitals in the country.
Two of the department's research and development institutes and a research laboratory in a state university have devoted their resources in creating the face shields.
April 7, 2020 - 9:02am
The US records 1,150 coronavirus deaths in 24 hours, Johns Hopkins University says, pushing the country's toll further above the 10,000 mark reached earlier in the day.
According to Johns Hopkins' running tally, there are more than 366,000 cases of new coronavirus in the United States — including in excess of 30,000 new cases in 24 hours — with total deaths at 10,783.
The US has by far the most number of confirmed coronavirus cases in the world. The number of deaths recorded since the start of the pandemic has for the past several days increased by at least 1,000 per day and is gradually approaching the number of deaths in Italy (16,523) and Spain (13,005). — AFP
April 7, 2020 - 8:02am
The worldwide number of fatalities from the novel coronavirus rose to 73,139 on Monday, according to a tally compiled by AFP at 1900 GMT from official sources.
More than 1,310,930 declared cases have been registered in 191 countries and territories since the epidemic first emerged in China in December. Of these cases, at least 249,700 are now considered recovered.
The tallies, using data collected by AFP offices from national authorities and information from the World Health Organization (WHO), probably reflect only a fraction of the actual number of infections.
Many countries are only testing the most serious cases.
Since 1900 GMT Sunday, 5,005 new deaths and 66,187 new cases were recorded worldwide. The United States has the highest number of new deaths with 1,209, followed by France with 833 and Spain with 637. — AFP
April 6, 2020 - 6:58pm
The coronavirus pandemic has killed more than 50,000 people in Europe, mostly in Italy, Spain, France and Britain, according to an AFP tally using official figures at 0945 GMT on Monday.
With a total of 50,209 deaths, Europe is the continent with the most COVID-19 fatalities, out of 675,580 declared cases. Hardest-hit Italy has 15,877 deaths and Spain 13,055.
France has reported 8,078 fatalities while Britain has 4,934. — AFP