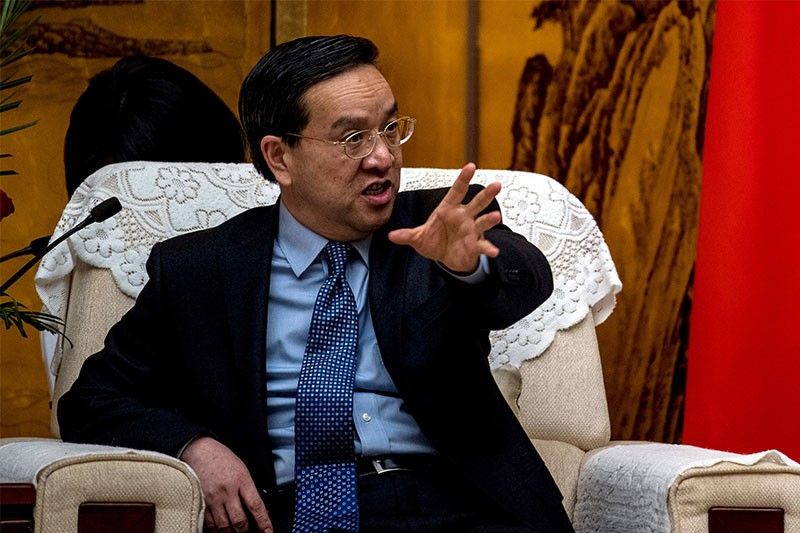 This file photo taken on February 23, 2017 shows the secretary of the Hubei Provincial Committee of the Communist Party of China (CPC), Jiang Chaoliang, gesturing during a meeting with the visiting French prime minister in Wuhan, the capital of China's Hubei province. China on February 13, 2020 has sacked Jiang Chaoliang, the top political leader of virus-stricken Hubei province, the highest-profile leader to be removed so far at the epicentre of an epidemic that has killed 1,355.
AFP/Johannes Eisele
China removes party chief of virus epicentre province
(Agence France-Presse) - February 13, 2020 - 12:15pm
BEIJING, China — China has sacked the top political leader of virus-stricken Hubei province, the epicentre of an epidemic that has killed 1,355, state media reported Thursday.
Jiang Chaoliang, Hubei's party secretary, will be replaced by Shanghai mayor Ying Yong, according to the official Xinhua news agency, which gave no additional details.
Jiang's removal comes after Hubei's two most senior health officials were sacked Monday amid growing criticism of how local officials have handled the crisis.
The province reported a dramatic spike in confirmed virus cases Thursday, raising the total number of nationwide infections to nearly 60,000 after Hubei authorities changed the way they count infections.
The virus is believed to have originated late last year at a seafood market in Hubei province's capital Wuhan.
Pressure on local officials for their perceived incompetence has mounted particularly after the death last week of a Chinese doctor who was punished by Wuhan authorities for raising the alarm about the new virus.
Wuhan authorities also faced criticism in January for going ahead with an annual public banquet for 40,000 families just days before the city was placed on lockdown.
Other changes have been taking place in the province, including the sacking of a top Red Cross official in Wuhan for dereliction of duty, while senior Beijing official Chen Yixin has been sent to Wuhan to guide epidemic control work.
As It Happens
LATEST UPDATE: February 24, 2020 - 3:29pm
Follow this page for updates on a mysterious pneumonia outbreak that has struck dozens of people in China.
February 24, 2020 - 3:29pm
Authorities in Wuhan on Monday reversed a decision that would have allowed some people to leave the quarantined city at the centre of China's deadly virus epidemic, and reprimanded officials who had made the announcement.
The city government said in a statement that the previous announcement had been made by a traffic prevention and control group "without the consent" of the local leadership.
"The announcement is declared invalid. In this regard, we have seriously dealt with the relevant personnel," the city said on its official account on Twitter-like Weibo.
"Wuhan resolutely implements the spirit of General Secretary Xi Jinping's important instructions on 'preventing leaks (of the virus)' ... strictly manages the passages leaving from Wuhan, strictly controls personnel, and strictly prevents the epidemic from going out," it said. — AFP
February 24, 2020 - 8:58am
Israel confirms its second case of the new coronavirus — a second returned citizen from the stricken cruise ship Diamond Princess.
"Another passenger who returned from the cruise ship in Japan has tested positive," a health ministry statement said.
"The patient is in isolation and under supervision and was not infected in Israel," it said.
The first case was announced on Friday. — AFP
February 24, 2020 - 8:57am
Iran's confirmed death toll from the new coronavirus rises to eight, the highest outside China, sending neighbouring countries scrambling to contain the outbreak.
Four immediate neighbours of the Islamic republic — Turkey, Pakistan, Afghanistan and Armenia — said on Sunday they would close land borders, while three imposed restrictions on air traffic, amid growing regional concerns about the spread of the virus.
Iraqi and Kuwaiti authorities have already banned travel to and from Iran.
Lebanon has confirmed its first case — a 45-year-old Lebanese woman who had travelled from Qom in Iran — and Israel on Sunday quarantined at home nearly 200 school pupils who came into contact with South Korean tourists who contracted the virus. — AFP
February 24, 2020 - 8:55am
Armenia will close its border with Iran and suspend flights, Prime Minister Nikol Pachinian announced Sunday, as fears over a deadly outbreak of the new coronavirus in Iran sent neighbouring countries scrambling to contain the outbreak.
"Iran-Armenia air links and the entry of people into Armenia via the Meghri checkpoint", the only border crossing between the nations, "will be suspended", he said in a post on Twitter, adding that the measure was set to last two weeks.
A special committee tasked with preventing the spread of the virus in Armenia will meet on Monday to discuss other possible steps in view of the situation in Iran, Pachinian said.
"There is no reason to be overcome by panic," he added. — AFP
February 24, 2020 - 8:54am
An elderly woman in hospital for cancer who tested positive for the new coronavirushas died, health officials in Italy said on Sunday.
"She had been hospitalised for a few days," said Giulio Gallera, the health chief of the northern Lombardy region, the centre of a coronavirus outbreak. "She'd been tested and they already knew she had the coronavirus."
If coronavirus is determined to be the cause of death, the woman will be the third person in Italy to have died from the so-called COVID-19 epidemic. — AFP