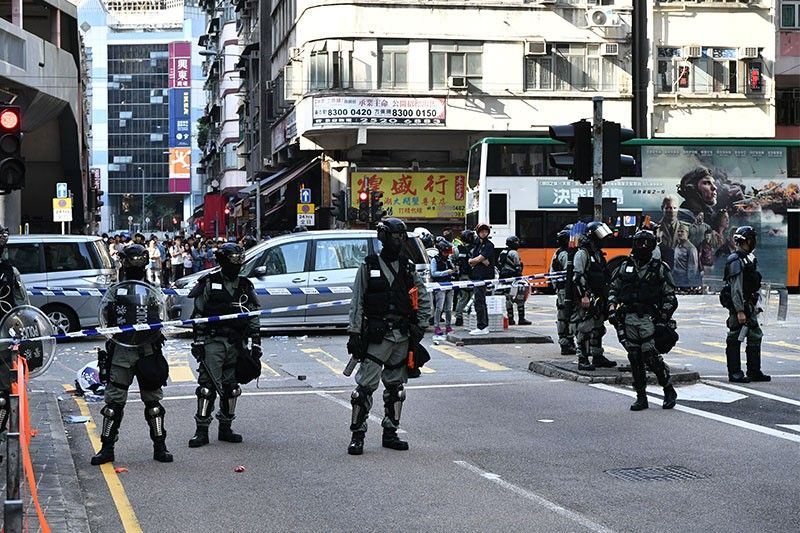 Police officers cordon off an area where pro-democracy protesters were shots by a policeman in Hong Kong on November 11, 2019. A Hong Kong police officer shot at masked protesters -- hitting at least one in the torso -- during clashes broadcast live on Facebook, as the city's rush hour was interrupted by protests.
AFP/Anthony Wallace
Hong Kong police shoot protester as protests start working week
(Agence France-Presse) - November 11, 2019 - 9:21am
HONG KONG, China — A Hong Kong police officer shot at masked protesters on Monday morning -- hitting at least one in the torso -- during clashes broadcast live on Facebook, as the city's rush hour was interrupted by protests.
Footage showed a police officer drawing his sidearm in the district of Sai Wan Ho as he tried to detain a masked man at a road junction that had been blocked by protesters.
Another masked man then approached the officer and was apparently shot in the chest area, quickly falling to the ground, clutching his left side. His condition was not clear.
Seconds later, two more live rounds were fired by the officer during a scuffle and another masked man went to the ground, although the footage was less clear as to whether he was struck.
Police could later be seen detaining the two men on the ground. The first man had a pool of blood next to him, his body limp as officers moved him around and apparently tried to tie his hands.
The second man was conscious and talking.
A police source, speaking on condition of anonymity, confirmed to AFP that live rounds were fired at more than one protester in Sai Wan Ho and that a statement would be issued.
Hong Kong has been upended by five months of huge and increasingly violent rallies, but Beijing has refused to give in to most of the movement's demands.
Tensions have soared in recent days following the death on Friday of a 22-year-old student who succumbed to injuries sustained from a fall in the vicinity of a police clearance operation the weekend before.
The city has seen four days of consecutive protests since the student's death as well as tens of thousands attending mass vigils.
Using online messaging forums, activists had called for a general strike on Monday morning.
Flashmob protests sprung up in multiple districts during the morning commuter period, with small groups of masked protesters targeting subway stations and building barricades on road junctions.
Even before the shooting in Sai Wan Ho, tear gas had been fired in at least two other locations.
Monday's shooting is the third time protesters have been shot with live rounds by police.
On 1 October a student was struck in the chest as he and a group of activists attacked an officer with sticks and poles. He survived his wound and is being prosecuted.
Days later a 14-year-old boy was shot in the leg when a policeman in plainclothes fired his gun after his car was attacked by a crowd. He also survived and was arrested.
As It Happens
LATEST UPDATE: December 14, 2019 - 12:24pm
Millions march in Hong Kong in a powerful rebuke of an extradition law feared to expose them to China's capricious justice system.
December 14, 2019 - 12:24pm
Police say five Hong Kong teenagers have been arrested in connection with the death of a man hit on the head by a brick during clashes between pro- and anti-government protesters last month.
The three males and two females aged 15 to 18 were arrested on Friday on suspicion of murder, rioting and wounding and had been detained pending further investigation, police say in a statement.
The incident occurred in mid-November as the pro-democracy movement was in its fifth month, with hardcore demonstrators engaged in a "blossom everywhere" campaign across the city to stretch police resources. — AFP
December 9, 2019 - 3:36pm
Hong Kongers have delivered a clarion call for change over the last fortnight with a landslide local election defeat for the government and more than one in ten hitting the streets peacefully on Sunday — but will Beijing listen?
Monday marks the sixth month anniversary of a movement that has upended the semi-autonomous Chinese hub's reputation for stability and blanketed its streets with unprecedented scenes of political violence.
But the last two weeks has seen a dramatic drop-off in clashes and vandalism — something the city's pro-Beijing leadership has insisted must be a precursor to any meaningful dialogue.
The question on many lips now is whether chief executive Carrie Lam — and Beijing — will take the opportunity to reach out before anger explodes once more.
"Ignoring our voices will only make the snowball get bigger and bigger and there will be consequences to that," Bonnie Leung, a prominent figure within the pro-democracy movement's more moderate wing, told AFP. — Agence France-Presse
December 8, 2019 - 4:17pm
Vast crowds of democracy protesters thronged Hong Kong's streets on Sunday in a forceful display of support for the movement on its six-month anniversary, as organizers warned the city's pro-Beijing leaders they had a "last chance" to end the political crisis.
Tens of thousands snaked their way through the financial hub's main island under crisp winter skies in what looked set to be the biggest turnout in months.
The rally, which received rare police permission, comes two weeks after pro-establishment parties got a drubbing in local elections, shattering government claims that a "silent majority" opposed the protests.
Many of those attending voiced anger that chief executive Carrie Lam and Beijing have ruled out any further concessions despite the landslide election defeat. — Agence France-Presse
December 2, 2019 - 1:56pm
Video messages featuring young Hong Kongers reciting what could be their last words before joining a protest are filling up the inbox of Glacier Kwong, a digital rights activist based in Germany.
Outside China's internet controls, this veteran of the pro-democracy movement works late into the night from her home in Hamburg, offering practical support for protesters on the other side of the world.
She helps find lawyers for those who have been arrested, offers advice on how they should protect themselves online and stores the encrypted sensitive documents they do not want China to see.
Lately, her correspondence has made for grim viewing.
In the last couple of weeks, as the demonstrations turned deadly, protesters have recorded messages for posterity in case something should happen to them.
"I don't feel comfortable keeping that information but I think at least the Hong Kong police or the Chinese government cannot get to me," Kwong tells AFP. — Agence France-Presse
December 1, 2019 - 12:15pm
Hong Kong's pro-democracy protesters returned to the streets on Sunday for a series of marches and rallies after a rare period of calm in nearly six months of unrest.
Sunday's demonstrations come after brief skirmishes erupted overnight, with a man assaulted as he tried to clear barricades and police firing tear gas for the first time since November 24 district council elections that saw pro-democracy candidates win a landslide.
Three events are planned for Sunday, including a march to the US consulate to thank American leaders for legislation backing the city's protest movement.
An evening march will reiterate the movement's five demands, which include direct elections for the city's legislature and leadership, and a probe into alleged police brutality against demonstrators. -- Agence France-Presse