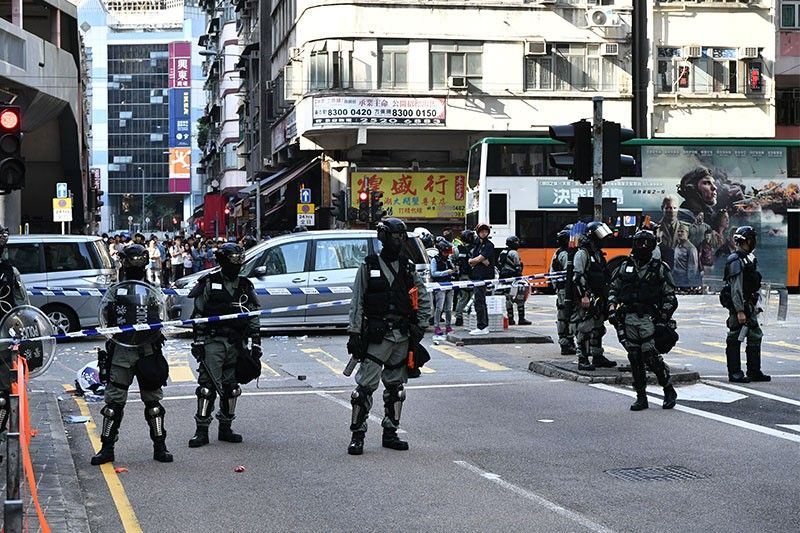 Police officers cordon off an area where pro-democracy protesters were shots by a policeman in Hong Kong on November 11, 2019. A Hong Kong police officer shot at masked protesters -- hitting at least one in the torso -- during clashes broadcast live on Facebook, as the city's rush hour was interrupted by protests.
AFP/Anthony Wallace
Hong Kong police shoot protester as protests start working week
(Agence France-Presse) - November 11, 2019 - 9:21am
HONG KONG, China — A Hong Kong police officer shot at masked protesters on Monday morning -- hitting at least one in the torso -- during clashes broadcast live on Facebook, as the city's rush hour was interrupted by protests.
Footage showed a police officer drawing his sidearm in the district of Sai Wan Ho as he tried to detain a masked man at a road junction that had been blocked by protesters.
Another masked man then approached the officer and was apparently shot in the chest area, quickly falling to the ground, clutching his left side. His condition was not clear.
Seconds later, two more live rounds were fired by the officer during a scuffle and another masked man went to the ground, although the footage was less clear as to whether he was struck.
Police could later be seen detaining the two men on the ground. The first man had a pool of blood next to him, his body limp as officers moved him around and apparently tried to tie his hands.
The second man was conscious and talking.
A police source, speaking on condition of anonymity, confirmed to AFP that live rounds were fired at more than one protester in Sai Wan Ho and that a statement would be issued.
Hong Kong has been upended by five months of huge and increasingly violent rallies, but Beijing has refused to give in to most of the movement's demands.
Tensions have soared in recent days following the death on Friday of a 22-year-old student who succumbed to injuries sustained from a fall in the vicinity of a police clearance operation the weekend before.
The city has seen four days of consecutive protests since the student's death as well as tens of thousands attending mass vigils.
Using online messaging forums, activists had called for a general strike on Monday morning.
Flashmob protests sprung up in multiple districts during the morning commuter period, with small groups of masked protesters targeting subway stations and building barricades on road junctions.
Even before the shooting in Sai Wan Ho, tear gas had been fired in at least two other locations.
Monday's shooting is the third time protesters have been shot with live rounds by police.
On 1 October a student was struck in the chest as he and a group of activists attacked an officer with sticks and poles. He survived his wound and is being prosecuted.
Days later a 14-year-old boy was shot in the leg when a policeman in plainclothes fired his gun after his car was attacked by a crowd. He also survived and was arrested.
As It Happens
LATEST UPDATE: December 1, 2020 - 12:36pm
Millions march in Hong Kong in a powerful rebuke of an extradition law feared to expose them to China's capricious justice system.
December 1, 2020 - 12:36pm
When Hong Kong protester Hei saw fellow activists put behind bars for taking part in last year's democracy protests, she was determined to keep the flame burning by writing them letters.
Thousands have been arrested and held in custody for a range of offences during the huge and sometimes violent protests that convulsed the financial hub last year.
The city's prison system strictly controls inmate access to information about life outside, so Hei decided to keep them up to date on the democracy movement by putting pen to paper. Her mailing list now has almost 60 people on it.
"It's a relationship between comrades-in-arms and we have trust in each other," the 22-year-old told AFP, asking to use just one name to protect her identity.
"We share the same pain. I hope letter-writing can strengthen people's confidence in the movement." — AFP
November 27, 2020 - 2:19pm
Hong Kong prison staff were wrong to cut the hair of a veteran dissident known for his long locks, the city's top court said Friday, in the second significant ruling against authorities this month.
The decision comes as powerful establishment voices call for an overhaul of the judiciary — something opponents fear could muzzle the Hong Kong legal system's vaunted independence as Beijing cracks down on critics.
Friday's ruling by the Final Court of Appeal is the culmination of a long legal battle by Leung Kwok-hung, 64, who served a brief jail sentence in 2014 linked to his protesting.
Better known by the sobriquet "Longhair", he is one of the city's best known dissidents, beginning his career campaigning against British colonial rule and later becoming a fierce critic of Beijing.
A panel of top judges — including Chief Justice Geoffrey Ma — unanimously ruled that Leung's rights had been breached under sexual discrimination laws when his hair was cut in jail.
Hong Kong prison authorities insist all male inmates — AFP
November 24, 2020 - 5:15pm
A Hong Kong man was dragged from a court shouting democracy slogans and remanded into custody on Tuesday after becoming the third person to be charged under a sweeping new national security law.
The man's detention is a stark illustration of how the new legislation, imposed by Beijing this summer, has created a host of speech crimes with stiff consequences for those accused of breaching the rules.
Ma Chun-man, 30, was bundled away by police as he shouted "Spread the word, democracy is cultivated with blood and sweat" after being charged with "inciting secession" — one of the new national security crimes — according to an AFP reporter in court.
Prosecutors said Ma was arrested seven times by police between 15 August and 22 November and that he had chanted slogans calling for Hong Kong's independence from China. — AFP
November 12, 2020 - 5:23pm
China warned Thursday the mass resignations of pro-democracy lawmakers in Hong Kong were a "blatant challenge" to its authority over the city.
Fifteen legislators were set to quit the chamber in protest at the Beijing-sanctioned ousting of four colleagues, leaving the assembly a muted gathering of government loyalists.
The resignations come with the city's beleaguered pro-democracy movement and avenues of dissent already under sustained attack since Beijing imposed a sweeping national security law this year.
Half of the group had made good on their pledge by Thursday afternoon, which sparked a furious response from Beijing's Hong Kong and Macau Affairs Office.
"It once again showed their stubborn confrontation against the central government and a blatant challenge to the power of the central government. We severely condemn this," a statement said. — AFP
November 11, 2020 - 7:42pm
Hong Kong's pro-democracy lawmakers say they would all quit in protest at the ousting of four of their colleagues who were judged a threat to national security by authoritarian Beijing.
The resignations will reduce the semi-autonomous city's once-feisty legislature to a gathering of Chinese central government loyalists, effectively ending pluralism in the chamber.
They also mark another blow to Hong Kong's beleaguered pro-democracy movement, which has been under sustained attack since China imposed a sweeping national security law, including arrests for social media posts and activists fleeing overseas. — AFP