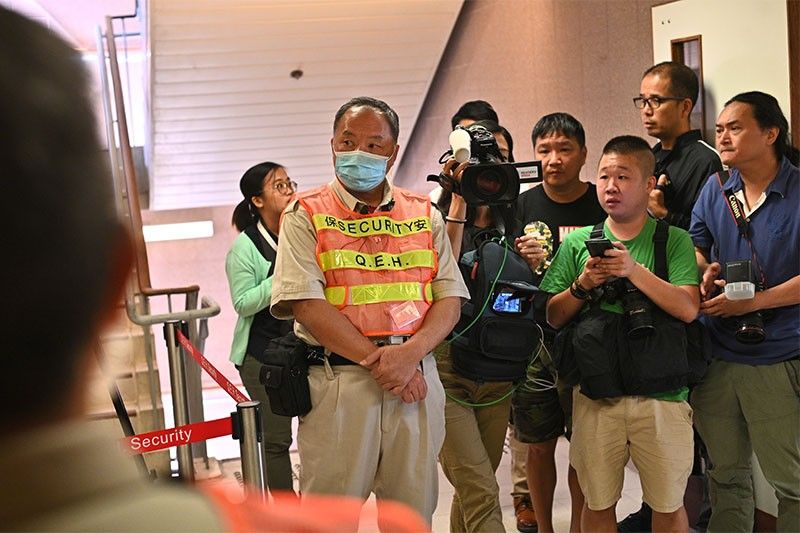 A group of reporters stand outside the intensive care unit of Queen Elizabeth Hospital in Hong Kong on November 8, 2019. A Hong Kong student who fell from a multi-storey car park while police and protesters were clashing last weekend has died, hospital officials said Friday, in a development likely to raise tensions after months of violent protests in the city.
AFP/Philip Fong
Hong Kong student who fell during protest clashes dies
(Agence France-Presse) - November 8, 2019 - 1:42pm
HONG KONG, China — A Hong Kong student who fell from a car park while police and protesters were clashing last weekend has died, hospital officials said Friday, in a development likely to further escalate tensions after months of violent rallies in the city.
Alex Chow, a 22-year-old computer science undergraduate, was certified dead at 8.09am on Friday, Queen Elizabeth Hospital said.
Chow was taken to hospital in an unconscious state in the early hours of Monday morning following late-night clashes between police and protesters.
He was found lying unconscious in a pool of blood inside a car park that police had fired tear gas into after protesters hurled objects from the building.
The precise chain of events leading to Chow's fall are unclear and disputed, but he has been embraced by the five-month-old protest movement and his death could trigger renewed clashes as the city braces for another weekend of rallies.
Chow was a student at Hong Kong University of Science and Technology. The college was holding its graduation ceremony Friday morning, and university head Wei Shyy paused the proceedings to announce Chow's death and observe a moment of silence.
Fellow students had been holding a vigil round the clock for Chow as doctors battled to save his life. Sources told AFP doctors had performed two surgeries in a bid to reduce swelling in his brain.
Protesters have alleged that Chow fell because he was forced to climb onto the ledge of the multi-storey car park to escape multiple tear gas rounds fired into the building by police.
Police officials acknowledge that tear gas had been used to disperse protesters near the car park, but say there was only a small amount of gas in the air when emergency responders found Chow.
They have also denied interfering with rescuers treating the student, or blocking the ambulance that took him to hospital.
Since June, Hong Kong has been shaken by large-scale and increasingly violent protests calling for greater democratic freedoms and police accountability.
China has run the city under a special "one country, two systems" model, allowing Hong Kong liberties not seen on the mainland, since its handover from the British in 1997.
But public anger has been building for years over fears that Beijing is eroding those freedoms, especially since President Xi Jinping came to power.
Protesters have issued a list of demands, including fully free elections to choose the city's leader and an investigation into alleged abuses by police.
As It Happens
LATEST UPDATE: November 16, 2019 - 9:40am
Millions march in Hong Kong in a powerful rebuke of an extradition law feared to expose them to China's capricious justice system.
November 16, 2019 - 9:40am
Organizers say Clockenflap, Hong Kong's biggest music festival, has been cancelled, the highest-profile event so far to fall victim to the increasingly violent political unrest engulfing the city.
British folk-rock sensations Mumford & Sons and American star Halsey were among the headliners for the festival this year, which was scheduled for November 22-24.
"Due to the escalation of the crisis this week, and therefore the uncertainty this creates for the coming weeks, Clockenflap 2019 will be cancelled," the organizers say in a statement. — AFP
November 13, 2019 - 4:05pm
Police and university officials say Mainland Chinese students have begun fleeing Hong Kong campuses over security fears as the city's seething political crisis saw some of its worst violence this week.
The most intense clashes on Tuesday occurred at the Chinese University of Hong Kong, where pitched battles were fought with the police firing tear gas, water cannon and rubber bullets and protesters throwing petrol bombs and bricks, paralysing the campus and the area around it.
A group of mainland students at CUHK attempted to depart the campus Wednesday morning over safety concerns but had to be shuttled away by boat because they were unable to leave via obstructed roads, the police say. — AFP
November 13, 2019 - 1:41pm
Pro-democracy protesters step up Wednesday a "blossom everywhere" campaign of road blocks and vandalism across Hong Kong that has crippled the international financial hub this week and ignited some of the worst violence in five months of unrest.
The new phase in the crisis, which has forced schools and shopping malls to close as well as the shutdown of large chunks of the vital train network, prompted police to warn on Tuesday the city was "on the brink of total collapse".
China, facing the biggest challenge to its rule of the territory since it was handed back by the British in 1997, has insisted it will not buckle to the pressure and warned of tougher security measures.
On Wednesday, commuters across many parts of the city woke to the increasingly familiar scenario of roads choked with bricks, bicycles, couches and other materials that had been laid out by the protesters overnight to block traffic.
Various lines on the subway, used by more than half of the city's 7.5 million people daily, were also suspended due to vandalism, forcing many workers to stay at home. — Agence France-Presse
November 13, 2019 - 11:13am
Hong Kong awakes to a third straight day of chaos following a night of intense battles between pro-democracy protesters and riot police on a university campus that saw some of the most violent scenes in more than five months of unrest.
Morning commuters were faced with closed metro stations, a suspended rail line and dozens of cancelled bus services a day after police warned that the rule of law in the territory was on "the brink of total collapse".
On Tuesday, the Chinese University of Hong Kong campus was the epicentre of the protests. The clashes raged well into the night, despite faculty and staff trying to mediate, with flames lighting up the night sky and dense clouds of acrid smoke. — AFP
November 12, 2019 - 8:40pm
Hong Kong pro-democracy protesters clashed with riot police in the city's upmarket business district and on university campuses Tuesday, extending one of the most violent stretches of unrest seen in more than five months of political chaos.
The confrontations followed a particularly brutal day on Monday, when police shot a protester and a man was set on fire, prompting calls from western powers for compromise but further fury in China against the challenge to its rule.
"Hong Kong's rule of law has been pushed to the brink of total collapse," police spokesman Kong Wing-cheung told a press conference on Tuesday afternoon as he denounced the latest rounds of violence. -- Agence France-Presse