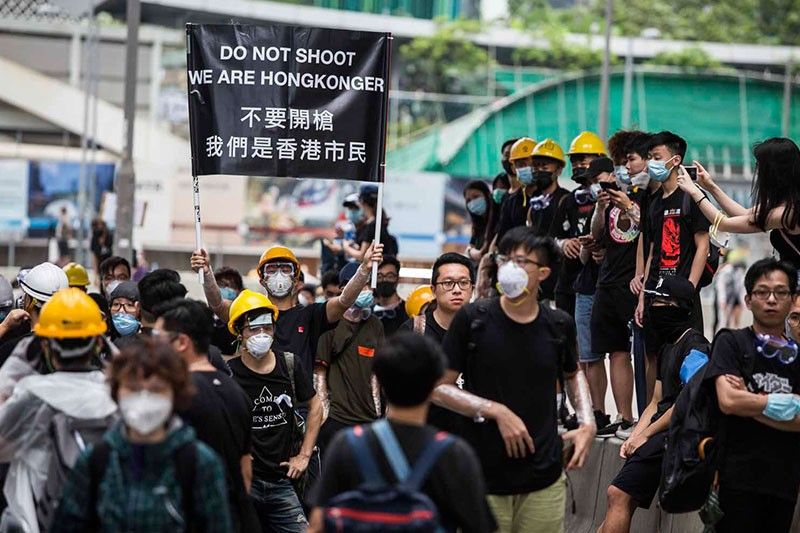 A protester holds a sign while police negotiate to clear roads in Hong Kong early on June 17, 2019. Chinese state media remained largely silent as an estimated two million Hong Kong people took to the streets to protest an extradition bill, with social platforms scrubbed clean of any pictures or mentions of the rally.
AFP/Isaac Lawrence
China stays mum as Hong Kong protests extradition bill
(Agence France-Presse) - June 17, 2019 - 9:01am
BEIJING, China — Chinese state media remained largely silent as an estimated two million Hong Kong people took to the streets Sunday to protest an extradition bill, with social platforms scrubbed clean of any pictures or mentions of the rally.
Hong Kong's government has been rocked in recent days by massive demonstrations -- and some violence -- which forced the city's embattled Chief Executive Carrie Lam to indefinitely suspend passage of the bill.
Early Monday, China's official Xinhua news agency issued a four-paragraph report noting suspension of the measure, "having regard to the strong and different views in society".
Xinhua said Lam had apologized to the people and pledged to make improvements in serving them after "deficiencies" in the Hong Kong government's work "led to substantial controversies and disputes in society."
The report made no mention of Sunday's protest in which crowds choked the streets of the financial hub, calling for Lam's resignation.
Critics fear the Beijing-backed law will entangle people in China's notoriously opaque and politicised courts and damage the city's reputation as a safe place for business.
Except for a short opinion piece in the Communist Party mouthpiece People's Daily, Chinese state media -- which has drummed up support for the bill in recent weeks -- remained mum Sunday after Lam's climbdown.
China's state broadcaster, CCTV, avoided the subject in its main news bulletins throughout the day.
The proposed law that would allow extraditions to the mainland was "supported by mainstream public opinion in Hong Kong", the People's Daily article said.
Opposing 'intervention of external forces'
"The general public is looking forward to blocking legal loopholes to prevent Hong Kong becoming a haven for sinners," it added.
China has blamed the protests on what it says is a small group of organisers who are colluding with Western governments.
The People's Daily echoed the oft-repeated government line that "it resolutely opposes the intervention of external forces in Hong Kong affairs and China's internal affairs".
It also supported the option chosen by pro-Beijing Lam to put the bill on the backburner, saying it was an opportunity to "further listen to opinions".
Searches on China's Twitter-like microblogging site Weibo for "Hong Kong protests" only yielded official Chinese foreign ministry statements. The ministry has called such rallies "riots" or "behaviour that undermines Hong Kong's peace and stability".
There were no photos of black-clad protesters walking with banners critical of the bill, or people leaving flowers at the site where a young man fell to his death protesting the law.
Videos of police using pepper spray and rubber bullets on protesters -- which had left Hong Kong public seething -- were also absent from Chinese social media.
Websites such as Twitter and Facebook -- accessible in semi-autonomous Hong Kong -- are blocked on the mainland.
Beijing was already on edge this month as it tightened security and stepped up online censorship to ensure that the 30th anniversary of the brutal June 4 Tiananmen Square crackdown would go by quietly.
As It Happens
LATEST UPDATE: July 15, 2019 - 5:28pm
Millions march in Hong Kong in a powerful rebuke of an extradition law feared to expose them to China's capricious justice system.
July 15, 2019 - 5:28pm
Anti-government protesters who fought police inside a Hong Kong shopping mall were "rioters," the finance hub's pro-Beijing leader says, as she threw her support behind the city's beleaguered police force following another weekend of clashes.
"They were committed to the duties, and also very professional and restrained. But they were wantonly attacked by rioters -- I think we can really describe them as rioters," City leader Carries Lam tells reporters.
Hong Kong's ongoing political crisis deepened further on Sunday as riot police and protesters fought running battles inside a shopping complex packed with luxury stores.
Police used pepper spray and batons against small groups of protesters, who responded by hurling umbrellas, bottles and other projectiles, in a night of fresh violence in the international hub.
Both officers and protesters were injured in the chaotic melee which left bloodstains on the floor and at least 28 people needing hospital treatment.
July 13, 2019 - 8:17pm
Clashes break out between police and Hong Kong demonstrators as the latest anti-government protests took aim at traders coming across the border from mainland China.
Police used pepper spray and batons against masked protesters in Sheung Shui, a town near the border with China, after thousands marched to complain about "parallel traders".
Sheung Shui boasts dozens of pharmacies and cosmetic stores that are hugely popular with mainland merchants who snap up goods in Hong Kong -- where there is no sales tax -- and resell them across the border. — AFP
July 9, 2019 - 12:40pm
A key Hong Kong protest group behind mass rallies against a widely loathed China extradition bill vowed on Tuesday to hold fresh protests as they rejected a promise from the city's leader that the bill was "dead".
"If our five demands are still not heard by Carrie Lam and her government, the Civil Human Rights Forum will continue to hold protests and assemblies," spokeswoman Bonnie Leung told reporters, adding details of the new protests would be released in due course. ?— Agence France-Presse
July 9, 2019 - 10:19am
Hong Kong's pro-Beijing leader Carrie Lam announced Tuesday that a widely loathed proposal to allow extraditions to the Chinese mainland "is dead"—but she again stopped short of protester demands to immediately withdraw the bill.
"There are still lingering doubts about the government's sincerity or worries (about) whether the government will restart the process with the Legislative Council. So I reiterate here, there is no such plan. The bill is dead," she said.
The announcement comes after tens of thousands rallied Sunday against the bill in the harbor-front district of Tsim Sha Tsui, an area popular with Chinese tourists, ending their march at a high-speed train terminus that connects to the mainland.
Police wielding batons and shields charged protesters late Sunday to disperse a few hundreds demonstrators who had refused to leave after the march.
AFP reporters saw multiple demonstrators detained by police after the fracas, their wrists bound with plastic handcuffs.
By early Monday only pockets of demontrators remained with police occupying key intersections around the protest area.
The scene of the clashes—Mongkok—is a densely-packed working class district, which has previously hosted running battles between police and anti-government protesters in 2014 and 2016. — Agence France-Presse
July 7, 2019 - 1:03pm
Anti-government protesters in Hong Kong plan to rally later outside a controversial station where high-speed trains depart for the Chinese mainland as they try to keep up pressure on the city's pro-Beijing leaders.
The rally is the first major protest planned since last Monday's unprecedented storming of parliament by largely young, masked protesters -- a move which plunged the international financial hub further into crisis.
Hong Kong has been rocked by a month of huge peaceful protests as well as a series of separate violent confrontations with police, sparked by a law that would have allowed extraditions to mainland China.
The bill has since been postponed in response to the intense backlash but that has done little to quell public anger, which has evolved into a wider movement calling for democratic reforms and a halt to sliding freedoms in the semi-autonomous city. — AFP