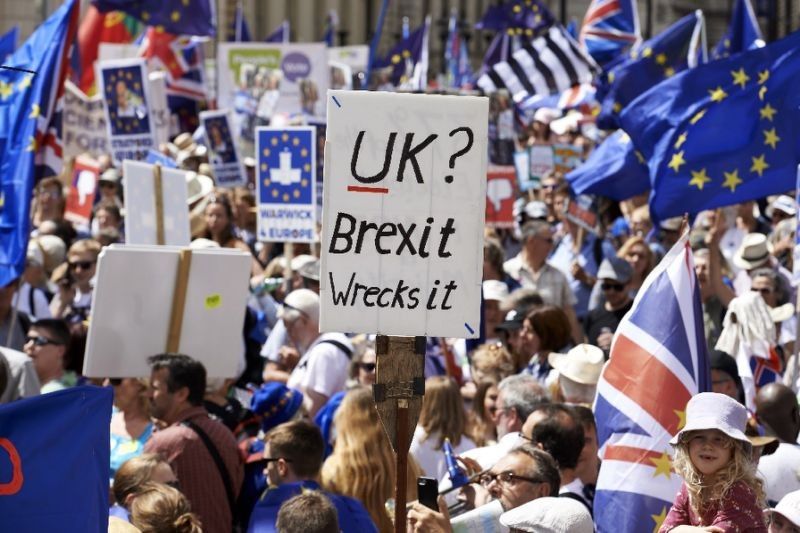 The campaign for a second Brexit referendum brought large numbers out on London's streets last year, but the momentum has stalled.
AFP Photo/Niklas HALLE'N
Campaign for second Brexit vote takes a hit
Alice Ritchie
(Agence France-Presse) - February 8, 2019 - 12:19am
London - Only a few months ago, crowds of protesters marched through London to demand a second Brexit referendum. But just weeks before Britain is due to leave the EU, the momentum has stalled.
Those who hope to reverse Brexit through a new vote know that without the support of opposition Labour leader Jeremy Corbyn, they have little chance of succeeding.
But Corbyn, a socialist and lifelong eurosceptic, has now offered to help Prime Minister Theresa May get her EU divorce deal through the House of Commons.
She has repeatedly rejected his main demand -- that she negotiate a new EU-UK customs union -- but pro-European Labour MPs have furiously accused him of facilitating Brexit.
EU leader Donald Tusk, who has always made clear his support for those seeking to keep Britain in the bloc, suggested this week it was a lost cause.
"I have always been with you, with all my heart," he told a Brussels press conference.
"But the facts are unmistakable. At the moment, the pro-Brexit stance of the UK prime minister, and the leader of the opposition, rules out this question."
- Biding their time -
Things were already looking rocky for the referendum campaign after last week's Commons votes on how to proceed following MPs' rejection of May's Brexit deal.
A cross-party group decided not to put forward their plan for a new referendum, conceding that it had no chance of passing.
But campaigners insist it was only a temporary setback, even as the clock ticks down to Brexit day on March 29.
They argue that the closer Britain gets to leaving the EU without a deal, the more likely MPs will back a referendum as the only way out.
Labour party policy says it should support all options on Brexit, including campaigning for a public vote.
More than 100 of the 256 Labour MPs now back a second referendum, with more said to be privately supportive. However, an estimated 30-35 are also strongly opposed.
Labour's Brexit spokesman, Keir Starmer MP, said the latest offer "does not take the option of a public vote off the table".
However, pro-European MP Chuka Umunna angrily tweeted: "This is not opposition, it is the facilitation of a deal which will make this country poorer."
- Generous supporters -
Talk of a second referendum began almost as soon as the first one delivered its shock result in June 2016, but the formal campaign only launched last year.
Several groups moved into shared offices near parliament, backed by some generous donors, notably US billionaire George Soros.
His Open Society Foundations has donated £1.387 million (1.577 million euros, $1.789 million) to the main Best for Britain group in the past two years.
It contributed an additional £330,815 to two other pro-European groups, according to figures obtained by AFP.
They have successfully turned a once-marginal idea into something widely debated, which May frequently addresses -- if only to argue against it.
Adrian McMenamin, deputy communications director of the People's Vote campaign, said Corbyn's move did not change the basic facts.
"Like all the other proposals that have been made about Brexit, they won't survive public examination," he told AFP.
"And when they don't, that's when the road opens up to a People's Vote."
- Public support -
Public support for a second referendum varies widely depending on whether it is made clear that one option might be to stay in the EU, according to polling expert John Curtice, a professor at Strathclyde University.
In general, around two-thirds of pro-Europeans back a second vote, compared to between one-eighth and one-quarter of those who want to leave.
"The problem that the People's Vote has is that it's a 'Remain' project," Curtice told AFP, noting that most of those backing the idea want to reverse Brexit.
"I don't think there is a single 'Leave' Conservative MP who has come on board."
Fewer than a dozen of May's Conservative MPs currently back a new vote, but more would be needed to pass the necessary legislation.
May is already trying to change her Brexit deal to satisfy demands from Tory MPs on the Irish border arrangements.
But there is a real risk parliament will never agree -- leaving Britain heading for a damaging "no deal" exit.
One pro-European Conservative MP told AFP that up to 50 of his colleagues might back a new vote if it was the only way to avoid no deal.
"But the circumstances would have to be as stark as that," he admitted.