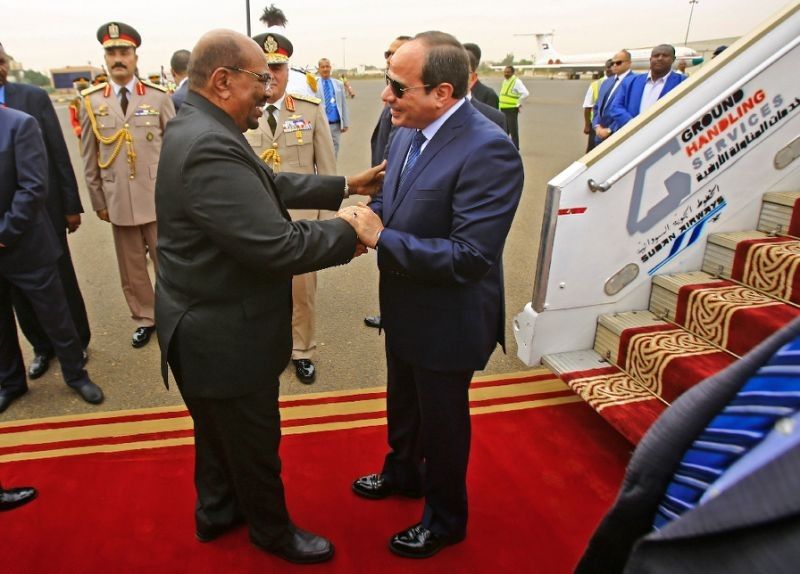 Sudan's President Omar al-Bashir (C-L) embraces his Egyptian counterpart Abdel-Fattah al-Sisi (C-R) upon the latter's arrival at Khartoum International Airport on October 25, 2018.
AFP Photo/ASHRAF SHAZLY
Sudan lifts Egypt produce ban as Sisi visits Khartoum
(Agence France-Presse) - October 26, 2018 - 2:11am
Khartoum - Sudan's President Omar al-Bashir on yesterday lifted a 17-month long ban on agricultural imports from Egypt, during an official visit by Egyptian President Abdel Fattah al-Sisi to Khartoum.
"I signed today a decision cancelling the ban on imports of Egyptian products," Bashir told reporters after meeting with Sisi.
He also said the two countries had agreed to connect their electricity networks and establish a rail link.
"We need to do more to strengthen trade relations between the two countries," Egypt's Foreign Minister Sameh Shoukry said at a joint commission in Khartoum on Wednesday.
Sudan's main imports from Egypt have historically been fruit, vegetables, fish, conserves and textiles.
The two countries signed 12 cooperation agreements covering various sectors on yesterday.
Sisi and Bashir on March 19 set out their intention to improve relations during a meeting in Cairo, after several months of tensions between the two nations.
Relations plunged in early 2017 when Sudan's president accused Egypt of supporting rebels in conflict zones, including Darfur in western Sudan.
Sudan in May 2017 banned the import of animal and other agricultural products from Egypt and recalled its ambassador from Cairo in January 2018.
Egypt's occupation of the Halayeb triangle, which lies near the Red Sea in a mineral-rich border region, has been another bone of contention between the two neighbours.