US defense chief to visit China as Taiwan, South China Sea tensions rise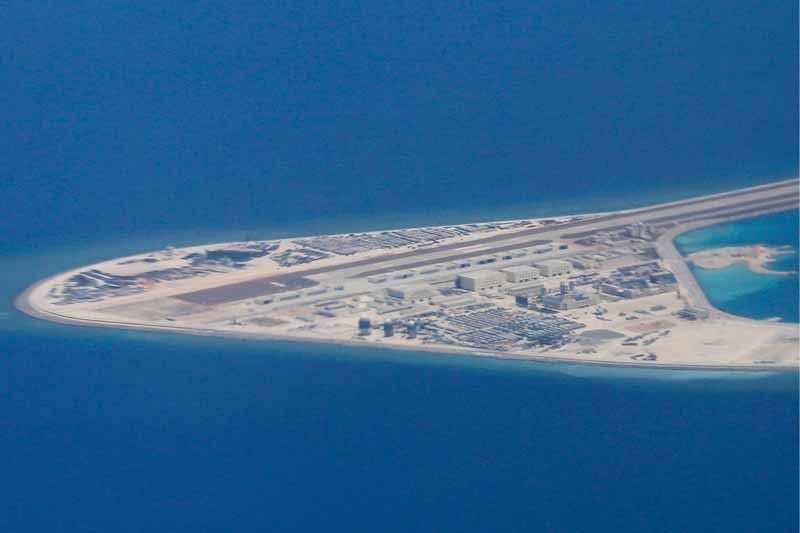 BEIJING — U.S. Defense Secretary Jim Mattis, who has accused China of "intimidation and coercion" in the South China Sea, is visiting Beijing this week as the countries increasingly spar over U.S. arms sales to Taiwan and Beijing's expanding military presence overseas.
Mattis will be the first defense secretary in President Donald Trump's administration to visit China. His trip highlights the need for the U.S. and its chief rival in East Asia to engage each other despite increasingly stark differences and mutual suspicion.
Mattis' mission comes at a difficult time as the Trump administration is set to start taxing $34 billion in Chinese goods in two weeks while Beijing has vowed to retaliate with its own tariffs on U.S. products. The U.S. appears likely to rely on China for help getting North Korea to deliver on denuclearization promises made at a summit in Singapore between Trump and North Korean leader Kim Jong Un.
Below are some of the thorny issues:
___
South China Sea sparring
The South China Sea will likely be near the top of the agenda in discussions between Mattis and Chinese officials, with the U.S. issuing threats against Beijing for its continued militarization of the waters. "There are consequences that will continue to come home to roost, so to speak, with China, if they don't find a way to work more collaboratively with all of the nations who have interests," Mattis said earlier this month. He said China's weapons were placed in the region for "intimidation and coercion." The Pentagon last month withdrew its invitation for China to participate in a large-scale multinational naval exercise in what it called "an initial response" to the militarization of the South China Sea.
___
Korean peninsula
China was seen as taking home a major win when Trump announced at the summit with Kim that the U.S. would suspend joint U.S.-South Korea war games that North Korea and China have long opposed. Both Mattis and South Korea were seen as caught off-guard by the decision. U.S. and South Korean officials now see the pledge as helping advance nuclear negotiations with North Korea. China welcomed the move, and Kim met with Chinese President Xi Jinping in Beijing last week but no new measures toward denuclearization have been announced. Trump said last week that "total denuclearization" has "already started taking place." Mattis, however, was asked Wednesday whether he had seen any sign that North Korea had begun steps toward denuclearization and replied: "I'm not aware of any. Obviously, we're at the very front end of the process."
___
Tangling over Taiwan
China's complaints about U.S. contacts with Taiwan have grown louder as the U.S. has sought to increase exchanges with the self-ruled island Beijing claims as its territory, and sells more weapons to it. Mattis will likely hear those arguments made even more forcibly after Trump this year signed the Taiwan Travel Act encouraging high-level visits between the two sides, and the Department of Defense agreed to give American contractors marketing licenses for diesel-electric submarine technology sought by Taiwan's armed forces. The U.S. government also approved a $1.4 billion arms sale to Taiwan last year, although in an effort to mollify Beijing, has been reluctant to supply everything the island's leadership wants.
___
Trump's "space force" call
Trump's announcement last week that he was directing the Pentagon to create a new "Space Force" drew attention in China and may be among the items for discussion in Beijing. Trump framed space as a national security issue, saying he does not want "China and Russia and other countries leading us." While the U.S. has dominated in space since its 1969 moon landing, China is making strong headway, while Russia is in decline. China says it opposes the militarization of outer space, but demonstrated its growing prowess in the field in 2007 when it fired a missile that destroyed a defunct Chinese satellite, creating an enormous debris field and drawing concerns from the U.S. and others.
___
PLA's overseas expansion
In addition to its increased presence in the South China Sea, the People's Liberation Army is expanding its footprint in areas where the U.S. and its allies have traditionally held sway. Most strikingly, China opened its first foreign military base in Djibouti last year, joining the U.S. and a number of other countries with military installations in the Horn of Africa nation. Operating in closer proximity has at times created friction — the U.S. issued a formal complaint to Beijing over the use of lasers that targeted U.S. aircraft in Djibouti on several occasions. The U.S. has also complained about dangerous maneuvers by Chinese military aircraft tailing U.S. surveillance planes in the South and East China seas.
___
China's technological threat
Department of Defense officials last week warned lawmakers that China and other countries were threatening America's "technological and military dominance." Michael D. Griffin, undersecretary of defense for research and engineering, told the House Armed Services Committee's Military Personnel Subcommittee that China was stealing technology and intellectual property in a way that was "significant and intentional."
Related video: