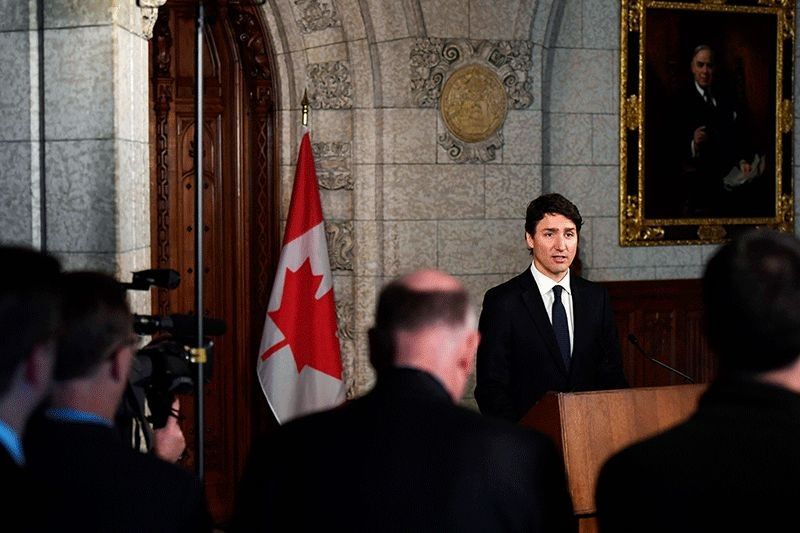 The motion condemning China's behavior in the South China Sea comes as the Trudeau government seeks to open trade negotiations with Beijing.
Justin Tang/The Canadian Press via AP
Canadian Senate decries China's 'hostile' behavior in South China Sea
(philstar.com) - April 25, 2018 - 5:27pm
MANILA, Philippines — Criticizing China's aggressive behavior in the South China Sea, the Senate of Canada passed a motion calling on all parties to uphold international law in the disputed waterway.
Voting 43-29-6, the Canadian Senate approved the measure calling out Beijing's "escalating and hostile behavior" in the South China Sea, The Globe and Mail newspaper reported.
In its motion, Canadian parliamentarians urged all claimant parties to uphold the rights of freedom of navigation and overflight as stipulated by international law and the United Nations Convention on the Law of the Sea.
The motion comes as the Canadian government eyes opening formal trade negotiations with China.
Canadian Sen. Thanh Hai Ngo, who sponsored the motion, said that this sends a message to China amid its militarization activities in the region.
"By passing this motion, the Senate is stating its concern on China's escalating and hostile behavior in the South China Sea, and urging the Government of Canada to take a principled position on one of the biggest geopolitical conflicts of our time," Ngo said.
The motion criticizing Beijing's hostile behavior in the South China Sea has been held up in the Canadian Senate for almost two years.
In his sponsorship speech in November 2016, Ngo pointed out that China's "adventurism and predatory action" has been the main threat to regional peace.
Ngo stressed that the Trudeau government must show its commitment to its Asia-Pacific allies and partners by expressing concern about the most pressing geopolitical issues.
"Considering Canada's rapprochement with China, Canada needs a clear foreign policy against disorder and violence, one that defends and sustains freedoms. That is why my Senate motion urges the government to take direct action with regard to the situation unfolding in the South China Sea," Ngo said in his speech two years ago.
The Canadian senator stressed that Ottawa must play a larger role in the region as the maritime disputes would ultimately affect the country.
"Militarization of the South China Sea undermines the stability of the region. The economic impact of the disputes will spread globally as tensions rise. Close to US$5.3 trillion in trade passes through the area each year," Ngo said.
"It is in the interest of each South China Sea state to facilitate the freedom of navigation and overflight of commercial traffic. A serious confrontation would threaten the region's maritime communications, disrupt supply chains and trade flows, and be disastrous to the global economy," he added. — Patricia Lourdes Viray
RELATED: US, Canada, Japan most trusted by Filipinos – Social Weather Stations