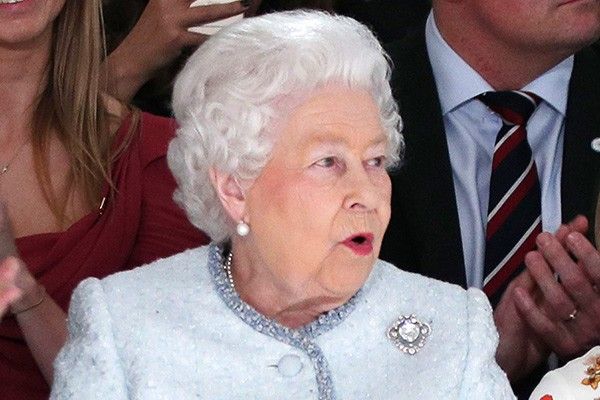 Britain's Queen Elizabeth II reacts as she views British designer Richard Quinn's runway show before presenting him with the inaugural Queen Elizabeth II Award for British Design, during her visit to London Fashion Week's BFC Show Space in central London on Feb. 20, 2018.
Yui Mok/POOL/AFP
New Zealand spy papers reveal 1981 bid to kill Queen Elizabeth II
Neil Sands
(Agence France-Presse) - March 1, 2018 - 1:57pm
WELLINGTON, New Zealand — A mentally disturbed teenager tried to assassinate Queen Elizabeth II during a 1981 visit to New Zealand and police covered up the botched attempt, according to official documents released Thursday.
Christopher Lewis fired a single shot towards the Queen's car as she toured the South Island city of Dunedin, the documents from New Zealand's Security Intelligence Service (SIS) spy agency revealed.
No one was hurt and police reportedly assured members of the royal party who asked about a gunshot that they had simply heard a firework exploding.
Lewis, 17 at the time, was picked up soon after on an unrelated armed robbery charge and made a rambling confession about his attempt on the monarch's life.
While police said he was delusional and "lives in a dream world" they found a .22 rifle and spent cartridge in the building where he said the attempt took place.
He claimed to be a member of a right-wing organization called the National Imperial Guerilla Army, which police concluded had only three members.
Officers at the time decided against charging him with treason over the October 1981 assassination attempt but pursued firearms and robbery charges.
The SIS documents, released publicly in response to a media request and seen by AFP, show police were concerned the incident would become public and conspired to keep it secret.
The New Zealand Herald said authorities were worried it might jeopardize future royal visits to the former British colony.
"Lewis did indeed originally intend to assassinate the Queen," the documents say.
"However (he) did not have a suitable vantage point from which to fire, nor a sufficiently high-powered rifle for the range from the target."
Lewis had a string of serious criminal convictions and was in jail for murder when he killed himself in 1997.
Floral nightie
The Queen's role as head of the Commonwealth has made her a high-profile target for extremist groups and the mentally unwell over the years.
In 1982, unemployed decorator Michael Fagan had a few drinks and scaled the walls of Buckingham Palace, climbing up a drainpipe to enter the Queen's London residence.
He wandered into her bedroom and reportedly sat on the end of the bed for a chat with the perturbed monarch before a palace staffer lured him away with the promise of a shot of whiskey.
Fagan later described the Queen's floral nightie and said he was motivated by a desire to meet his head of state.
Another 17-year-old threatened the Queen's security in 1981, just four months before Lewis' attempt when Marcus Sarjeant fired six blanks at her during the Trooping the color ceremony in London.
He was quickly overpowered and sentenced to five years in prison for treason.
An unconfirmed assassination plot occurred in Australia in 1970 when a train carrying the Queen hit a log as she was traveling to Lithgow, west of Sydney.
A local police officer said unknown extremists put the log there to derail the train and send it down an embankment.
It turned out the engine was traveling too slowly and merely pushed it along the tracks.
There was a far more sinister scheme in 1981, when the Queen opened an oil terminal in the remote Shetland Islands, north of Scotland.
It was the height of The Troubles in Northern Ireland and the anti-British IRA smuggled a powerful bomb into the facility.
However, a detonator failed to fire and the Queen was unharmed.